"Let Me Tell You" is a series of columns from our expert editors about NYC living, including the best things to do, where to eat and drink, and what to see at the theater. They publish each Wednesday so you're hearing from us each week. Last month, News Editor Anna Rahmanan argued that NYC's neighborhood map "is fine as it is."
Local media outlets have extensively reported on the opening of Grand Central Madison, the new Long Island Rail Road (LIRR) commuter hub right below Grand Central Terminal in midtown, but it seems like New Yorkers are still grappling with the importance of the project.
For the first time in the history of the city, folks on Long Island have direct access to the east side of Manhattan via public transportation. Although car-wise, drivers have been able to choose between the Queens Midtown Tunnel or the Queensboro Bridge for many decades now, no train has virtually ever pulled up from the suburbs to anywhere east of Fifth Avenue until now. So why isn't anyone screaming for joy, delighting in a transportation update that will surely change day-to-day life for many commuters?
Perhaps, the low-key reaction has to do with New Yorkers' overall disenchantment with the city's transportation system: our subways are filthy, our trains are constantly late and plagued by seemingly perennial "signal problems" (whatever that means) and our buses are never used to their full potential. You can't blame urbanites for scoffing at a supposed "improvement" to the whole situation. We've been promised updates that failed to deliver plenty of times before.
And yet, this usually-disillusioned New Yorker is… oh-so-delighted by the new Grand Central Madison.
The convenience of entering Manhattan by Park Avenue and 42nd Street without having to first ride into Penn Station and then taking a crosstown bus or subway is unmatched and deserving of its own praise, but it's not just the ease of travel into and out of Long Island that makes the new hub worthy of celebration.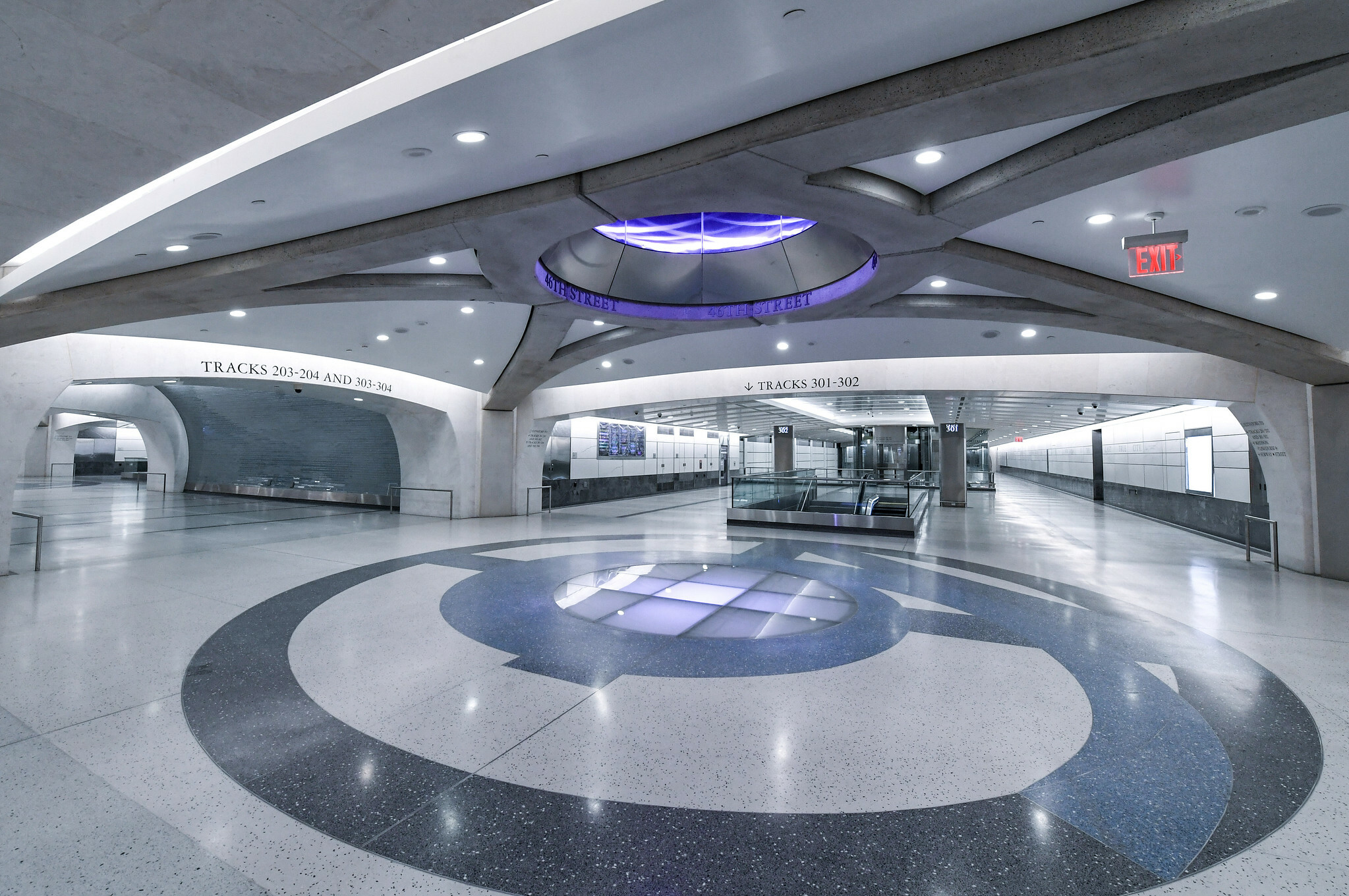 Upon arriving, signs immediately directed me to the closest exit based on my destination. I didn't have to leave the hub and then walk around a few blocks unnecessarily, for example, to reach the office. As of now, there are also plenty of staffers peppered across the premise offering their help to properly guide commuters to the outside world.
After riding the longest and steepest escalator in the entire MTA system (it's 182 feet long!), I was greeted by a number of flashy images supposedly portending the arrival of top-notch food offerings. No names are yet plastered on any of the walls or windows, but the photos certainly look delicious.
Speaking of food: being directly below Grand Central Terminal, the new LIRR hub actually easily connects commuters to the latter's dining court—the perfect pitstop for a post-train coffee or pre-train snack.
Most importantly, the station doesn't (yet) smell. The stink of Penn Station—a combination of the myriad food offerings that once defined the hub and whatever trapped train air smells like—lingers long after the commute. I always want to shower as soon as I get home after walking through Penn Station. That's not the case at Grand Central Terminal, where the aroma of flowers doesn't exactly take over the space but neither does the scent of chicken nuggets and fries.
Given the fact that the new LIRR stop did not involve the construction of an entirely new station—think of it as a downward expansion of Grand Central Terminal, perhaps—the hub doesn't really look like anything from above ground. The extent of the project is not as visible as the building of a new sports arena would be, for example.
But the lack of grandiosity might end up actually benefiting the whole ordeal, forcing officials to focus on service and technical issues instead of the aesthetic, which brings us to the current problem associated with Grand Central Terminal: the horrible schedule it follows.
Instead of providing commuters with additional trains to access the city from Long Island and vice versa, the LIRR has cut the number of rides in and out of Penn Station in half, placing the other half on the east side line. That has obviously been a disaster since full service launched less than a month ago, with riders complaining about less frequent and shorter trains. There's quite literally no room for everyone on board during peak rush hours.
Following urgings from Governor Kathy Hochul and overall public dissatisfaction, officials have announced changes to the schedule hoping to alleviate the problem, including, according to NBC New York, "more rush hour service to Brooklyn, more cars on trains serving Penn Station to alleviate overcrowding—and more cars on all trains that exceeded capacity last week."
Will the updates actually make a difference? Probably not—this coming from a commuter who is slightly less disillusioned than she usually is and hopes to be wrong.