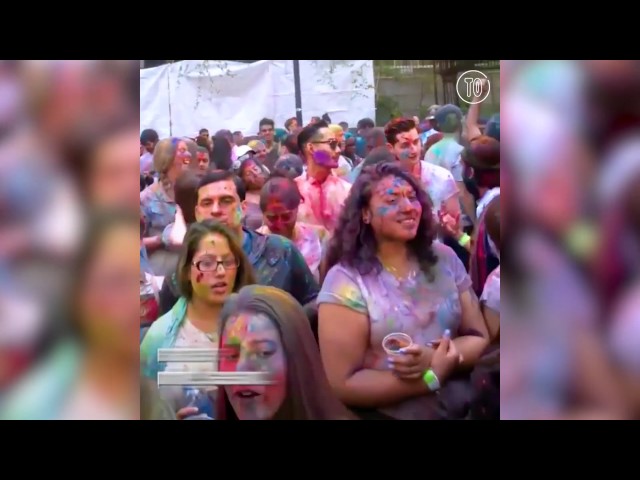 Searching for great things to do outside once the weather warms up? As the spring equinox approaches, a full moon signals Holi, the Hindu festival of colors, which fell on the evening of March 1 this year. But don't fret if you missed it—NYC is giving you plenty of opportunities to celebrate over the next three months! You don't have to be religious to get in on the fun; just grab a handful of colored powder.
Here are five of the brightest Holi jubilees in town. Get ready to color way outside the lines.
Red Baraat Festival of Colors
Now in its seventh year, this nationwide musical celebration of Holi features performers from countries around the South Asian diaspora. The vibrant lineup includes dhol player Sunny Jain of the eight-piece Red Baraat, and more acts to be announced soon. Highline Ballroom, 431 W 16th St (highlineballroom.com). Mar 10 at 8pm; $20, at the door $25, VIP $35.
Holi In The City
Celebrate Holi with a side of PLUR at Stage 48. Be sure to wear white, as guests are given organic colored powder to toss around the four-story fantasyland. Celebrate the season in style with food, cocktails and beats at this party. 605 W 48th St (212-957-1800, stage48.com). Mar 17, Mar 31 noon–7pm; $35, VIP $50.
2018 Phagwah Parade Holi Celebration
This inclusive parade in Richmond Hill, Queens—a neighborhood with strong Guyanese and Punjab communities—hosts a day of fun for all. Kick off the season with a sense of unity and a commitment to living vibrantly. Liberty Ave and 133rd St, Queens (347-709-3179, phagwahparade.us). Apr 14 at 10am; free.
Festival of Colors: Holi NYC 2018
Welcome spring (and diversity) with warm-loving arms during this Holi lot party in Bushwick. A ticket gains you entry to the fest, during which live DJs perform on a massive stage. Quench your thirst with a chilled Bira 91 from the on-site beer garden, check out mural and art installations, and prepare to get colorful. The Holi Lot, 485 Johnson Ave (festivalofcolors.org). Apr 28 1–7:30pm; $20–$35.
Holi Hai
Get another dose of Holi fun at Governors Island's annual outdoor celebration, the name of which translates to "It's Holi!" It's free to join in on the music, dancing (including Indian dance workshops) and food—just be sure to order your colors from the designated provider, or buy on-site at this family-friendly daytime festival. nycholi.com. May 12 10am–5:30pm; free.
Sign up to receive great Time Out deals in your inbox each day.