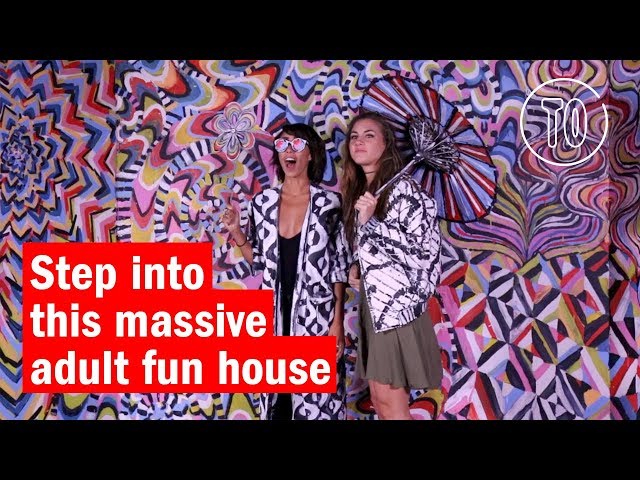 You know the saying: When 29 doors close, another 29 open! At least, that's how the phrase works according to Refinery29. Of course, we're hinting at the return of the the major media brand's formerly free but still totally-interactive art exhibition dubbed 29Rooms.
RECOMMENDED: Full guide to 29Rooms in NYC
Chances are, the name rings a bell. The experience has flooded your Instagram feed with FOMO-inducing, eye-popping images every fall New York Fashion Week since 2015. Now entering its fourth run, the usually sold-out event is back for not just one but two extended weekends in September to keep up with the demand.
In keeping with tradition, ticket holders can wander through 29 rooms designed by retail brands, artists and other creatives inside a large space. The theme for last year's choose-your-own-adventure experience was "Turn It Into Art," and R29 had a diverse group of contributors including emerging and established creatives such as actor Jake Gyllenhaal, artist JeeYoung Lee, poet Ashlee Haze and musician Madame Gandhi.
You can expect a new set of incredible talent to be involved for 2018's subject, "Expand Your Reality." According to R29, the premise is meant to inspire guests to open themselves up to a world of endless possibilities while ditching self-limiting beliefs. We like the sound of that! There will be more details about who is involved with this year's project in the coming weeks.
As usual, the attraction is set in Kings County, but the event is no longer rooted in North Brooklyn. 29Rooms lands in Boerum Hill starting Thursday, September 6. Tickets for the event are now on sale. It's highly likely that they will sell out in an instant, so make sure to jump on them, like, right now.
Pricing for this year's event is a bit different, too. General admission tickets for one three-hour session are $39, but you can spend a bit extra for the Starlight Session ($129) which includes more space to move around (so less people), three cocktails, snacks and surprise performances during your visit. Last winter, 29Rooms expanded to other cities in the U.S. including Los Angeles, San Francisco and Chicago. Given the popularity, we imagine the event will continue to move around.
Dates: Thursday, September 6–Sunday, September 9 and Thursday, September 13–Sunday, September 16.
Time: 11am–10pm
Location: 588 Baltic Street, Brooklyn NY
Tickets: Visit 29rooms.com or eventbrite.com.