The Instagram Thing is an occasional column spotlighting things you'll want to Instagram. Our previous editions highlighted the ten-foot snake topiary at the Standard East Village, the pegasus at Serendipity3, the beef tartare at Little Mad, the bicycles at GupShup, the giant moose at Spaghetti Tavern, the cheesecake creature at Vestry, the sparkle bathroom at Nothing Really Matters and a vintage aluminum trailer-turned-food-truck in Red Hook.
Some Instagram Things are incidental and some are brilliantly crafted to be captured with the artificial shutter snap of your smartphone and lifted into the cloud before they're digitally redistributed to flood the hills and valleys of social media in resplendence for all to double tap in the app. The vibrant, sprawling new Pride wall outside of Chelsea's Café-Flor, which operates as Bar-21 afternoons and evenings, is the latter.
Shop owner Raúl Àvila is a maestro of pageantry, having long served as an event designer for the Met Gala. His Bar-21 serves "top-notch cocktails within a decadent Queer/POC friendly atmosphere (from staff to patrons)," daily from 2pm. And now, the facade of Àvila's cafe and bar, which also functions as a flower shop, has bloomed into an enormous, tactile Pride flag.
As of May 30, 125,000 silk rose stems have taken over 750 square feet at the bar and shop located at 21st Street and Eighth Avenue in Manhattan. Àvila "invites everyone to utilize his handcrafted floral Pride wall along the venue as the perfect rainbow backdrop for pictures," reps write. The supersized display is on view from now through late fall.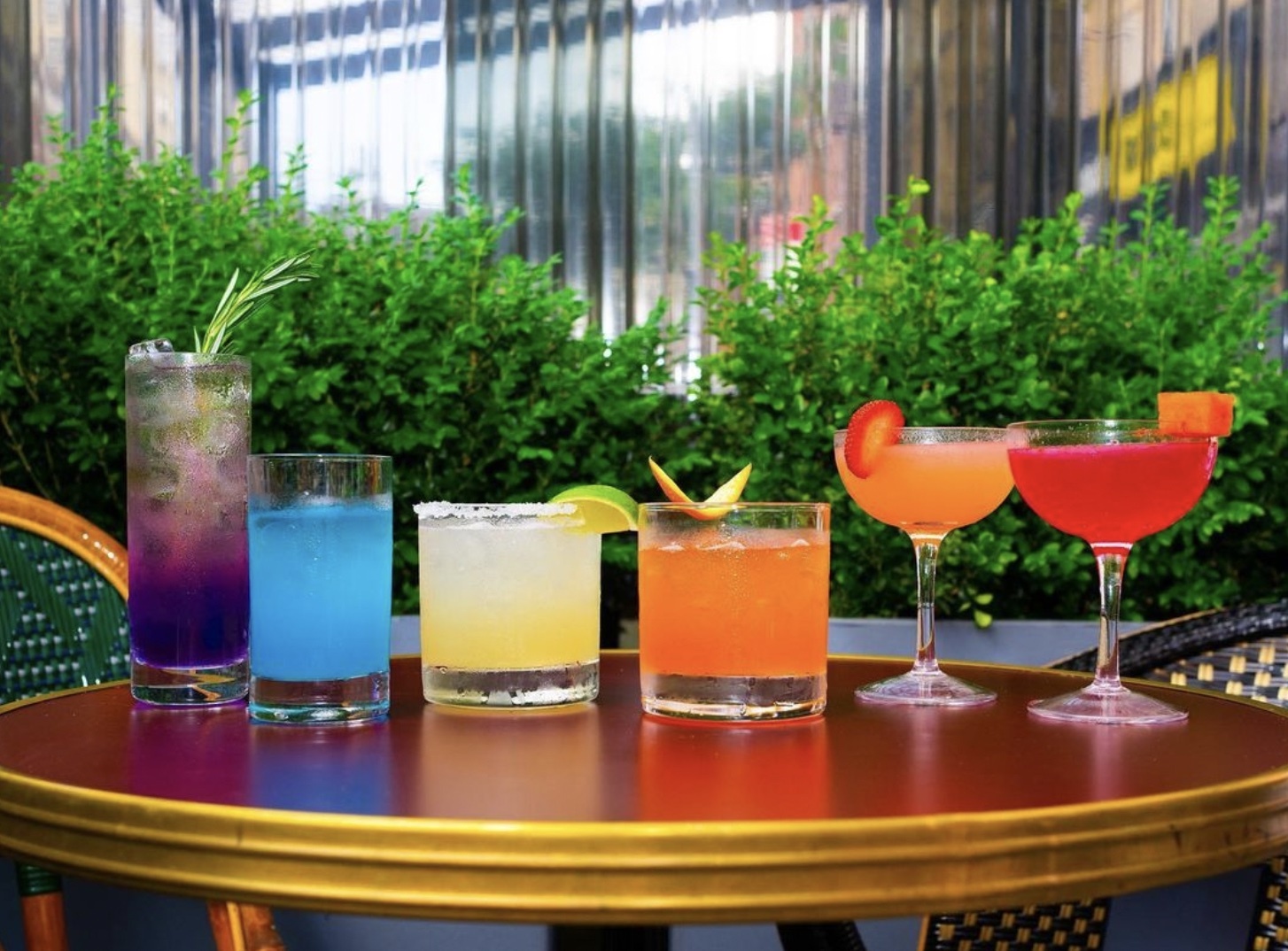 Bar-21 also has a cocktail menu crafted in colors reminiscent of the flag, including the Radiant Red (gin, Campari, sweet vermouth, blood orange), Phresh Pink (vodka, lime, watermelon, St-Germain, simple syrup), Ovah Orange (mezcal, velvet falernum, lime, agave, grapefruit), Yummy Yellow (tequila, Ancho Reyes, lime, agave, passion fruit), Yaaas Green (vodka, lime, simple syrup, lychee, yuzu), Big Bold Blue (vodka, gin, blue curaçao, simple syrup, yuzu, lime) and the Proud purple (gin, lavender syrup, tonic). It is available exclusively for the month of June.
You can capture the flag outside Café-Flor/Bar 21 at 218 8th Avenue.