As New York restaurants focus on takeout and delivery while waiting to reopen their dining rooms, one Queens restaurant is adding a dose of entertainment to entice customers: Drag queens will deliver food to your home with a song and dance.
Fresco's Cantina, a Mexican fusion restaurant in Astoria, hired four drag queens last weekend to launch its "Drag-livery" service in the surrounding neighborhood and Long Island City. The next outing is planned for Sunday, May 31st, when the restaurant will have the bedazzled entertainers deliver your food for $15 extra if you spend at least $50 on food—all while donning masks and gloves with a performance at least six-feet away.
"We wanted to remain relevant and bring happiness to people," says Brian Martinez, who owns the nearly three-year old restaurant with his husband, Adrian Suero.
Before the current crisis, the restaurant hired drag queens to host brunch, bingo nights and viewings of RuPaul's Drag Race. The queer-friendly space, Martinez adds, is known for its frozen margaritas made with fresh fruit puree. The most popular dish on the menu are the pastelon tacos (smashed sweet plantains with seasoned ground beef and melted mozzarella; other items draw on inspiration from Mexican, East Asian, Indian and other Latin cultures.
"These queens make everyone feel better," says Martinez. "You can't help but smile."
Audrey Phoenix, one of the drag queens delivering food, shared this video with Time Out New York:

"I was honestly so nervous," says Phoenix, an Astoria resident and graphic designer. "Most drag queens have been doing digital shows. The concept for curbside pickup and a number made me think, 'Is this going to work?'"
The four drag queens performed hits from Rihanna, Dua Lipa and Donna Summer during last weekend's launch. Customers and their neighbors would come out on the sidewalk and peek outside their windows for a show—some even joined in on the dancing.
"I think every drag queen has a shit ton of leopard print," says Phoenix. "The other girls are really good dancers, but I'm a campy queen. I just had to dress up and wiggle on the street."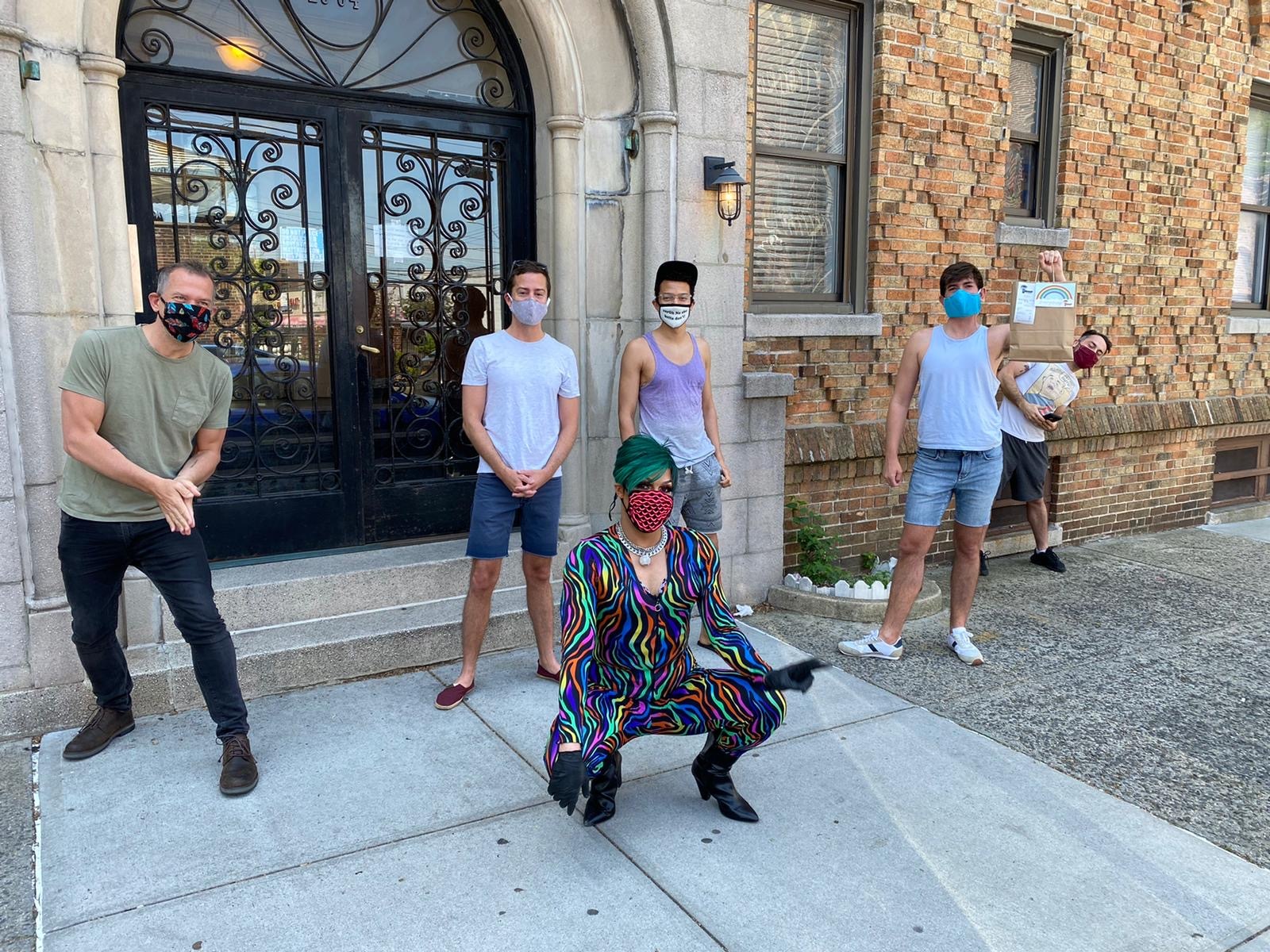 With New York City's Pride festivities cancelled this year, Martinez adds that the Drag-livery will be available every weekend throughout June.
Most popular on Time Out
- Iconic NYC steakhouse Peter Luger debuts delivery for the first time ever
- Brooklyn's Domino Park has installed social-distancing circles
- A drive-in festival is coming to the parking lot of Yankee Stadium this summer
- These interactive maps tell you which NYC businesses are open by neighborhood
- The best live theater to stream online today