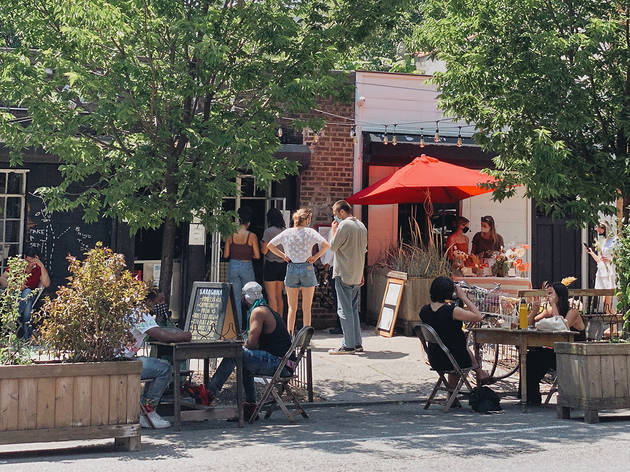 5 great outdoor dining spots in Bed-Stuy
Bed-Stuy is not a neighborhood to overlook when the conversation turns to great dining options in Brooklyn.
Bed-Stuy is not a neighborhood to overlook when the conversation turns to great dining options in Brooklyn. Whether it's a Cubano or bowl of ramen, this area offers a wide-range of restaurants, bars and cafés that caters to all tastes. We've found mom-and-pop spots that have become favorites (Maya Congee Cafe is a must), and favorites that locals have pointed us to every time. Here's where to go:
Pizzaiolo Edoardo Mantelli twirls the dough at this charming pizzeria and trattoria. Classic Neapolitan pies, pastas and fresh market salads are the draw—choose from nine simple versions, including marinara, Margherita, prosciutto and funghi. The diminutive white-painted spot features a wood-burning brick oven, shelves lined with glass bottles and an outdoor garden. It's been a mainstay in the neighborhood for good reason.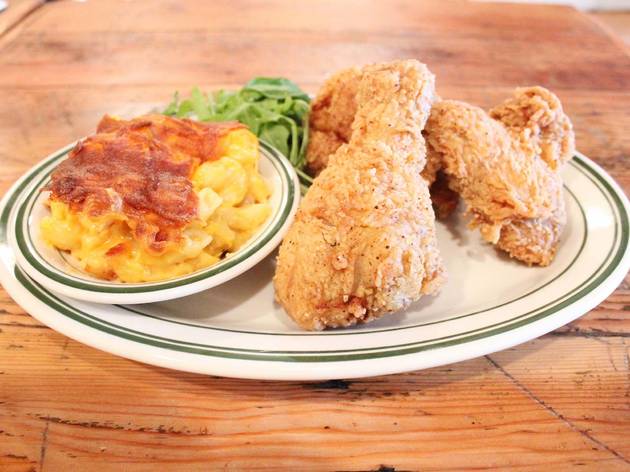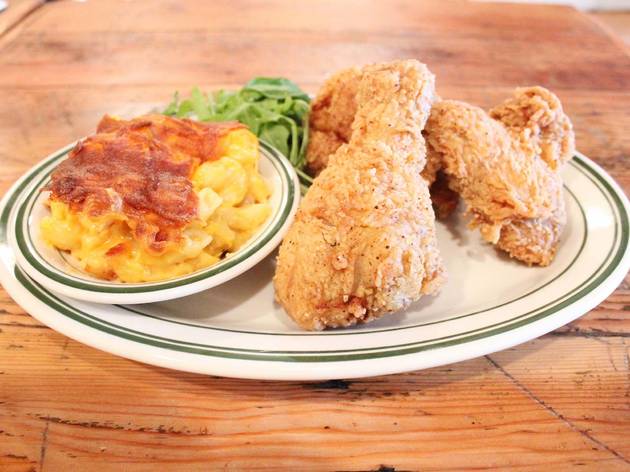 Photograph: Courtesy Peaches HotHouse
Peaches HotHouse (Bed-Stuy)
At this pioneering Bed-Stuy restaurant, owners Craig Samuel and Ben Grossman (both of the Smoke Joint) have built a following on a number of Southern favorites: from Lowcountry Shrimp and Grits to Louisiana Gumbo and their famous Nashville Style Hot Chicken. There are four locations in Brooklyn, but this location is our favorite.
The menu here is the result of a sweet collaboration between owner Layla Chen and chef Matthew Tilden, the man behind the beloved SCRATCHbread bakery that specialized in carbs of all varieties. For us, the whopping 10-plus congee variations are perfect for the upcoming fall and winter months.
Many new bakeries had opened before baking sourdough was all the rage but none had excited us as about carbo-loading as Pilar Cuban Bakery. At the decade-old Pilar Cuban Eatery's new Bed-Stuy sister spot, owner-chef Ricardo Barreras rethinks breakfast with underused-in-NYC Cuban ingredients. The casual menu is perfect for on-the-go bites. Or stay and nosh amid the kitsch of Miami cafés: an '80s-style painting of a papaya, a fake marlin, geometric pastel tiling and a spunky neon sign that displays the shop's name.
View this post on Instagram
When we're looking for comforting bowls of ramen with a fun vibe, we head to Samurai Papa. According to its website, the restaurants uses Kaiki Water, which it describes as "chemical free, filled with revitalizing energy, and has a natural mineral balance." Whatever the science may be, that's how we feel after slurping every last noodle.
Best selling Time Out Offers