The best burgers in NYC
The quest for the perfect burger is on! Eat your way though the city's most beloved patties.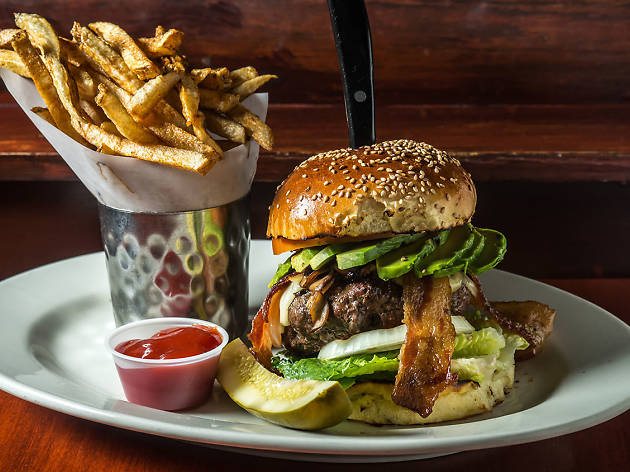 Like the Subway Series, the large-soda ban and Anthony Weiner's fitness for office, the topic of best burger in NYC can fuel furious debate among New Yorkers, fans staking out their affinity with impassioned fervor. In a diverse landscape of patty melts, double doubles, fancy chef creations and more, there's a burger out there for every diner, whether you grew up eating at a bistro in France or an In-N-Out in California. Gotham restaurants have been putting a fancy spin on the humble sandwich since the iconic '21' Club put out its duck-fat "haute" version in the 1950s (see Hamburger history for more fascinating trivia). In recent years, we've seen the meteoric ascent of Shake Shack, the weirdest burgers popping up in New York restaurants and a slew of new burgers tricked out with primo ingredients. Taste your way through our lists to decide on your favorite.
RECOMMENDED: See more of the best restaurants in NYC
Archive best burgers in NYC coverage
Sponsored listing
Salud Bar and Grill
Like any traditional Argentinian restaurant, the menu at Salud Bar and Grill focuses on beef. You might order some beef empanadas ($5.95) and fried plantains ($4.95) as an appetizer, or go for the three chimichurri sliders on tiny brioche buns ($11.95). The list of entrees also includes plenty of beef, from a classic bacon cheeseburger ($14.95) to marinated skirt steak served with grilled vegetables and yucca fries ($21.95). But of course, beef isn't the only meat on the menu. Opt for the grilled center-cut pork chop for dinner ($18.95), order crispy chicharron ($9.95) as a snack or go vegetarian with the mango-kale salad ($11.95). Thirsty patrons will be happy to know that Salud also pours craft beer and microbrews, in addition to mimosas ($5 for a glass, $30 for a pitcher) and spicy Bloody Marys ($5) at brunch on Saturdays and Sundays.
Venue says: "It doesn't take much to make it a perfect Sunday Salud! Join us for Brunch on Saturday & Sunday's for delicious on our outside patio!"