The best burgers in NYC
The quest for the perfect burger is on! Eat your way though the city's most beloved patties.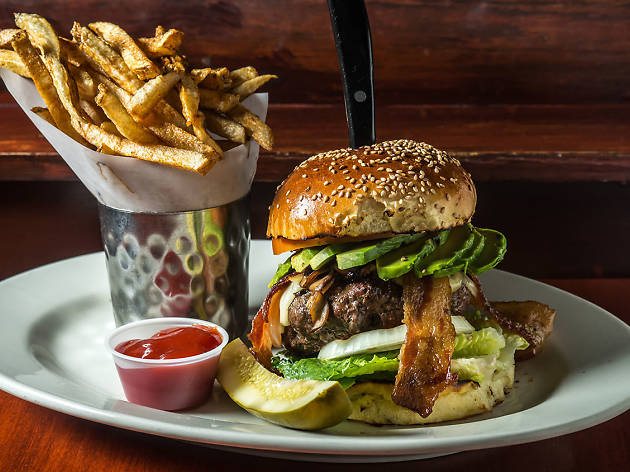 Like the Subway Series, the large-soda ban and Anthony Weiner's fitness for office, the topic of best burger in NYC can fuel furious debate among New Yorkers, fans staking out their affinity with impassioned fervor. In a diverse landscape of patty melts, double doubles, fancy chef creations and more, there's a burger out there for every diner, whether you grew up eating at a bistro in France or an In-N-Out in California. Gotham restaurants have been putting a fancy spin on the humble sandwich since the iconic '21' Club put out its duck-fat "haute" version in the 1950s (see Hamburger history for more fascinating trivia). In recent years, we've seen the meteoric ascent of Shake Shack, the weirdest burgers popping up in New York restaurants and a slew of new burgers tricked out with primo ingredients. Taste your way through our lists to decide on your favorite.
RECOMMENDED: See more of the best restaurants in NYC
Archive best burgers in NYC coverage
Sponsored listing
Cafe Centro
At this sprawling brasserie, looks matter. Rotisserie chickens spin in a giant hearth; the curved, glass-enclosed kitchen demands attention; and streamlined light fixtures create a clubby feel. Chef Franck Deletrain's menu is heavy on surf and turf for the expense-account crowd. Nods to Morocco include a just-sweet-enough chicken b'steeya with a hint of orange-flower water and garnished with spiced candied almonds. Raw-bar choices are popular, as are meaty crab cakes and the butter topped filet mignon. Many of the showy desserts are crowned with arabesques of spun sugar. A more casual meal is available at the moodier adjoining Beer Bar.
Venue says: "Cafe Centro offers all of your favorite French dishes, including Beef Bourguignon, Lobster Risotto, Croque Monsieur, and Bouillabaisse."