The best cheap burgers in NYC
A great burger shouldn't cost as much as a steak—here are New York's best cheap burgers, all under $12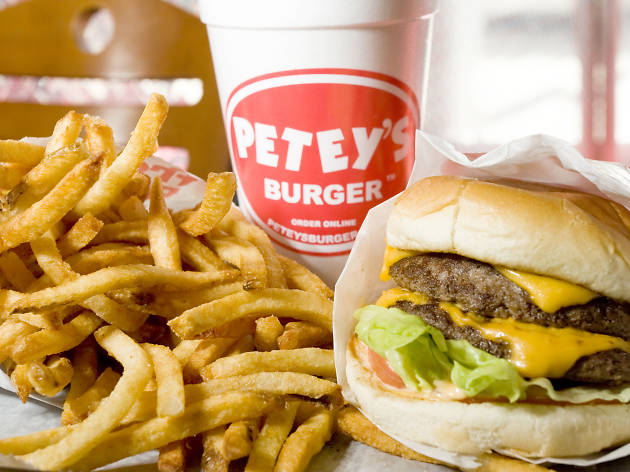 New York City may be home to the World's Best Restaurant, but amidst all the fancy tasting menus and gourmet, fine-dining restaurants, let's not forget the little things that make New York City great. The best burgers, for one. And while great burgers (or veggie burgers) can be found at top-notch establishments for more than $20, spending your entire food budget on a single burger is totally unnecessary when there are so many great cheap burgers throughout the boroughs!
RECOMMENDED: Full guide to the best cheap eats in NYC
Best cheap burgers in NYC
Want to check out more NYC restaurants?
From white-clothed fine dining to hole-in-the-wall cheap eats, find the best new restaurants NYC has to offer
Read more
Sponsored listing
Gaijin
In Astoria, just off the bustling shopping district of Steinway Street, lies a hidden treasure. Gaijin, meaning "outside person" in Japanese, is an apt moniker for Chef Mark Garcia's modern take on Japanese food. Garcia and co-owner Jay Zheng met working in Chicago restaurants and planned for five years to open their own place. They brought their ideas—and nearly their entire staff—to the Big Apple for a soft opening last October. The staff look chic in crisp white button-downs and leather suspenders, with jaunty newsboy caps for the cooks. Jazzy pop provides unobtrusive background music for diners. The appetizers are divided into cold and hot plates and should not be ignored. The steak tartare ($21) topped with herbs and a diminutive quail egg is a religious experience. Sesame and paper-thin scallions give the raw meat an almost charred taste. Once a special, the bone marrow ($14), a cross-cut bone sprinkled with charred scallion, Chinese onion and parsley, is now a mainstay. Scoop out clouds of gelatinous joy to spread on griddled baguette with a tiny wooden spoon. A tuna flight ($24) offers three levels of fattiness—akami, chutoro and otoro—all superb. And in one of the most innovative presentations ever, three toothsome gyoza ($8) arrive attached, as part of a single pancake. The sleek, modern eatery seats 30, including eight chairs at the long, white sushi bar where Garcia holds court, turning out exquisite, jewel-like pieces of sashimi and nigiri with delightful topp
Venue says: "Gaijin is a modern Japanese inspired restaurant serving fresh fish from the Tsukiji market, Japan and robata delicacies with binchotan."