The best cheap falafel in NYC
Whether you prefer them stuffed into a pita or served on a platter, the best cheap falafel in NYC costs just a few bucks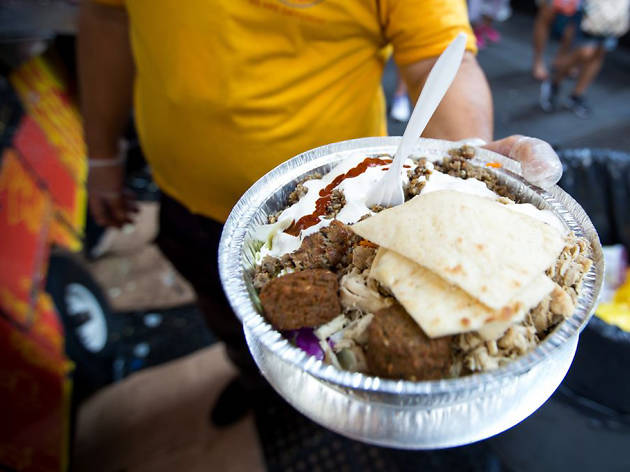 Finding bargain eats like cheap falafel in NYC isn't all that difficult, but finding good cheap food? Now that's a skill worth writing about. From Bed-Stuy to the Bronx, we've shared our favorite cheap pizza joints and the best bowls of ramen under $10, but no file of cheap eats would be complete without a nod to New York's favorite Middle Eastern street food: the warm and crispy, garlic- and parsley-packed falafel. So the next time you're craving a quick and filling meal like one from vegetarian restaurants that won't break the bank, head to one of these trucks, carts or counters for some of the best falafel pitas and platters a few bucks can buy.
RECOMMENDED: Full guide to cheap eats in NYC
Looking for a cheap sandwich?
Inexpensive (under $10!) doesn't mean unfulfilling when it comes to the best cheap sandwiches in NYC
Read more
Sponsored listing
Sunken Hundred
There's more to Welsh food than cheese-clogged rarebit, a fact owner Illtyd Barrett holds dear to at this Cobble Hill spot, named for Wales' folk legend of the sunken kingdom of Cantre'r Gwaelod. Partnering with his brother Dominic and executive chef Tom Coughlan (Txikito, La Vara, Seamstress), the proud Welshman touts his home country by placing mythological artwork and photos of a petrified Welsh forest throughout the 50-seat pub, which also sports a Wales-specific lending library. In the kitchen, Coughlan borrows and tweaks recipes from Barretts' mother, such as steamed mussels with brandy-soaked pork belly, roasted hake in a tomato-butter sauce, and meatballs with peas in onion gravy. House cocktails, available at a 700-year-old hemlock-topped bar that Barrett handcrafted himself, remain on theme with options like the Seithennyn, made with house-made seaweed oil and kelp bitters.