The best cheap pizza in NYC
Just because you're on a budget doesn't mean you should put up with a greasy slice. Try one of these affordable pizzerias.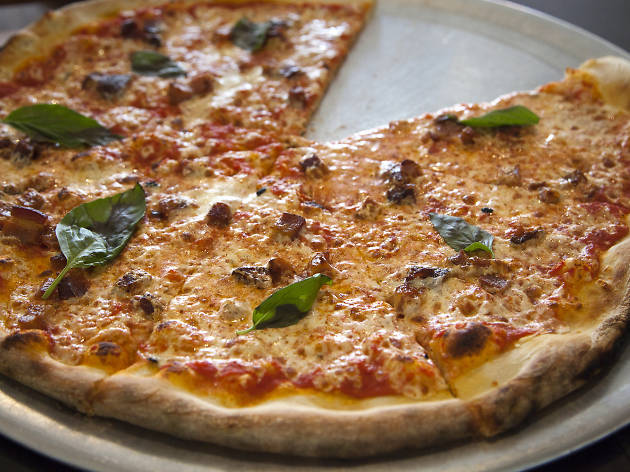 Best cheap pizza in NYC
If you're going to pay for artisanal pizza, it's best served fresh: Here, slices of piping hot cheese 'za will set you back $3.25, a whole dollar cheaper than Artichoke. Drop down another $3.75 to try a leopard-spotted white slice jazzed up with caramelized onions and sesame seeds, and wash it down with a Mexican Coke ($2.75).
Read more
For more than 40 years, Italian-born Domenico DeMarco has eaten a slice of his own pizza every day—a one-man quality-control outfit. You know he's doing something right. His painstakingly crafted regular pies ($28)—cracker-thin crust with a pleasing char and a subtle Parmesan zing—are widely considered to be among the city's best. Herbs grown in the window boxes flavor the sauce, and the dough is made fresh several times a day.
Read more
In March of this year,the cultish joint Lucali opened a spin-off in Sunset Park, helmed by Chris Iacono. The 40-seat eatery offers an identical menu of classic calzones (small $10, large $20) and thin-crust pizzas ($20, each topping $3--$6). As at the original, guests can watch flour-dusted chefs punch and pull mounds of dough in front of a wood-fired oven. But drinkers, take heart: Unlike BYOB Lucali, Giuseppina's serves beer and wine.
Read more
Dough technician Joe Pozzuoli has perfected the thin-crust slice ($2.75). It's well charred, with zesty tomato sauce and a blanket of fresh mozzarella. Best of all, only one or two pies are baked at a time, so the slices are burn-your-tongue fresh. One warning: Don't mix up this place with the unrelated Famous Joe's down the block.
Read more
If anyone can claim to be an expert on Neapolitan pizza, it's Kest's Roberto Caporuscio: As president of the U.S. branch of the Associazione Pizzaiuoli Napoletani, he's top dog for the training and certification of pizzaioli (a former dairy farmer and mozzarella maker, he's also intimately familiar with that most essential cheese). In addition to all the hallmarks of the Neapolitan product—San Marzano tomatoes, doppio zero flour, scorching-hot wood-burning oven—Caporuscio uses a slow-speed mixer to work his dough. Then, he gently stretches it into a round with his hands, since it's far too soft for tossing. Puffed with warm pockets of steaming air, it's tender yet resilient, stretching ever so slightly as you tear it with your hands. All over the golden surface is an even spotting of tiny blisters, just enough to deliver that brick-oven sear. Whatever you put on it, from the classic Margherita toppings to butternut squash puree with smoked mozzarella, it's as close to the platonic ideal as we've found. To keep things super-cheap, savor the Neapolitan wood-oven-fired lunchtime special: a portable, foldable mini Margherita dripping with fresh mozzarella ($6, takeout only).
Read more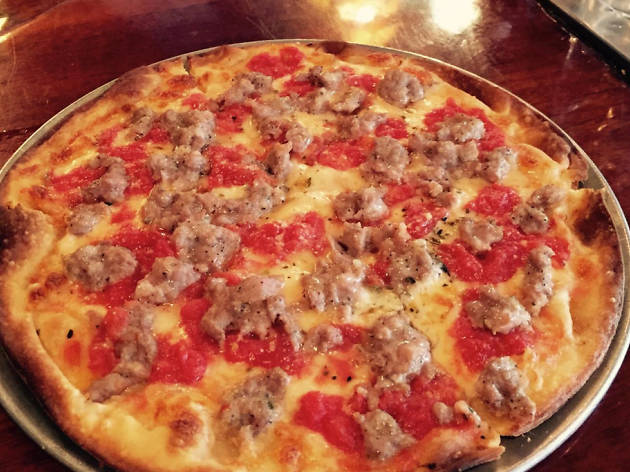 Lee's Tavern
Hop the ferry to Staten Island and get transported back to the good ol' days at Dongan Hills staple, serving up a renowned bar pizza that rivals the city's crispiest brick-oven pies. Head to the back dining room and order an individual-sized round with sausage and zesty red sauce ($7.25), or get it plain Jane for a solid $5.25.
Brooklyn's pizza legacies are legion—from Grimaldi's in Dumbo to Ditmas Park's fabled Di Fara. To this noble lineup add Lucali. The artisanal intent at the candlelit pizzeria is visible in the flour-dashed marble counter where the dough is punched and stretched, and in the brick oven from which it later emerges crisp and blistered. There are just two items on Lucali's menu: pies and calzones, adorned with milky, elastic mozzarella and simple toppings like chewy rounds of pepperoni or slivers of artichoke. Affordable highlights include the massive five-cheese calzone (small $10, large $20).
Read more
Mathieu Palombino's international pizza joint is but one of many that extol the virtues of the Neapolitan pie, but it's stellar prix fixe distinguishes it from the pizza-slinging masses. The set menu includes a mixed green salad and choice of the margherita, Brussels sprout, soppressata or marinara pie for $12 on weekdays from 11am–4pm. Non-pizza crowd pleasers include jumbo chicken wings hit with chili flakes, mint and lemon ($11) and belly-warming meatballs topped with pecorino and fresh basil ($9).
Read more
Pizza hobbyist turned pro Paul Giannone produces truly original pies at this rustic Greenpoint eatery. The best pizzas here are mixed-media masterworks with gorgeously blackened crusts covered in crispy nooks and pillowy bubbles. The Honey Jones—a frequent special featuring honey from a Brooklyn beekeeper, Gorgonzola, mozzarella, cherries and wispy prosciutto—beautifully balances sweet and salty ($18). Ask for a seat in the back for a view of the roaring oven—a custom-built, while-tiled dome that burns up to 1,000 degrees.
Read more