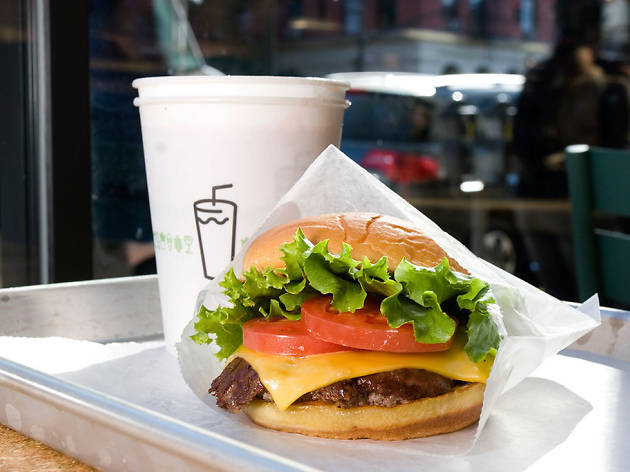 The best fast food restaurants in NYC
We rate best fast food restaurants for pizza, burgers and snacks that will fill you up before your long subway ride
You may have noticed that New Yorker can be a little, well, frantic. That's why nearly every block in town has some stellar fast-food joint, and a growing list of street vendors competing to be one of the best food trucks in NYC. So whether you're looking for the best burgers in NYC or the best hot dogs this side of Coney Island without going into debt, you're sure to find something in New York—and fast.
RECOMMENDED: Full guide to the best restaurants in NYC
Best fast food restaurants in NYC
Whatever borough you call home and however refined your palette may be, it's all but guaranteed that you've found burger bliss at one of the 14 NYC locations of Danny Meyer's patty juggernaut. Burger fiends adore the classic Shackburger, vegetarians cleave to the stupendous 'Shroom Burger, and anyone who can handle lactose has ascended to ice-cream nirvana with an ice-cold custard concrete. This contemporary fast-food staple may be ubiquitous and it's always packed, but it never fails to satisfy.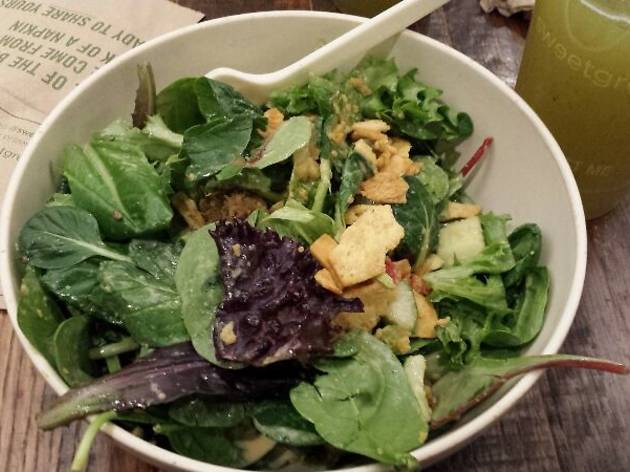 Photograph: Courtesy CC/Flickr/Guru Of Sales
We've all read think-pieces about "the future of fast food," but how many earth-friendly, healthy takes on quick eats actually sound good? Luckily, this D.C. import follows through when it comes to totally-stacked salads: the Rad Thai is packed with citrus shrimp, sprouts and sunflower seeds in spicy cashew dressing, while the Hello Portobello piles high raw beets, organic wild rice, shredded kale and miso-sesame-ginger dressing. If you're like us, you'll find yourself crawling back tomorrow for lunch.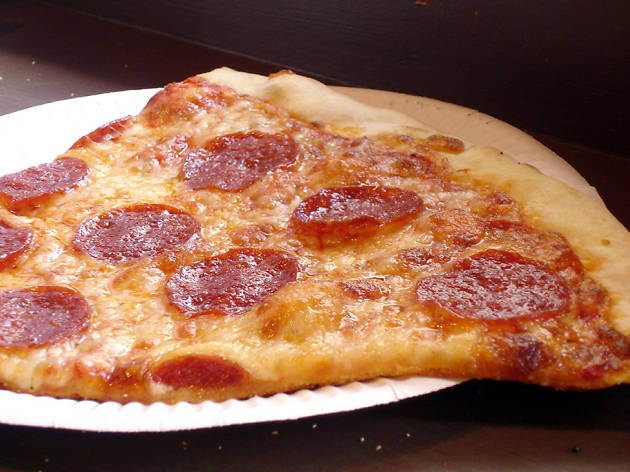 Photograph: Courtesy CC/Flickr/Bluedotcreations
There are a million spots to grab a slice of pizza and a chicken-parm sub in New York, but at ubiquitous Ray's, you know it's going to be good every time. Dozens of slice shops may claim the Ray' mantle around town, but if your's costs less than $3, overflows with oozing cheese and delivers a snappy crust, you know you're at the real Ray's.

Photograph: Courtesy CC/Flickr/Bluedotcreations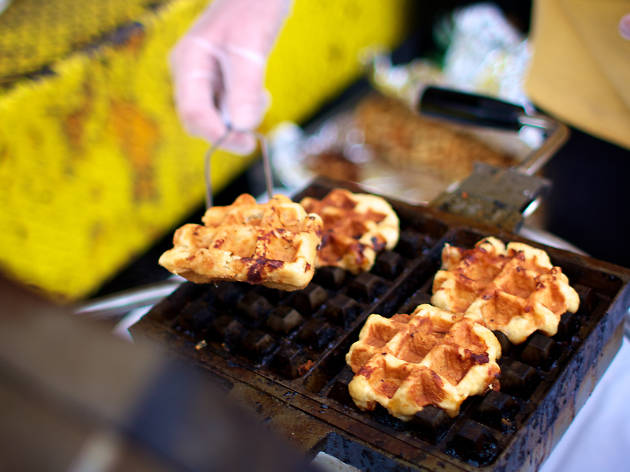 Photograph: Courtesy CC/Flickr/Meng He
Saturating New York streets with the sweet smells of waffles, bacon and fudge, this truck operation brings Gotham the best of Berlin. If you've never indulged, start your new relationship with the "mother of all wafels," the light and crispy Brussels Wafel, which first landed in NYC for the 1964 World's Fair.

Photograph: Courtesy CC/Flickr/Meng He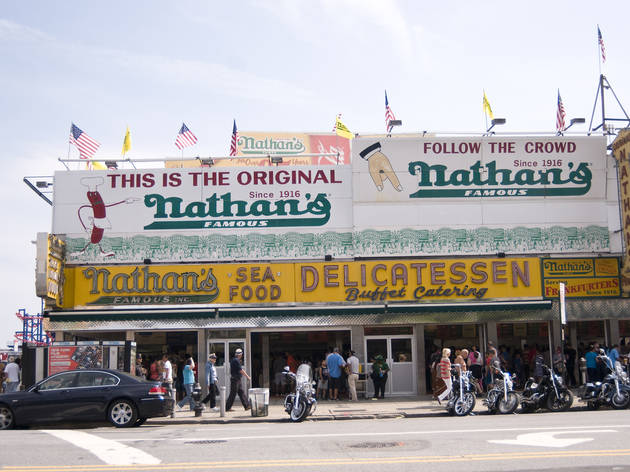 It's hard to believe that a humble Coney Island frank stand has become an international institution, with locations in Malaysia, Turkey and Florida. Regardless, New York had it first, and a century later, Nathan's all-beef tubers are as reliably good as ever.
Manhattanites can finally order the signature Chickenjoy (fried chicken) at the much-beloved Asian fast food chain. Other Filipino offerings include Jolly Spaghetti (spaghetti noodles drenched in a red sweet sauce with thick slices of ham and hot dogs), the Burger Steak or the Peach Mango Pie made with Philippine mangoes cooked inside a flaky crust.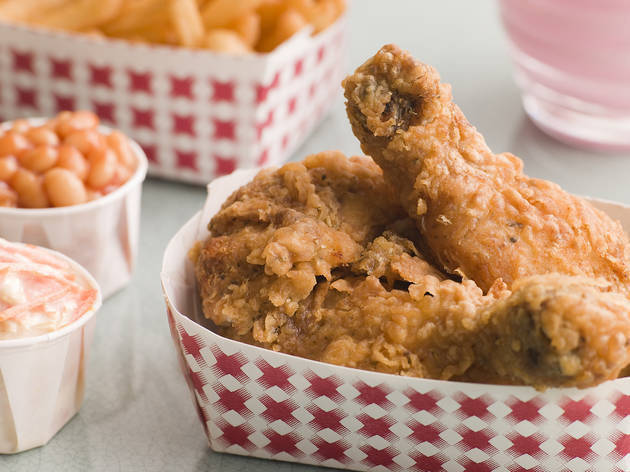 Photograph: Shutterstock
Dominican. Fried. Chicken. Is there anything else you need to know? This beloved Harlem joint delivers sinfully good boxes at pocket-friendly prices (nobody walks away from a $5 four-piece). While you're at it, take home some tasty plantains and arepitas de yuca.
If you're terrified of mystery meats and radioactive oil, you finally have a fast-food option that won't make you kvetch. Based on the street food of Tel Aviv, Israel, this breezy Mediterranean shop offers 100-percent vegetarian pita sandwiches, salads and spreads. Bonus: the yummy falafel is cooked in zero-percent trans-fat oil.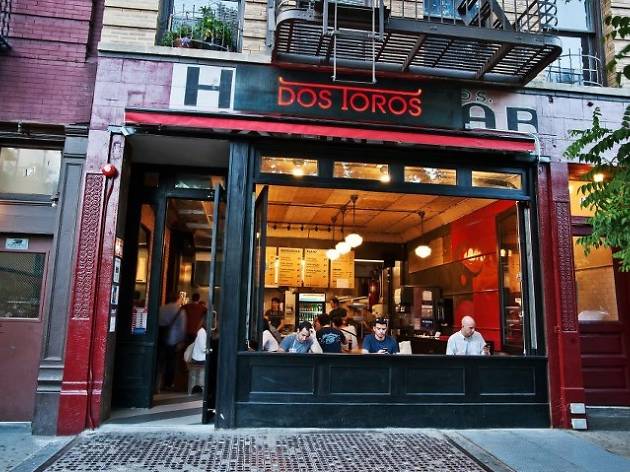 Siblings Leo and Oliver Kremer left the Bay Area to teach New Yorkers a thing or two about Cal-Mex cuisine. Their tiny East Village storefront specializes in San Francisco–style burritos—California's perversely swollen, pico de gallo–drenched wonders. Try one stuffed with rice and beans, along with your choice of protein: carne asada, locally raised, brined and grilled chicken, or porky, slow-cooked carnitas.
Sure, it's easy enough to make a grilled cheese at home, but would yours include fried chicken, maple bacon or truffle oil? And don't even pretend you know how to make a good Nutella milkshake. With four Manhattan locations and decent prices for their inventive menu, this quick-service spot offers you home-cooking that's so much better than what you cook at home.
Show more
Find the best cheap eats in NYC
There's never been a better time to eat on the cheap, New York! Discover how to feast like a high roller for 15 bucks or less.
Best selling Time Out Offers