Heads up! We're working hard to be accurate – but these are unusual times, so please always check before heading out.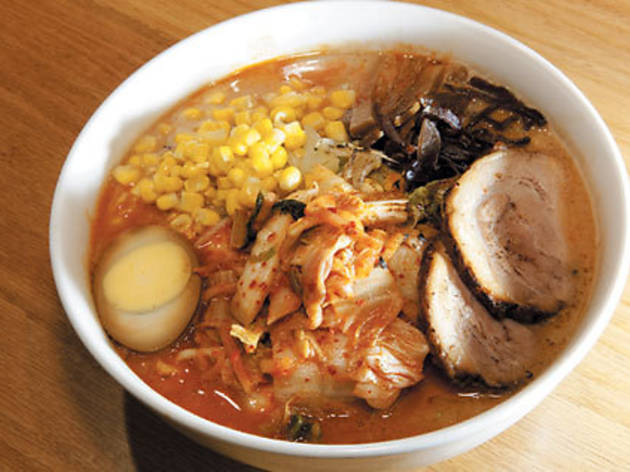 1/10
Kimchi-miso ramen at Kambi Ramen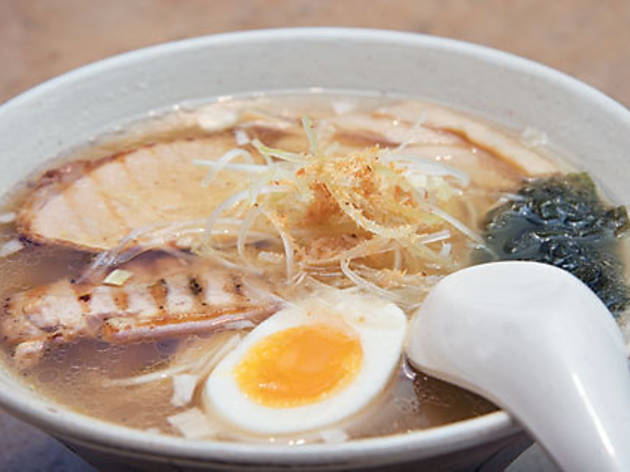 2/10
Shio ramen at Ramen Setagaya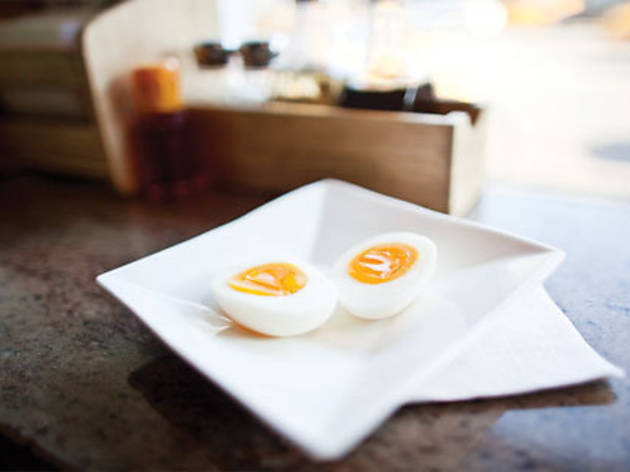 3/10
Shio-tama at Ramen Setagaya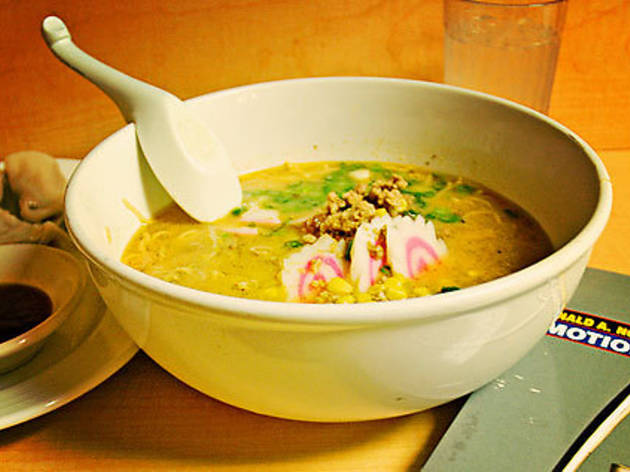 4/10
Sapporo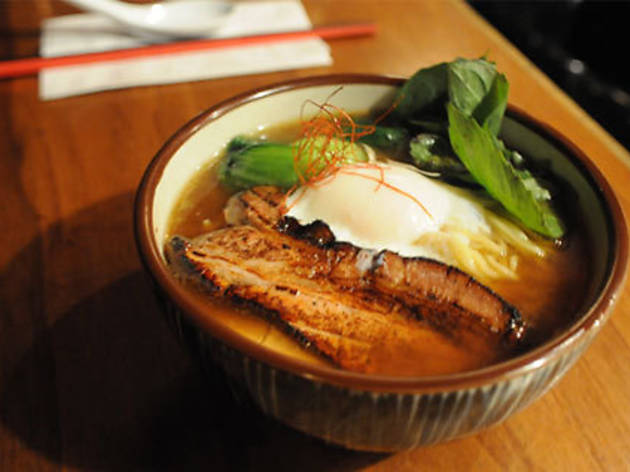 5/10
Green curry miso ramen at Zuzu Ramen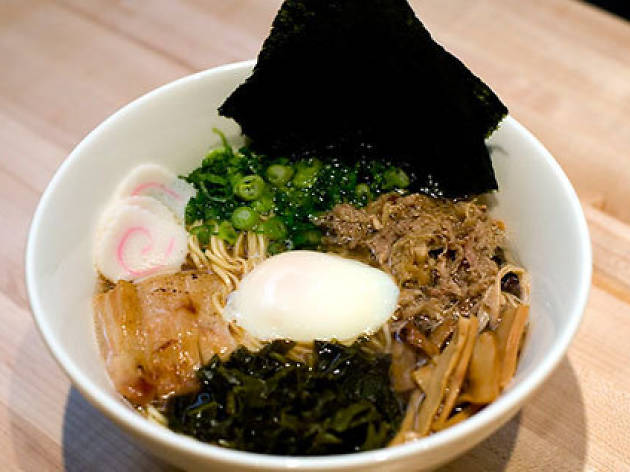 6/10
Momofuku Noodle Bar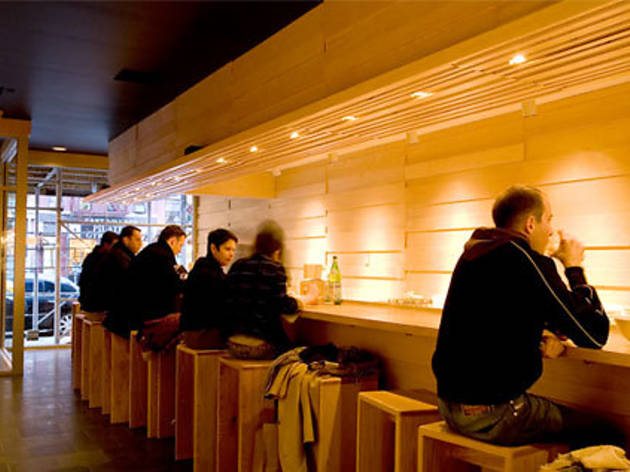 7/10
Momofuku Noodle Bar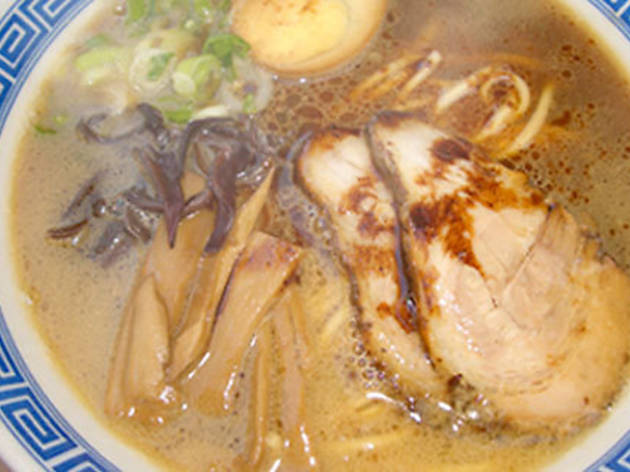 8/10
Minca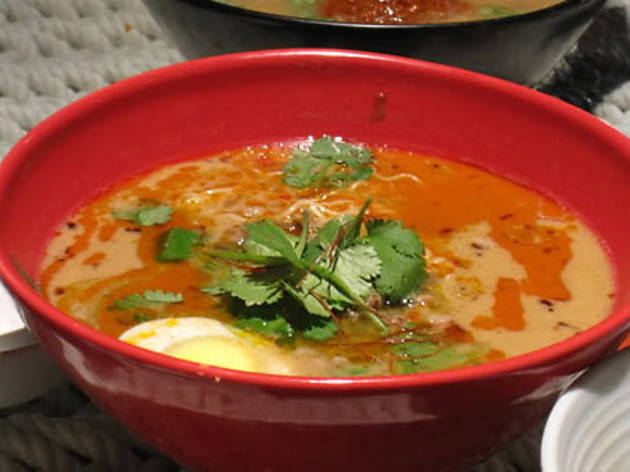 9/10
Ippudo NY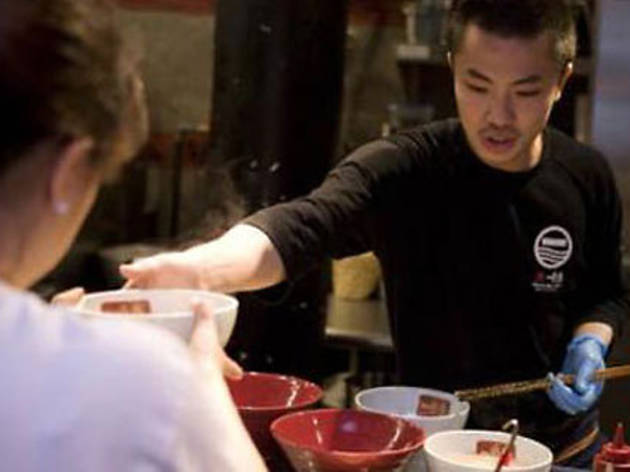 10/10
Ippudo NY
Establishments in our top-ten lists are listed in alphabetical order. Got a favorite spot that you think is missing? Let us know in the comments.
RECOMMENDED: The best Japanese food in NYC
Ippudo NY
This sleek outpost of a Japanese ramen chain is packed mostly with Nippon natives who queue up for a taste of "Ramen King" Shigemi Kawahara's tonkotsu—a pork-based broth. The house special, Akamaru Modern, is a smooth, buttery soup topped with scallions, cabbage, a slice of roasted pork and pleasantly elastic noodles. Avoid nonsoup dishes, like the oily fried-chicken nuggets coated in a sweet batter. Long live the Ramen King—just don't ask him to move beyond his specialty. 65 Fourth Ave between 9th and 10th Sts (212-388-0088)
Kambi Ramen House
Though New York's ramen scene is tending toward specialization, this noodle-and-soup spot (an offshoot of nearby Minca) sticks to a diverse menu. Kambi's advantage is its flexibility: Vegetarians can enjoy a flesh-free bowl; carnivorous diners at the blond-wood bar are welcome to slurp chewy noodles in a kimchi broth; and cold sufferers can detox with chicken soup. The pork broth—a stock made from roasted bones and delivered with springy wheat noodles and sliced pork—may not be as complex as Ippudo's, but it's still a satisfying meal. 351 E 14th St between First and Second Aves (212-228-1366, newyorkramen.com)
Menchanko Tei
The hakata ramen is a transporting dish of tender noodles—like udon but much thinner—topped with pork slices, black mushrooms and shredded red ginger, and served in an incredibly rich and complex cloudy broth. 131 E 45th St between Lexington and Third Aves (212-986-6805)
Menkui Tei
The name translates as "eating noodles," and it's a fitting moniker for this no-fuss East Village ramen spot. The roomy interior, sparsely decorated with beer signs, hosts a steady procession of NYU students and Japanese patrons doing more slurping than talking, and the ample counter space along one wall is a popular perch for solo diners. The house special, Menkui Ramen, features seaweed broth, roasted pork, scallions, bean sprouts and bamboo shoots, but we prefer the sinus-clearing Tan Tan Men, a soy-flavored noodle soup with heaps of spicy ground pork. 63 Cooper Sq between Astor Pl and E 7th St (212-228-4152)
Minca
The usual noodle-bar gimmicks are not part of the equation at Minca. You can't mix and match your meat and broth. Instead, the gleaming East Village soup stop stays focused on 15 simple items—all of them certainly better than anything you microwaved in college. Nab one of the few barstools overlooking the stoves and dive into light homemade dumplings stuffed with panfried minced pork, followed by chashu ramen, a buttery broth stocked with egg, bamboo shoots and sheets of nori, topped with thin, tender slices of pork. 536 E 5th St between Aves A and B (212-505-8001)
Momofuku Noodle Bar
Noodle Bar made its bones taking the economic savior of college students everywhere—ramen noodles—and making them hot, duding up most of the bowls with sexy yet earthy ingredients like poached eggs and pickled pear, the latter turning the pork broth of the beef brisket nguyen into a spicy fruit tea. 171 First Ave between 10th and 11th Sts (212-777-7773, momofuku.com)
Rai Rai Ken
Seating is limited here to 14 cheery-red stools pulled up to a wooden bar, behind which a company of cooks paces to and fro ladling out bowls of the house specialty: ramen. The shio and shoyu ramen are excellent, but the curry ramen is not to be missed. It is deeply fragrant—smelling of roasted apples—and you may find yourself forgoing the crimped noodles to drain the bowl of every drop. The house gyoza, delicate pockets of minced pork, ginger and scallions enclosed in fried, featherlight dough, vanish too quickly—unless you order seconds. The fried rice, with tender shreds of roasted pork, is simple and delicious. 214 E 10th St between First and Second Aves (212-477-7030)
Ramen Setagaya
This Tokyo ramen chain now has multiple New York locations. Noodle lovers can sample authentic versions of the dish that, in its watered-down version, is beloved by undergrads everywhere. At the First Avenue location, bowls of aromatic shio (salt) broth are topped with slippery wheat noodles, pork belly, julienned scallions and half an egg, or you can select one of three tsuke-men—dipping noodle—options. The "deluxe" choice, with a heap of thick noodles, features a dark, garlicky broth that contains chopped hunks of briny dried scallop. On St. Mark's Place, the specialty is syo-yu (soy sauce) broth. 141 First Ave between 9th St and St. Marks Pl (212-529-2740, setaga-ya.com)
Sapporo
Back when most people thought ramen was just an instant food, Sapporo was already dishing out steaming bowls of the real stuff, at this bare-bones location just north of Times Square. Among the various broths available, including salt and soy, the Sapporo Special ramen's miso base is our favorite, studded with scallions and bits of corn, fluorescent rounds of pink-and-white fish cake and sliced pork. Those seeking a larger meal can fortify their order with crispy fried pork gyoza or savory donburi (egg-and-onion-topped rice). While it's no longer New York's best option for the soup—the noodles could be springier, the flavors richer—it's still one of the tourist-packed area's better spots for a meal. 152 W 49th St between Sixth and Seventh Aves (212-869-8972)
Zuzu Ramen
Manhattan's ramen craze has crept across the river to this Park Slope noodle house. Grab a seat at the dark-wood bar overlooking the kitchen (a better view than the alternative—gas station-littered Fourth Avenue) and choose your meal-in-a-bowl. While the signature Zuzu ramen—dashi broth floating with soft noodles, a silky slow-cooked egg and hunks of braised pork belly—is plenty hearty, its intense saltiness gets tiresome. But superior versions like a spicy green curry soup, rich with miso and thin slices of charred pork, help set this place apart from its Manhattan cousins. Supplement your meal with small plates, including the crispy pork dumplings. 173 Fourth Ave at DeGraw St, Park Slope, Brooklyn (718-398-9898, zuzuramen.com)
Related
Raging bowls