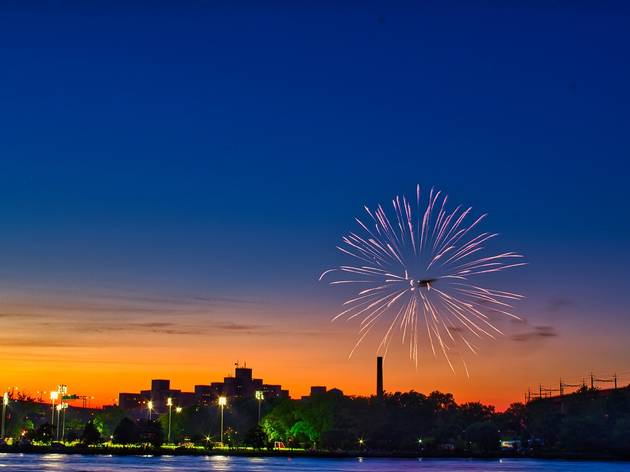 The best restaurants with July 4th specials in NYC
Celebrate Independence Day at the best restaurants open on July 4th, serving up everything from burgers to lobster rolls
With everything that's happening in the world right now: the pandemic, historic levels of unemployment and emergency protests calling to end police brutality against the Black community, some may find it to be a weird time for celebrating America. But one thing is clear: those who will be participating in 4th of July festivities this year will largely be doing so outside more than in year's past (and certainly with less of an all-out party vibe due to current citywide health guidelines). While many Independence Day plans revolve around a backyard grill loaded with burgers and hot dogs, sometimes it's nice to turn over the cooking duties to a professional, particularly this year, if you're looking support small businesses near you. This fourth, visit one of these restaurants with specials and feast on some of the best tacos or best lobster rolls in NYC—without having to lift a finger. Get some of the items to-go and bring 'em to the beach or park for a social-distanced summer picnic.
RECOMMENDED: Full coverage of the 4th of July in NYC
Best restaurants open on July 4th
There's been much written about the burger at Billy Durney's Red Hook Tavern. But this 4th of July the team is expanding it's offerings with a traditional corn dog served with crinkle cut fries and cotton candy. Order here.
The bright and airy Williamsburg favorite recently expanded onto its sidewalk with a socially-distanced "summer shack" concept, featuring beach chair seats to hangout on while listening to vinyl records (Gertie's pre-existing backyard will also be open later this summer) on the weekends, until Labor Day. You can order 4th of July special items such as hot dogs with a side of malt vinegar chips and fruit salad, ice cream sandwiches and other picnic treats, here.
Thai newcomer Wayla will offer a special Fourth of July food package this year, which includes: Si-Krong moo yang: (grilled BBQ spareribs, sen mee noodle with pickled veggies), sai-ua (a Northern-style grilled sausage) as well as larb kua nua (grilled beef larb with mango sticky rice). Book these dishes in advance, here.
Chef-owner Nick Anderer's first solo project is an ode to old New York, which, before the pandemic, focused throwback classics like Porgy & Prawns à la Manhattan and a simple salad of watercress and frisée. This Fourth of July, the restaurant will expand its menu with baby back ribs and potato salad for your picnic needs. Book the dishes in advance, here.
A Tuscan take on picnic offerings at Pasquale Jones will include pork ribs with fennel and hot pepper, butterball potato salad, insalata di campo and a blueberry crostata. Learn more, here.
Looking for more ways to celebrate the 4th of July?
Looking for the best 4th of July events in NYC? Dance, eat, drink at these Independence Day happenings.
Best selling Time Out Offers