The best cheap eats in West Village
Cheap eats abound in the West Village, but which stand out from the rest? Fuel up at our critic-approved budget food spots.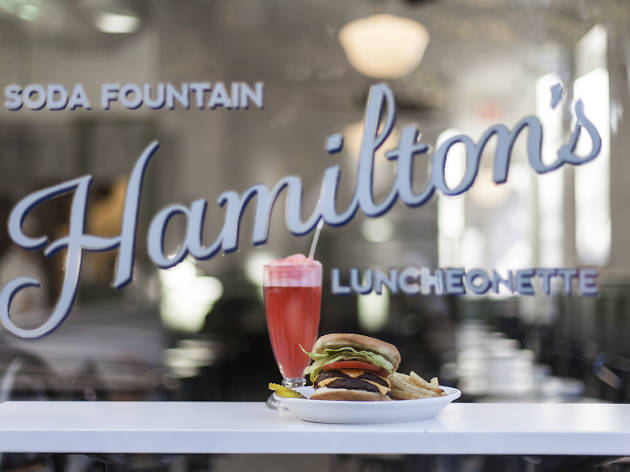 The hookup was bound to happen eventually: Beloved baker Amy Scherber has set up shop downtown right near Murray's Cheese. It's a dynamic duo if there ever was one. Scherber will offer her famous loaves—including that addictive raisin semolina—along with a full spread of breakfast pastries; grilled sandwiches, salads and soups for the lunch crowd, plus giant cookies and old-fashioned layer cakes. It's open until midnight on weekends for a late-night sugar fix.
This dimly-lit lounge's fat, broiled beef burgers, hooded in American cheese and crispy bacon ($9.75), are legendary and New Yorkers are known to wait in line for one. Though it make take a while to get your hands on the patties, dirt cheap drafts like McSorley's Ale ($3) and Stella Artois ($4.25), and a heaping plate of shoestring fries ($2.75) should help pass the time.
Brothers Leo and Oliver Kremer bring their Food & Drink Award–winning take on Cal-Mex grub to the West Village with this spin-off of their East Side taqueria. You'll find the same short menu of simple bites made with primo ingredients, like local, antibiotic-free chicken and Cayuga Pure Organics pinto beans. Plug your protein of choice (carnitas, pollo asado, carne asada, or rice and beans) into a taco, quesadilla, "platos"or the joint's crown jewel: an overstuffed San Francisco–style burrito oozing pico de gallo. Kicking back with a Negro Modelo, Tecate or glass of sangria should be easier here: This location, outfitted with reclaimed-wood walls and a pressed-tin ceiling, is larger and will have outdoor seating.
On a cramped West Village corner sits this ode to 1940s New York, a white-walled luncheonette where cloth-capped soda jerks dole out milkshakes, lime rickeys and phosphates alongside greasy-good double-decker burgers ($7.50) and crispy salt-and-pepper fries ($3). The retro-style minidiner also serves a slew of hearty meat-and-potato platters so you can gorge on turkey and gravy, corned beef and cabbage, or fish and chips for dinner under $12. Generously scooped sundaes ($8) are decked out with Georgia peaches, caramel and bananas, splitting easily among a small group of friends—and their wallet.
Falafel doesn't usually come in different flavors—unless it's made by an Israel-born chef who's worked under Bobby Flay. At her falafel and smoothie bar, Taïm, Ludo chef Einat Admony seasons chickpea batter three ways: traditional (with parsley and cilantro), sweet (with roasted red pepper) and spicy (with Tunisian spices and garlic). She pairs the terrific falafel with tasty salads like marinated beets, spicy Moroccan carrot salad or baba ghanoush, and three dipping sauces. The smoothies are exotic too—date-lime-banana, pineapple–coconut milk and a refreshing cantaloupe-ginger—and can be made with whole, skim or soy milk.