The best new restaurants in NYC for July 2019
From a French classic to a kitschy Bushwick nightlife spot, these are the best new restaurants NYC has to offer.
The hottest new restaurants trending in NYC this month are a stacked line-up of openings with strong candidates for our 100 best restaurants. While we love summer concerts, New York gained two new spots with both dinner and show: The Turk's Inn in Bushwick and Special Club in Greenwich Village. The celebrity-studded Pastis finally returns to the Meatpacking District. The best outdoor dining restaurants in NYC are still some of the hottest seats in town, but these latest openings have us the the most excited.
RECOMMENDED: Full guide to the best restaurants in NYC
Fans of a defunct Midwest supper club, The Turk's Inn, have revived the restaurant in Brooklyn. The recreation retains the same kitsch but adds new elements: in addition to the sit-down restaurant, Turk's Inn has an attached music venue, the Sultan Room, and Döner Kebab, for to-go shawarma.
Alain Verzeroli knows his way around French cooking (he was a protégé of Joël Robuchon for 21 years, after all). But with the opening of Shun, located upstairs from Le Jardinier, his interpretation of cuisine à la française shows off his mastery of Japanese flavors—with a serene dining room as his stage.
Restaurants, Contemporary European
This new natural wine bar highlights lesser-seen European bottles and comes from Joe Campanale of Fausto and Ashley Rath, of the Grill. The space is simple yet elegant in its small details (even the light fixtures made from mycelium feel fancy). Bar food includes fried olives, zucchini escabeche and potato dumplings with lemon Sorrento butter sauce. It's sure to become one of the best places to dine al fresco in the neighborhood.
Keith McNally's beloved Pastis finally returns in all its French-bistro gloy. This time, he has partenered with restaurateur Stephen Starr to re-create the buzz. The new, larger space features the original mirrors, upon which the daily specials are handwritten (think quiche Florentine at breakfast).
Kichin has had many evolutions of its Korean cooking. After landlord issues caused the restaurant's first iteration back in 2016 to close, it lived on as pop-ups, landing at MoMA PS1, Kinfolk and Baby's All Right. Now, it's back to a permanent home, more focused on sit-down service and this time in Bushwick. Save for artful details like a choking hazard sign (illustrated by Doris Liou), the space's interior design is fairly simple; it let's the colorful food shine through. The menu includes chrysanthemum salad with snap peas and burdock, perilla leaf jeon with wood ear and yuba, rice cakes with gochujang and halloumi, beet japchae, jajangmyeon with black beans and roasted pork, mussels with anchovy butter as well as cauliflower wings with bird chili and agave. Kichin is now run by Bryan Moon alongside chefs Hoon Smith Patty Lee (formerly of Roberta's) and Beverage Director Jason White (formerly of Mission Chinese and Per Se). Kichin hopes to function as a nightlife destination, one of a few restaurants that services the late-night crowd from nearby Bossa Nova Civic Club, Mood Ring and Birdy's.
Restaurants, Mediterranean
Successful neighborhood-y restaurants are hard to come by, but Danny Minch and Dylan Dodd—behind Williamsburg's Walter Foods and Fort Greene's Walter's (where one of our favorite speakeasies, Karasu, is hidden)—are among Brooklyn's experts. Their new all-day venture in East Williamsburg offers a Mediterranean-inspired menu led by Jordan Heissenberger (formerly of Rucola, Buvette, Faun and Vinegar Hill House). Don't miss the pistachio semifreddo with amarena cherry.
27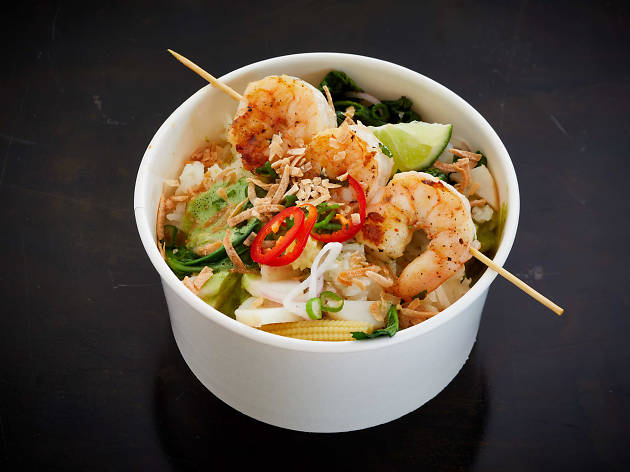 Photograph: Courtesy FieldTrip
Chef JJ Johnson's foray into the fast-casual space is all about rice. Each bowl—filled with heirloom grains, from Carolina Gold to Chinese black rice—can be topped with ingredients ranging from braised beef to shrimp in green curry sauce. Other to-go dishes include quinoa bao buns and rice milk-based soft serve.
Ariel Arce—once referred to by The New York Times as "The Champagne Empress of Greenwich Village"—is building a name for herself as a key stakeholder in downtown New York's nightlife scene. Her latest venture, underneath Arce's Niche Niche, fuses food with music; the speakeasy-style live jazz performance space is an ode to old-school New York lounges. Bites, sake, cocktails and wines from Niche Niche's cellar are available at this new social club.
Poke bowls brimming with fresh fish and rice are all over New York these days, but Peruvian-style ceviche is still relatively unknown. At the first full-service Mission Ceviche location, chef José Luis Chavez prepares classic and Nikkei (Japanese-inspired) versions, as well as other traditional South American dishes.
The team behind SakaMai has opened their latest venture in the East Village. The name, which literally translates to mean "moon-viewing," expands the team's hit bar concepts into Japanese fine dining. Executive chef Takanori Akiyama has prepared a kaiseki-style menu: The eleven-course tasting menu costs $195 with the option for beverage pairings as well.
Restaurants, Mediterranean
The extensive seafood-focused menu—oysters and whole fish are just a start—at Lamia's Fish Market is perfect for summer. In a sprawling space, occupying two floors, the Mediterranean theme is reflected as much on the plate as in the interior's amusing decor, which sports gilded fish and soothing shades of blue.
Restaurants, Mediterranean
We were distraught when Northern Spy Food Co. closed, but its spirit, at least through alumni chef Peter Lipson (also formerly of Empellón) lives on. At the coastal-focused La Ventura in the West Village, menu stand-outs include grilled octopus with yucca and tender grilled sunchoke kebabs.
Atto, a steakhouse inside the The Tuscany hotel, has quietly opened in a historic stretch of Murray Hill. While you can order dry-aged steaks grilled by a Peter Luger alum, there's also a six-seat crudo bar in this intimate dining room. For private events, the restaurant has access to the 17th floor penthouse, which has sweeping views of the Empire State and Chrysler Building
Eggplant agnolotti, hamachi crudo and a dry-aged beef burger are just a few items from the globally-inspired menu at Madre. Chef Bryan Noury's restaurant is located in the boutique hotel Franklin Guesthouse with intimate indoor and outdoor seating. The neighborhood eatery aims to serve locals and visitors alike.
Our favorite new restaurants in NYC
New York's best new restaurants in June include buzzy pizzerias, celebrity-chef spots and prepared-food counters
New York's best new restaurants in May include Middle Eastern dining rooms, vegan sushi spots and Chinatown food halls
New York's best new restaurants in April include vegan delis, oddball doughnut shops and pescetarian spots
Show more