The ultimate guide to dining outside in NYC
Looking for the best places to eat outside in NYC right now? Things are changing fast. Here's what you need to know.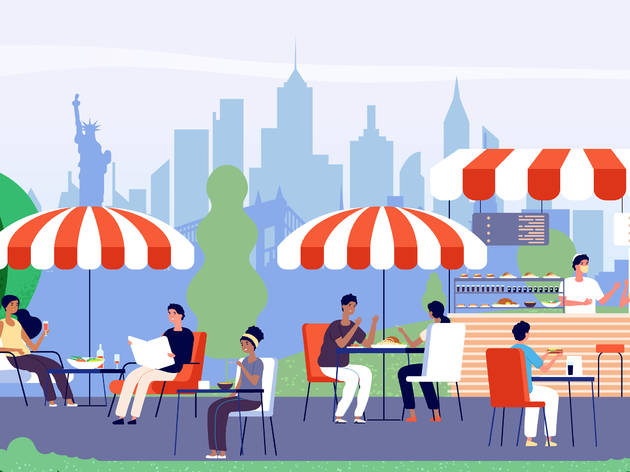 As long as it's warm enough outside, New Yorkers will be be dining outdoors as long as they can—whether that means sitting down at a full-service restaurant or just grabbing a quick bite to-go and relaxing in a park. With new policies allowing more restaurants than ever to apply and expand outdoor dining, we're seeing unprecedented, creative uses of public space.
The city's constantly changing mandates, however, can make it hard to keep up with the rules. So we're staying on top of the latest in this new hospitality landscape and have put together this official guide for everything you need to know about eating outside in our favorite city.
RECOMMENDED: Here are NYC's official guidelines to outdoor dining.
Outdoor dining in NYC guide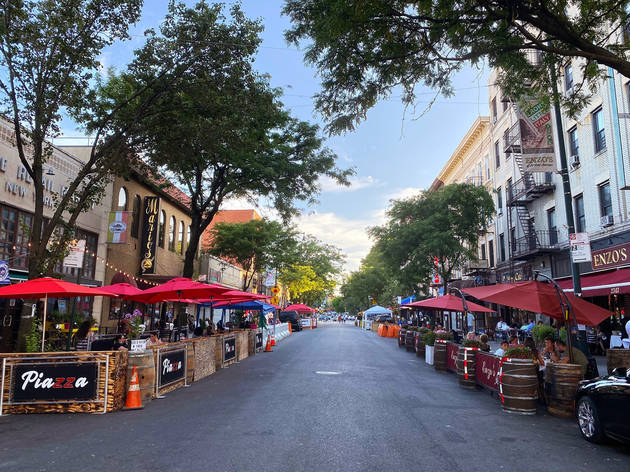 The 9 best streets for outdoor dining in NYC this summer
In 2020, the great outdoors in New York has become one big dining room. The city recently designated 22 streets—with more to be added—throughout the five boroughs that will close off to traffic on weekends so restaurants can expand outdoor dining. The move is part of Mayor Bill de Blasio's Open Streets plan, which aims to cordon off 100 miles of streets dedicated to pedestrians and bikers. Ever since New York entered Phase 2 of reopening and official delayed indoor dining for Phase 3 last week, more and more restaurants are setting up tables and chairs on sidewalks and streets. The new initiative allows more restaurants to set up shop on Friday nights from 5-11pm and weekends from noon-11pm through August. While the number of participating restaurants is constantly changing, here are the current streets where you can find some of the city's best outdoor dining. Bronx: Arthur Ave. (E. 188th St. to Crescent Ave.)    Photograph: Belmont Business Improvement District   Little Italy in the Bronx has transformed the main thoroughfare of Arthur Avenue into a piazza-style space. You'll find some of the city's most comforting red-sauce restaurants from mom-and-pop kitchens. Chinatown in Manhattan: Doyers St. (Bowery to Pell St.) View this post on Instagram A post shared by Chinatown NYC (@explorechinatown) on Jul 4, 2020 at 6:18am PDT Chinatown businesses have taken an especially big hit in the current crisis (many closed even before the state mandated the sh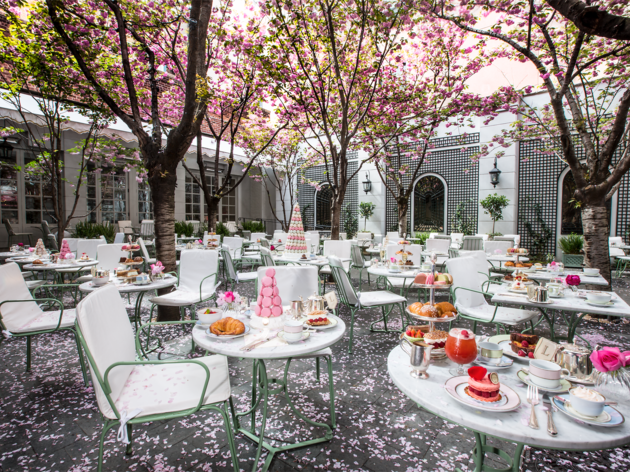 13 hidden patios, backyards and gardens for outdoor dining in NYC
There's never been a better time to dine outdoors in New York. The city has designated more than 20 of its Open Streets for dining on weekends (these are the 9 best streets, in our humble opinion), and more restaurants are going al fresco as indoor dining is on hold.  While many New Yorkers surely miss eating and drinking at their favorite restaurants and bars, let's face it: we're romanticizing outdoor dining at times. When you're seated on the city's sidewalks and streets, there's a lot more going on than the gazpacho or gin and tonic you just ordered. Cars are honking and zipping by within inches of your wobbly table. The subway rumbles every time it passes underground. And yes, there are rumors that our city's rats are hungrier than ever.  But these restaurants and bars have patios, backyards and gardens—many you would never know about—to make your outdoor dining experience a bit more serene. Claro   Photograph: Courtesy of Claro   Chef-owner T.J. Steele's Oxacan-inspired menu is perfect for al fresco dining. The Gowanus restaurant's patio has a pergola with dangling grape vines, and there's even a wood-fired grill in back. During the week, you can get drinks and snacks between 2-5pm and there are two seatings daily for dinner at 5:30 and 8pm (reservations only).  Sauced   Photograph: Sam Hillman   A disco ball, a hammock and plenty of throw pillows. Yes, you're in a wine bar. Sauced is as laid back as its backyard and is a perfect place to linger over a bottle of pé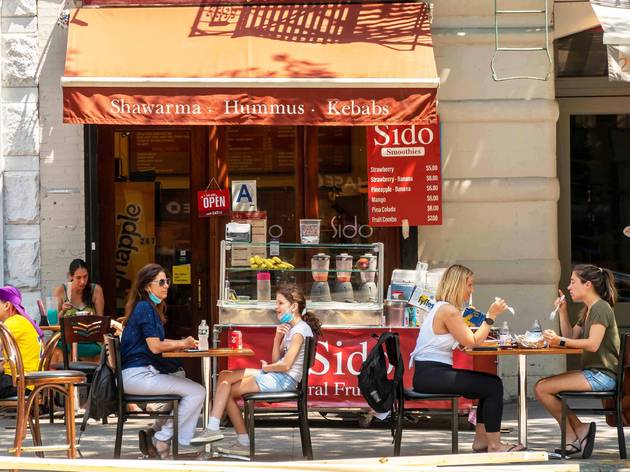 Eight tips for dining outside right now at NYC restaurants
So, you want to dine outside. After months cooped up in your apartment, you're looking to roam. And your favorite restaurant just announced they're dusting off the outdoor furniture and spreading out onto the city's sidewalks and open streets with tables aplenty. As restaurants heed the safeguards of reopening amid the pandemic, there are a few courtesy mannerisms and unspoken social contracts to be considered on your side as well—and we're about to spell them out for you. Before you hit up that restaurant's blooming garden, patio or makeshift parking space, here are a few outdoor dining etiquette tips to keep NYC's dining culture alive, our beloved restaurant workers safe and you on the right side of history. 1. Patience is a virtue, don't nag the stressed out staff. Nagging a restaurant host or hostess for a table isn't going to get you anywhere near one. Remember that there are far less seating accommodations at many restaurants with indoor dining currently off limits. It's not their fault, so don't be a jerk. 2. As you wait for a table, wear your dang mask. Don't wear it as a chin strap or with your nose peeking out either. Go all the way. Whether a sweet grandmother passes by you on the sidewalk or anyone at all walks in your path, you're increasing the risk of getting someone sick without a mask, all while you leisurely wait to brunch. 3. Don't ever stand in a crowd outside. Just don't! Don't be among the droves of customers openly drinking to-go drinks in the streets w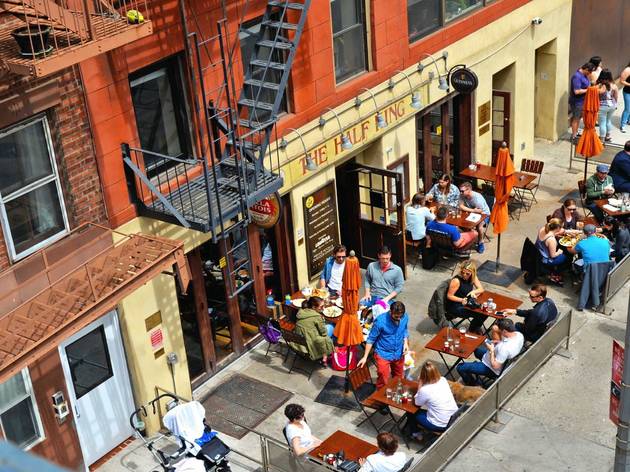 Here are NYC's official guidelines for outdoor dining
Earlier this week, Governor Andrew Cuomo announced that New York City restaurants and bars can reopen for outdoor dining in Phase 2 of reopening (indoor dining is still slated for Phase 3, which would be in July at the earliest). As the city approaches the first phase on June 8th, however, the state's Department of Health also released guidelines for businesses looking to cater to New Yorkers antsy to dine and drink al fresco (it's also worth noting that the policies are not clear when it comes to street vendors, such city's popular food trucks). Here's what we can expect to see: Six feet is the magic number With social distancing in mind, tables are to be spaced at least six-feet apart. But, tables can seat up to 10 guests in one party (who's part of your pod?). Guests should still be able to enter an establishment to use the restrooms as long as the business is mindful of keeping patrons at a safe distance from one another. Businesses are also required to create working spaces that don't put employees at risk. Also worth noting: the city council is pushing officials to expand outdoor dining on sidewalks and streets. Don't forget a face covering Unless you're seated at a table, you must wear a mask or you could be denied service. Employees are required to wear masks at all times, and they're allowed to suggest that guests wear one unless they're eating or drinking. Single-use is encouraged Restaurants are encouraged to use single-use items for menus and condiment containers.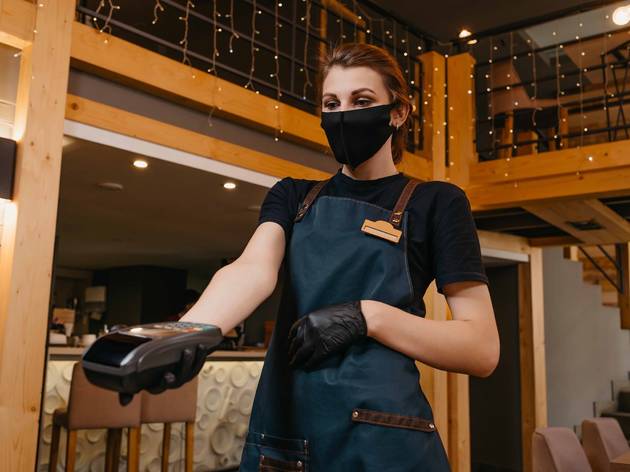 NYC restaurants can add a new surcharge to your bill beginning today
New York City's restaurants can offer outdoor seating and limited indoor dining, but starting today, there's another boost to help businesses stay afloat: they can now legally tack on a surcharge to your bill. The city council recently passed legislation for this "recovery charge," which allows restaurants to add up to 10% more to your total bill (the additional charge cannot be used as tips for employees). It's meant to help restaurants cover the costs of PPE, rent and outdoor dining setups. Once indoor dining is back to full capacity, restaurants can keep the surcharge for up to 90 days. But it's still unclear if and how restaurants will implement the surcharge or how diners will react. In a Twitter poll conducted by Time Out New York, only slightly more than half of the voters said they would pay more to help restaurants weather the current crisis. Hey New Yorkers — would you pay more at restaurants to help them through the current crisis? — Time Out New York (@TimeOutNewYork) September 16, 2020 Diners won't find a surcharge on their bill at James, however, according to Deborah Williamson, the founder of the Prospect Heights restaurant in Brooklyn. "While this is potentially great for the industry, each restaurant has to grapple with the nuances of how they function and the community they have," says Williamson, who opened James about 12 years ago. "I feel like for us, it would inhibit us when so much of our business comes from regulars in the neighborhood." One of the major criticisms of the surcharge is that it could take away tips from servers if diners become confused on a bill or feel they should tip less with the additional charges. Others view the surcharge is only a first step in helping the restaurant industry. "We need to support New York City's restaurant industry during this unprecedented crisis, but as we do that — we cannot just focus on restaurant owners, at the expense of restaurant workers," said Saru Jayaraman, President of One Fair Wage, a national organization representing service industry workers, in a statement. Most popular on Time Out - The longest outdoor mountain coaster in the country just opened in Upstate New York- NYC's largest wine bar opens this week on the Hudson River- Five NYC performers tell us what they've been up to since March- A new Medusa sculpture now stands victoriously across from NYC criminal court- Here's how to track your mail-in ballot this year in NYC Want to know what's cool in the city before your friends do? Sign up to our newsletter for the latest and greatest from NYC and beyond.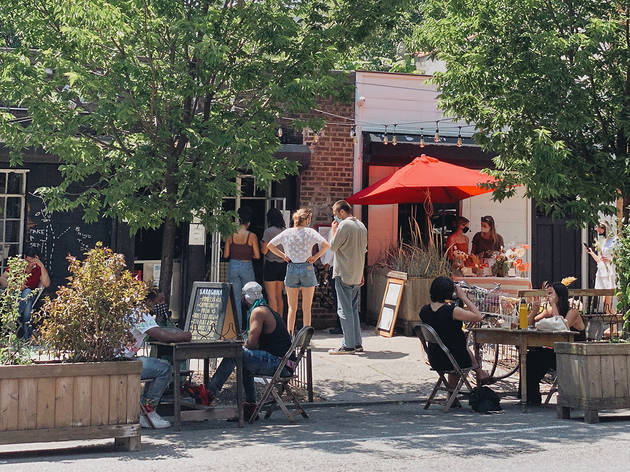 5 great outdoor dining spots in Bed-Stuy
Bed-Stuy is not a neighborhood to overlook when the conversation turns to great dining options in Brooklyn. Whether it's a Cubano or bowl of ramen, this area offers a wide-range of restaurants, bars and cafés that caters to all tastes. We've found mom-and-pop spots that have become favorites (Maya Congee Cafe is a must), and favorites that locals have pointed us to every time. Here's where to go: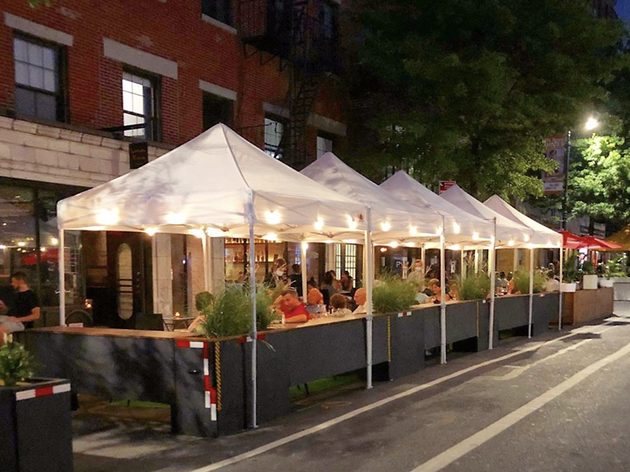 Five great outdoor dining spots in Greenwich Village
Part of Greenwich Village's charm is the mix of restaurants you'll find on every street. There are still some mom-and-pop businesses squeezed in between the trendier restaurants du jour and other spots catering to NYU students. But just like New York, you can find almost anything you're looking for whether it's the famed dosa man and his cart at Washington Square Park or one of the best bars in the city (which was also rated the top bar in the world). Here's where to go: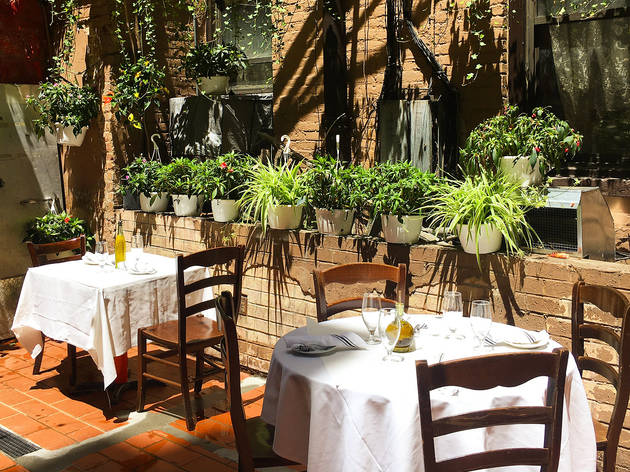 5 great outdoor dining spots in Little Italy
Little Italy may have a reputation for being a tourist trap, but it's still unapologetically New York. From the longstanding Italian mom-and-pop shops to the restaurant workers waving you down to dine with them, it's an experience like no other in the five boroughs. Between all the restaurants in Chinatown and the retail shops in Soho just steps away, you can still find some of the best Italian restaurants in NYC in this neighborhood. Here are the outdoor dining spots to check out now. RECOMMENDED: Full guide to Manhattan, NY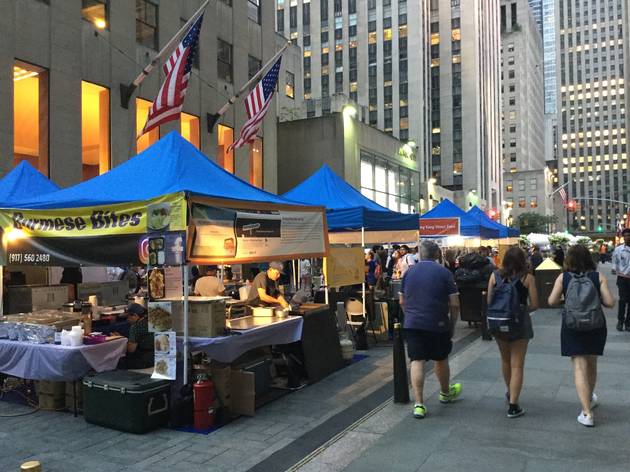 The popular Queens Night Market opens for lunch at Rockefeller Center
The Queens Night Market may not have been able to open this year in Flushing Meadows-Corona Park, but for a taste of the open-air food bazaars we've missed out in 2020, head to Rockefeller Center for lunch. From 11am-5pm daily—except Sundays—the Queens Night Market Outpost has returned to Midtown with six vendors. It's slated to open through November and is located on the South Plaza between 48th and 49th Streets and Fifth and Sixth Avenues. Photograph: Storm Garner / Queens Night Market There will be six vendors, including four making their first appearance: DiLena Dolcini (Italian and other baked sweets), La Braza (Ecuadorian choclos and empanadas), The Fried Kitchen (spicy chicken sandwiches and chicken and waffles) and Mamika's Homemade (Balinese cuisine). They'll be joined by Joey Bats Cafe (Portuguese egg tarts and croissants) and Treat Yourself Jerk (Jamaican jerk chicken). Other vendors will rotate in as well, according to John Wang, the founder of Queens Night Market, which also published a cookbook earlier this year before the current crisis hit. The Outpost debuted at Rock Center last year with nine vendors, but the international roster is smaller this time around to help the businesses generate more income while providing a lunch option to people who are working nearby as well as tourists. Photograph: Storm Garner / Queens Night Market Most popular on Time Out - The longest outdoor mountain coaster in the country just opened in Upstate New York- NYC's largest wine bar opens this week on the Hudson River- The best coffee shops in NYC- The 100 best movies of all time- Here's how to track your mail-in ballot this year in NYC Want to know what's cool in the city before your friends do? Sign up to our newsletter for the latest and greatest from NYC and beyond.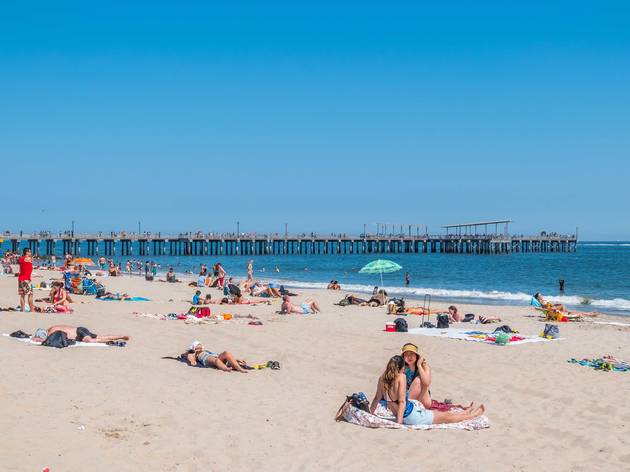 Your best options for eating and drinking in the Rockaways this summer
With beaches now reopened in New York City, you'll probably be headed out to score some rays this weekend. But with so much changeover in recent months to the hospitality industry, it can be hard to keep track of which food spots are opened or closed. After a long day in the sun, scrambling to do the labor of figuring out where you can eat nearby can be draining. That's why we've put together your guide to all things dining out in the Rockaways this summer. And, yes, even though there is reason to believe the virus spreads less effectively in the outdoors, these food businesses are requiring customers to wear their damn masks when placing orders. In the Rockaways, you might be able to get away with no shoes or shirt service, but, this year, certainly not without a mask. As New Yorkers seek out beaches—now that lifeguards are back on duty—for their next social-distanced hang, some might even want to make it a staycation. Stay tuned for more about The Rockaway Hotel opening there soon.  Rippers  View this post on Instagram A post shared by RIPPERS (@rippers86) on Jun 30, 2020 at 7:54am PDT Burger joint Rippers has opened for to-go bites at their boardwalk spot. Learn more, here.    Clara Cakes View this post on Instagram A post shared by Clara Cakes (@claracakes) on Jul 7, 2020 at 1:51pm PDT Chef, cookbook author and recipe developer Clara Polito focuses on vegan-inspired treats served at pop-ups around the Rockaways. Most