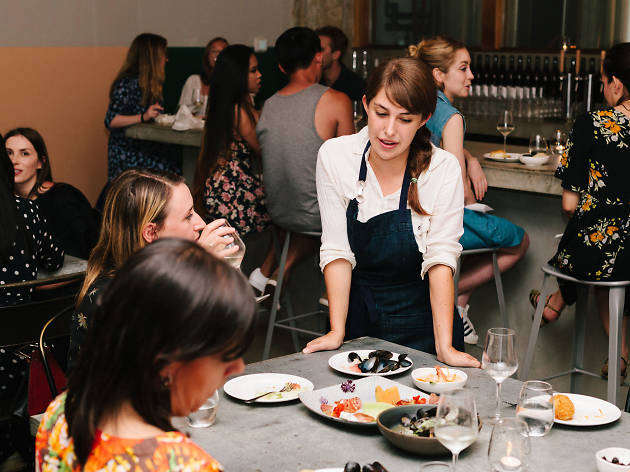 These NYC pop-ups are becoming full-fledged restaurants
Who says no good ideas come from the bar? Some of the biggest restaurant openings first started as tiny pop-ups in watering holes.
For chefs, the chance to feed imbibing customers at a bar is about more than a built-in audience with a case of the munchies. They're leaving behind sought-after restaurant positions, turning to pop-ups at watering holes to experiment with menus for future solo act brick-and-mortars. The serendipity and mystery around pop-ups in bars—not knowing when the next event will be announced—has fans following following DIY food projects on Instagram. The collaborations are mutually beneficial: With so much competition amongst bars, a standout food program can be a way to differentiate their business. Pop-ups are bringing a new hungry (and hopefully thirsty) customer base that's eager to preview what's next from their favorite chefs.
Restaurants that began as pop-ups in bars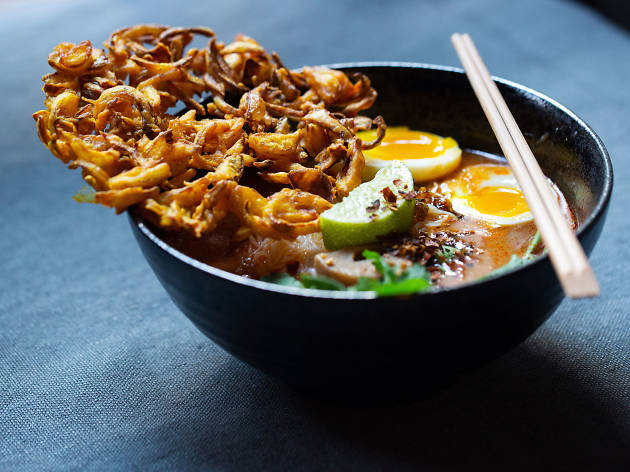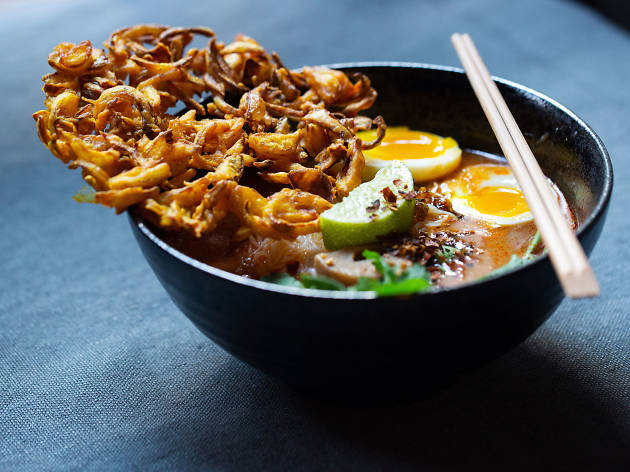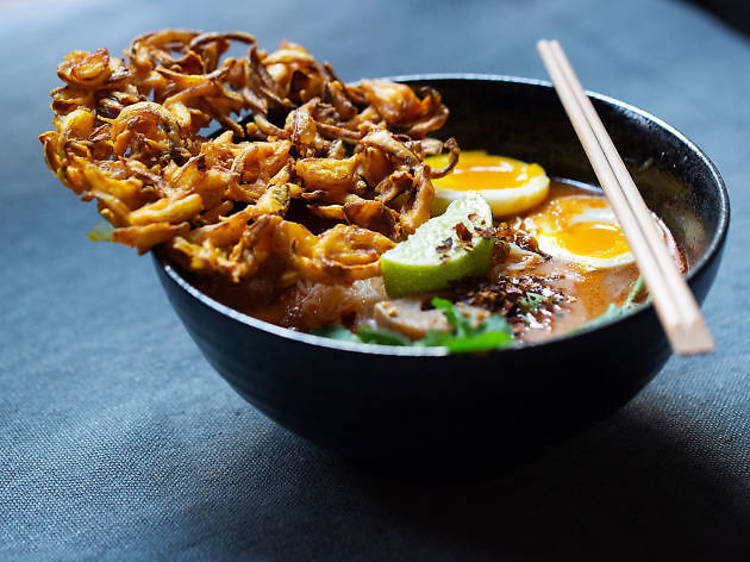 Photograph: Courtesy Rangoon/Dan Bendjy
THE DEAL: In 2015, chef Myo Moe debuted Rangoon NoodleLab, which set up shop at Bodega (now Idlewild), KCBC, Rockaway Brewing Co. and elsewhere—and hungry fans went wild.

THE NEW DIGS: In a few weeks, Rangoon will unveil a sit-down concept in Prospect Heights, joining trendy new spots nearby like Maison Yaki and LaLou. Bonus: The fresh menu boasts more than just noodles.

GOOD FOR: Burmese cuisine that's tough to find in NYC, such as the aromatic mohinga (lemongrass fish stew) and the laphet thoke (fermented-tea-leaf salad)

Prospect Heights (rangoon.nyc). Opens this summer/ early fall.
THE DEAL: Helen Nguyen left her prestigious post at the swanky Daniel to sling Vietnamese grub inside the bar Boys Don't Cry.

THE NEW DIGS: Nguyen's brick-and-mortar restaurant will arrive on the Lower East Side in the former Mission Cantina space.

GOOD FOR: Excellent bowls and soups, such as mì vit tiem, a noodle soup with five-spice duck confit
Lower East Side (saigonsocialnyc.com). 172 Orchard St New York, NY 10002. Opens this summer/ early fall.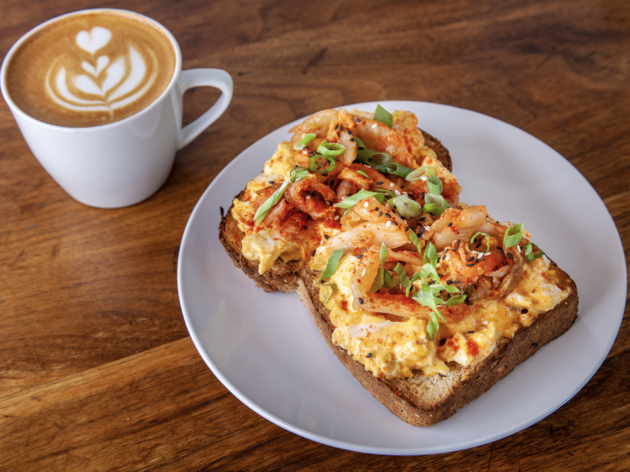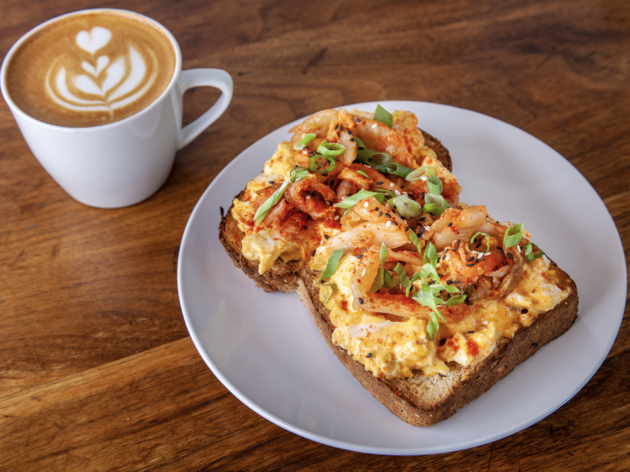 Photograph: Ali Garber
THE DEAL: Citing a hospitality industry overrun by toxic masculinity, the founders of Babydudes have aimed to create a genuinely queer-run business, dishing out eats at King Tai and other Crown Heights drinking spots.


THE NEW DIGS:
Now at their own casual coffee shop that came on the scene earlier this year, owners and partners Hannah Jacobs and Tali Petschek invite other pop-up chefs to use the venue as a test kitchen.
GOOD FOR:
The decadent kimchi-and-egg toast, a cortado and waffles
Crown Heights (instagram.com/babydudes).

715 Nostrand Ave, Brooklyn, NY 11216.

Now open.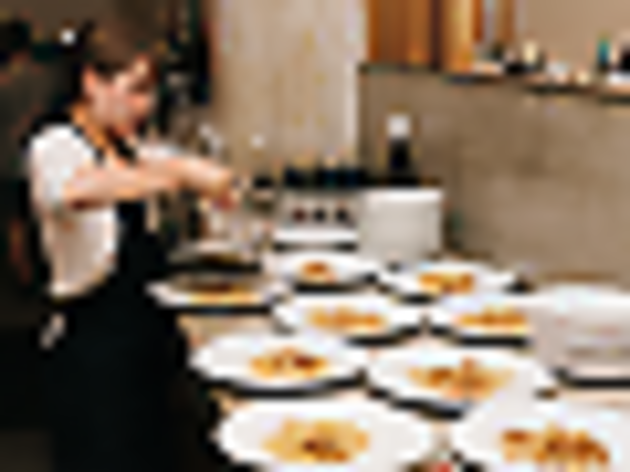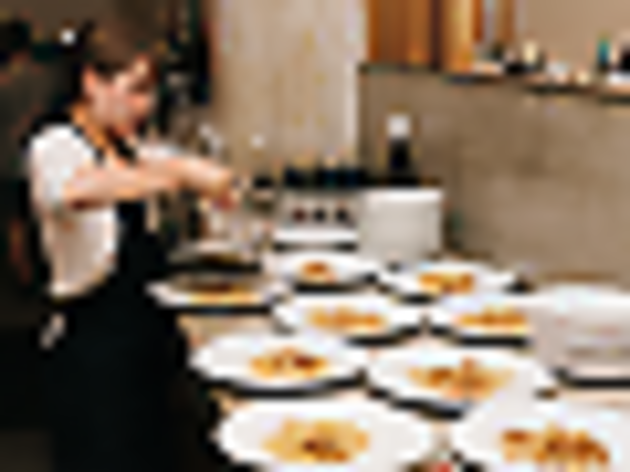 Photograph: Courtesy Fury's
THE DEAL: After working on Karasu—a speakeasy tucked into the beloved Fort Greene brunch staple Walter's—Yael Peet and Elena Yamamoto are going off on their own to host pop-up dinners at spots like New York's only sake brewery, Brooklyn Kura.


THE NEW DIGS: Instead of hiding out behind Walter's, Peet and Yamamoto plan to open a full-service restaurant in the Village that's in plain sight.


GOOD FOR:
Kappa-style (similar to izakaya) dining, with counter seats for direct chef-customer interactions
West Village (instagram.com/furysnyc). Opens early 2020.
THE DEAL: After issues with the landlord caused the first iteration to shutter in 2016, Kichin lived on as a pop-up, landing at Williamsburg hot spots Kinfolk and Baby's All Right.

THE NEW DIGS: In June, Bryan Moon unveiled a chill trilevel eatery that serves playful spins on traditional Korean food.

GOOD FOR: A pregame meal of perilla-leaf jeon and natural wine, before hitting Mood Ring next door for some late-night antics

Bushwick (kichin.nyc). 1264 Myrtle Ave, Brooklyn, NY 11221. Now open.
THE DEAL: Huertas partner Nate Adler began testing out this project at the beer hall Berg'n, where he wowed folks with old-school, luncheonette-style eats.

THE NEW DIGS: No longer inside a dimly lit bar, Gertie is now a sprawling stand-alone eatery that boasts gorgeous natural light and a streamlined menu.

GOOD FOR: The perfect Brooklyn brunch, with dishes like house-made bialys, mushroom melts and other delicious dinery delights

Williamsburg (gertie.nyc). 357 Grand St, Brooklyn, NY 11211. Now open.
Best selling Time Out Offers