The 19 best new restaurants in NYC this spring
From white-clothed fine dining to hole-in-the-wall cheap eats, find the best new restaurants NYC has to offer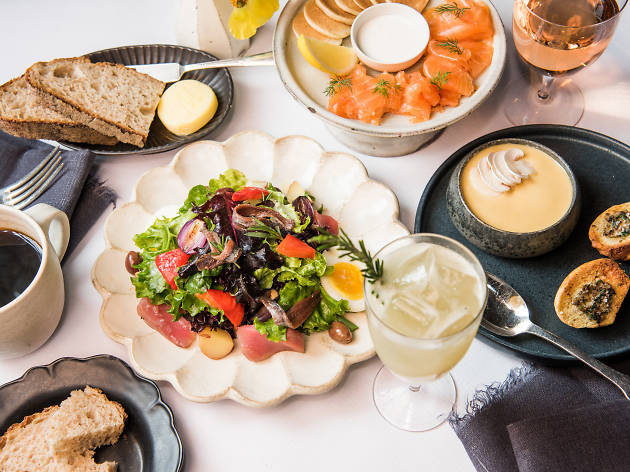 Looking for the best new restaurants in NYC? As much as we love our long-time establishments and neighborhood standbys for a New York pizza slice, New Yorkers are a fast-moving bunch fixated on what's new and happening around them. Luckily, the city's food-and-drink scene provides ample activity to satiate short attention spans. From a sumptuous dessert shop in West Village to a fancy French restaurant in Tribeca, ready your bellies for the hottest and best new restaurants in NYC this spring.
RECOMMENDED: Full guide to the best restaurants in NYC
Best new spring restaurants in NYC
Lee Hanson and Riad Nasr, the dynamic duo from Balthazar and Minetta Tavern, open their own modern French spot in Tribeca to much fanfare. Elevated menu items include duck frites, rotisserie lobster with curry fondue and veal sweetbreads with crayfish.
Order Napolitan spaghetti, karaage fried chicken and a fruit sandwich at this pint-sized Japanese café that specializes in comfort food. Unlike most other Japanese spots in NYC, this one is outfitted in homey touches, like an exposed brick wall and potted flowers.
Charlie Bird and Pasquale Jones vets open an uber swanky restaurant, café and bar inside a former recording studio in Hudson Yards. The menu veers Italian with beet-and-ricotta caramelle, hand-pulled mozzarella with celery and apple and risotto for two.
Designed by the film-set decorator and Wes Anderson collaborator Kris Moran, the space is a circus for the senses, with a massive Pop Art murals and a wood-fired oven as the mouth of a growling Bengal tiger. A Monday night feels like a Saturday, buzzing with the din of voracious crowds chasing crunchy, chickpea-battered onion rings or stir-fried chicken and chilies.
Restaurants, Contemporary American
Gaze at the Empire State Building while chowing down on new American plates with Mediterranean and Asian-inspired twists from a Barbuto alum in Long Island City. The airy space has white tables and chairs, a garden wall and (what looks like) a white picket fence ceiling sculpture.
Restaurants, Mediterranean
Restaurateur Gabriel Stulman's Simon & the Whale on the first-floor flagship at the Freehand Hotel is an impressive reckoning of what a neighborhood restaurant can be when your fellow diners—the tight-sweatered Spaniards haggling for a table, the paleo hipsters fresh off the Acela—aren't neighbors at all but a revolving door of hotel guests. The ample space is segmented enough to still feel intimate, awash in a warm glow of wood, brass and soft light. Matt Griffin's eclectic American menu of unwaveringly tasty dishes that feel more timeless than "on trend."
Venerated pizza master Anthony Mangieri brings back his famous, Naples-style pies after a nine-year hiatus from NYC. And as if that wasn't enough, chef Mangieri teams up with the guys behind Wildair and Contra for small plates and drinks.
At General Deb's, chef Kevin Adey and his wife Debbie's Szechuan shoebox down the street from their place Faro, vintage-frocked ladies and thick-bearded dudes spend their date night over slices of twice-cooked pork belly in fermented bean sauce (aggressively salty) or, say, silky slips of black bass bobbing blissfully in mala sauce (numbing oil—spot on!). It offers the food of Flushing, Queens, in a prototypical Brooklyn setting: cozy and sparse, with exposed brick, a tidy bar and walls painted chili-pepper red. Similar to their pasta-centric Faro, the Adeys give major airtime to noodles.
Now, you can order traditional Korean BBQ straight from the long-time Seoul restaurant that opened an outpost right here in K-town. The stalwart has been open in Korea since 1976 and uses old-school family recipes for its freshly-seasoned meat.
Show more
Best new restaurants in NYC
New York's best new restaurants in September
NYC's best new restaurants in August include include a Harlem ice cream shop and Danny Meyer's foray into pizza
NYC's best new restaurants in July include a bacon omakase, a cream cheese cafe and a rustic French revival
Show more