Ramen noodles: Get to know eight traditional and new styles
Brush up on your Japanese-noodle knowledge with our explainer on ramen styles.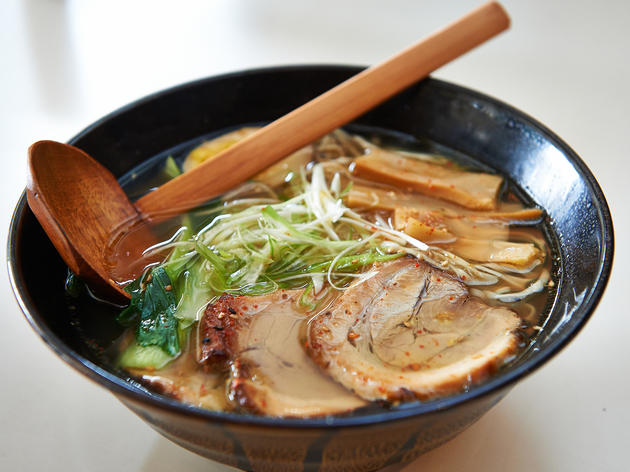 1/8
Photograph: Filip Wolak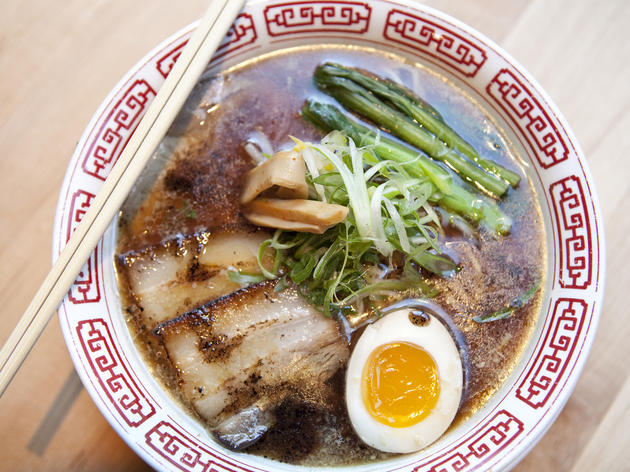 2/8
Photograph: Jessica Lin
Ganso (shoyu) ramen at Ganso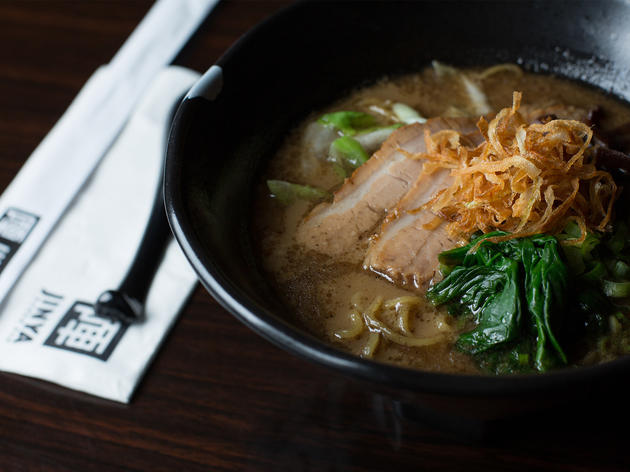 3/8
Photograph: Victor Vic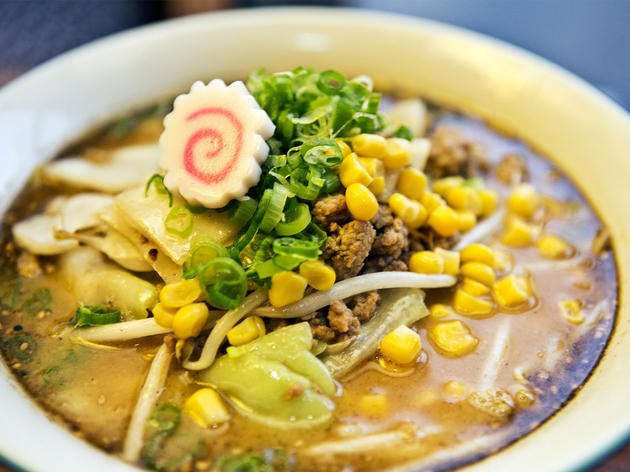 4/8
Photograph: Caroline Voagen Nelson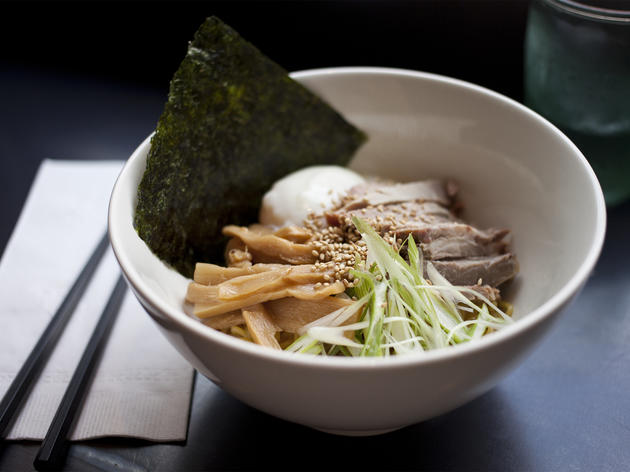 5/8
Photograph: Virginia Rollison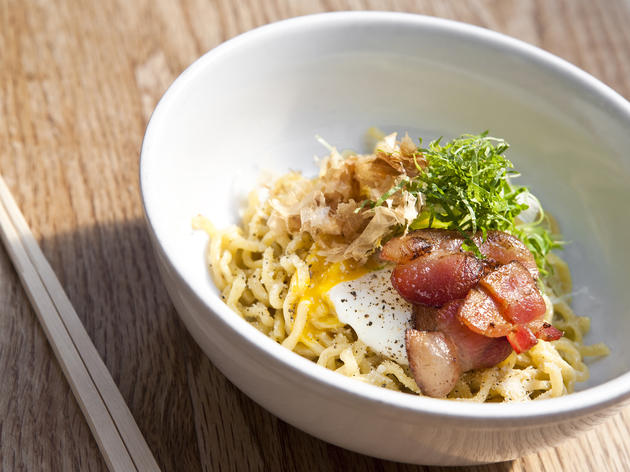 6/8
Photograph: Jakob N. Layman
Bacon and egg mazemen at Yuji Ramen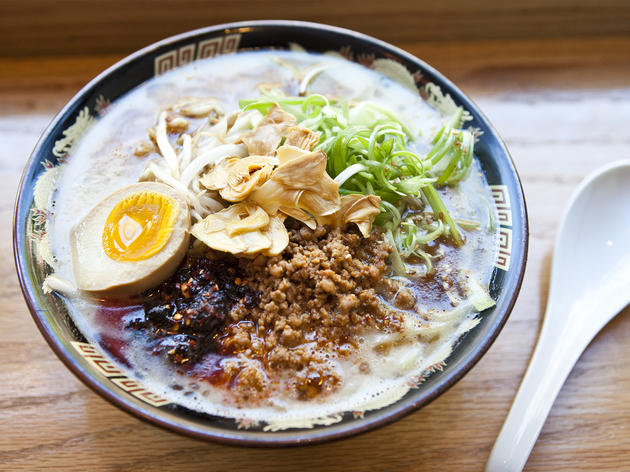 7/8
Photograph: Jessica Lin
Tan Tan 6 (tantan-men) ramen at Zen 6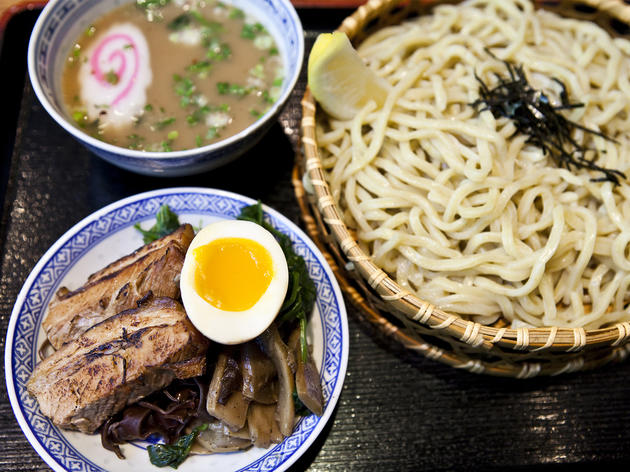 8/8
Photograph: Jessica Lin
It's been another tonkotsu-crazed year, with a fresh burst of ramen joint debuts all over town—Hinomaru in Astoria, Ganso in Downtown Brooklyn and Jin in Harlem. But how familiar are you with this Japanese noodle soup? Bone up on the four main styles (tonkotsu, miso, shio, shoyu), plus lesser-known varieties (mazemen, abura soba, tantan-men, tsukemen).

RECOMMENDED: The best Japanese food in NYC
THE MAJOR MINORS
Abura soba style: A soupless variation dreamed up in the '50s, the Sapporo style's name translates to "oil noodles."
Where to find it: At Williamsburg spot Ramen Yebisu—the first in the city to serve traditional abura soba when it opened last August—the dish starts with toothsome, lightly blanched wavy noodles, and gets its flavor from a coating of lobster oil, soy sauce and (once you break its fragile, soft-poached exterior) creamy egg yolk, accompanied by chashu, scallions and a sprinkling of sesame seeds. $8.
Read more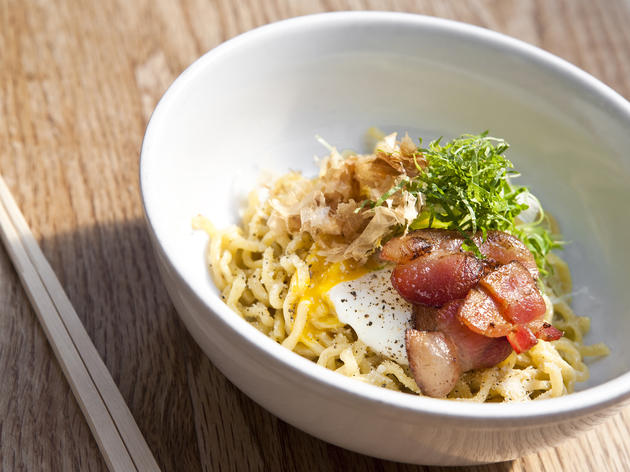 Mazemen style: In recent years, a hearty "dry" style of ramen—a modern descendant of abura soba, perhaps—has gained a foothold in Tokyo, marked by thick noodles and eclectic, even wacky toppings such as cheese.
Where to find it: Stateside, Yuji Haraguchi's creations upended the NYC ramen landscape when they first popped up at Yuji Ramen in Kinfolk Studios. Over a year later, his creative combinations are still drawing crowds into various temporary locations, with a permanent home due to open soon. The bacon and egg mazemen, a signature offering, complements the springy, pleasantly alkaline strands with slow-poached egg, crumbly bacon, smoky bonito flakes and kale. Whole Foods Bowery, 95 E Houston St at Allen St (646-262-1358). • Smorgasburg, 90 Kent Ave at North 7th St, Williamsburg, Brooklyn. Sat 11am–5pm. • Smorgasburg, 30 Water St at Dock St, Dumbo, Brooklyn. Sun 11am–5pm. $9–$10. • Twitter: @yujiramen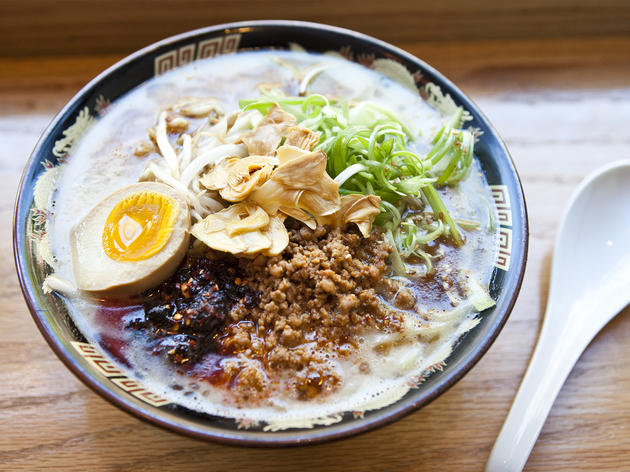 Tantan-men style: Just as New York is currently enamored of Szechuan cuisine's bold heat, Japan embraces the region's fiery flavors in tantan-men, a riff on Chinese dandan noodles. In ramen lore, the dish is widely attributed to Chen Kenmin, a Sichuan-born chef whose restaurant introduced his homeland's cooking to Japanese palates in the late '50s (and whose son, Chen Kenichi, went on to become an Iron Chef).
Where to find it: A house specialty (Tan Tan 6) at casual East Village ramen shop Zen 6, which opened in December and dubs its less-traditional selections "New York Pop," the crimson, chili-spiked bowl includes ground pork, bean sprouts, crispy fried garlic and house-made maayu (garlic oil) with thin or medium-thick, straight noodles. 646-429-8471. $10.75.
Tsukemen style: It's big in Japan right now—"dipping" ramen, that is—and it's poised to sweep NYC next. First adopted from a popular preparation for soba by a Tokyo chef in the '50s, the dish consists of cold noodles served alongside a concentrated broth. Since they're combined bite by bite, the method avoids the soup-slurper's dilemma of eating quickly (as they do in Japan) or contending with the dreaded bottom-of-the-bowl sogginess.
Where to find it: Perpetually packed student haunt Rai Rai Ken introduced tsukemen as a seasonal specialty in August, and it's back for the summer: extra-thick, almost udon-like noodles ready to be dunked in richly seasoned pork-and-fish stock and complemented with pork belly, fish cakes, seaweed, spinach and lemon. $14.
Read more
Sponsored listing
Marshall Street Bar & Restaurant
Syracuse alumni will find a taste of home at Marshall Street Bar and Restaurant in Midtown East. With more than a dozen TVs and drink specials for both Syracuse and NFL games, it's a convenient spot to catch the big game. Not a big sports fan? Start a game of pool, try your hand at skee-ball or sink a few quarters into one of the other arcade games in the bar. Order something off the massive menu of gameday favorites, like loaded nachos ($10.99), pulled pork or beef sliders ($10.99) or mozzarella sticks ($8.49). The real draw, though, is the wings (six for $9, twelve for $17, a bucket of 50 for $60). Order buffalo or boneless wings doused in sauce ranging from "mild" to "abusive" to "suicidal", or stick to gentler flavors like teriyaki and garlic-parmesan. Vegetarians won't be left out, either: Marshall Street also serves soy wings for those so inclined ($12.99).
Venue says: "Syracuse sports games, authentic Buffalo Wings, or locally brewed New York beers, we're proud to call Marshall Street the home for it all!"