Restaurant and bar openings: December 5–12, 2012
Hanjan, Aska and more open in New York.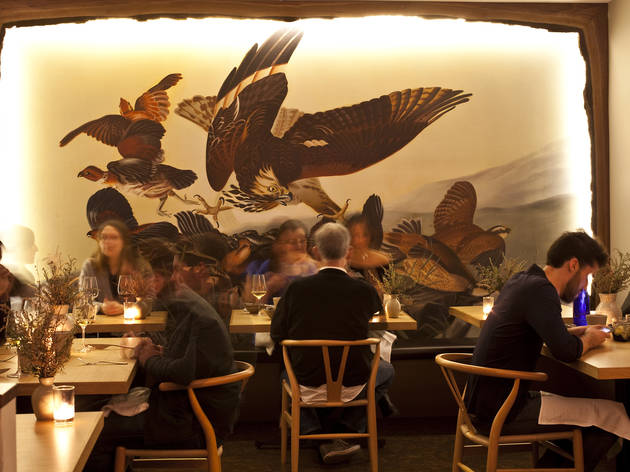 The following venues are expected to open by December 12. Always call ahead, as openings can be delayed.
Amsterdam Burger Co. This 36-seat kosherburger joint doesn't shy away from indulgent toppings: cover yours with a thick spread of guacamole, or a breakfast-themed trio of kosher bacon, eggs and crunchy potato. The restaurant—outfitted with exposed brick walls and black-framed windows—also offers lamb burgers and salads for more health-conscious diners. 654 Amsterdam Ave at 92nd St (212-362-0700)
AskaFrej—the pint-size Nordic powerhouse run out of Williamsburg bar Kinfolk Studios—incited a minor palace revolution in Gotham dining during its six-month run. Swedish-born chef Fredrik Berselius, a Corton alum, channeled modern cuisine's hottest trend (Fäviken-style fare) into a criminally inexpensive tasting menu of five courses for $45. He's joined forces with partner and star beverage manager Eamon Rockey (Atera, Eleven Madison Park) to return to the space, unveiling a revamped restaurant called Aska, outfitted with potted plants and blond wood. The tasting menu, extended to six courses and highlighting foraged herbs and greenery, features dishes like apple-cider-doused pork trotters, and broccoli in a mussel emulsion. Rockey's cocktail list mirrors the herbal bent with tipples like a warm Swedish Punsch, mixed with sweet fern and juniper. 90 Wythe Ave at North 11th St, Williamsburg, Brooklyn (no phone yet)
Bocca Di Bacco This Italian eatery continues its campaign of casual red-sauce cuisine with a clubbily furnished third location, in Chelsea. Homey dishes like spaghetti and meatballs dominate the menu, though fancier plates such as a pan-seared red snapper with mussels and clams are also available. A 300-bottle wine list anchors the drink offerings, complemented by a small selection of fruity cocktails. 169 Ninth Ave at 20th St (212-229-2459)
Conosur This après-ski-themed restaurant atop Hôtel Americano serves an eclectic array of comforting fare, ranging from fondue (options include a pot of melted 18-month-aged cheddar) to parrilla (Argentine grilled meats). Sip a glass of bubbly or a glass of mescal punch while lounging on leather sofas. Make like a postslopes ski bum and hop into the lounge's hot tub after your meal. 518 W 27th St between Tenth and Eleventh Aves (212-525-0000)
Fine & Raw The small-batch Brooklyn Flea chocolate purveyor goes big with a 2,500-square-foot Bushwick factory and shop, serving cocoa treats and coffee drinks. Indulge your sweet tooth with the selection of chocolate bars, truffles, cookies and croissants, or try the café mocha at the espresso bar. Tour the factory to see how the trademark product is made, and wander through a cacao-tree-lined, Wonka-like "choco jungle" in the back. 288 Seigel St at Bogart St, Bushwick, Brooklyn (718-366-3633)
Hanjan New York's consuming passion for improvised Asian street food—driven by hand-pulled noodles and fish-sauce chicken wings—gets new kindling with this adaptation of a joo mak, a Korean roadside tavern, from Hooni Kim (Danji). The toque, who earned his stripes at Daniel and Masa, modernizes the passerby fare of his native country: He braises Seoul bar-food staple jokbal (pig trotters) and serves them with sliced cabbage, sesame-apple vinegar and fermented shrimp sauce. Skewers—such as garlicky grilled pork belly—constitute a third of the small-plates-based menu, while a smattering of seafood dishes include a bowl of piquant cod-roe stew. 36 W 26th St between Broadway and Sixth Aves (212-206-7226)
L'isola Wood Fired Bar & Ristorante Owner Salvio Randazzo pulls pizzas out of a wood-burning brick oven at this rustic Williamsburg eatery. Options include a vongole pancetta pie with clams, Italian ham and smoked mozzarella, plus classics like a Margherita and small plates (house-made rice balls, grilled baby octopus). Swig one of the 12 beers on draft, or opt for a cocktail mixed with Italian liqueurs. 128 Metropolitan Ave between Berry St and Wythe Ave, Williamsburg, Brooklyn (718-599-0200)
The Third Man Austrian toques Eduard Frauneder and Wolfgang Ban—the Michelin-starred duo behind Seasonal Restaurant & Weinbar and Edi & the Wolf—turn their attention to cocktails at this early-20th-century-Vienna–themed bar. Done up with distressed mirrors and emerald green banquettes, the watering den honors modern mixology trends, with ten tipples featuring liquid nitrogen, homemade cordials and pickled juices, while the venue's name recalls the 1949 film noir set in Vienna. The bright, fizzy Franz Ferdinand combines the aperitif Aperol with a blend of juices (blood orange, beet and lemon), plus a dash of sparkling wine. To eat, there's charcuterie and small plates, including house-cured speck and chicken-liver terrine. 116 Ave C at 8th St (no phone yet)
Qi Thai Grill This WilliamsburgThai joint—a spin-off of midtown's Qi Bangkok Eatery—boasts name-brand menu consultants both upscale (Pichet Ong) and outer-borough (chefs from Sripraphai in Queens). Dishes inspired by Bangkok's food stalls include pork satay, served with toasted bread, and yuzu duck skewers glazed with barbecue sauce. Vegetal cocktails (like one made with cucumber puree) temper the heat of the entrées. For dessert, Ong's confections include a pumpkin crème brûlée. A four-foot-tall statue of Ganesha (the elephant-headed Hindu god) standing atop a four-sided waterfall serves as the 200-seat dining room's centerpiece. 176 North 9th St between Bedford and Driggs Aves, Williamsburg, Brooklyn (718-302-1499)
Sponsored listing
Choza Taqueria
Simple and traditional Mexican fare is the draw at this casual Flatiron joint. Chef Dominic Giuliano (Punch and Judy, PS 450, The Volstead) takes cues from his native Southern California with a small but thoughtful menu of tacos and burritos. Fillings include simmered carnitas with tomatillo salsa and pickled vegetables, or calabacin y hongos (zucchini and mushrooms) with avocado salsa and queso fresco.
Venue says: "Healthy food that is also a guilty pleasure, thats the Choza way! Order online for $5 off your $20 order."