The best Italian restaurants in NYC
From pasta parlors and red-sauce haunts to haute pizzerias, here are the best Italian restaurants in NYC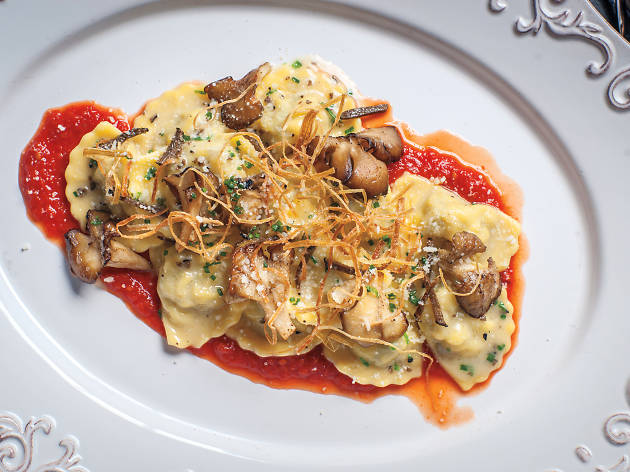 Fun fact: New York City has the highest population of Italian-Americans in the United States, so it shouldn't shock anyone that the city's best Italian restaurants are some of the finest you can get off the motherland. Whether you're craving world-class New York pizza, want to take a pasta-loving date to one of the city's most romantic restaurants or are looking for a modern upgrade to a Little Italy mainstay, these are the best Italian restaurants NYC has to offer.
RECOMMENDED: Full guide to the best restaurants in NYC
See the best Italian restaurants in America
Hit the best Italian restaurants in America for the finest pasta, pizza, antipasti and Italian desserts
Read more
Sponsored listing
Amoun Moroccan Mediterranean Cuisine & Lounge
It's possible to taste the flavors of Marrakech without ever leaving New York City at this authentic Moroccan restaurant in the East Village. Start with a meze plate of hummus, baba ghanoush and bakoula, a spinach-chickpea spread ($13.95). For the main course, you might try a tagine, or slow-simmered Moroccan stew, either with lamb shank, chickpeas and apricots ($22.75) or chicken, preserved lemon and olives ($16.95). Other entrees include couscous with chicken, caramelized onions, raisins and chickpeas ($16.95), a mixed grill of lamb, chicken and merguez sausage ($19.75) and chicken bastilla, a phyllo pastry filled with meat, almonds, eggs and herbs and topped with cinnamon sugar ($18.75). Satisfy a sweet tooth with baklava ($7), homemade fig ice cream ($6.50) or kunafa, a traditional cheese pastry ($7). Freshly brewed Turkish coffee ($3.50) or Moroccan mint tea ($4) might be nice, or you can finish the meal with some hookah, if you're so inclined.
Venue says: "Enjoy authentic home-made cuisine and a chill lounge experience for late nights. Celebrate the weekend with belly dancing performances."