Restaurant and bar openings: February 6-12, 2014
Bodega Negra, Nine Chains and more roll out in New York City.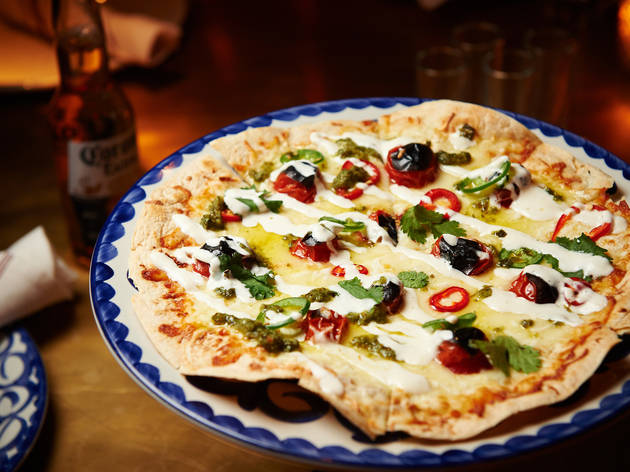 The following venues are expected to open by February 12th. Always call ahead, as openings can be delayed.
Angus Club Steakhouse This Art Deco–inspired chophouse offers a variety of—duh—dry-aged Angus beef and a hefty wine list. The bi-level restaurant—styled with cork columns, snakeskin walls and espresso leather chairs—features standards, like a porterhouse for two, creamed spinach and wedge salads. Co-owner Margent Maslinka doubles as wine director, overseeing 1,000 bottles in a glass-enclosed cellar and giving the list a heavy California bent. 135 E 55th St between Lexington and Third Aves (212-588-1585)
The Bakeshop by Woops Husband-and-wife team Dan and Odehel Magor spotlight 20 varieties of macarons at this storefront spin-off of their roaming dessert stand, Woops, a regular of holiday markets and New Jersey malls. Alongside rows of the Crayola-bright cookies (in coconut, rose, blueberry and more), the glass display showcases global treats like alfajores, rugalach and burekas. 548 Driggs Ave between North 7th and 8th Sts, Williamsburg, Brooklyn (718-384-4410)
Bodega Negra Nightlife impresario Serge Becker imports London's sex-shop-themed Mexican cantina, scrubbed clean for the Dream Downtown: He's swapped the seedy original's neon lights and peep-show silhouettes for copper-trimmed tables and mirrored panels. For his third venture at the hotel—joining Melvin's Juice Box and La Esquina—Becker taps chef Michael Armstrong (Morimoto) to roll out Yucatán-inspired tacos (soft-shell crab), quesadillas (habanero and roasted tomatoes) and large-format dishes (whole suckling pig). Banked by a wall of antique tequila barrels, the amber-lit bar stocks 90 bottles of the spirit, employed in cocktails like the Chamomile Daisy (chamomile-apple agave, lemon) and a hibiscus-infused Paloma. 355 W 16th St between Eighth and Ninth Aves (212-229-2336)
El Rey Luncheonette Nicholas Morgenstern (Goat Town, the General Greene) serves dishes inspired by the California coast at this Lower East Side eatery, having transformed the former El Rey café-bar into a modern lunch counter. In the 15-seat space—featuring communal tables, globe lambs and a multiwood bar—find Vietnamese iced coffee on tap and pastries like plum-and-ginger Danishes and parsnip-and-cajeta toast for breakfast. Dinner dishes include duck-confit hand pies, winter falafel with minted cauliflower, and cashew grits with braised pork. For beverages, aguas frescas (like cucumber limeade with juniper seltzer) are made in-house, and beers such as Westbrook White Thai witbier and Evil Twin's Ryan and the Beaster Bunny saison are on draft. 100 Stanton St between Ludlow and Orchard Sts (212-260-3950)
Narcissa Michelin-starred Dovetail chef John Fraser gives vegetables the rotisserie treatment at André Balazs's Standard Hotel. Named after a cow on Balazs's Rhinebeck, NY, farm, the restaurant highlights produce and dairy sourced from those acres, in dishes like rotisserie-crisped beets with creamed horseradish, carrot fries with jalapeño-tofu dip, and lamb salad with spinach pie and piquillo peppers. The 100-seat dining room is outfitted with striped banquettes, herringbone ceilings and a marble chef's counter overlooking the rotisserie ovens. 21 Cooper Sq between 5th and 6th Sts (212-228-3344)
Nine Chains Tom Kearney and Matt Amberg—the sustainably focused pair behind the Farm on Adderley—bring their locavore ethos to the bakeshop, highlighting grains sourced from the Finger Lakes region. In the chevron-painted spot, choose from goodies like sea-salt-flecked chocolate brioche, olive-studded focaccia sticks and stuffed buns (slow-cooked pork, curried beans). Loaves—such as buckwheat and sour white—do double duty assandwiches, for combos including the Reubenesque Acapulco Red and a crimped version with roasted cauliflower with pickled mango. Caffeine seekers can find Brooklyn Roasting Co. pour-overs gussied up with bergamot skins or grated ginger, while SerendipiTea teas are available topped with bee-pollen foam. 1111 Church Ave between Stratford and Westminster Rds, Ditmas Park, Brooklyn (347-391-2000)
Otafuku x Medetai The Japanese street-food kiosk—an East Village staple since 2001—serves its same menu, now at larger digs a block from the original, expanding with a white-tiled open kitchen and a prepared-food section. On offer are Osaka specialties like takoyaki (grilled octopus balls), pork and shrimp okonomiyaki (cabbage pancakes) and soba salads with house-made sesame-ponzu dressing, as well as sweets like daifuku mochi (strawberry, shiro). 220 E 9th St between Second and Third Aves (646-998-3438)
Tres Carnes Financial District This spin-off of the pit-smoked-taco joint offers the same lineup of burritos, tacos and beer cocktails as the Chelsea original. The mix-and-match "Texican" menu features proteins like chicken adobo, pork shoulder and smoked brisket, toppings (green poblanos, Mexican yellow rice) and sides (street-cart corn, black-eyed beans). Chipotle-infused micheladas and spiked limeade are also served in the 1,400-square-foot space, decorated with mural-painted walls and barstool seating. 101 Maiden Ln between Gold and Pearl Sts (212-989-8737)
Sponsored listing
M Greenpoint
Brooklynites don't need to trek to Chinatown to find good Shanghainese food—just head to Greenpoint to dine at M Greenpoint. Plop down at one of the tables and go to town on the menu of dim sum favorites. Think hot and sour soup ($8), scallion pancakes ($7), the juicy pork buns also known as xiao long bao ($9 for six) and ma-pao tofu ($11.50). Vegetarians will be happy to hear that M Shanghai Bistro offers both a vegan and vegetarian version of their menu to make ordering sans meat that much easier. Wash down all the steamed dumplings and spicy stir-fried vegetables with big pots of oolong, chrysanthemum or green tea ($4 for a small, $6 for a large).