The 100 best dishes in New York City 2014: Best pasta
This is not your nonna's pasta—the best pasta dishes of 2014 come topped with sea urchin, studded with rabbit and formed by hand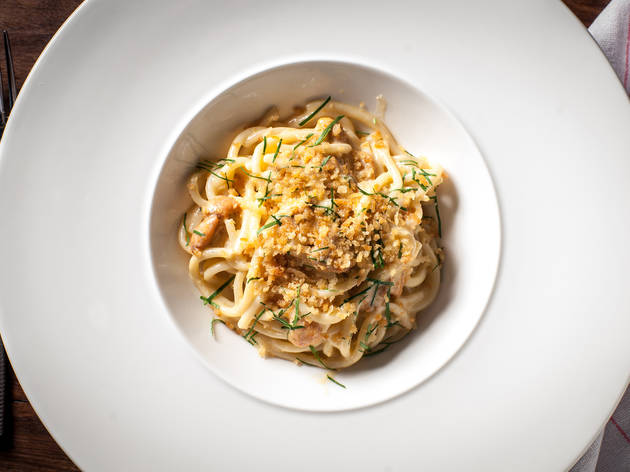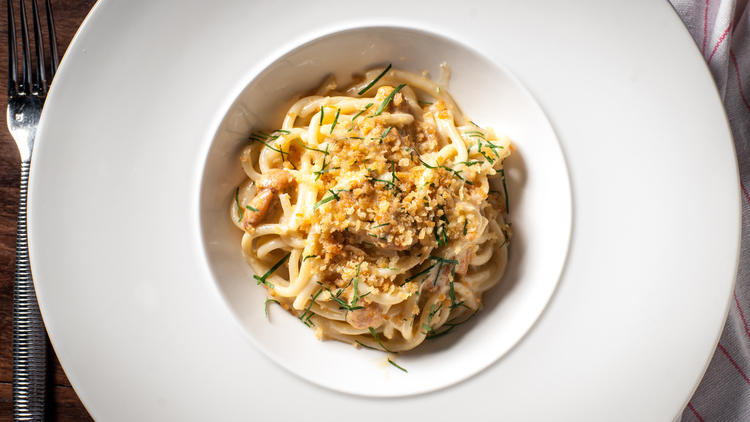 bucatini
from
All'onda
that nearly caused food-world riots and linguine from
Bar Primi
, whose garlic punch could cure a cold upon first bite. Tangle up this year's top-rated noodles at some of the best
Italian restaurants
in the city.
Missing Time Out magazine?
You can still read our latest issue from the comfort of your couch
Read online
Restaurants, Mediterranean
In the old Dressler space, Michelin-starred Polo Dobkin's hand-rolled egg noodle is the elegant cross between a ravioli and a crepe. Dobkin fills the pillowy pasta bundle with sweet, herb-laced ricotta and sets in a delicate, silky pool of parmesan brodo bobbing with plump English peas. A finishing thicket of fresh pea shoots brightens the salty broth and will have you growing wistful for mild spring nights. (The fall rendition features roasted butternust squash, sage and brown butter.) $15.
Restaurants, Mediterranean
If there's anyone we'd want to follow down the rabbit hole, it's Cedric Tovar. At his rustic Mediterranean spot, the Alsatian chef roasts the game with smoked cipollini onion until it's sweet and suculent, nestling the meat in a bed of hand-rolled, priest-ear pasta—their ridged edges well-utilized for catching every drop of the brawny pancetta ragu—before giving the plate a drizzle of pureed, celerylike lovage. $26.
When chef Chris Jaeckle pulled this stunner off the menu (he couldn't source enough high-quality sea urchin to satisfy demand), devotees nearly rioted. Bouncy strands of bucatini are coated in an umami-laden sauce made with dashi parmesan stock, Maine uni, garlic, and brightened with lemon and white wine. More layers of the sea are found in the whisper of rich cream, that together with egg yolks and, you guessed it, more uni, make up Jaeckle's uni base. Garnished with smoked pancetta and kicky panko breadcrumbs sautéed in Calabrian chili oil, this is a pasta worth taking to the streets for. $32
The 100 best dishes in New York by category