The best-looking NYC restaurants and bars of the year
New York was looking mighty fine in 2015, as evidenced by the stunning restaurants and bars that opened this year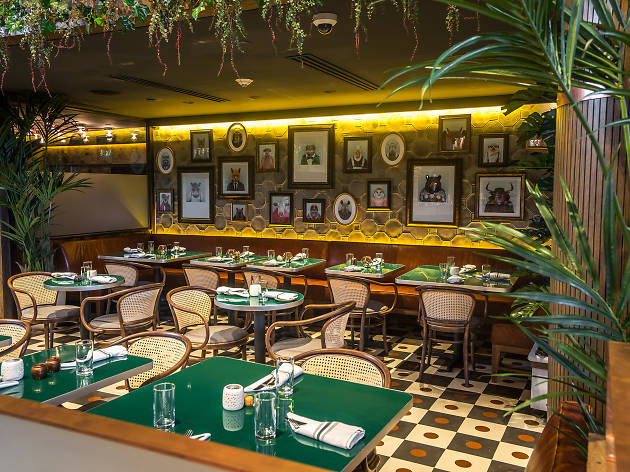 Sure, New Yorkers want their favorite restaurants and bars to dole out quality food and drinks, but it's a much-welcome extra if they look damn good while doing it. This year saw plenty of beautiful newcomers to the city, from a teal-and-white tiki bar, to handsome hotel restaurants, to an equestrian-themed clubhouse from one of fashion's biggest names. Here are the sexiest food-and-drink spots of 2015.
Photographs by Paul Wagtouicz
2015's best-looking restaurants and bars
The 1600-square-foot space is as sleek as you'd expect from the team behind retro-minded stunners Dear Irving and Raines Law Room, trimmed with gold wallpaper, antique mirrors, blue-velvet banquettes and a black-marble bar.
Set beneath patty flipper Genuine Superette, this 34-seat barroom is bathed in the warming glow of a neon-red LIQUORETTE sign hanging above the counter, with price-marked bottles in backlit glass cabinets calling up an old liquor store. And the cool-kid digs don't end there—the bathroom is plastered with Farrah Fawcett memorabilia.
Restaurants, Mediterranean
Paras Shah's 70-seat dining room is a moodily lit, brick-walled stretch divided into two zones: a front bar area fitted with leather booths and metal trellis archways, and a back dining room warmed with a stone fireplace.
The 85-seat, window-flanked restaurant draws from Italy's small-town farmhouses and rural kitchens: Mint-green chairs snuggle up to wood-plank tables, jars of pickling vegetables sit prettily on illuminated shelves and walls are garnished with hand-painted tiles, copper bundt pans and soft-hued sheep-patterned wallpaper.
The tiki den is rife with time-warp nods to the Pacific isles, including retro floral-patterned banquettes, hand-carved totem pole stools and mother-of-pearl light fixtures. The effect is somewhat dreamlike—corroborated by a lo-fi pop soundtrack ranging from the Velvet Underground to St. Vincent.
There's, fittingly, plenty of foliage at this fern-bar upgrade at the McCarren Hotel and Pool, but it looks the part even beyond all that greenery: multicolored Tiffany lamps dangle from the ceiling and servers sport floral button-downs as they whisk neon-hued drinks from the copper-topped bar.
Restaurants, American creative
It's not hard to see where this mahogany-toned dining room gets its good looks from—fashion mogul Ralph Lauren is behind the joint, and you can feel his all-American influence at every turn, from the saddle leather that covers the banquettes to the jockey portraits that decorate the walls.
If Don Draper had a summer home in Palermo, Italy, it would look a bit like Sessanta, the glam lobby restaurant inside the Sixty Soho hotel. Inspired by the Italian coast, the 100-seat dining room is appointed in Giò Ponti style with slat-board maple walls and ad-man-worthy framed armchairs.
Restaurants, Soul and southern American
Marcus Samuelsson's uptown kitchenette is a bright blitzkrieg of early hip-hop bric-a-brac (an interactive boom-box wall, '80s-era Run-D.M.C. portraits) intermingled with historic-Harlem odds and ends, like the OLD FASHION' BUT GOOD! sign salvaged from soul-food icon M&G Diner and the repurposed church pews that have been upholstered in vintage Louis Vuitton textiles.