Heads up! We're working hard to be accurate – but these are unusual times, so please always check before heading out.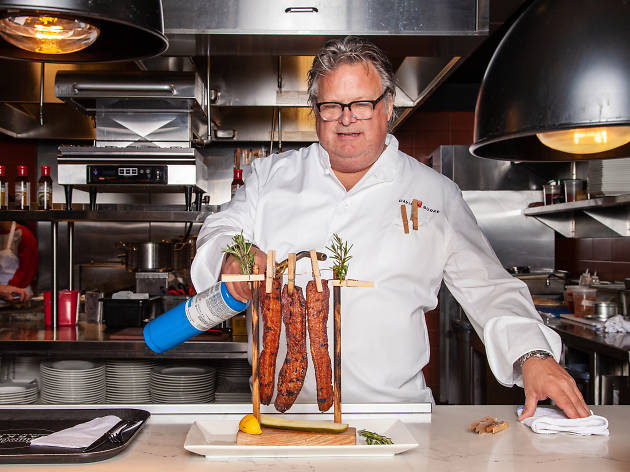 The Grilling: David Burke
Celebrity chef (and Time Out Market New York culinary star) David Burke on disliking bagels, subway woes and more
David Burke has something to get off his chest. "I don't eat bagels," he admits, after being asked about the iconic New York bite. "I don't want to sound un–New York or not cool, but bagels don't work for me." We'll give the celebrity chef a pass. How could we not? The Brooklyn-born, Jersey-raised whiz garnered three stars from The New York Times at just 26 years old. He's since been just about everywhere—most recently, at David Burke Tavern, which opened on the Upper East Side
three years ago and, as of last May, at our very own Time Out Market. We had a candid chat with the vet about A-train annoyances, dealing with noisy neighbors and sixth-floor walk-ups, and turning nervous energy into something spectacular.
Do you have any memories of going into the city as a kid?
We used to go to concerts all the time, even on school nights. I grew up in New Jersey, near the beach. You know, we could jump on a bus and be in a seat at Madison Square Garden within an hour. It was cool. We'd see the Who, Pink Floyd, the Marshall Tucker Band, you name it. All those '70s bands.

Do you have a favorite New York band?
I don't know if I have a favorite New York band. I have a favorite Jersey band, obviously.
Which is?
Springsteen. Well, I like Springsteen and Bon Jovi, but I'm a little more of a Bruce man. You know, I'd have to say, if I had a New York band, it would be Billy Joel. He's a Long Island guy, but we'll let him slide.

What was your first apartment in NYC like?
When I first got to New York City, I lived with my uncle in Ozone Park, and I took the A train all the way out there. I got my shoes stolen 'cause I passed out on the A train more than once. I was a sous chef at the River Café; it was 1985. My first apartment, shortly thereafter, was on State Street in Brooklyn Heights. Living below me, there was an opera singer who would practice in the morning, and I got home late back then. A sixth-floor walk-up.

Damn.
I remember I was with one of my sous chefs, and there were a bunch of ficus trees left over from a catered event—like, eight of 'em. We hauled them up to my apartment, so I had this bed surrounded by eight ficus trees in my studio.

That's wild.
Sixth-floor walk-up. When you forgot something, you'd just say, "Fuck it, I ain't going back."

You were talking about the A train. Do you have a favorite subway line?
I don't really take the subway much. My father drove the subway, so I was in the front car with him when I was younger. I take the A train sometimes, all the way down to Central Park West. It's, like, the only train I know, so the A train would be my line. Take the good with the bad.

That's a very New York attitude.  Are you a Yankees or a Mets guy?
I grew up a Mets guy. My father's a die-hard Mets fan—still, to this day, at 84 years old. Now I live less than two miles from Yankee Stadium. But I'd have to say I'm a bit in between. At the end of the day, I'd probably have to go for the Mets if they were in the playoffs. It keeps things more interesting. Spread the wealth, you know? Besides, I'm a natural born underdog.

What was your toughest job when you were starting out?
I think one of the hardest, most fearful days was when I walked into the River Café as a sous chef under Charlie Palmer. I was young, and [Palmer] had a badass kitchen crew that was gonna make sure you proved yourself, no matter what, and that was an intense couple of weeks of breaking in. I was pushed—you know, typical macho stuff. So, I took the nervous energy and turned it into what I know best and just went for it.
About David Burke Tavern at Time Out Market New York:
For David Burke, Time Out Market New York is a homecoming of sorts.
After all, he skyrocketed to celebrity-chef status just steps away at the River Café, where he helped make fine dining with an American sensibility all the rage. Today, he's become a global rock star with whimsical-yet-familiar dishes like salmon pastrami and Maple Bacon on a Clothesline, both available at the market. For complete menus, more info and editors' picks, head to timeout.com/newyork/market.