Heads up! We're working hard to be accurate – but these are unusual times, so please always check before heading out.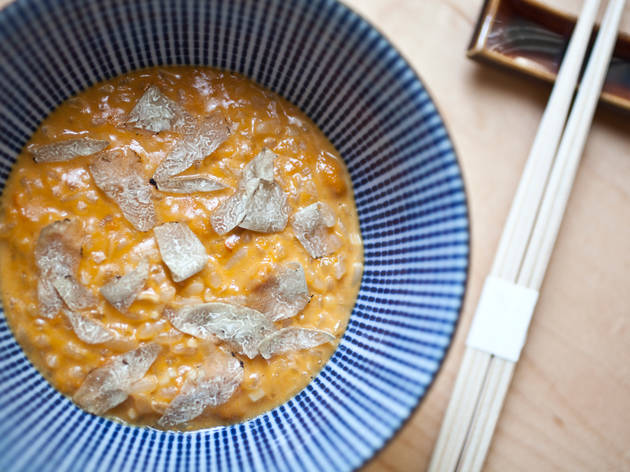 1/10
Photograph: Virginia Rollison
Uni risotto at NetaChefs Nick Kim and Jimmy Lau's reimagined risotto takes the dish to new heights. They soak glutinous mochi rice in sake, cook it in kombu dashi (Japanese kelp stock) and add sautéed mushrooms (maitake or chanterelles in the summer; matsutake in the fall) for a double hit of umami. Cool, creamy lobes of sea urchin are folded in to give the dish body and a luxuriously smooth texture. When it's available, Kim and Lau also amp up the creaminess with shirako (cod sperm sacs) or Dungeness crab. 61 W 8th St between Fifth and Sixth Aves (212-505-2610, netanyc.com). $18.—Winnie Yang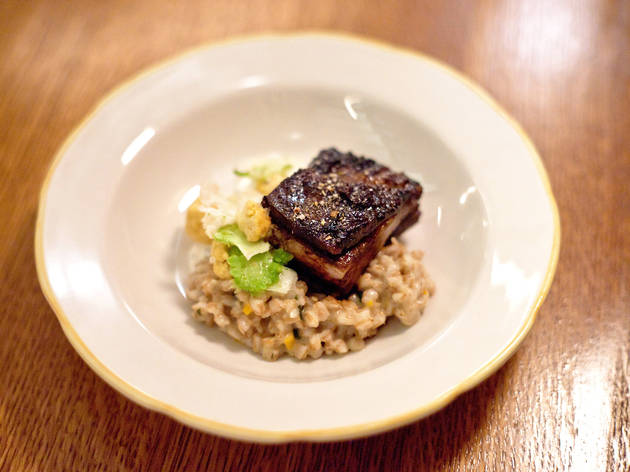 2/10
Photograph: Paul Wagtouicz
Cordero at TertuliaSeamus Mullen breaks out every chefly trick in the book to make this decadent lamb dish: He cures an Elysian Fields breast with salt, sugar and pimentón; smokes it over pungent oak; and confits it in rendered lamb fat. Each piece is glazed with a Pedro Ximenez sherry vinegar reduction and grilled to order. The lush, smoke-kissed slab—its crackling golden skin glistening like Peking duck—is paired with creamy farro, zippy pickled cauliflower, and tangy labna yogurt mixed with garlic, lemon zest, olive oil and herbs. 359 Sixth Ave at W 4th St (646-559-9909, tertulianyc.com). $16.—Mari Uyehara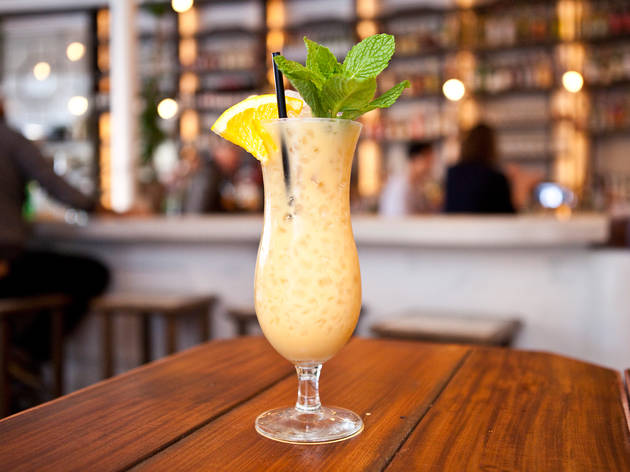 3/10
Photograph: Jolie Ruben
Brancolada at DonnaNew York bartenders have a firm handle on pre-Prohibition cocktails these days, but with so many spots offering pitch-perfect Sazeracs and standard-bearing old-fashioneds, the race to innovate is on. Credit barkeep Jeremy Oertel with moving the liquid feast forward this year, nipping at the classic constituents of a piña colada to yield the year's most exciting new drink. The ingenious Brancolada reimagines the emblematic tiki quaff, adding a glug of minty Branca Menta to a velvety combination of aged rum, coconut cream, and pineapple and orange juices—plus a tuft of mint and a drift of crushed ice. The Creamsicle-colored Brancolada sips brisk and refreshing, with a boozy and menacing riptide you'll feel after just a few swallows. 27 Broadway at Dunham Pl, Williamsburg, Brooklyn (646-568-6622, donnabklyn.com). $10.—Jordana Rothman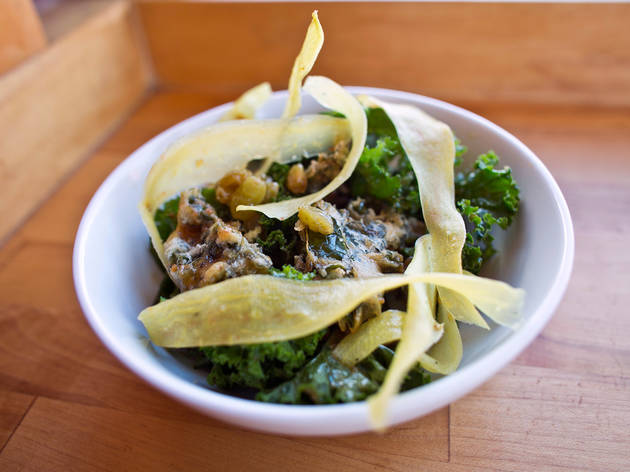 4/10
Photograph: Caroline Voagen Nelson
Kale salad at ChukoMorimoto vets Jamison Blankenship, David Koon and James Sato elevate the humble kale salad to rock-star status with this snappy rendition. They toss two types of kale—raw and tempura-fried—with crunchy curls of Japanese sweet-potato chips and golden raisins pickled in rice-wine vinegar. The dressing for the frilly green-and-gold mix is a hat tip to Masaharu Morimoto: a craveworthy variation on the old master's calamari dressing that the trio ate compulsively before service each night. The combination of white miso, soy sauce and white balsamic, along with a puree of carrot, garlic and ginger, ties the whole dish together with a funky savoriness and a piquant kick. 552 Vanderbilt Ave between Bergen and Dean Sts, Prospect Heights, Brooklyn (718-576-6701, barchuko.com). $7.—Mari Uyehara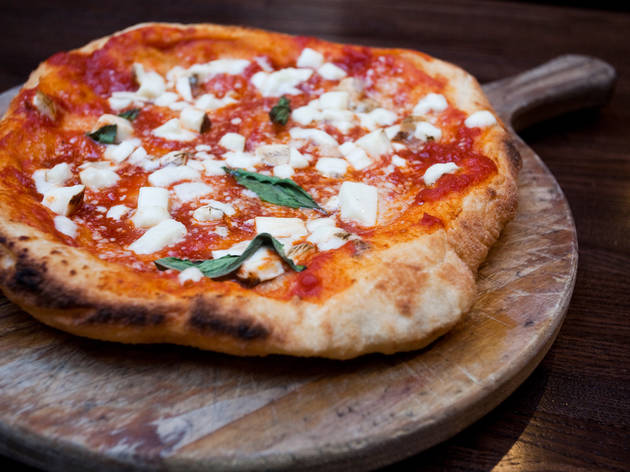 5/10
Photograph: Beth Levendis
Montanara Starita at Don Antonio by StaritaWhile fried-pizza mania shows no signs of cooling down, it may have hit its apex with this hot-oil-bronzed wonder. Inspired by versions of the dish made in Naples, pizzaiolo champ Roberto Caporuscio (Kesté) and his mentor, Antonio Starita, plunge a stretched round of dough in roiling oil to achieve a sweet, moist crumb. They crown it with fragrant basil leaves, tangy San Marzano tomato sauce and one bold twist: smoked imported buffalo mozzarella. A quick turn in the blazing wood-fired Acunto and a sprinkling of robust Parmigiano-Reggiano add an extra layer of smoky, salty depth to the smoldering pie. 309 W 50th St between Eighth and Ninth Aves (646-719-1043, donantoniopizza.com). $12.—Mari Uyehara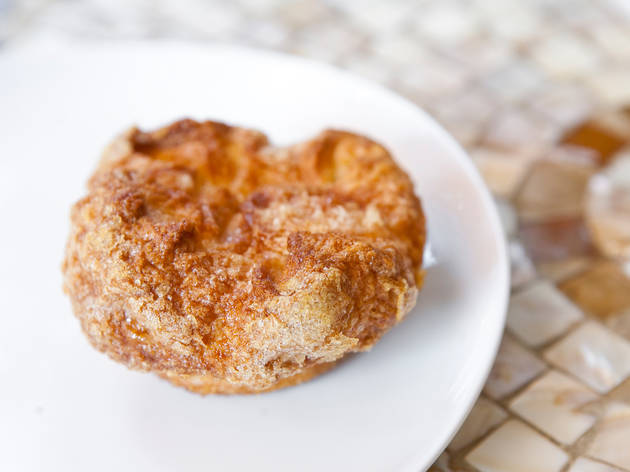 6/10
Photograph: Jakob N. Layman
DKA at Dominique Ansel BakeryPastry wunderkind Dominique Ansel propelled an obscure French regional specialty—the kouign-amann from Brittany—into New York's dessert pantheon with this light remake. For the sweet stunner, Ansel combines butter-rich dough and superfine sugar in a tartlet ring; a hot oven transforms it into a croissantlike knot laced with a sweet, gooey paste. Baking the round on a sugar-lined sheet lends the elegant bun a golden-brown crunch and a glinting caramelized finish. 189 Spring St between Sullivan and Thompson Sts (212-219-2773, dominiqueansel.com). $5.25.—Mari Uyehara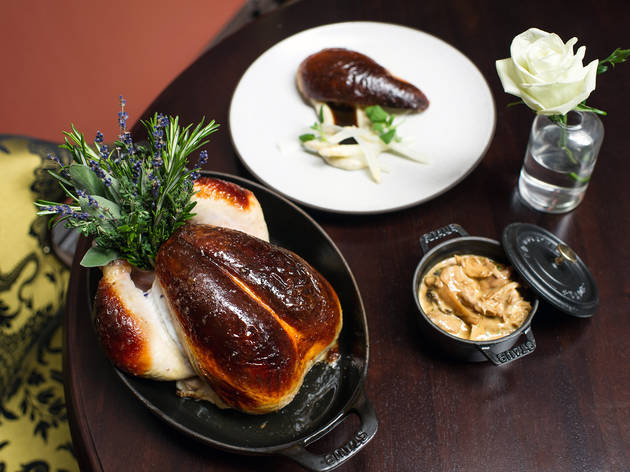 7/10
Photograph: Daniel Krieger
Roasted chicken at the NoMadNo big-ticket bird in the city rivals this opulent hen, which has foie gras, black truffles and brioche tucked beneath its skin. Roasted in a wood-fired hearth, with skin as dark as a Coppertone tan and crispy as cracklings, it's presented whole in the dining room—turning more heads than a celebrity sighting—before being whisked back to the kitchen and plated. The beautifully brined, supernaturally succulent breast returns over potato puree studded with truffles; the dark meat arrives tossed with more truffles, plump, earthy morels and sherry–brown-butter sauce. 1170 Broadway at 28th St (347-472-5660, thenomadhotel.com). $79 (serves two).—Jay Cheshes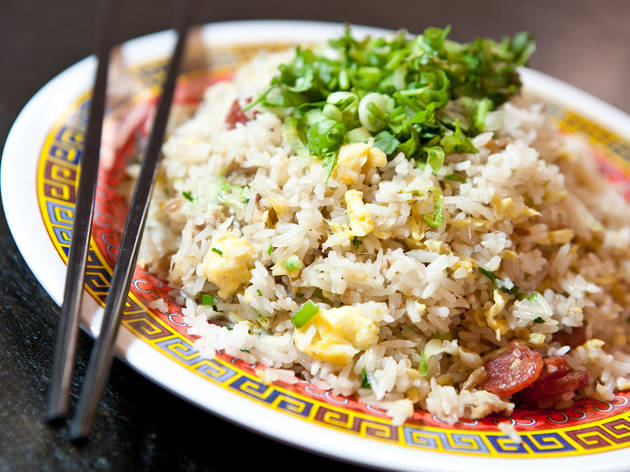 8/10
Photograph: Jakob N. Layman
Salt-cod–fried rice at Mission Chinese FoodAt food-world darling Danny Bowien's Lower East Side hot spot, the fast-and-furious meals are typically a Szechuan-peppercorn throwdown, with plates so gloriously scorching that they can bring the most seasoned eaters to their knees. But every time we visited, the unassuming salt-cod rice proved to be the sleeper hit of the table, a serene knockout holding its own beside ballsy signature dishes like the kung pao pastrami and thrice-cooked bacon. In a flame-licked wok, Bowien tosses tender long grains with a quadruple hit of richness: salt-cod bits, confited mackerel, sweet coins of Chinese sausage and creamy egg. The lush mound, studded with nubs of soft egg and toothsome pork, is finished with julienned lettuce. 154 Orchard St between Rivington and Stanton Sts (212-529-8800, missionchinesefood.com). $11.50.—Mari Uyehara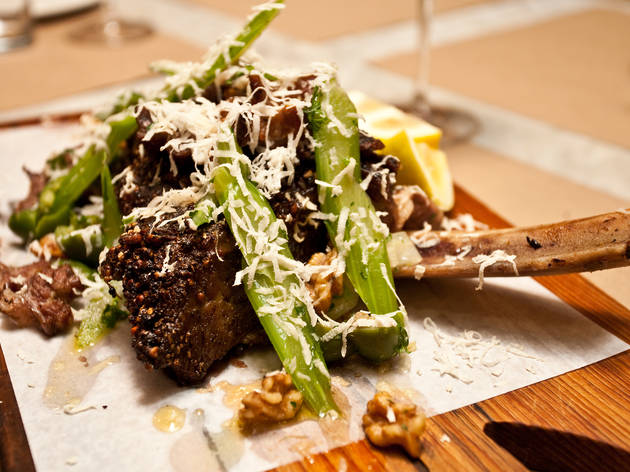 9/10
Photograph: Virginia Rollison
Spit-roasted short ribs at Il Buco Alimentari & VineriaIf chicharrones and duck confit have taught us anything, it's that meat tastes better with a little crunch. Chef Justin Smillie offers Italy's testament to that universal truth, brining peppercorn-encrusted beef overnight before slow-roasting it to a blackened crisp. The imposing hunk of meat is presented on a big wooden board, piled high with grated horseradish, celery, green olives and walnuts. Though fully detached, it's presented with its bone, as if to remind you of where it came from. 53 Great Jones St between Bowery and Lafayette St (212-837-2622, ilbucovineria.com). $38.—Marley Lynch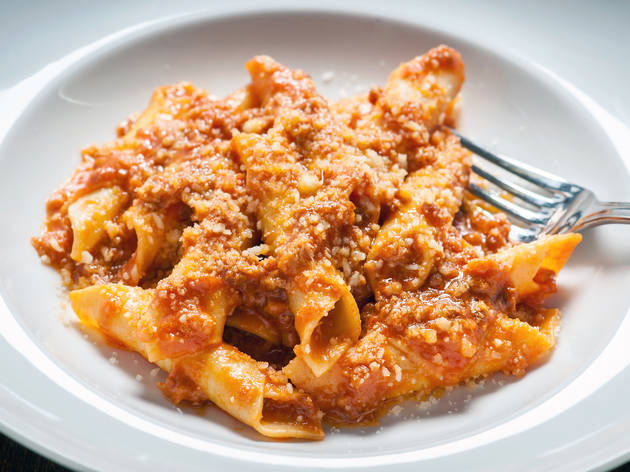 10/10
Photograph: Paul Wagtouicz
Garganelli with tripe, prosciutto and chili at PerlaFor this lusty pasta dish, meat maestro Michael Toscano tames pungent tripe with a long blanching. He then grinds and stews it for more than three hours in a riff on spicy amatriciana sauce: San Marzano tomatoes, onion, garlic and prosciutto instead of guanciale. Finished in a pan with a handful of chilies and red onion, the robust, meaty sauce clings to homemade garganelli, cloaking the hollow of each ethereal quill. 24 Minetta Ln between Sixth Ave and MacDougal St (212-933-1824, perlanyc.com). $19.—Mari Uyehara
Top ten best dishes and drinks in New York City 2012
Discover the very best dishes and drinks from New York chefs and bartenders at the top of their game.