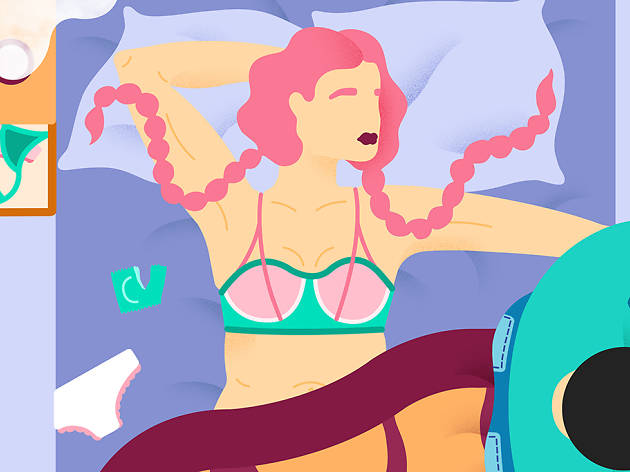 Let Us Sex-plain: Is it bad to sleep with people on the first date?
Your personal wingwoman, Jillian Anthony, answers all your questions about dating and doing it in New York
I get it—being single in the city can be tough, and the ways New Yorkers are having sex these days can be surprising. But whatever your dating conundrum might be, I'm here to help. Consider me (Jillian Anthony, Time Out New York's Editor) your personal wingwoman, guiding you through dating and doing it in New York in our weekly "Let Us Sex-plain" column. Check out my answers to all your questions online and in the magazine every Wednesday, and submit your own coitus queries below!
My girlfriend likes to cuddle after sex for a long time—a really long time. I can manage 10 minutes but get bored after that. I've dropped hints to her, but nothing's changed. I really love her, so it's not that. What should I do?
—Max, Lower East Side
Cuddling is about connecting with your partner in an intimate way—a different kind of intimacy than sex itself. If cuddling is important to your girlfriend, you should meet her halfway, but it sounds like you're already doing that. Be clear that you love her, but you don't love cuddling. Ten minutes is just fine in my book (that's probably longer than you're having sex a lot of the time), but maybe stretch it out to a solid half hour on some special lazy Sundays.
I was dating a guy casually, and I thought it was going pretty well. He was very much a "we" guy. "We will go here," "We will do this," etc. All of a sudden, he completely ghosted me. Do I reach out, or is it just over?
—Devin, Chelsea
I'm sitting here with a clenched fist, completely frustrated for you. Maybe this guy got spooked somewhere along the way by God knows what, or maybe he never actually wanted to be a "we" with you at all. Either way, how he's treating you is absolutely unacceptable, and it's the behavior of a selfish, immature coward. He may come back, and he may have some excuse, but please trust me (as someone who's been through this entire heartbreaking situation already) that he will do this again if you take him back. Don't reach out to him, and move on—may this be the last time he treats you this way, rather than the first of many.
I tend to sleep with guys immediately if I'm interested in dating them. Unfortunately, this has led to a lot of disappointment because I sometimes want to get to know the guy better after sex, but he often just loses interest or only hits me up for a quickie. Should I deliberately not have sex with a guy after the first date if I actually like him? I don't like the idea of changing my actions to "make" a guy like me, but sometimes it feels like that's the only solution.
—Rosie, East Harlem
There's just no guarantee that someone will stick around and really get to know you whether you sleep with them on the first date or the 10th, so you should sleep with people whenever it feels right for you. That being said, if you're feeling negatively about the situation or as if you were used, you can set some different boundaries for the people you date at any time; your sex life should make you feel good and safe, always. And remember, no matter how hard we try, we can't "make" anyone like us. The right partner for you will work to be with you no matter the circumstances.
Read previous weeks' sex columns
Your personal wingwoman, Jillian Anthony, answers all your questions about dating and doing it in New York. Read them all here.