Heads up! We're working hard to be accurate – but these are unusual times, so please always check before heading out.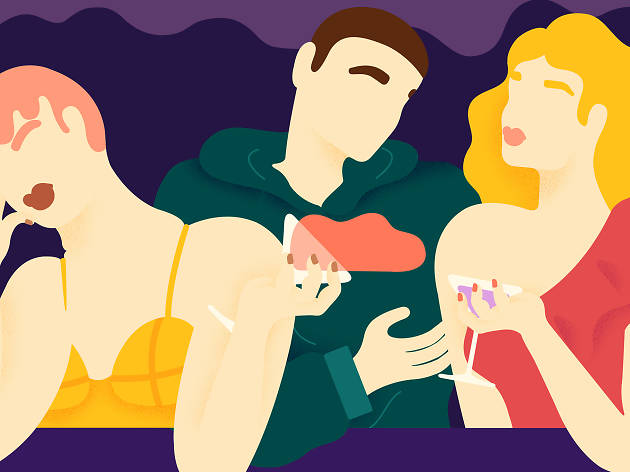 Let Us Sex-plain: Is it normal to bring other people to a date?
Your personal wingwoman, Jillian Anthony, answers all your questions about dating and doing it in New York
I get it—being single in the city can be tough, and the ways New Yorkers are having sex these days can be surprising. But whatever your dating conundrum might be, I'm here to help. Consider me (Jillian Anthony, Time Out New York's Editor) your personal wingwoman, guiding you through dating and doing it in New York in our weekly "Let Us Sex-plain" column. Check out my answers to all your questions online and in the magazine every Wednesday, and submit your own coitus queries below!
My ex (A) and I have been living together for the past four years. After we broke up, we had a friends-with-benefits type of relationship, but it only lasted a year because I wanted a serious relationship and she didn't. Over the years, she has dated people but kept it a secret from me. I, however, have remained completely single. I recently reconnected with another ex (B), and A noticed and freaked out, giving me the silent treatment. I was forced to end my friendship with B. What are your thoughts?
—Alex, Red Hook
My thoughts? No one is forcing you to do anything. Rather, you're letting an ex-girlfriend who has no interest in seriously being a healthy, loving part of your life control who you date and even speak to—for years! She told you she doesn't want to be with you. You're waiting for her to change her mind, and won't. It's time to be strong and leave this mess of a situation (and that manipulator of a human being) far behind. Make a plan with a supportive, trustworthy friend, move out of the house as soon as possible, and cut A out of your life for good. She's not your girlfriend and she's not your friend. You've wasted enough time.
My date brought other people to our date and made it a group date. Is this normal?
—Chris, Chelsea
As dating gets more and more casual, I think a date bringing a friend or two to the bar is becoming more common. But that doesn't make it okay! If your date wanted to bring another person, they should have asked! Then they'd at least give you the opportunity to bring someone else along as well. And, hey, if it doesn't work out with the date, the best-case scenario finds you skipping down the sidewalk hand in hand with their friend. But keep in mind, if someone seriously wants to get to know you, they shouldn't make you compete for their attention while trying to make a connection.
In the August 16 edition of this column, your use of the word clean [when referring to STIs] was highly offensive. Clean implies that anyone who has an STI or HIV is dirty. HIV and STIs are stigmatized enough as it is. Every day STI- and HIV-positive people are discriminated against, and nobody needs you contributing to ignorance and hate.
—J, Manhattan
I'm grateful for your note. I had not previously been aware that the word clean in this context was offensive, but I now understand why it is and why my language was harmful. I still have things to learn, but I aim to be progressive, inclusive and sex-positive both in my worldview and advice, and I will continue to be vigilant about best representing people of all identities in my column. Thank you for furthering my education and allowing me an opportunity to pass it on to others.
Read previous weeks' sex columns
Your personal wingwoman, Jillian Anthony, answers all your questions about dating and doing it in New York