Heads up! We're working hard to be accurate – but these are unusual times, so please always check before heading out.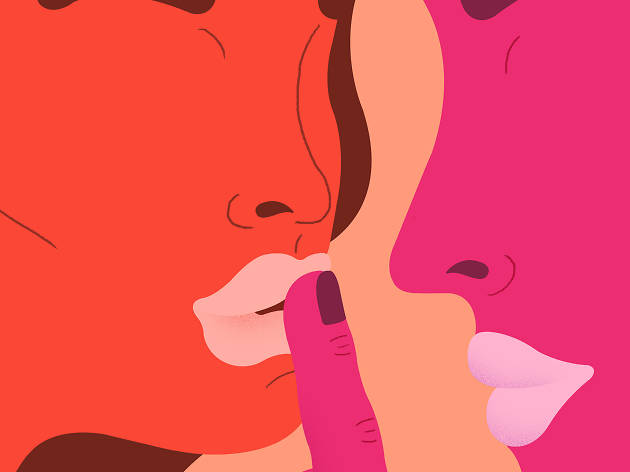 Let Us Sex-plain: Why is the guy I'm seeing still uploading new pics to Tinder?
Your personal wingwoman, Jillian Anthony, answers all your questions about dating and doing it in New York
I get it—being single in the city can be tough, and the ways New Yorkers are having sex these days can be surprising. But whatever your dating conundrum might be, I'm here to help. Consider me (Jillian Anthony, Time Out New York's Editor) your personal wingwoman, guiding you through dating and doing it in New York in our weekly "Let Us Sex-plain" column. Check out my answers to all your questions online and in the magazine every Wednesday, and submit your own coitus queries below!
On an almost nightly basis my girlfriend reaches over and gently holds my "equipment" as she settles down to sleep. When I asked her why, she said she finds it relaxing. We both enjoy our sex life, and this habit doesn't bother me, but I wonder if it could eventually become an issue down the road?
—William, Park Slope
I'm imagining potentially problematic scenarios. Maybe she'll get accustomed to your dick as a therapeutic agent and instinctively reach for it anytime she feels the slightest bit stressed. Maybe she'll insist on latching on during scary movies. Maybe she'll hold hands with it on strolls through the park or insist on FaceTiming it when sleeping in a foreign place! But if those situations don't come to fruition (and I don't think they will), I'd say you're just fine and should enjoy this penis appreciation. Maybe she'd like it if you gave her vagina a comforting, loving clutch now and then as well.
I've been dating this guy I met on Tinder for a little more than a month, and I felt like things were going well, but I recently checked his Tinder profile, and he's been updating it with new pictures. Does this mean things aren't going well between us, and he's trying to look for something new?
—Carmen, Bushwick
There's only one way to know: Ask. You two haven't been dating that long, and it seems like you haven't had a conversation about exclusivity, so he could still be actively playing the field or just keeping his options open. Either way, he hasn't done anything wrong. But you're well within your rights to have a conversation with him about where the two of you stand. By the way, he can probably see that you're still on Tinder too.
I've been sleeping with this guy for nine months, and during sex he refuses to kiss me, claiming he is scared he may tell me he loves me and would have to deal with the responsibilities of being in a relationship. Before, I didn't care, but now it just completely turns me off, and I have no desire to sleep with him. But I like him a lot. What should I do?

—Nneshi, Manhattan
You need to figure out what you want from this situation. If you have feelings for him and want this to develop into a relationship, it seems clear it isn't going to. This guy's "I'm scared" line reeks of bullshit, but even if he's telling the truth, he clearly isn't ready or willing to have a relationship. If you just want to keep sleeping with him, it sounds like you need to get on board with genital contact only! It's up to you, but his emotional barriers seem pretty extreme. I'd move on to the next.
Read previous weeks' sex columns
Your personal wingwoman, Jillian Anthony, answers all your questions about dating and doing it in New York. Read them all here.