The best stationery stores in NYC
Get over to a great stationery store that offers modern greeting cards, invitations, paper goods and more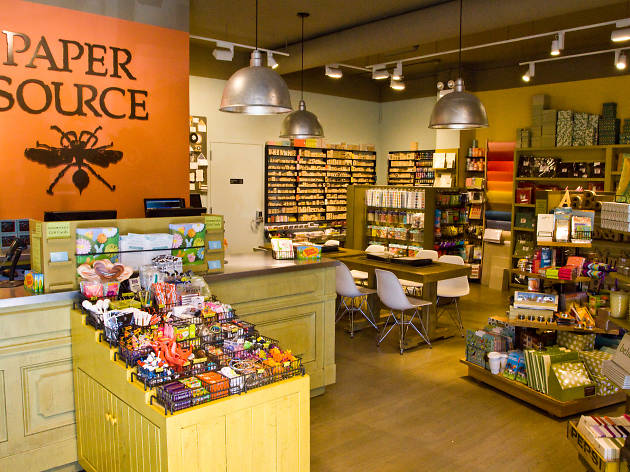 After visiting the city's best gift shops, you need to find the right stationery store for you. Whether you're on your way to pick up a birthday cake for your BFF and forgot a card or you're looking for über-professional new business cards, these quirky stores will have exactly what you need to inject some pizazz into your paperwork. Print isn't dead, we promise.
RECOMMENDED: Best places for shopping in NYC
Best stationery stores in NYC
1
This stationery store—with exposed brick, cheerful floral wallpaper and a pink overhanging lamp—exudes West Village charm. It's owned by sisters Amy Swanson and Beth Salvini, whose family has been in the printing biz for three generations, and nearly everything is designed in-house and produced on an old Gutenberg-style press. Aside from note cards and stationery, GLP also offers notebooks, rubber stamps, labels, gift tags and striking wrapping paper ($3–$5 a sheet).
2
Established by Robert Bowne in 1775, Browne & Co. is the city's oldest business under a continuous banner. Despite the ubiquity of the Digital Age, it still uses a genuine printing press—so if you want your party to make history, you can make the invitations historical replicas.
3
You'll be searching for a reason to send someone one of the large square screen-printed cards ($4–$5 each) that illustrator and owner Jane Buck makes right in the store: Each features charming animal graphics, like a tortoise carrying a cupcake on its shell, with kitschy sayings (cheer up, buttercup). For those occasions when an old-fashioned note alone won't cut it, there are baby bibs ($16) and little pouches ($6) adorned with the store's signature menagerie of birds, elephants, rabbits and more.
4
Slopers hit this local spot for its scads of greeting cards and stationery, including such chic lines as Rössler Papier, SoHo Papers and Waste Not Papers. Peruse its slew of artful invitations by Brooklyn designers; to further tailor your invites, its custom printing service can also accommodate special requests. What's more, its knowledgeable staff can answer etiquette questions.
5
For nearly half a century, Fred Kooby has been running this prim-and-proper stationery boutique, and though he's watched as paper companies shrink their lines and e-cards replace formal invitations, his own business has grown from a single storefront to the better chunk of the block. Attribute this to his loyal clientele, who appreciate proper etiquette and classic taste—tenets that are best represented by the wall of Crane & Co. place cards (ten for $9–$100), and selection of Caspari greeting cards ($3–$9) and Charing Cross leather-bound calendars ($32–$49). Kooby's daughter, Vanessa, oversees the custom-design department, whose shelves are jammed with sample books from lines as mid-range as William Arthur and as elaborate as C'est Papier. Aside from paper products, the store also stocks Kolo photo albums ($17–$50), Tizo picture frames ($17–$150) and fine writing instruments ($39–$495) from Waterman, Parker and Cross.
6
A dizzying assortment of cards and office supplies packs this East Village institution, where you'll find polka-dot Crane & Co. thank you notes (10 for $19), gel-tip pens in a rainbow of colors ($2–$4) and a vast selection of postcards printed with vintage black-and-white photos of NYC ($1). You can also stock up on 3-D decorated cards by Papyrus ($5–$8) and metallic gift boxes for jewelry and other trinkets ($1–$4.50).
7
Stationers, brides and DIYers all flock to this warehouse-like standby for custom invites and supplies for creating their own. Grab boxed cards ($10–$40), individual sheets of paper in a rainbow of shades (from $1), glassine envelopes ($5–$16) and tags ($3 and up) from its well-rounded stock.
8
Skip the Evite and go old-school by picking up invitations at this stationary store, started by Cali transplant Raegan Hirvela. Its walls showcase paintings from local artists, and the ceiling is adorned with paper airplanes. Wrap a present with Seltzer Recycled's funky skull-and-crossbones gift paper ($3 per sheet) or Art with Heart's robot-patterned paper ($8); then personalize it by filling out one of Snow & Graham's assorted watercolor alphabet note cards ($12 for a box of five cards with envelopes). Or just skip the stress of gift giving altogether, and buy yourself a silk-screen-covered journal to pour your heart out ($12).
9
Pink Olive supplies impossibly cute stationary and office supplies—many in predictably pink hues. If it's the horrid staleness of your sticky notes that ails you, it will have the colorful cure.
10
Crafting connoisseurs flock to this paper haven. Since the original Paper Source opened in Chicago in 1983, founder Sue Lindstrom has provided handcrafted decorative papers, tongue-in-cheek greeting cards, artful wrapping paper and charming stationery. The gargantuan space hosts demonstration tables, where you can watch and participate in crafting workshops ($25–$40) such as bookbinding, card-making and rubber-stamping. Or save your bucks, and stop by for free in-store demos like holiday gift-wrapping tutorials; then take a peek at the inspiration boards to get ideas for your own crafting endeavors. But with more than 40 colors of card stock and envelopes, 500 greeting cards, countless rolls of ribbon in a rainbow of colors, and imported papers from Japan, India, Nepal, Thailand and Italy, the creativity should come easily. There are also ample gifts, including paper monkey puppet kits ($16), owl place-card kits ($14) and 2011 Wall Art monthly calendars ($28).
11
Office supplies and toys more suitable for party supply stores may seem like weird collision of consumer goods, but whose work life hasn't been improved by a candy-red foam soccer ball? Check out this store when your shopping list includes both glitter crayons and scotch tape.
12
This franchise has established strongholds from Sydney to Dubai, and for good reason. It sells super-cool goods—Japanese-centric stuff for the most part. If cartoon characters are your bag, it has the right notebook for you
14
Though it might look bare-bones, this 7,000-square-foot joint brims with a host of goods for your home office. Rummage through the shelves for neon-hued recycled card stock, parchment labels, precut business card sets and all sorts of unusually shaped envelopes. Bargain hounds shouldn't miss the store's frequent sales to save some serious green.
15
This small, appointment-only midtown space is best suited to engaged couples, who can flip through sample books from William Arthur and Bella Figura in pure solitude. The Village Invites' close relationship with independent letterpress companies, such as three-person Chicago outfit Alice-Louise, allows clients to customize save-the-dates (starting at $4 each) and invitations (100 for $1,500–$1,600, including reply cards). Those without a ring on their finger will be more content perusing the spacious West Village location, which is a popular destination for formal business stationery, often done by Crane & Co. (100 for $300–$500). There's also a smattering of offbeat gifts, including Cupcake Provocateur sexy aprons ($42), Rifle Paper Co. magnetic shopping-list pads ($10) and Peter Pauper Press ticket-stub albums ($16).
Looking for more gift ideas?
New York's one of the most literary cities in the world, and that's never more evident than when wandering in its brilliant independent bookstores and specialty bookshops. And because Amazon's recommendations have got nothing on a face-to-face chat with a professional bookseller, find the best bookstore NYC has to offer for browsing new fiction or picking up the year's best books. RECOMMENDED: Best places for shopping in NYC