Everything you need to survive winter in NYC
Stay warm and cozy in the season of slush puddles, freezing rain and dry winds with these must-have cold weather supplies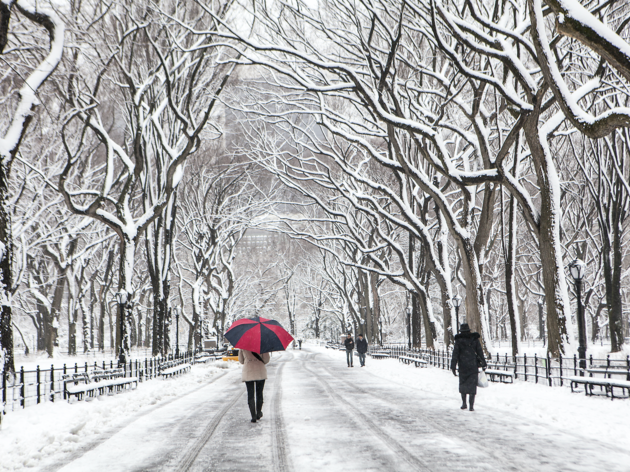 Winter turns New York City into a wonderland of activities, what with all the holiday markets, ice-skating and Christmas in New York festivities. The weather isn't always so fun, though. Gale-force winds, ice-cold blizzards, drenching rains and grimy slush puddles are all par for the course from December through March. All you can do is prepare for the worst and hope for the best. Outfit yourself with this list of everything you need to survive winter in NYC, including waterproof boots, home goods and all kinds of warm clothing. Hey, if all else fails, you can seek refuge in all the best places to be cozy this winter and wait for spring to come.
Everything you need to survive winter in NYC
Photograph: Courtesy L.L. Bean
Keep your toes toasty warm through blizzards and freezing rain with these waterproof, insulated boots for both men and women. You'll be glad you bought them when you have to brave gigantic slush puddles on your walk to work.
L.L. Bean Boots, $149 on llbean.com
Photograph: Courtesy Nordstrom
Don't sacrifice your fingers to frostbite every time you want to text, call or Instagram in the winter. Just pull on these fleece-lined, touchscreen-compatible leather gloves and type away.
Nordstrom Leather Tech Gloves, $89.50 on nordstrom.com
Photograph: Courtesy ASOS
Photograph: Courtesy Nordstrom
In the winter, your skin care mantra should be "moisturize, moisturize, moisturize." No matter your skin type, Kiehl's gentle lotion will help you hydrate during the driest months of the year.
Kiehl's Ultra Facial Oil-Free Lotion, $27.50 on nordstrom.com
Photograph: Courtesy J.Crew
Unless you're going to be out in the cold all day, you're going to want to shed some layers once you walk inside a heated—let's be honest, overheated—building. Start with a lightweight longsleeve tee, then add as many sweaters, scarves and coats as you need to stay warm.
J.Crew Tissue Turtleneck Tee, $29.50 on jcrew.com
Photograph: Courtesy Amazon
Keep your coffee, tea or spiked cider (we won't judge) piping hot even in the most frigid conditions with this insulated stainless steel tumbler.
YETI Rambler Insulated Stainless Steel Bottle With Cap, $29.99 on amazon.com
Photograph: Courtesy J.Crew
Photograph: Courtesy Lord and Taylor
Don't let the matte texture fool you: These ankle boots are made out of waterproof rubber. They're perfect for rainy days, but stylish enough to wear around the office.
Sam Edelman Tinsley Rubber Ankle Boots, $55 on lordandtaylor.com
Photograph: Courtesy Amazon
Keep your apartment snug and warm with these handy draft guards that block out the winter chill. The foam cylinder fits in any space—even warped or cracked windowsills.
Twin Draft Guards, $14.99 on amazon.com
Photograph: Courtesy Uniqlo
We don't know what kind of magic the designers at Uniqlo worked to make these regular black tights so warm, but hey, we're not complaining. Your legs will stay toasty even when the temperature dips below freezing.
Uniqlo HEATTECH Tights, $9.90 on uniqlo.com
Show more
Need to warm up with a hot drink?
There's no better way to combat the cold than with toasty mugs of hot chocolate at some of the best coffee shops and restaurants in the city