The 25 best shops in NYC
Conquer NYC's shopping scene by visiting the best shops for clothing, deals, accessories, home goods and more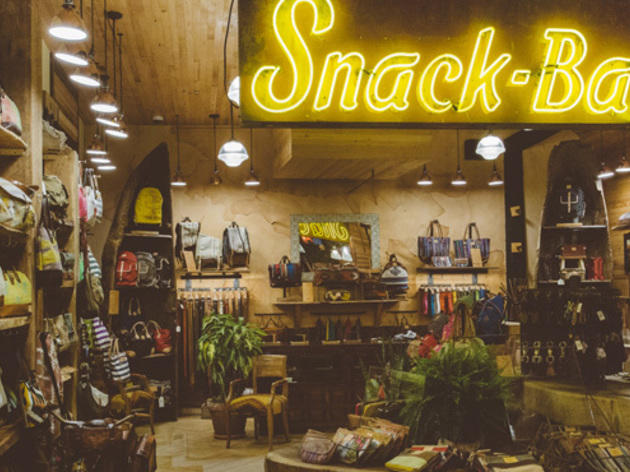 When it comes to shopping in New York City, you have a bevy of amazing stores at your fingertips. But which are the best fashion and home decor shops in NYC right this minute? We're glad you asked! We pounded the pavement, checked out New York City's best shopping 'hoods and came up with this list of must-visit shops. From old favorites to vintage clothes and affordable boutiques, these are the stores that are kicking ass right now—in a stylish, classy way, of course.
Do you want more great stories about things to do, where to eat, what to watch, and where to party? Obviously you do, follow Time Out New York on Facebook for the good stuff.

RECOMMENDED: Best places for shopping in NYC
The best shops in NYC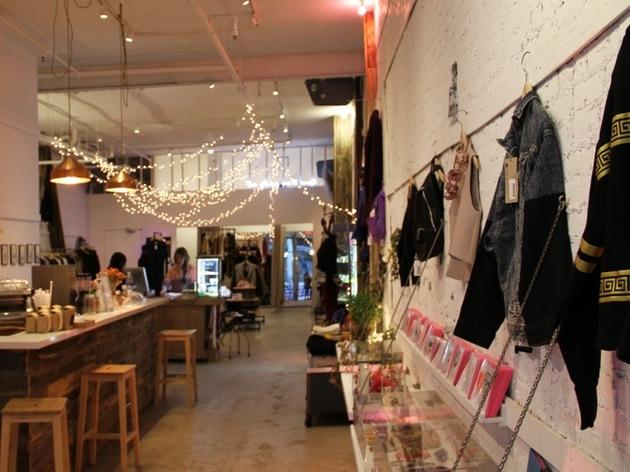 American Two Shot
The addition of a coffeeshop within a clothing store has become a major trend in 2014 (Uniqlo is the latest to jump on board), but American Two Shot was ahead of the curve when it opened a couple of years ago with Café Integral at the front of the shop. Grab an espresso and browse the latest indie-label offerings, like a yellow Addison x We Wore What reversible crop top ($125) or Solid & Striped swim shorts ($130) for guys. And the java will come in handy: The downtown shop often hosts late-night parties.
You guys love Artists & Fleas (it's one of the most searched-for stores on our website)—and it's easy to see why: Every weekend, a rotating selection of around 60 vendors, including local craftspeople, designers and artists, sets up shop in a Williamsburg warehouse. The browsable mix includes everything from original T-shirts and handmade jewelry to home-decor items and even pet accessories. Earlier this year, a second location opened in Chelsea Market, which means we now have double the opportunity to scoop up one-of-a-kind finds.
Read more
Sure, Brooklyn's decor scene is a bit of a cliché: Most shops are strewn with Edison bulbs and mason jars filled with wildflowers. But this recently revamped 'Burg joint, with its bold colors and cheeky posters—is "Constantly fucking challenge yourself" motivational enough for you?—feels like a breath of fresh air. We're most psyched about the Bronsen Project Safari ceramic hippos ($95 each) and the Seletti x Diesel Living candle holders ($90–$133).
Read more
We know: Brooklynites have been bemoaning the arrival of big-brand chain stores for the past few years. But guess what? The borough has been home to an awesome minichain for quite some time. Bird, the fashion-forward women's boutique where prices run the gamut, has been in business for 15 years and shows no sign of stopping. Three locations exist; fingers crossed that a fourth isn't too far behind.
Read more
If you love vintage-style duds and wish your entire apartment was an extension of your closet, think of this as your one-stop shop for retro and repurposed furniture. It recently expanded to a new location, dubbed the Backroom, where you can expect to find barnwood frames ($20–$95), metal-locker baskets ($20) and recycled rugs ($40–$65).
Read more
This lifestyle shop in Williamsburg sells high-quality goods during the day, but will host occasional trunk show gone turnt at night. The 1,300-square-foot boutique carries menswear, womenswear and home goods from emerging brands and well-known designers such as Samantha Pleet and more. Shop eclectic and stylish wares from quilted bomber jackets by Hentsch Man ($400) to shearling stowaway bags by KARA ($360). But bargain lovers will be happy for more affordable merch like Mazama glass mugs ($38) and printed tees by Deer Dana ($60).
Read more
Feel bad about your small apartment? Stop by this 64-square-foot store and take comfort in what Bushwick-based motorcycle club and denim brand Deth Killers has done with the former auto-shop space—namely, display its stylish asphalt-resistant denim ($250) and other cool merch, like a Roberta's Pizza tank top ($68) and jacket patches ($7 and up).
Read more
Okay, we'll admit the prices at this London import aren't exactly budget-friendly ($600 for a Gosha Rubchinskiy linen shirt? Yikes.), but that doesn't stop us from visiting this Murray Hill mecca of high fashion. Dover Street Market features seven small floors of cutting-edge wares by big-time designers and a few up-and-comers. Rei Kawakubo of Comme des Garçons carefully culls the merch, which includes loads of exclusives, including a few (sort of) reasonably priced graphic tees for under $100. Shopping here is like visiting a contemporary gallery, and we don't just mean the sleek clothing: The walls sport cool art, such as the 60-foot-long sleeve of yarn by street knitter Magda Sayeg that winds through most of the space.
Read more
We were bummed to see local fave Pixie Market (trendy clothes! übercheap prices!) close up shop. But before we could settle into a deep depression, the owners reemerged with Frankie. Think of it as the mature and ultra-chic version of Pixie Market. The shop caters to the career-minded woman, so instead of cocktail dresses or crop tops, you'll find more sophisticated items like cocoon tops ($66), alpaca boyfriend coats ($289) and more from international indie labels.
Read more
Harlem Haberdashery
File this under "If it's good enough for Jay Z…" Harlem Haberdashery, which celebrates its second anniversary later this summer, was founded by the folks behind clothing label 5001 Flavors, which dressed the rapper for his "Empire State of Mind" video. For those of us who aren't shopping for locally made urban-meets-preppy clothes to wear in a music video, there are custom-made high-top Android Homme sneakers ($150), graphic T-shirts ($20 and up) and custom-tailored suits ($800 and up). Fun fact: The boutique is housed in a brownstone where Malcolm X once lived.
Show more
Find more shopping events this week