The coolest New York spas for lounging and hanging out
Sometimes you just want to kick back and do nothing. Booking a treatment at one of these New York spas lets you do exactly that.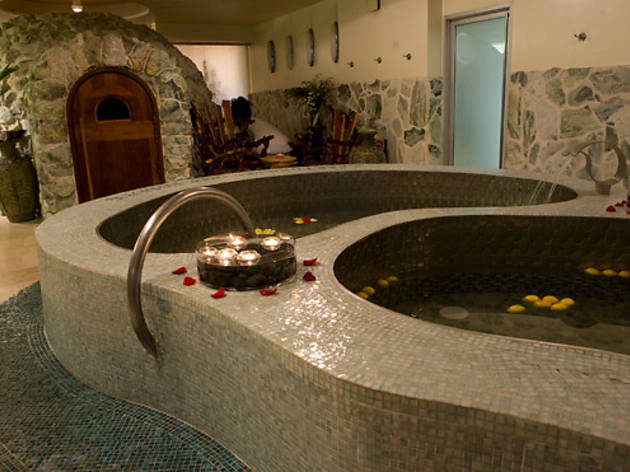 1/6
Juvenex This Koreatown spa offers facials, massages, waxing and more 24 hours a day, making it an ideal destination for stressed or sleepless New Yorkers. If it's your first visit, try the Jade Journey ($65, with any service $35, with any package free), which takes you on a circuit through Juvenex's sinuous, blue-and-green relaxation area. Start out with stints in the rock-encrusted Jade Igloo Sauna and the glass-walled Diamond Herbal Steam Sauna, followed by a cold shower. Next, kick back in a series of Japanese soaking tubs spiked with sake, ginseng, seaweed and other ingredients; the experience concludes with one final trip to the sauna. Ladies can go in the buff during women-only hours (daily 7am–5pm), but during coed times, you'll want to bring a swimsuit. 25 W 32nd St between Fifth Ave and Broadway, fifth floor (646-733-1330, juvenexspa.com)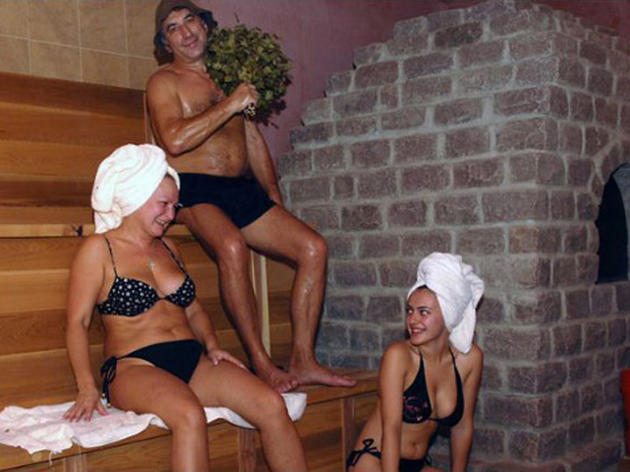 2/6
Mermaid Spa Only a few blocks from the Atlantic, Mermaid takes its cue from old-country banyas. The wood-and-slate space is ideal for a full day of relaxation; it encompasses a steam room, two traditional Russian saunas, cold pools and an ice sauna. A large, round Jacuzzi surrounded by chairs and tables fosters convivial chatter among spagoers, and during the warmer months you can stretch out on beach chairs in a tree-lined backyard. For the full experience, be sure to grab a bite to eat in the on-site restaurant, which serves such traditional fare as blintzes with red caviar ($15) and Ukrainian borscht ($8). 3701–11 Mermaid Ave at Seagate Ave, Sea Gate, Brooklyn (347-462-2166, mermaidspany.com). Day pass: $35, seniors $30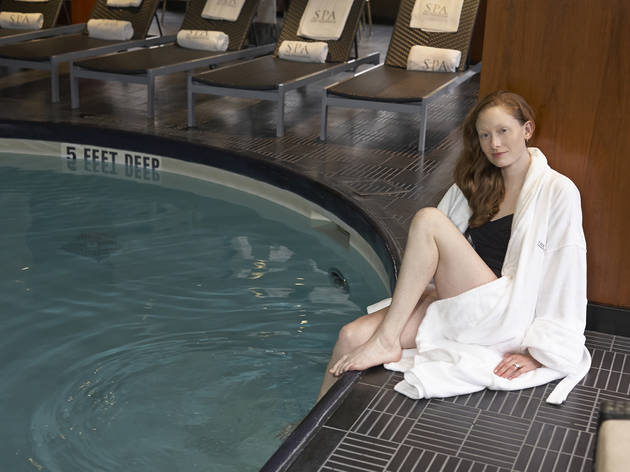 3/6
Photograph: Jena Cumbo
The Peninsula Spa If you're flush with cash (lucky you!), take an elevator to the 21st floor of the luxe Peninsula New York hotel and prepare to indulge. Teak accents, candles and nature-inspired elements fill the three-story retreat, which specializes in a variety of full-body-treatment "ceremonies" that last for two hours each ($550), though you can opt for less extravagant services. Before you do anything, though, decompress in the thermal suites within the spacious locker rooms. Sweat out stress inside the steam room or eucalyptus-infused sauna, and cool off with the ice fountain and a rain-forest shower. You can also seek refuge in the well-appointed, earth-toned Asian Tea Lounge. When you're ready to wrap up, kick back on an adjustable bed in one of the private relaxation areas, complete with headphones and a choice of music, plus a bowl of fruit should you feel peckish. The Peninsula New York, 700 Fifth Ave at 55th St (212-903-3910, peninsula.com/newyorkspa)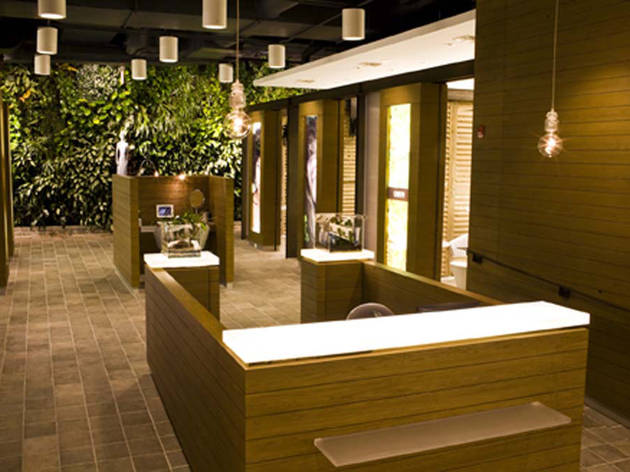 4/6
Photograph: Rene Clement
Phyto Universe A little bit salon and a little bit spa, this Parisian hair-care company's only stateside location is an oasis in Midtown—there's a 3,000-square-foot hydroponic garden growing along the double-sided wall in the central atrium. After getting a hair, face or body treatment ($60–$280) in one of nine private cabins, sit on a bench or wander around the dimly lit garden. The vertical jungle, the largest of its kind in the country, includes 9,000 tropical plants from Africa, the Caribbean, Polynesia and other far-flung locales—a nod to all of Phyto's products being plant-based. Even if you're not getting a spa treatment, you can check out the garden and browse the on-site boutique, which sells the brand's hair products, Caron perfume and Lierac skin-care items. 715 Lexington Ave at 58th St (212-308-0270, phytouniverse.com)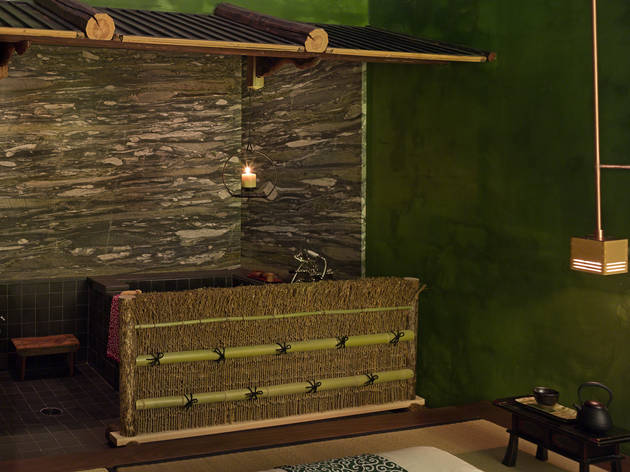 5/6
Photograph: Herbert YMPA
Shibui Spa Tucked within this sanctuary at the Robert De Niro–bankrolled Greenwich Hotel is the last thing you would expect to find in modern Tribeca: a 250-year-old wood-and-bamboo farmhouse from Kyoto, Japan. And inside that is a swimming pool, lit by lanterns. This gorgeous, improbable structure is the epicenter of a Japanese-style spa that's been open to the public only since last spring (before then, it just served hotel guests). Gain access with one of Shibui's all-natural treatments, ranging from a private two-person soak in a seasonal aromatherapy bath ($75–$95) to the hot-sake-infused Drunken Lotus massage ($200–$280). The Greenwich Hotel, 377 Greenwich St between Franklin and North Moore Sts (212-941-8900, thegreenwichhotel.com/spa)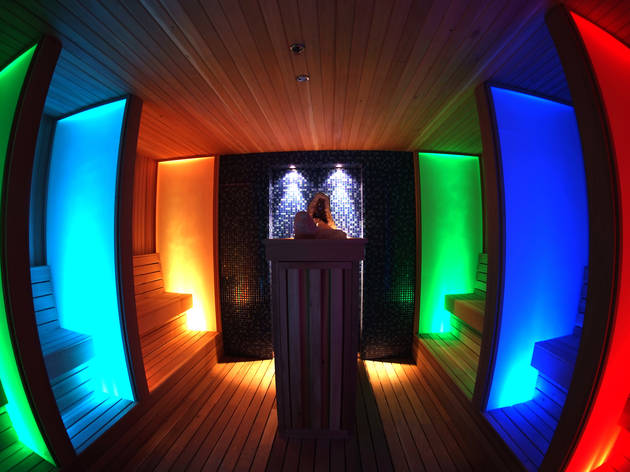 6/6
Photograph: Courtesy of Spa Castle
Spa Castle After chilling in either the men's or women's nude bathing area at this huge Korean complex, throw on a comfy, pajama-like uniform and meander through four floors of communal chill-out space. You could lose yourself making the rounds at the seven high-concept saunas (there's one made from Himalayan salt, another with legit gold) or while snacking on anything from sushi to shaved ice in the food court—and that's just the first level. On the mezzanine, you'll find massage chairs equipped with individual TV screens; indoor and outdoor pools one floor above that; and on the top floor, a bar serving cocktails and beer you can sip while soaking in an adjacent pool. Really, why would you ever leave? 131-10 Eleventh Ave at 131st St, College Point, Queens (718-939-6300, nyspacastle.com). Day pass: Mon–Fri $35; Sat, Sun $45.