Meet the new Michael Cera
The spotlight-shy It boy is all grown up, with a new home (Brooklyn), no-more-mister-nice-guy roles and a hotly anticipated Broadway debut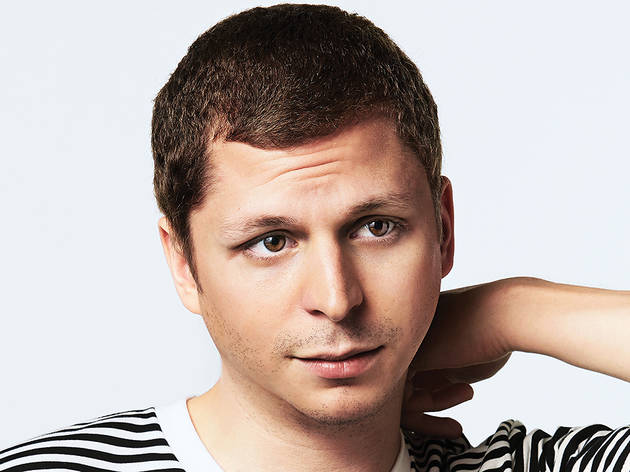 It's the lunchtime rush in the Financial District, and I'm inching along in the back of a cab with Michael Cera. We make small talk about movies—a friend of his says Boyhood is the best film of the decade; we both admit, ashamed, that we haven't seen it—when a cyclist comes barreling toward us. This doesn't look good. I panic, envisioning a day spent with police officers, explaining, alongside one of the most-talked-about actors of my generation, our involvement in a fatal catastrophe.

"Watch it," Cera politely says, not shouts, to the cyclist as he rolls down his window and she maneuvers out of the way. "She was not looking, huh?" he says with a smile to the driver, who doesn't even bother to grunt a response. Then it's right back to movies. Lately, Cera's been on a big Japanese-cinema kick and tells me I need to see Nagisa Ôshima's 1978 film, Empire of Passion.

This throws me. Not that the 26-year-old actor is passionate about film or that he's excitedly talking about a movie I haven't even heard of in a way that doesn't make me feel dumb. It's that he's so calm and collected even after our near accident, with an almost Zen-like confidence about him. I always imagined that the guy from Arrested Development, Superbad and Juno shared the neurotic, muttering quality of his characters. But apparently acting requires, you know, acting.

With a tight striped polo, sneakers and a closely cropped 'do, Cera looks not unlike Sam Weir from Freaks and Geeks. He's friendly. He ends sentences with "man" in the least dudey way imaginable. He talks about his friends a lot—about how they plan to Airbnb a place in Montauk before summer ends, even though he'd often rather "veg out in [his] apartment for 48 hours" on weekends. He asks about me a lot, saying that he recently went to a lake in Wisconsin with his girlfriend after I mention that I went to school in the land o' cheese.

Cruising now, atop the Brooklyn Bridge en route to a photo shoot in his home borough, we're talking about another movie, You Can Count on Me, Kenneth Lonergan's much-loved 2000 drama. We both consider it one of our favorites—Cera's No. 1 film of all time, by the way, is Elaine May's The Heartbreak Kid—and then start reciting lines. Cera gushes about how amazing (similarly mumbly nice guy) Mark Ruffalo is in the movie and about Lonergan's writing in general.

Lonergan is why we're together today. The playwright-filmmaker's 1996 coming-of-age stage drama, This Is Our Youth, about three late-teen/early-twentysomething slackers holed up in an Upper West Side apartment during the Reagan era, is about to have its Broadway debut. Cera's landed the role of Warren, a part originally portrayed by, you guessed it, Mark Ruffalo.
Cera's friend Kieran Culkin introduced him to the play while they were working on Scott Pilgrim vs. the World a few years back. Culkin had played the part of Warren years earlier and was trying to get it on Broadway. (The two actors are close. "We had a bet recently where the loser had to go see Godzilla by himself, alone and sober…and not fall asleep and not text about it," Cera says. He won.)
"When I first read the play," he starts, his voice trailing off. "First of all, Kenny's voice, his instinct for this lower level of human feeling, is beautiful. I think that's his big strength; he can really make you feel these very nuanced feelings about a character. And I was going to him, saying, 'How can we get this going?' And finally when [producer] Scott Rudin came along, it became a real thing."
Cera has played Warren, his first onstage role, since 2012, when the production was staged at the Sydney Opera House and then again this summer at Chicago's Steppenwolf Theatre. (He and Culkin costar with fashion blogger turned actor Tavi Gevinson.) "I like that you don't see him right away," he says of the wayward, unconfident Warren. "You think, Oh, he's this little stoner rich kid. And you learn later that there's a lot more going on." Another thoughtful pause. "That's how it happens kind of in real life. You know, you're growing up and see a kid, and you're like, Oh, that kid's so funny and weird, and he's such a goof, and you project this nonpersonality onto a person, and then they can really surprise you when you learn something about them."
If anyone knows about being pigeonholed or labeled, it's Cera. Since creating a splash as George Michael Bluth on an obscure little show called Arrested Development—he was only 14 when the show began shooting—Cera's name has been synonymous with a type of sweet, self-deprecating, nonthreatening and—I'm sure he'll hate this word—twee kind of guy. His name became a type, one you could envision a room full of studio execs invoking, as in, "We need a Michael Cera."
"I guess I didn't feel so in control; that's the only way I can put it," he says of his success after the one-two-three punch of Superbad, Juno and Nick and Nora's Infinite Playlist. "I was not comfortable about the way things were constructed about me," he adds, then backs
up a bit: "Okay, I'm really spoiled in that I like to really care about the things I'm working on. That's not a realistic way for most people to work. I was just not sure if I was enjoying being an actor and all the weird stuff that comes with it."
It is—I'm sure he'd agree—a famous-person problem to be annoyed with the celebrity bullshit that comes with being good at what you do and getting paid handsomely to do it. Still, Cera was able to change things up, focusing on (relatively) smaller passion projects. In 2010, he played bass in the indie-rock group Mister Heavenly, touring the West Coast and Europe alongside Passion Pit—not that he escaped being "Michael Cera." "Someone would yell my name, which is kind of weird, because it's not my thing; it's their thing," he says. "We'dbe setting up or breaking down after, and you'd just feel this energy coming—it's not
so comfortable."
He talks about music a lot and is clearly more comfortable dissecting a band than his own career. His latest obsession? The Kinks. I mention that the group's ever-contentious Ray and Dave Davies are apparently talking again and might get the Kinks back together for a tour. "That'd be great," he says. "I mean, it's so sad that there isn't any more harmony between them. It's just so beautiful that they were these brothers that blended their voices so beautifully. And one without the other is too sad for me.
"Actually," he continues, "the guy who lives below me—he and his brother grew up playing Kinks songs together. We've had a few nights where they'll come over and sing three-part harmonies, playing the Kinks, doing the piano and guitars. I'm like in heaven, you know. I couldn't ask for a better neighbor." (A few days after our interview, Cera e-mails me some of his music in case I want to check it out. I do. It's good. Three days later the tracks get picked up by the blogosphere and Cera trends on Facebook.)
About a year ago, Cera instigated another career shake-up, leaving Los Angeles (the Canadian-bred actor's home for the last five years) to make the jump to Brooklyn. "I never quite clicked with the city," he says of L.A. "It wasn't really suited to me. I kind of ended up there automatically; that's where my career was starting to happen. So you automatically keep going out there until it gets to the point where you're like, I'm actively choosing to live here now and for a reason I can't really identify, so I thought, Maybe I'll move somewhere."
New York was always in the back of his mind, and like many transplants, his long-distance love affair started with a movie—in Cera's case, Ghostbusters. "I love the look and the feeling of New York and the energy of it [in that movie]. I was like, How could you find a cooler place to live?" Unlike Bill Murray & Co., he settled on Brooklyn, not Manhattan, subletting pads in Fort Greene and Prospect Heights while rehearsing for This Is Our Youth and eventually finding a place of his own.
Perhaps his biggest departure of late—even bigger than swapping coasts—was his role in last year's Crystal Fairy & the Magical Cactus. In Sebastián Silva's low-budget road-trip indie—shot in just 12 days in Chile and completely improvised—Cera plays Jamie, a selfish, drug-addled, insufferable ugly American searching for the title's tough-to-find hallucinogen. The guy, in short, is a dick, the polar opposite of Cera's bread-and-butter roles. "He's impossible," Cera says with a laugh. "Someone who's a million miles away and so unaware of how they're coming across. It's just so fun." Fun, sure. But that the actor pulls off such a dark character so well (in my opinion, it's his best performance yet) is no small feat.
We move onto about the short films he's written and directed (one, "Brazzaville Teen-Ager," features The Heartbreak Kid's Charles Grodin, a personal hero), Comedy Central's Nathan for You ("the best…so funny") and his stint as a writer for the most recent season of Arrested Development, an experience he describes as "amazing and terrifying." (The future of the cult favorite, he notes, is up in the air at the moment. "No one's talked to me about it.")
He name-checks about 20 other things he's loving right now—SCTV, British shows like Garth Marenghi's Darkplace and Snuff Box. One thing he doesn't: Twitter. "The compulsion of Twitter is so odd; I don't see the appeal," he says, which is refreshing coming from
a Brooklyn resident in his mid-twenties. "I just don't like spending my time that way. It's just laziness."
We're back on the street in Dumbo now, and he's headed home to his 'hood to relax before next week's heavy rehearsal schedule. He shakes my hand and walks to the car. No one, not even the driver, does a double take when he approaches. He probably likes it that way.

This Is Our Youth opens Sept 11.