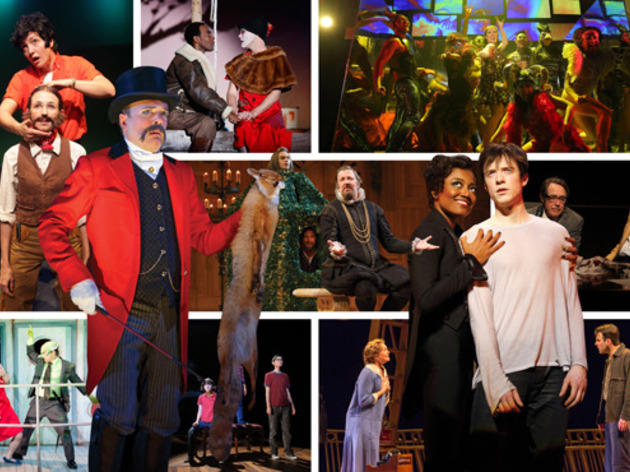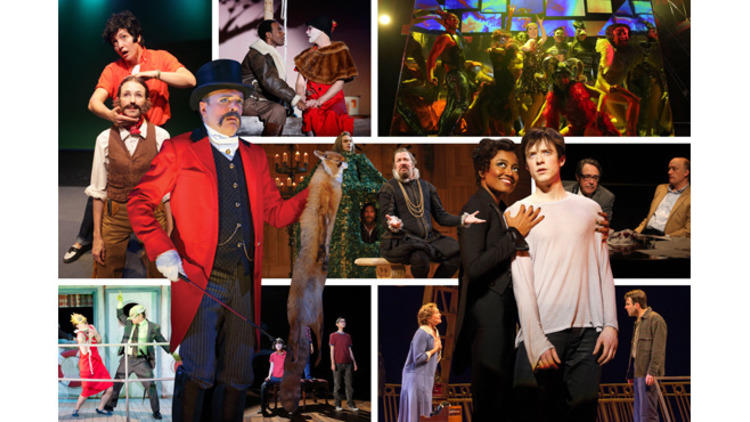 Best of 2013: Best Broadway shows and Off Broadway productions
From the best new Broadway shows to groundbreaking downtown experiments, it was a very good year for New York theater.
Some years have got it, and some years ain't—and boy, 2013 had it. The New York theater scene offered so much of quality this year that we had a tough time whittling down the hundreds of shows (on Broadway, Off Broadway and Off-Off Broadway) to lists of ten. Dramas stretched from rueful looks back (such as The Glass Menagerie and The Assembled Parties) to bold steps forward (Mr. Burns, A Post-Electric Play). Musicals were diverse and plentiful, and there were more major stagings of the Bard than you could shake a spear at (notably the diptych of Twelfth Night and Richard III with Mark Rylance). And it was a banner year for the Public Theater, which housed five of the shows on our lists, including a fresh look at Brecht's Good Person of Szechwan and the ten-hour avant-travaganza Life and Times: Episodes 1–4. Here are our picks for the best of the bunch, plus a few we liked a lot less and some honorable mentions we don't want to forget.
David Cote's ten best shows of 2013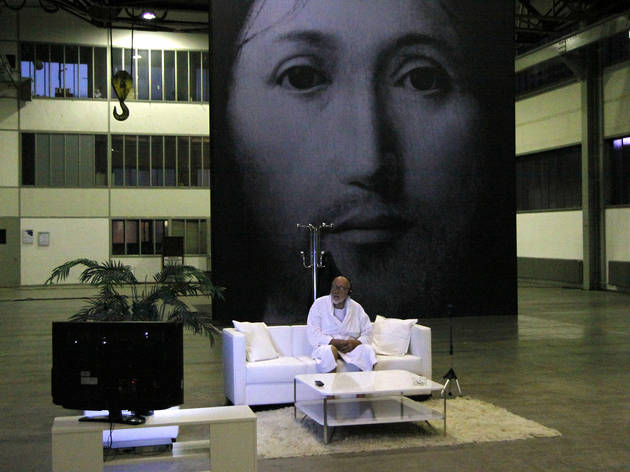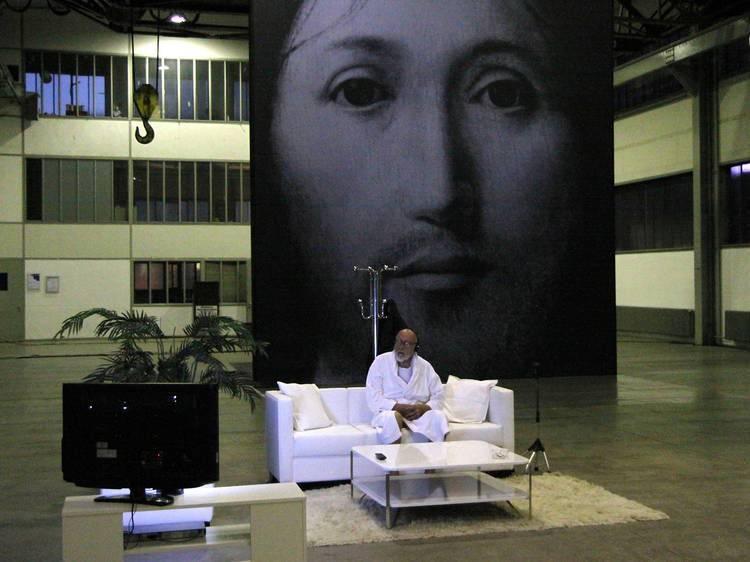 In Italian director Romeo Castellucci's 60-minute installation, a son takes care of his elderly, incontinent father—whose lack of bowel control is demonstrated repeatedly by adult diapers that overflow with feces. The son, patient at first, calmly cleans his father and the mess off the floor, and replaces the diaper. The father weeps and apologizes. Then it happens again. And again. Shame, pity and disgust wash over the audience. This dismal tableau is replaced by a gang of kids who gather onstage to pelt a 30-foot-high Renaissance painting of Christ with rocks. The noise of stone slamming into wall grows deafening. Then the mutilated Christ starts to catch fire and burn. Are we watching an artist's statement on God's cruelty or the futility of belief? Is this spectacle of physical debasement calculated blasphemy or, actually, a sacred ritual? All interpretations were valid for this exquisitely designed and executed artwork.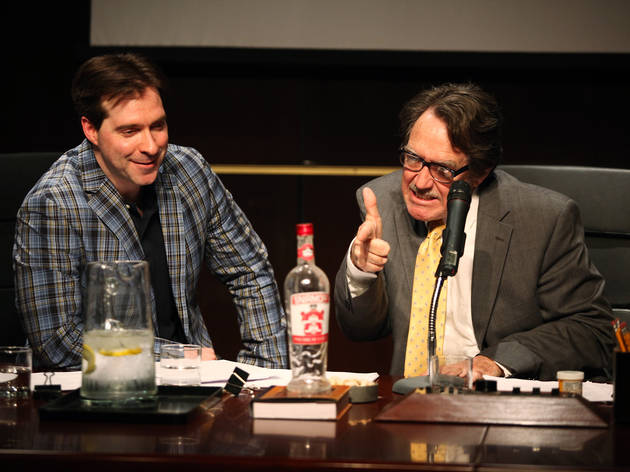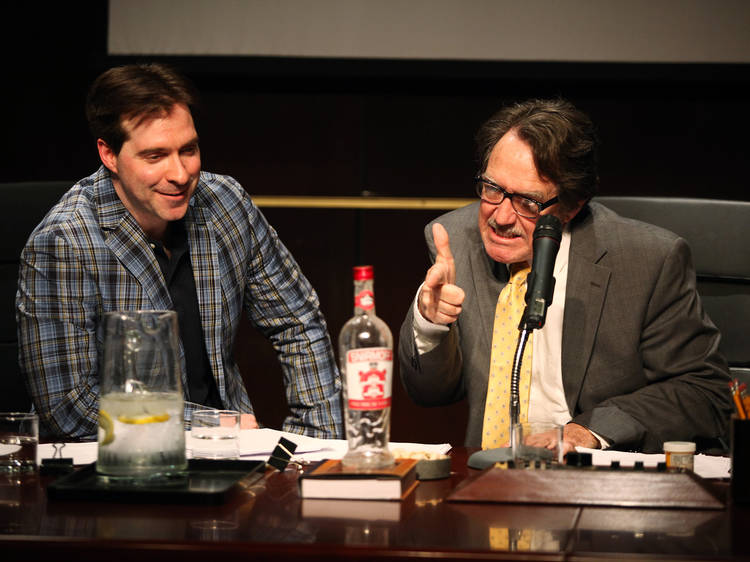 Photograph: Julieta Cervantes
Anchored by Larry Pine's creepy-avuncular performance as the man who built Disneyland, this flagrantly unfactual meditation hovered somewhere between homage and surreal slander. That's where the remarkable playwright Lucas Hnath seems to be living these days. (His other 2013 premiere, Isaac's Eye, was about a bratty, emo Sir Isaac Newton.) Sarah Benson's impeccable Soho Rep production plopped the audience down in a corporate conference room, where Uncle Walt and a group of uncomfortable reenactors descended into the mousy maelstrom of his monstrous ego. Quirky, deadpan, informative yet packed with distortions and evasions, it was a brilliant piece of pop meta-mythology.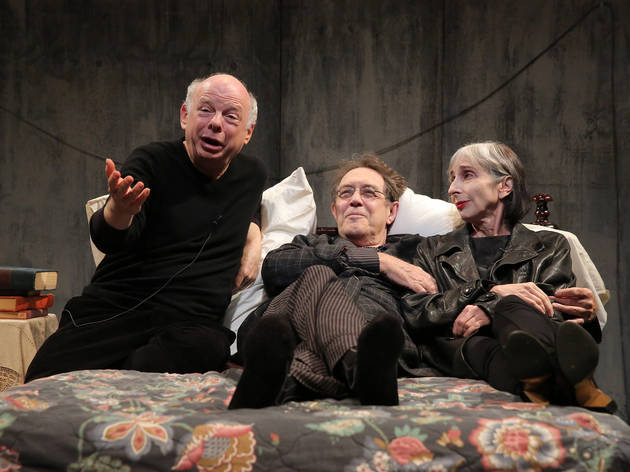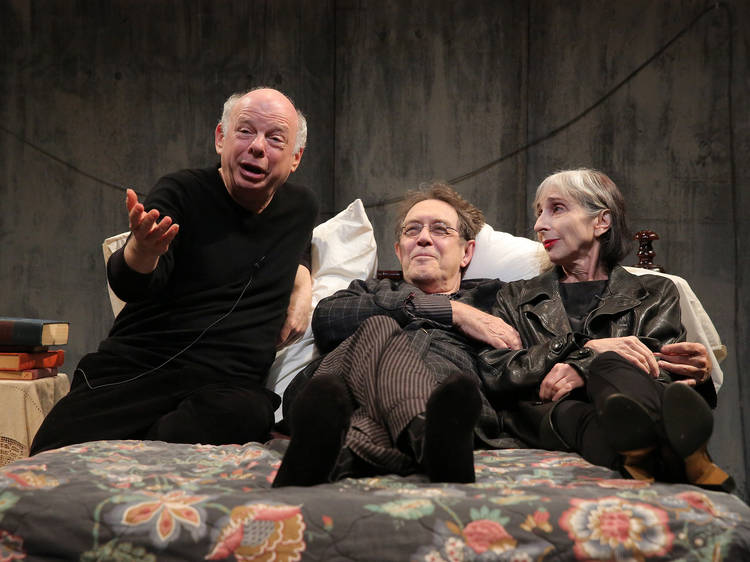 Photograph: Joan Marcus
8. The Wallace Shawn–André Gregory Project
America's most perverse and disturbing playwright—father to younger provocateurs such as Young Jean Lee and Thomas Bradshaw—finally got his own festival. Actually, two shows do not a festival make, but we're not complaining. Theatre for a New Audience and the Public Theater teamed up to present first a revival of Wallace Shawn's political tragifable, The Designated Mourner (1997), and then the American premiere of his newest play, Grasses of a Thousand Colors. The latter was a long, hallucinogenic trawl through a man's sex-addled consciousness that somehow linked ecological disaster with his erotic fixations. Shawn acted in both works, directed by his longtime collaborator, the sage and ever-questing André Gregory. Both pieces—full of profane imagery, lyric prose and outrageous insights into sex, food, culture, power and nature—were cult delights.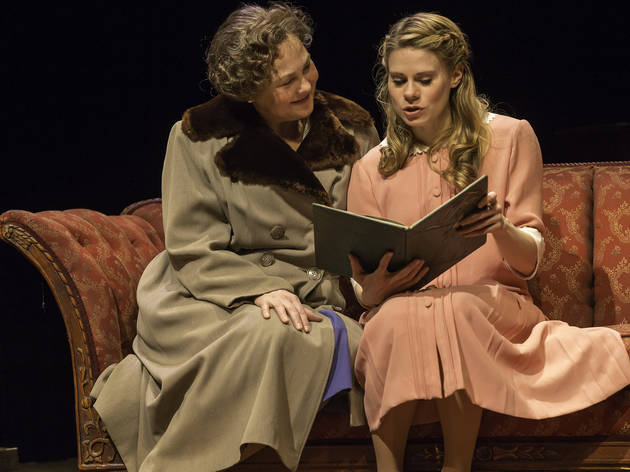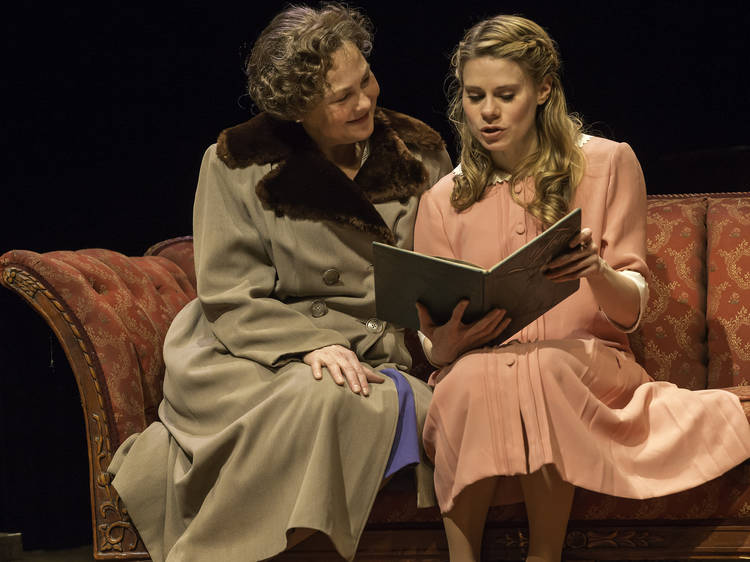 Photograph: Michael J. Lutch
Mercifully banishing the memory of Jessica Lange's lifeless 2005 revival, this glorious new look at an American classic makes the wounds hurt afresh and the poetry sing. Cherry Jones is perfectly cast as overbearing matriarch Amanda Wingfield, played not as a nattering Dixie gorgon but a heart-bruised woman who loves too much. Zachary Quinto mingles brooding rage and camp humor as frustrated writer Tom and Celia Keenan-Bolger finds sparks of plucky hope in the physically and emotionally impaired Laura. John Tiffany embraces the expressionistic quality Tennessee Williams intended, a mix of playful theatricality and dreamy strangeness. The Wingfield household—cramped, poor and suffused with regret—floats in a reflective sea of dark water. The water is memory. And this sublimely acted revival is unforgettable.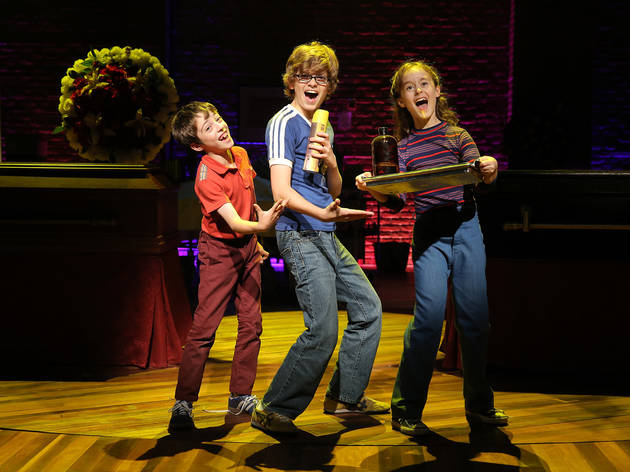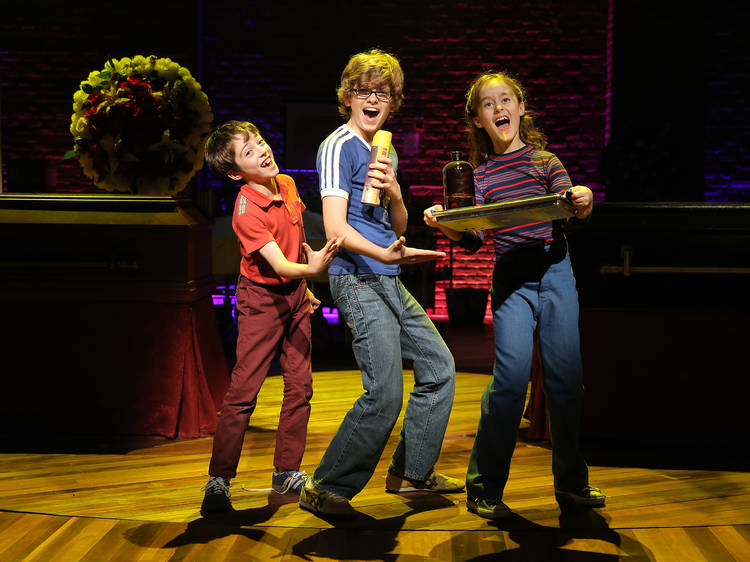 Photograph: Joan Marcus
The best book musical in years, Fun Home is based on the creepy-humorous 2006 graphic memoir by Alison Bechdel, about her fraught relationship with a closeted, withholding father. Contrasting teenage Alison's discovery of her sexual orientation with her father's lies and hypocrisy, the show occupies a fascinating emotional space between nostalgia and irony, deep sadness and detachment. What better book writer to capture those conflicting impulses than rue specialist Lisa Kron (Well) and the soulful, stylistically limber composer Jeanine Tesori (Caroline, or Change)? Wedded to Kron's spare, often witty lyrics, Tesori's score (for chamber ensemble) melds pop influences of the '70s with a classical-folk strain. As the fastidious, unknowable father, Michael Cerveris is exactly as sweet and opaque as he needs to be. Director Sam Gold keeps the acting and singing within the right intimate-claustrophobic zone.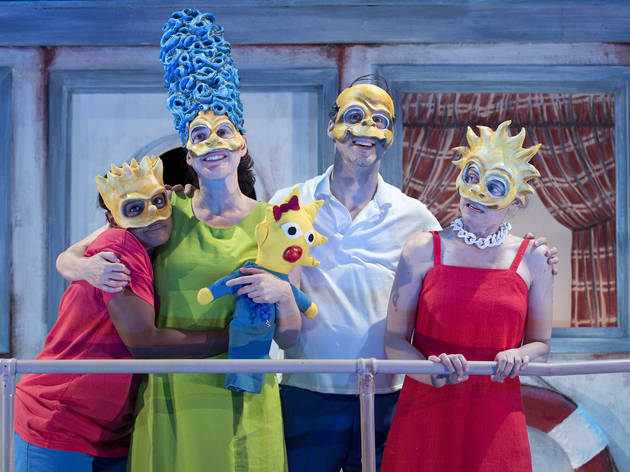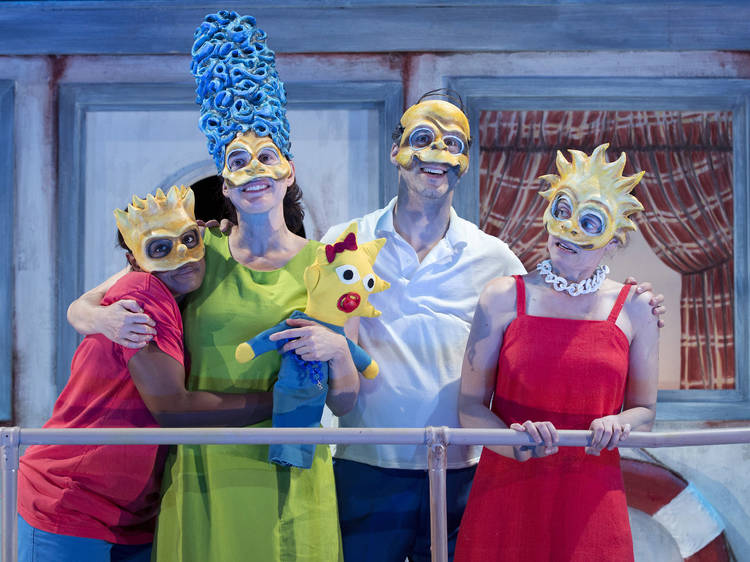 Photograph: Joan Marcus
Anne Washburn's cerebral, unsettling plays don't come to New York often enough, but when they do, it's worth the wait. Mr. Burns was created with docu-theater group the Civilians and director Steve Cosson, and it investigates how cultural detritus might be transmuted in the wake of cataclysmic disaster. In other words, if society fell apart and the power grid failed, if we had to carry on and remake our world, would we preserve Shakespeare…or The Simpsons? Washburn's survivors fasten on the latter, forging fragments from the long-running animated series, disposable pop songs and faintly recollected TV ads into the stuff of communal ritual. The action spans about 80 years and ends with a breathtakingly beautiful and weird version of the Simpsons "Cape Feare" episode. A savvy downtown cast and Cosson's astute staging made this thought exercise seem like a glimpse of civilization to come.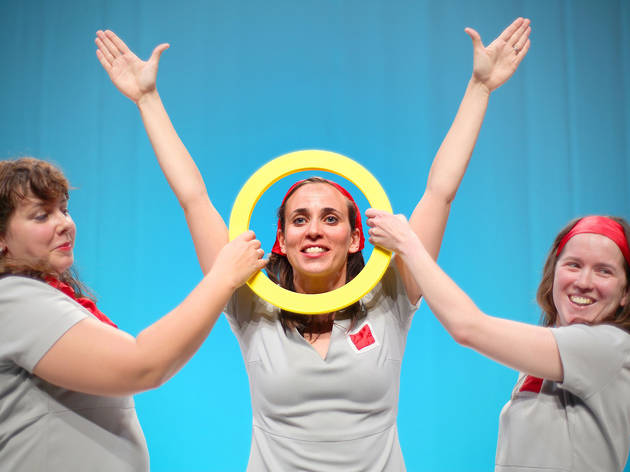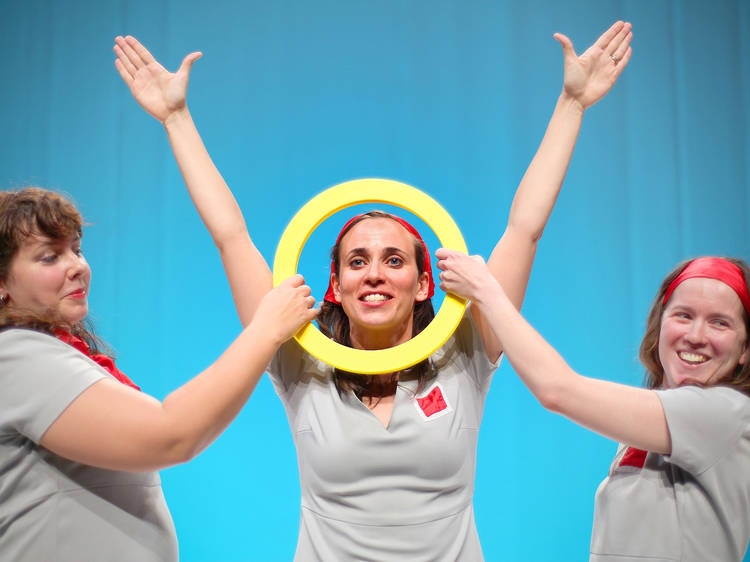 Photograph: Nature Theater of Oklahoma
Nature Theater of Oklahoma—led by auteur couple Pavol Liska and Kelly Copper—kicked off 2013's Under the Radar Festival with a four-part, ten-hour epic that was exhilarating and deliciously exhausting. Less than half of a projected 24-hour cycle of performances, this section of Life and Times covered the infancy through adolescence of its subject, sound designer and performer Kristin Worrall. (Liska and Copper interviewed her, generating 16 hours of telephone transcripts in which Worrall basically recounts every memory of her existence up to the present.) Coproduced by Under the Radar and Soho Rep, Episodes 1–4 included awesomely sweet stretches of pop singing, tracksuit-wearing ensembles in goofy dances and a meticulous re-creation of Agatha Christie's The Mousetrap. Sprawling, bizarre, trivial, profound, holy, idiotic and quite resistant to criticism, the piece was as messy and capacious as life itself.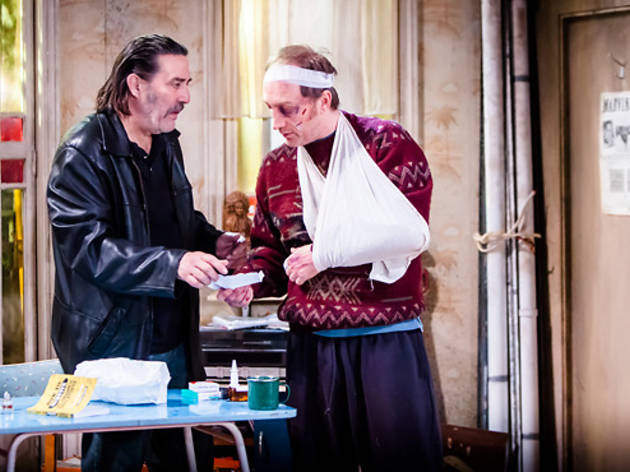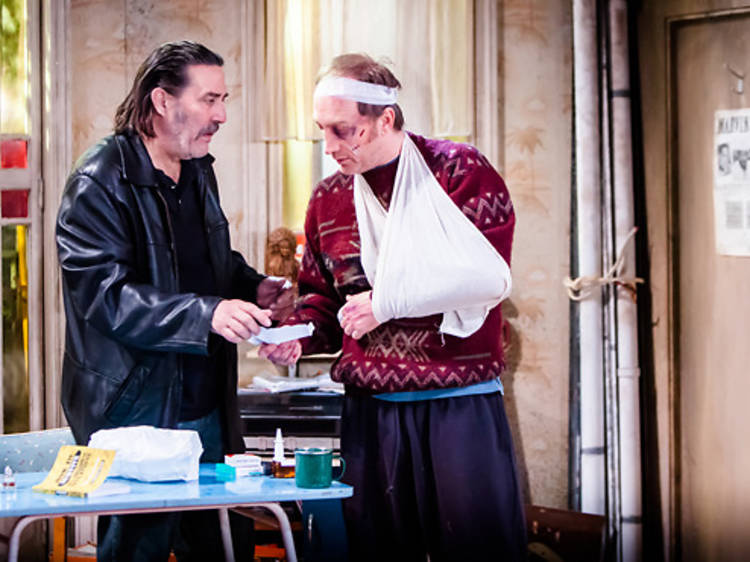 Photograph: Helen Warner
The pleasures of Conor McPherson's work appear first on the surface: the atmospheric, often seedy locations; his affable, flawed characters; the endearing bluster of losers and schemers; the bittersweet mood of regret. But later, as you reflect on the play, its mystical reverberations ping in your brain. Sometimes, with infinite patience and restraint, McPherson (The Seafarer) introduces ghosts and devils to goad the action and threaten his protagonists' souls. But in this new Dublin-set drama (a transfer from London's Donmar Warehouse), there's no overt supernatural element. Instead, a down-on-his-luck divorcé (Ciarán Hinds) tries to help a troubled young woman (Caoilfhionn Dunne), with unanticipated, violent results. Salvation is one of this writer's recurring themes, and it comes through powerfully in a tale that smartly buries its allegorical hints and philosophical queries. McPherson directs the production himself, with perfectly tuned supporting work by Jim Norton, Michael McElhatton and Brian Gleeson.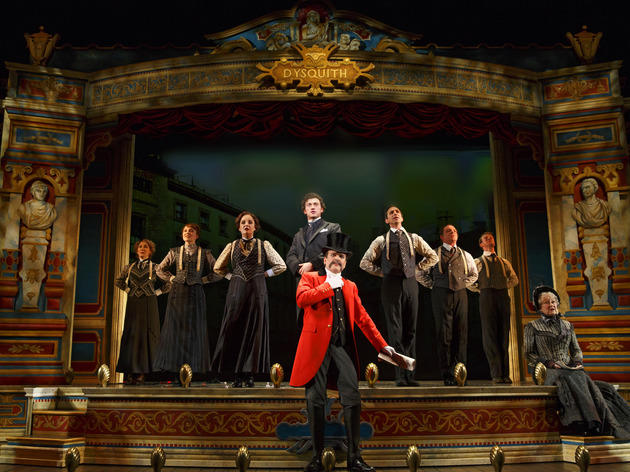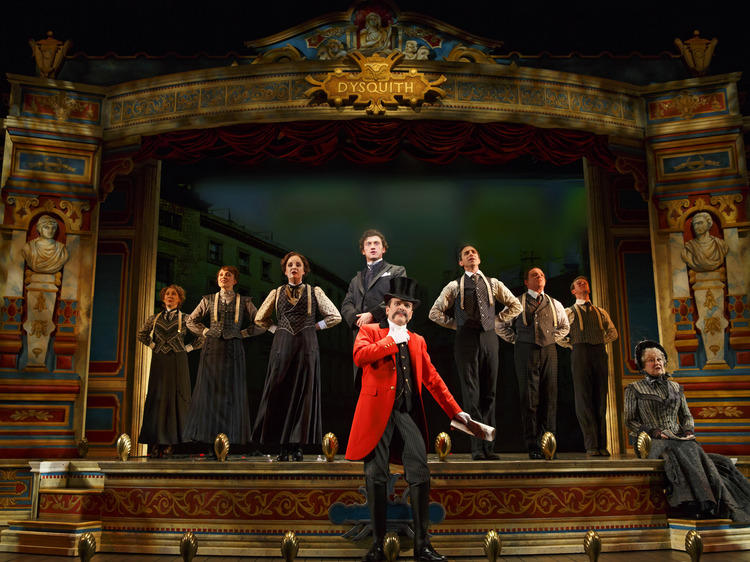 Photograph: Joan Marcus
Away with your synthetic pop scores and your cheesy adaptations of Hollywood flicks! A Gentleman's Guide to Love and Murder derives convulsive laughs and infectious tunes from a more obscure source: a 1907 satirical novel that also inspired the 1949 cult film Kind Hearts and Coronets. The musical is a different beast entirely—a daffy but stylish mélange of operetta, English panto and post–Monty Python silliness, showcasing a jaw-dropping turn—er, turns—by Jefferson Mays. The protean virtuoso plays eight members of an aristocratic clan that our ambitious antihero, Monty Navarro (Bryce Pinkham) must knock off in order to inherit an earldom. The unabashedly retro score by Steven Lutvak and Robert L. Freedman achieves frothy giddiness without sacrificing musical quality.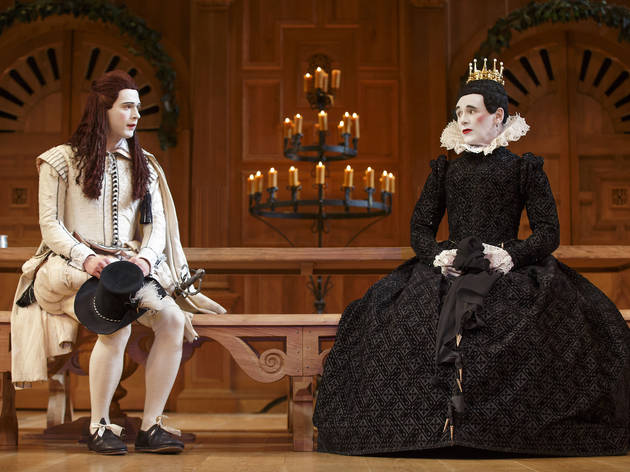 Photograph: Joan Marcus
In a season especially dense with high-profile, high-concept classics, this offering from London-based Shakespeare's Globe is the glittering, priceless jewel. The phenomenal Mark Rylance leads an all-male troupe in an "original practices" treatment of the cross-dressing classic comedy (in rep with an also-terrific Richard III). The Belasco Theatre is now a Renaissance wonderland of ruffs, doublets, heavy makeup, beeswax candles and lovely Elizabethan music. Stripping away deconstructive tactics, modern attitudes and psychological subtext, this rigorously historical approach burnishes the play's verse and pure theatricality. And Rylance isn't the only star burning bright: The entire 19-man ensemble does outstanding work in multiple roles. Both hopeless Bardolators and those dismayed by the Shakes-glut should be entranced. Come early to see the actors get laced up into their period-authentic corsets; stay for the final jig.
David Cote's worst shows of 2013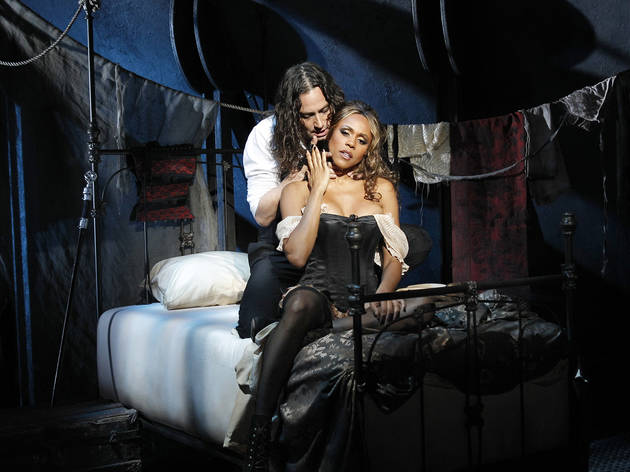 We already knew that Frank Wildhorn's bombastic 1997 adaptation of Robert Louis Stevenson's Gothic tale was crass garbage, but this zestless revival (part of a tour) had to remind us. Constantine Maroulis sported a laughable English accent and the video-augmented design looked cheap. The only split personality here was bad versus worse.
Richard Greenberg must have depleted all his 2013 talent for Manhattan Theatre Club's excellent The Assembled Parties, because his narration-heavy stage adaptation of the 1958 novel simply did not work. Greenberg's script was really the least of the problems: Sean Mathias's leaden direction and a tinny, superficial turn by Game of Thrones ingenue Emilia Clarke leeched all the charm and wistfulness out of Truman Capote's New York story.
David Cote's honorable mentions of 2013
Adam Feldman's ten best shows of 2013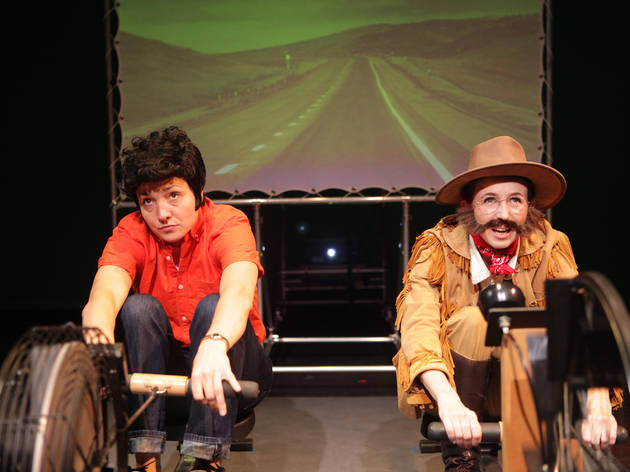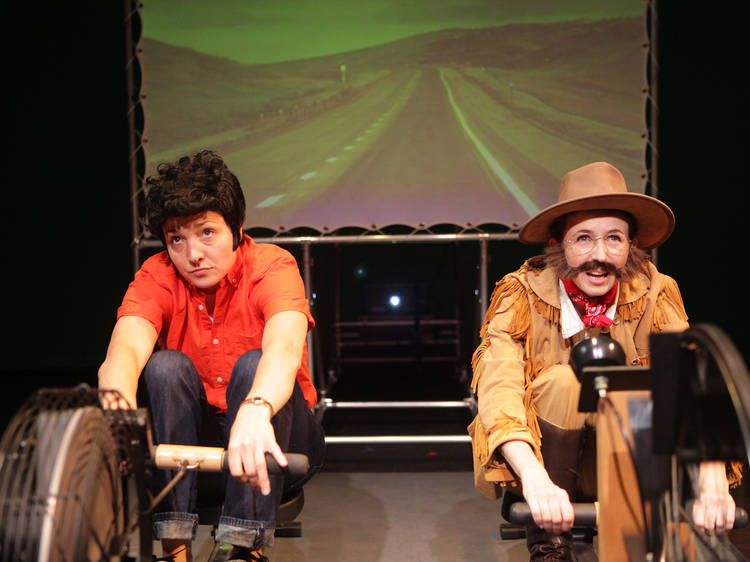 Photograph: Sue Kessler
A shy, Presley-loving Midwestern lesbian took a road trip to Graceland, with an imaginary drag-king Teddy Roosevelt by her side, in the TEAM's offbeat and on-target exploration of American daring and loneliness. Rachel Chavkin's multimedia staging grounded the piece in a soul-dulling world of meat factories and hotel rooms even as performers Libby King and Kristen Sieh took off on flights of wildly original comedy, set in marked counterpoint with melancholy.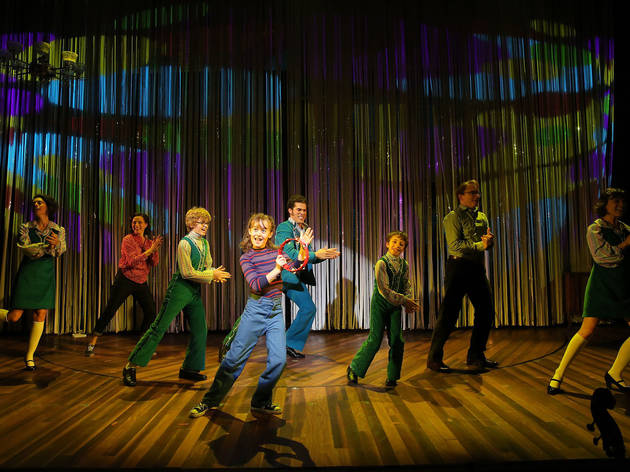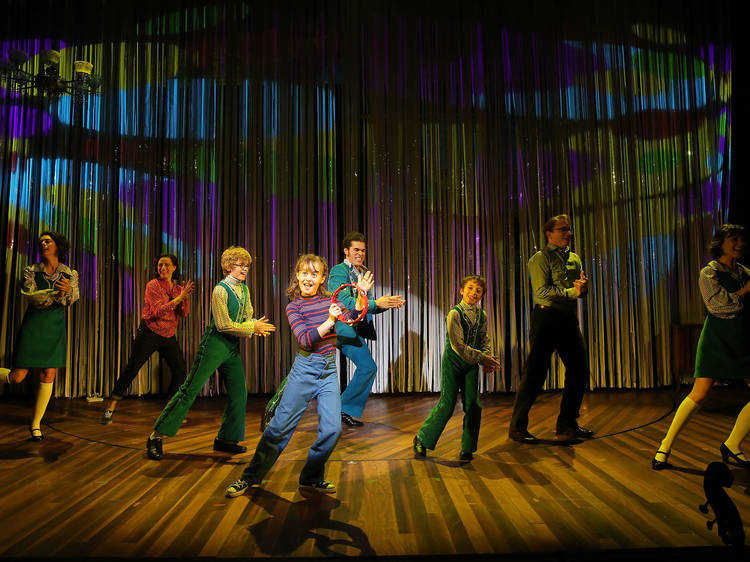 Photograph: Joan Marcus
Drawn from Alison Bechdel's illustrated memoir, Lisa Kron and Jeanine Tesori's moving new musical intertwined the stories of the lesbian cartoonist's emerging queer identity and her closeted gay father's suffocated life as a small-town family man and funeral-home director. Three actors (Sydney Lucas, Alexandra Socha and Beth Malone) played Bechdel at different ages; Broadway VIPs Michael Cerveris and Judy Kuhn were her troubled parents. Directed by Sam Gold, the piece offered a nuanced and evocative portrait of lives spent fitting in or breaking out of boxes.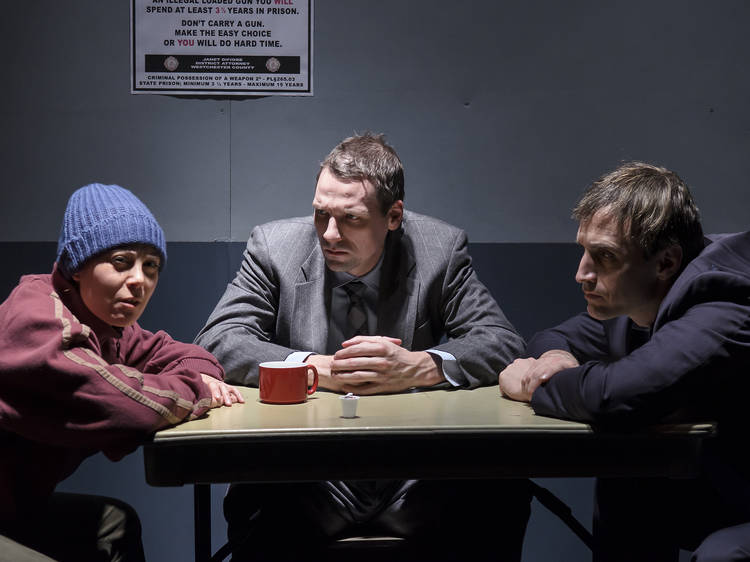 Photograph: Alex Fabozzi
Slavic Christmas-tree salesmen, a lonesome woman, police detectives and a band of red pandas at large in the city: These were the principal figures in Julia Jarcho's experimental crime thriller, a tripartite investigation into the nature of violence and the violence of nature. Skillfully performed by Pete Simpson, Ben Williams and Jenny Seastone Stern as part of Incubator Arts Project's Other Forces festival, the piece was enigmatic but wittily precise. It was a pleasure to follow Jarcho around each bend of her dark imagination.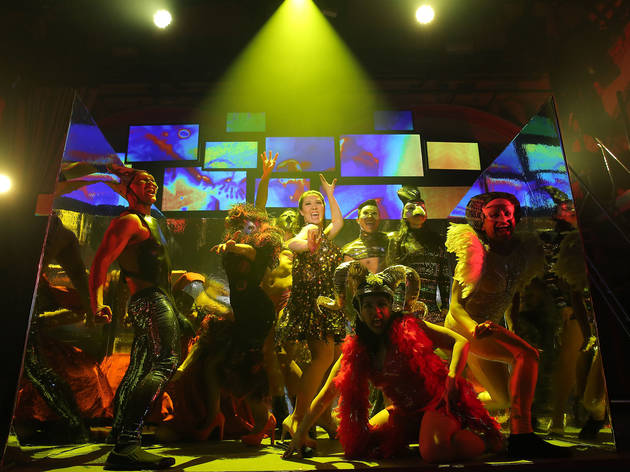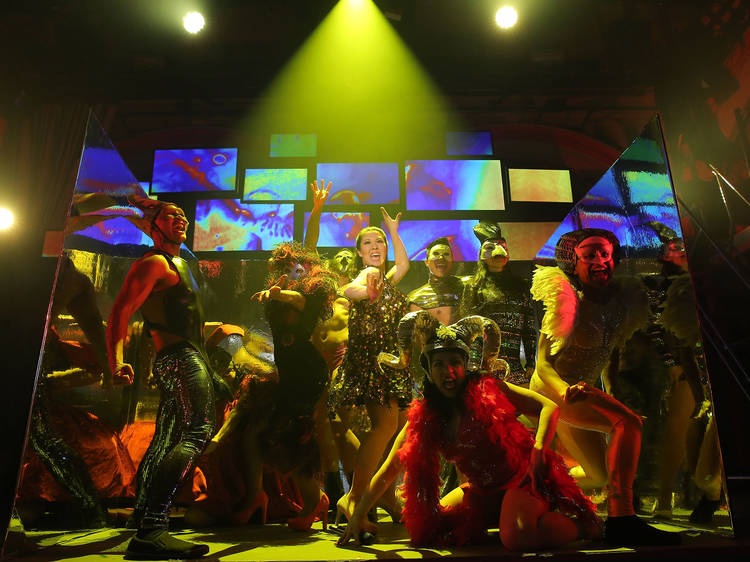 Photograph: Joan Marcus
Written by pop whizzes David Byrne and Fatboy Slim, this biomusical about Philippine first lady Imelda Marcos literally kept the audience on its feet at all times. Staged for maximum dynamism by Alex Timbers—with Ruthie Ann Miles and Jose Llana as Imelda and Ferdinand Marcos, and Conrad Ricamora as the third side of their political-romantic triangle—the show transformed its Public Theater venue into a shifting disco, in which the audience danced along to Marcos's rise from ambitious local beauty to adjunct dictator and international sybarite. But as in Timbers's Bloody Bloody Andrew Jackson, the fun gave way to a final twist of fatality.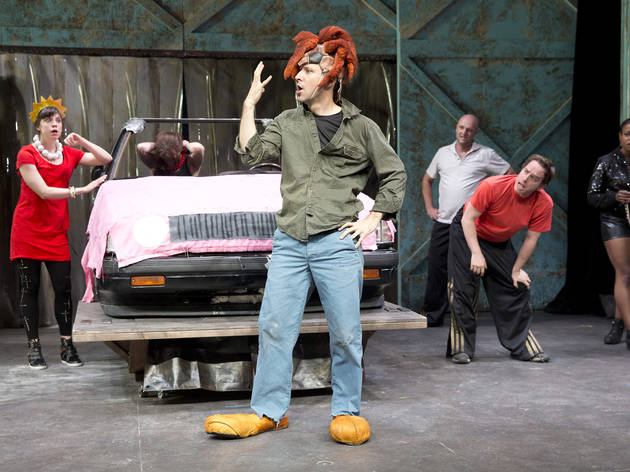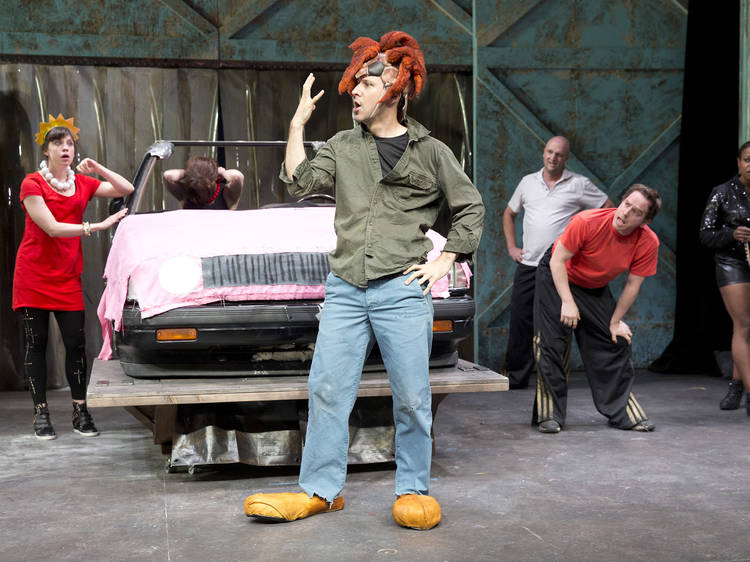 Photograph: Joan Marcus
Where would America be without its power? In a Caryl Churchill–esque feat of dramatic audacity, Anne Washburn imagined three stages of a post-apocalyptic cultural landscape, in which painstakingly reconstituted memories of old Simpsons episodes and other cultural artifacts evolve, with the passage of time, into an elaborate archetypal pageant. With a crackerjack ensemble cast directed by Steve Cosson (of the Civilians), this high-concept play—at once ominous and goofily funny—infused the stage with energy.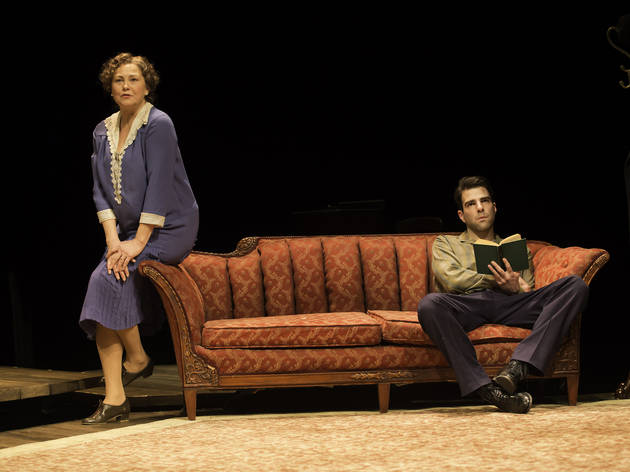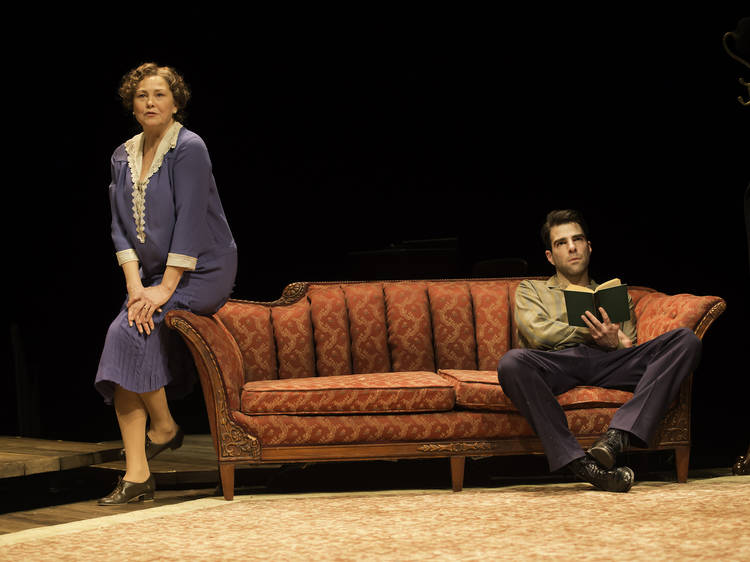 Photograph: Michael J. Lutch
Director John Tiffany's bold, expressionistic rendering of Tennessee Williams's 1944 breakthrough drama dispensed with the sentimentality that sometimes freights this memory play, and replaced it with a clear-eyed sense of protective self-deception at continual risk of puncture from regret. The supreme Cherry Jones played the classic smother mother Amanda Wingfield as a steely magnolia whose desperate delusions are based in a fearful reality; Zachary Quinto's hardened Tom, Celia Keenan-Bolger's wounded Laura and Brian J. Smith's poignantly conflicted Jim helped make it a play to remember.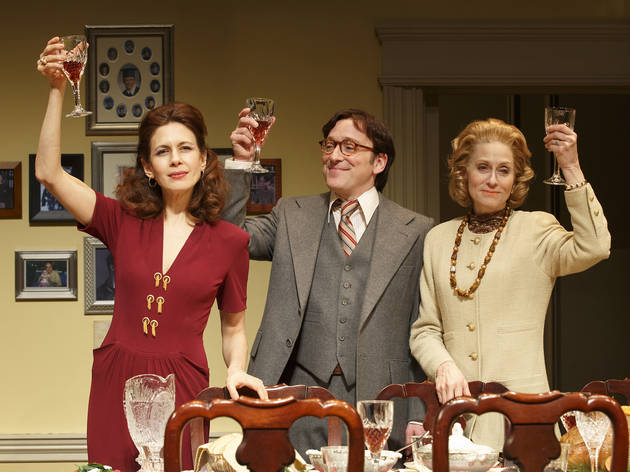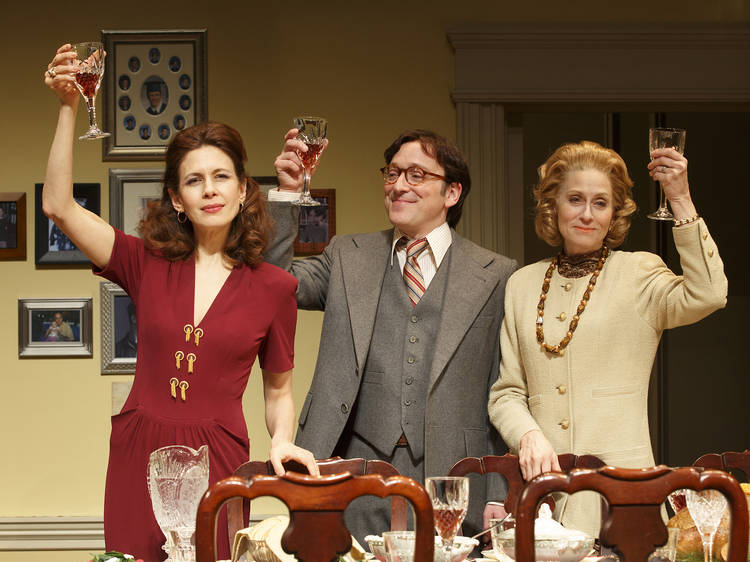 Photograph: Joan Marcus
Richard Greenberg's elegant, literate drama was not the year's flashiest new play, but its lovely craftsmanship and masterful deployment of language gave it a grace that floats and lingers. Without tripping into nostalgia, Greenberg and Manhattan Theatre Club director Lynne Meadow painted a layered and evocatively chipped picture of Upper West Side fineness in decline, leavened with epigrams and darkened by gentle irony. Jessica Hecht, as a paragon of determined whimsy, gave one of 2013's most beguiling performances, buttressed by Judith Light as her embittered sister-in-law and Jeremy Shamos as her worshipful surrogate son.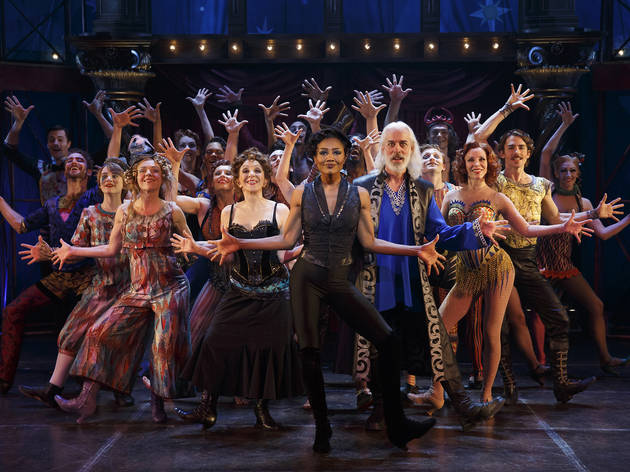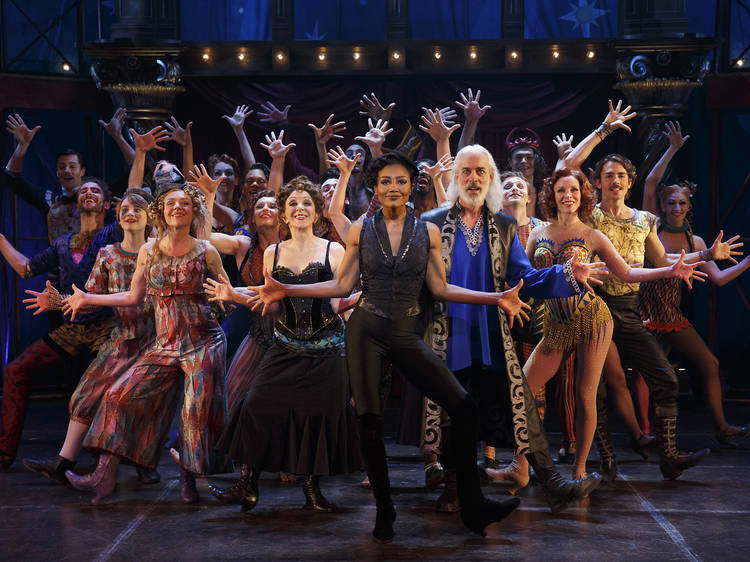 Photograph: Joan Marcus
It took 40 years, but Stephen Schwartz and Roger O. Hirson's musical parable of self-definition finally emerged from the shadow of Bob Fosse's brilliant original Broadway version (without exorcising Fosse's slinky spirit entirely) in Diane Paulus's spectacular circus-themed revival. With a strong hand from Gypsy Snider, of the neocirque troupe Les 7 Doigts de La Main—and snazzy turns by Patina Miller as the seductive Leading Player, Matthew James Thomas as the lost leading man, Andrea Martin as a limber granny and the sublime Rachel Bay Jones as a heart-strong widow—this resplendent show had magic to do, and did it.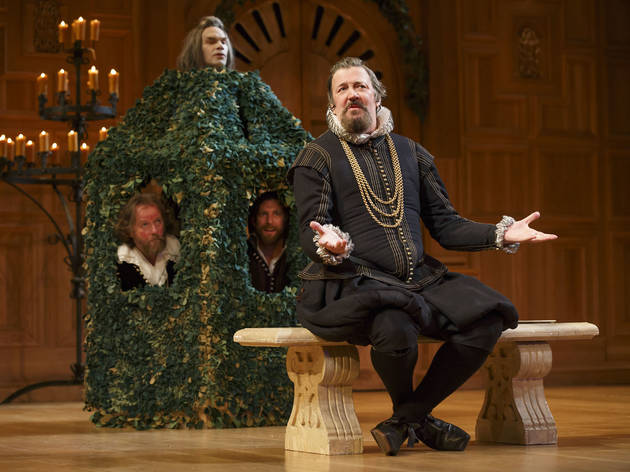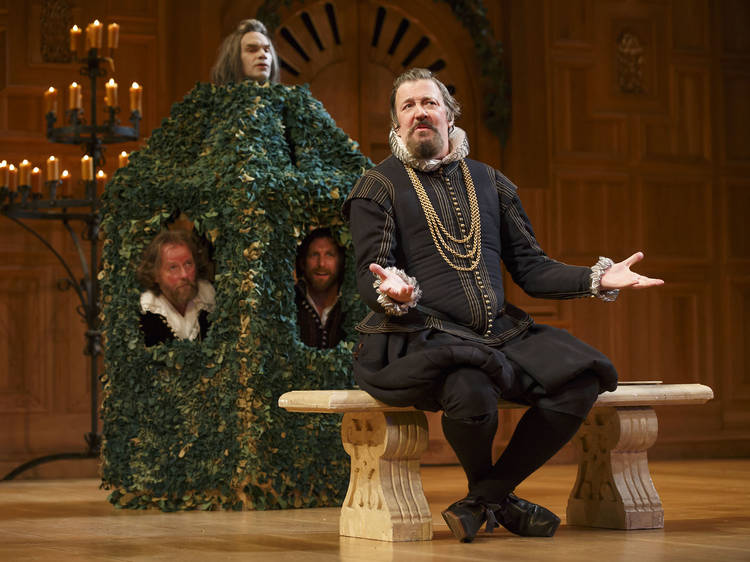 Photograph: Joan Marcus
This year was stuffed to surfeit with Shakespeare, from the excellent (Theatre for a New Audience's one-two punch of Much Ado About Nothing and A Midsummer Night's Dream) to the disappointing (Broadway's Romeo and Juliet, Lincoln Center's Macbeth). But no production captured the magic of the old text as divinely as this all-male, "original practices" English import directed by Tim Carroll. Especially bewitching were the leading ladies: not just the ice-and-fire Olivia of Mark Rylance—from whom we have come to expect such miracles—but the touching Viola of Samuel Barnett and the magnetic Maria of Paul Chahidi.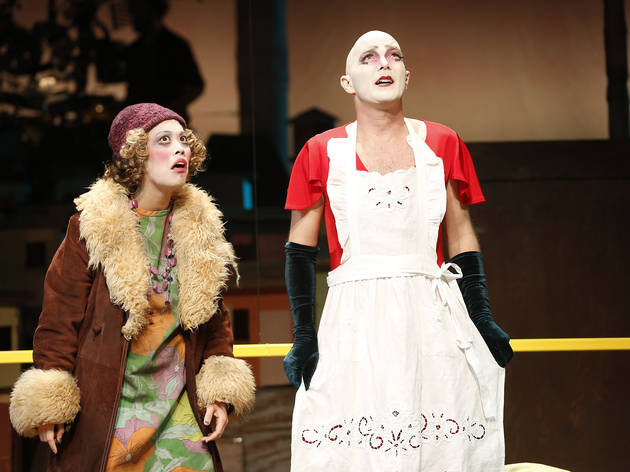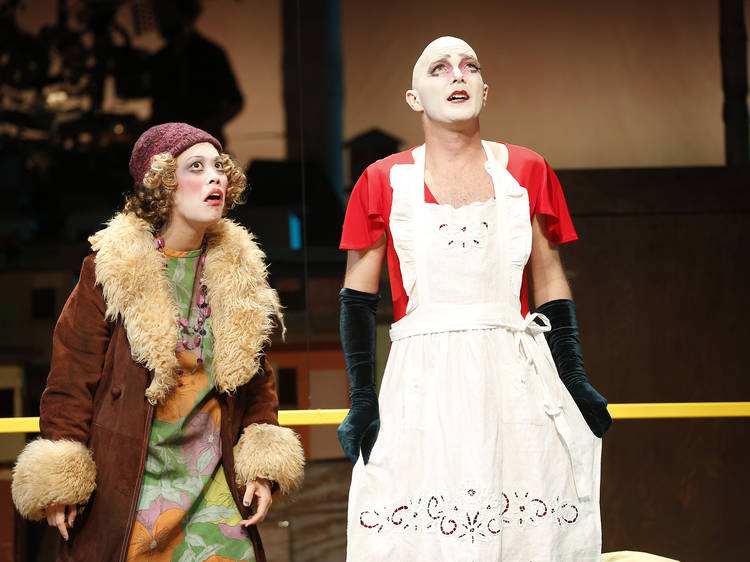 Photograph: Carol Rosegg
It was a stroke of genius to cast Taylor Mac, a dramatic renegade who delights in dismantling binaries, as the divided heroine/antihero of Bertolt Brecht's 1943 epic, a fable that resolutely refuses to offer the comfort of a moral. And Lear deBessonet's staging for the Foundry Theatre (at La MaMa in February, then as part of the Public's exceptional fall lineup) backed him up with a zestful, modern-minded and pretension-dissolving production that sugared Brecht's medicine with ample theatrical charm.
Adam Feldman's worst shows of 2013
And I said, "What about Breakfast at Tiffany's?"
She said, "I think I remember the play,
And as I recall, I think, nobody liked it."
And I said, "Well, that's because it was a painfully stagnant adaptation of beloved material with an inexperienced and utterly lost young actress in the iconic central role."
Adam Feldman's honorable mentions of 2013
All in the Timing
,
Belleville
,
Buyer & Cellar
,
The Castle
,
Disaster!
,
The Flick
,
A Gentleman's Guide to Love and Murder
,
Life and Times: Episodes 1–4
,
Marie Antoinette
,
Matilda
,
A Midsummer Night's Dream
,
A Public Reading of an Unproduced Screenplay About the Death of Walt Disney
,
The Revisionist
,
Trevor
,
Vanya and Sonia and Masha and Spike
Adam Feldman's dishonorable mentions of 2013
Best selling Time Out Offers