The five best affordable apartments in NYC (week of August 3)
At about $1,000 per person, these NYC abodes—scattered across Manhattan and Brooklyn—are worth the money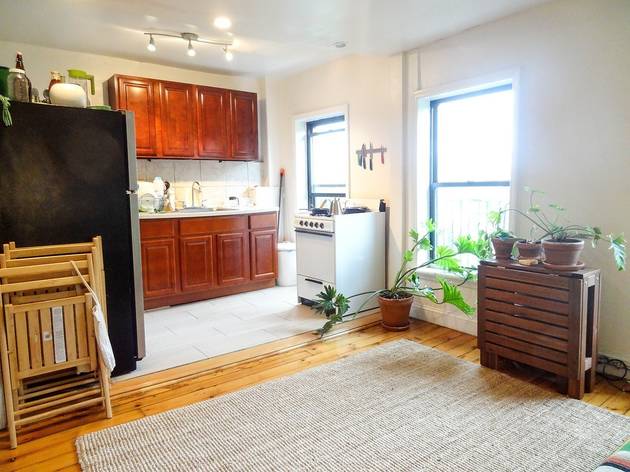 Affordable apartments in NYC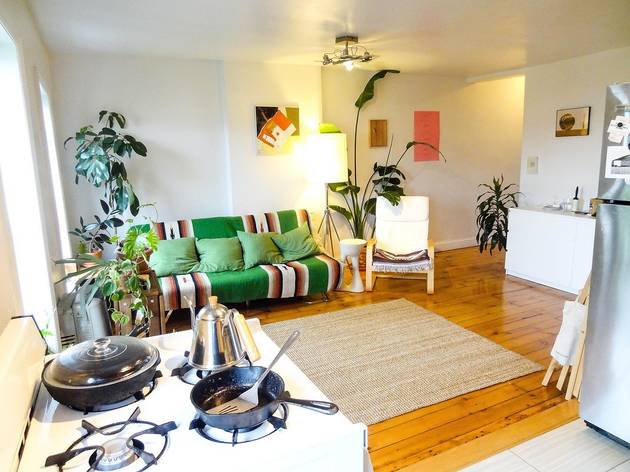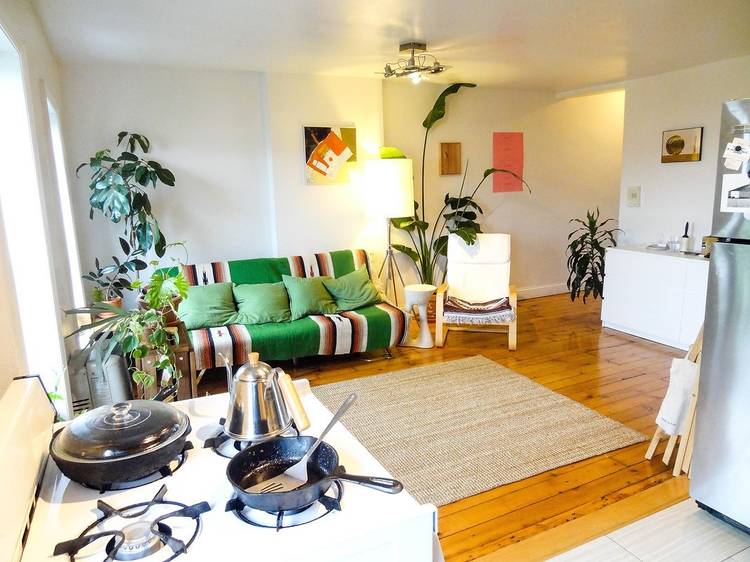 Two bedroom in Bedford-Stuyvesant for $1,800/month ($900 per person)
Bright, sunny and well under our grand-a-person goal, this Bed-Stuy apartment is spacious and in one of the city's most up-and-coming neighborhoods. Ideal for a couple, or two friends who really know each other well, the railroad style apartment wouldn't offer as much privacy as a standard two bedroom, but the decent sized living room and the well-equipped kitchen might just make your pad the perfect place for get-togethers anyway. And the location, just a block away from the Myrtle-Willoughby G stop, means the rest of Brooklyn is ripe for your exploring.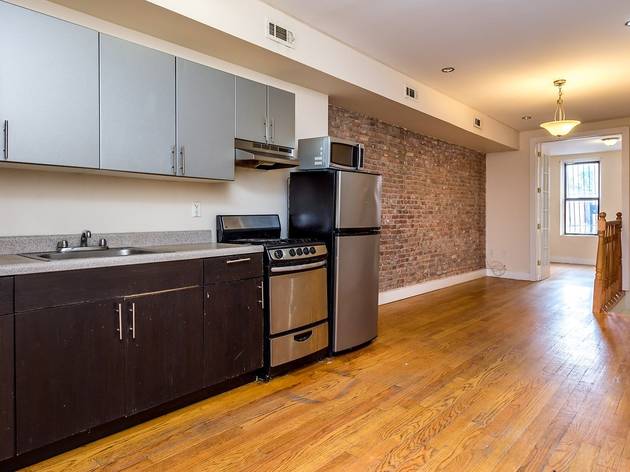 Three bedroom in Prospect Heights for $3,199/month ($1,067 per person)
If space is important to you, than rush to put an offer in on this place. The two-story apartment has lovely details like exposed brick, hardwood floors, new appliances and a decorative fireplace, but the biggest draw is the options you'll have for entertaining, or getting away from everybody. With two separate living rooms, two bathrooms and a backyard you'll never want to leave your home. Need extra privacy? While the downstairs bedroom unfortunately has tile floors, it comes with it's own bathroom and puts a story between you and your roommies.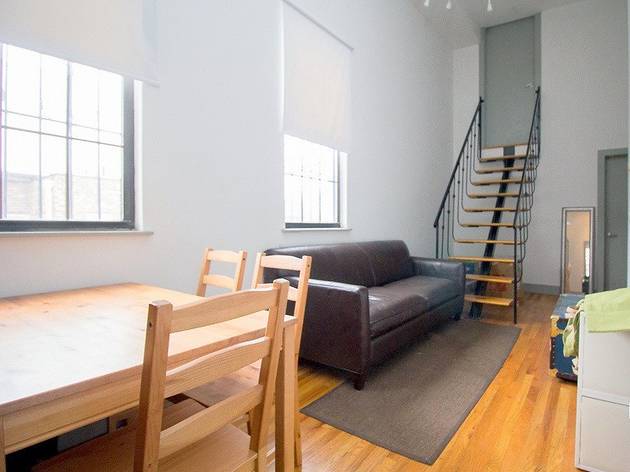 Three bedroom in Bushwick for $3,099/month ($1,033 per person)
Considering how high-sky Bushwick prices have gone to find an updated apartment located only two blocks away from the Jefferson L stop at this price can seem like something of a unicorn. Though the common space seems to be pretty narrow and limited, the kitchen is up-to-date and the bedrooms can each fit a double bed with room to spare. Besides, you won't want to spend too much time at home when some of Brooklyn's coolest restaurants and bars are so close.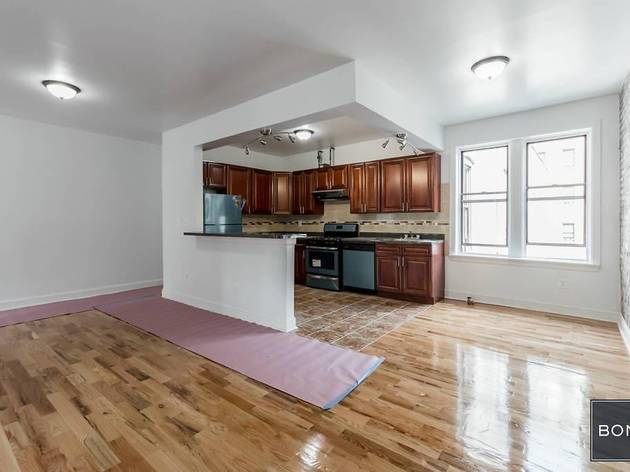 Four bedroom in Washington Heights for $4,300/month ($1,075 per person)
While this apartment is the most expensive on this list, it is also the one the owners have probably put the most money into. Gut renovated with shiny hardwood floors, beautiful exposed bricks and a kitchen that would be any chef's dream: Rustic tile floors, lots of cabinets and counter space, a large fridge and a brand new dishwasher. For the sake of fairness, and saving money, you and your pals can divide the space so that a particularly flush roommate, or perhaps a couple, pays more for the master bedroom which can fit a king bed has its own bathroom, while the others share the other remodelled bathroom and get their own beds fit for a queen (sized bed).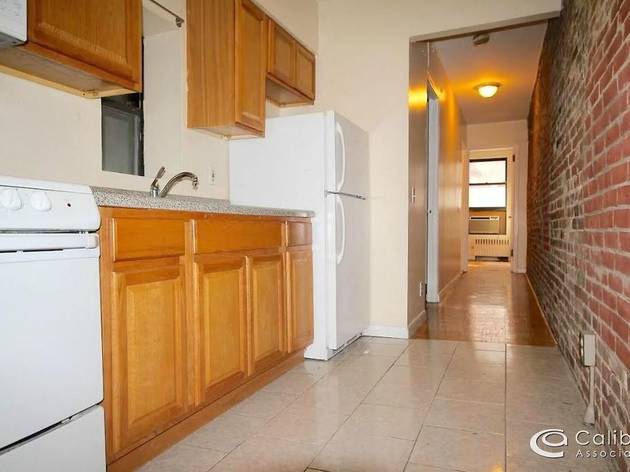 Three bedroom in Hell's Kitchen for $3,200/month ($1,066 per person)
Sure, the apartment is far from the swankiest offering in this list—no stainless steel appliances or second bathroom here—but what it lacks in finishing touches it makes up for in terms of access to the entire city. To be in the thick of Manhattan, just blocks away from Times Square and surrounded by some of New York's best eateries, theaters and nightclubs is the kind of rush of the Big Apple kids in small towns all over America dream of. The building amenities, like a roof deck and building lounge make promises of a short commute all the more sweeter.
Looking for more ways to save money?
We've got the best free events, shows, parties and hundreds of other things to do in town right here—no money down
Read more
Sponsored listing
Maxwell's Chophouse
After making a name for itself as one of Boca Raton, Florida's most popular steakhouses, Maxwell's Chophouse moved north to New York City in 2016. These days, the 126-seat restaurant in the Financial District conjures up an old-school atmosphere with its tufted leather banquettes, shimmering chandeliers and bar decked out in gold leaf and marble. In addition to classic cocktails like martinis and old fashioneds, drinkers can order signature creations like the Burnt Mary with gin, yellow chartreuse, lemon and rosemary simple syrup. Start your meal with fresh oysters, a wedge salad or roasted bone marrow before moving onto the entrees. Carnivores might want to order in-house aged beef: Opt for the prime rib, a porterhouse for two or a New York strip steak. Other protein options include triple-cut lamb chops, whole lobster and seared big-eye tuna. Round out the meal with sides such as creamed spinach, twice-baked potatoes, garlic mashed potatoes and sauteed mushrooms.
Venue says: "Join us Monday through Saturday for Social Hour and dinner starting at 4 PM. Check back for NYC Summer Restaurant Week details!"