Heads up! We're working hard to be accurate – but these are unusual times, so please always check before heading out.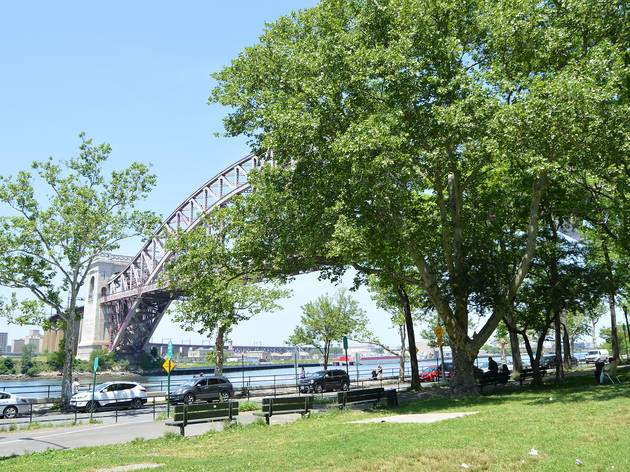 Best picnic spots in NYC, according to Time Out Tastemakers
Discover the most best spots in NYC for chilling, snacking and soaking in the sun, courtesy of the Time Out Tastemakers
Summer is finally here, New York. And that means you better get ready to picnic like a boss. Need to find the perfect tranquil spot? Time Out Tastemakers tell us their favorite parks in NYC for having an alfresco feast. If you're a bit lazy (we get it), check out these ace premade picnic baskets. And don't forget to end your meal and escape from the heat by indulging in one of these killer frozen cocktails.
"Greenacre Park is the perfect little lunch spot in Midtown East. It's the best kept secret in New York."—Paige Alderoty
"The only thing better than a picnic in the city is a picnic overlooking the city. So I love Main Street Park in Brooklyn Bridge Park, a patch of green hidden along the coast of Dumbo with a beautiful view of both bridges. If you're more of a throw-some-takeout-down-on-a-blanket type of person, you can pick up a pie at Grimaldi's and finish things off with a scoop from Brooklyn Ice Cream Factory. There's even a play area for dogs."—KC Cibran
"I'm a born-and-raised New Yorker and I love going to Hunters Point South Park in Long Island City because of the killer views. LIC has quickly become a go-to spot with some great bars and restaurants, so you can build an entire day around the neighborhood, too."—Nazra Khalid
"There's a section of Washington Square Park that's close to the dog park and also close enough to the fountain that you can feel a light misting if the wind is just right. Often folks are doing aerial yoga there, and it's the best spot to see all the action without being actively involved."—Moriah Shtull
"It's not a traditional picnic, but there's nothing better than getting a bunch of dishes from Smorgasburg, setting up on the shore of East River State Park and gazing at the Manhattan skyline. It's the best way to enjoy Brooklyn in the summer (while getting a pretty great tan)."—Chloe Wilson
"My favorite picnic spot in NYC has got to be Bryant Park (or between subway cars on the 1 train)."—Whitney Locher
"One of my favorite places is Astoria Park. From the beautiful views of the skyline to the amazing Hells Gate Bridge, it's the perfect place to picnic. They have so much space to layout and snack. I hosted a few Fourth of July fireworks picnics there over the years and had a blast each time."—Katie Harman
"My favorite spot to picnic is at Pier 6 in Brooklyn Bridge Park. Near the volleyball courts there is a slightly secluded area that is surrounded by hedges. It's really beautiful and it's usually not very crowded. Dogs technically aren't allowed in there, so you don't have to worry about poo near your picnic. Also, because of its secluded nature, you don't have to worry about getting an open-container summons."—Mary Brownlee
Want to know about other Tastemaker favorites?
Don't let these overlooked spots including quiet parks and an underground room full of gold in NYC pass you by