Heads up! We're working hard to be accurate – but these are unusual times, so please always check before heading out.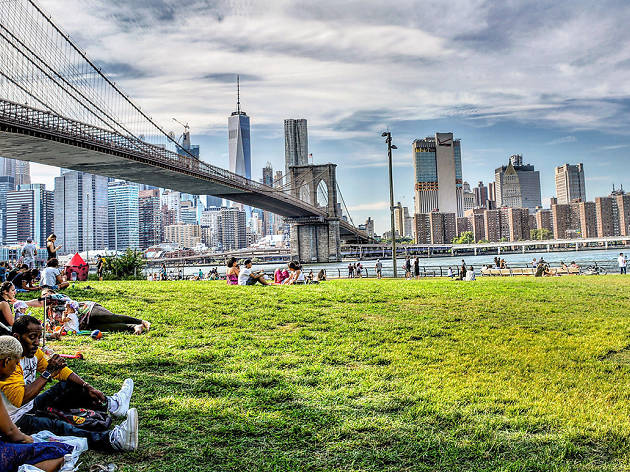 Hidden gems in New York City, according to Time Out Tastemakers
Don't let these overlooked spots including quiet parks and an underground room full of gold in NYC pass you by
The editors at Time Out New York are pretty amazing, if we do say so ourselves (and we just did). But we admit we don't know everything, so we've enlisted 30 city slickers to tell us—and you—all about the food, art, nightlife and beyond that they love. They hail from far-flung corners of NYC, and they've got a lot of opinions about what makes the Big Apple so great. Follow along with their adventures with #TONYTastemakers, and when you see Time Out Tastemakers online or in the magazine, you'll know that you're hearing from real Gothamites.
Here's some of their favorite hidden gems in NYC. Happy exploring!
"Greenwich Locksmiths. It's a family-owned NYC institution that is the size of most closets, yet they have literally every kind of key you can imagine (including one that's more than a thousand years old). It's literally covered from roof to sidewalk in incredible welded key art. Plus, it's run by a master safe-breaker named Phil who is awesome to talk to. He's the one who created the artistic facade, and he can make custom old school keys that match any apartment. I had him do one for me, and I'm obsessed." –Samantha Mellone
"Feng Sway is this vintage shop filled with beautiful finds and exotic plants in Greenpoint. The vibe is so cool there, and I was especially drawn to their collection of crystals and sage." –Bridget Lo
"Joyce Theater always has incredible, affordable dance performances. Get dinner at Chelsea Market before and walk over!" –Paige Alderoty
"For a lesser-known day at the museum, check out Museum of the Moving Image in Astoria, Queens. Dedicated to movies and TV, they have historical exhibits, costume collections, old movie equipment and even video games you can play! Plus, they sometimes have extended movie/industry fairs in the street that you can check out for free." –Jon Hartig
"One of my favorite hidden gems is Mother of Junk in Williamsburg. It's my go-to spot when I'm looking to spend money I don't have on apartment decor. Crammed with vintage lamps, furniture, old postcards and a bin solely dedicated to pictures of alligators, this spot has it all. I always leave with a unique find." –KC Criban
"8th Street Winecellar is a located in the basement (hence, cellar) and they have the best happy hour for wines and small plates. You can get a bottle of wine for $22 until 8pm, which is plenty of time for a bottle, or two!" –Nazra Khalid
"My favorite hidden gem is on the Upper East Side and it's actually called The UES. It's this amazing speakeasy behind a super delicious ice cream shop. You go in and ask to see the storage room, then they let you access the secret door. It's like taking a step back in time! There is exposed brick, chandeliers, and vintage decor." –Julie Coleman
"I like Gantry Plaza State Park in Long Island City, which runs along the East River. It has a fantastic pier to watch the sun set with the Manhattan skyline as your backdrop! It's surprisingly serene, and just one stop out from Grand Central on the 7 train." –Kris Suntorn
"The West Side Community Garden—especially now with all of the tulips in bloom! The community that maintains it is adorable and it smells divine." –Samantha Mellone
"The Federal Reserve Bank's Gold Room. It's one of the only gold storage vaults, and it's hiding under the subway system in NYC. There's guided tours and it's seriously one of the coolest and craziest sights I've ever seen." –Samantha Mellone
"Since I'm a born and raised Brooklynite, it's only fair that I talk about pizza. I love DiFara; L&B is a must; Roberta's, Speedy Romeo and Emmy Squared are all excellent; but if you're looking for an authentic New York slice, and you're willing to travel, you have to try Ciccio's in Gravesend, Brooklyn. Their regular slices are perfect, their Sophia and Grandma ones are amazing and they make the best potato and eggs in a cast iron pan (sorry, Mom)." –Christa Sullivan
"Greenacre Park, on 51st Street between Second and Third Avenues, is a little heaven for those needing a moment away from the midtown craze. The waterfall, little cafe and seating area is the perfect hidden gem." –Bridget Lo
"My favorite hidden gem is the Penrose! They have a contest where the bartenders create a cocktail for the seasonal menu. You can never go wrong with the drinks and food there!" –Elaine Chan
"My go-to spot is Tianjin Dumpling House, the best place in the city for dumplings. It's in Flushing located downstairs in the Golden Shopping Mall. Its been a mainstay in the neighborhood and the lamb and green squash remains as awesome as ever after fifteen years of eating them." –Raymart Crave
"For an out of the box dinner with friends, try Papa's Kitchen in Woodside, Queens. This place might seem out of the way for most Manhattanites, but it's so worth it. First of all, it's BYOB, which is a rarity itself in NYC. The space itself is tiny with room for about 12-14 people, but the food is delicious, comforting and…there's karaoke! They come up to your table with the microphone and you can sing for your dinner!" –Jon Hartig
"I'm a big fan of spending time in all of New York's green spaces, but exploring Governors Island is by far my favorite. Before ferrying back into Manhattan, I always stop by Island Oyster on the waterfront to enjoy panoramic NYC views and of course, a cocktail or two." –Chanel Sedeno
"I love Pocket Bar in Hell's Kitchen. It's such a unique little bar with a super friendly staff. I will never forget the night when then entire bar sang together and held up our phones as spotlights for the performing bartenders!" –Whitney Locher