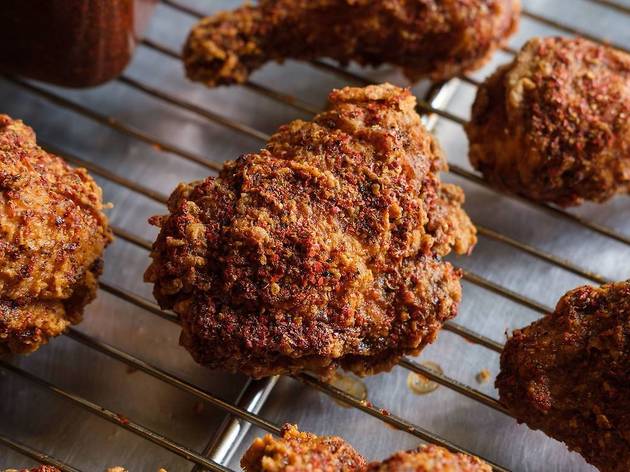 NYC's 10 best fried chicken destinations
New York's best fried chicken includes greasy-spoon, gourmet, and dynamically delicious varieties.
Photogenic foods have gotten more and more slickly produced over the years, with unicorn dye here and glitter there, but fried chicken, one of the originals of the form, is as lovely as ever, unadorned. Whether it's perched atop a waffle at brunch, served among sides at a soul food favorite or only available off-site, that crispy golden skin practically crackles from its pixels. It's even better when you lower the phone and take that first juicy bite, and these are our favorite fried chicken destinations in NYC to sink your teeth into right now.
RECOMMENDED: Full guide to the best restaurants in NYC
Fried chicken we love so much that we welcomed them into Time Out Market
When Jacob's Pickles opened on the Upper West Side in 2011, it was one of the first truly cool restaurants in a neighborhood better known for its sleepy dining scene than hip eateries and bars. The back-to-basics menu was one we could get behind (goodbye, stale chicken wings and greasy fries). The Southern-focused spot specializes in comfort foods: Nashville hot chicken, biscuits, mac and cheese and, of course, pickles.
Best fried chicken in NYC
Looking for more Southern food?
NYC has some great smokehouses, and check out our primers on regional styles.
Best selling Time Out Offers