The best transportation apps for New Yorkers
These are the best transportation apps in NYC, whether you want the cheapest ride possible or classic yellow cabs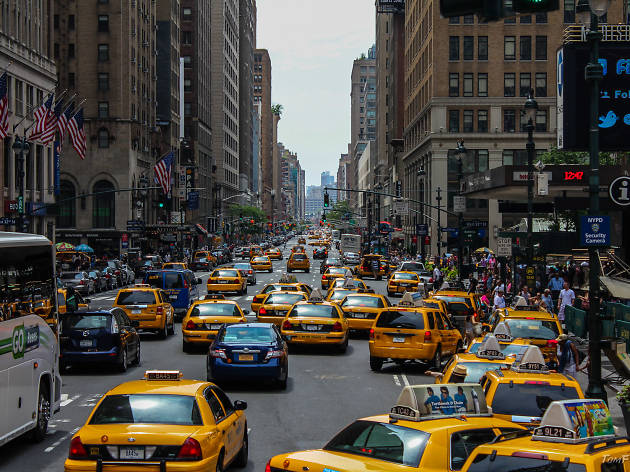 Getting around in NYC is no easy feat—that's where the best transportation apps for New Yorkers come in. Even if you're a seasoned traveler, you're either fighting against train delays, standstill traffic or unruly tourist pedestrians, which all cause you some degree of inconvenience en route to your destination. It's a constant struggle, which is why we tend to rely on transportation apps to make things just a bit more tolerable. So whether you're en route to a fancy dinner at one of the best restaurants in NYC or just trying to make it to gyms and health clubs in NYC after work, give our favorite ride apps for New York City a try.
RECOMMENDED: Find the best weekend getaways
Best transportation apps for New Yorkers
Looking to take a road trip?
The best road trips out of NYC take you on getaways to see history or nature—and they're all less than six hours away
Read more
Sponsored listing
SUSHISAMBA
Sushi Samba, a West Village staple since 2000, gives your taste buds a workout with a unique combination of Japanese, Peruvian and Brazilian cuisines from executive chef Pedro Duarte and corporate sushi chef Koji Kagawa.  Allow the expertise of a highly-trained server to guide your dining experience, starting with small plates: The Yellowtail Crispy Taquitos ($12 for two), stuffed with a creamy mixture including avocado and roasted corn miso, are enhanced by gently spiced aji panca sauce. Portuguese Octopus a la Plancha ($16), named for the Hibachi-style grill used in its preparation, is served on a delicate slice of fingerling potato. The Chilean Sea Bass anticucho ($16), glazed in miso and accompanied by Peruvian corn, melts off its skewers, and the delicate beef squares of the Japanese A5 Wagyu Tiradito ($30), fueled by a spray of truffle oil, soar on wings of truffle flakes.  You could also opt for the tasting menu, which takes you from tangy to mellow and back. It's customized to your personal tastes with a wide selection that includes East and West Coast oysters, Kanpachi amberjack, sea urchin and ikura salmon roe with a hint of caviar. In between bites, add a chilled bottle of Divine Droplets Ginga Shizuku sake from Hokkaido ($70), a surprisingly smooth palate cleanser. Another choice beverage is the Shishito Pepper Caipirinha ($15). Created by Richard Woods, the restaurant's head of spirit and cocktail development, it brings a city twist to the traditional mix of c