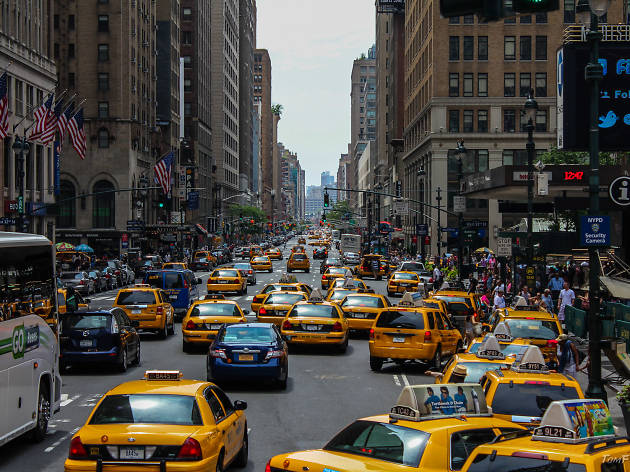 The best transportation apps for New Yorkers
Our guide to the best transportation apps in NYC, whether you're looking for on-demand rides or traditional yellow cabs
Want to know why you need transportation apps in NYC? The city may be physically small—Manhattan is just 2.3 miles across—but getting around can be tricky, especially with the busy lives we all lead. And even the most seasoned commuters can fall victim to the likes of subway delays, tough commutes, and inebriation. Cue the apps: From on-demand rides to taxi-paying apps and traffic navigators, here are 12 downloadable ways to get yourself to the best New York restaurants, the best NYC attractions and the best art museums in NYC—all at record speed.
RECOMMENDED: Find the best weekend getaways
Best transportation apps for New Yorkers
If you're renting a car for a road trip or are one of the brave souls who owns a car in NYC, you need to look into this app. Available in most new General Motors cars, including Chevolets and Cadillacs, Marketplace is an onboard app that lets you order food directly from your car. You can also make dinner reservations or find the cheapest gas station—a savior if you're familiar with ever-skyrocketing gas prices.
Get the app: gm.com
It's not exactly groundbreaking: Google Maps in an essential for getting around in any city. But in NYC, it's especially useful when you're already running late, for comparing travel times for a car versus public transportation (you'd be surprised: Sometimes, the subway is actually faster). Consult another app to make sure there are no subway delays, and download a ride-sharing app to give yourself multiple options.
Get the app: google.com/maps
If you don't have Uber, how did you manage to navigate the Internet all the way to this article? The app rode 'round the world is tried and true, to say the least. And with the addition of uberPOOL, the surge-proof ride-share feature within the app, it's easy to get around the city for cheap.

Get the app: uber.com
Looking to take a road trip?
The best road trips out of NYC take you on getaways to see history or nature—and they're all less than six hours away