Heads up! We're working hard to be accurate – but these are unusual times, so please always check before heading out.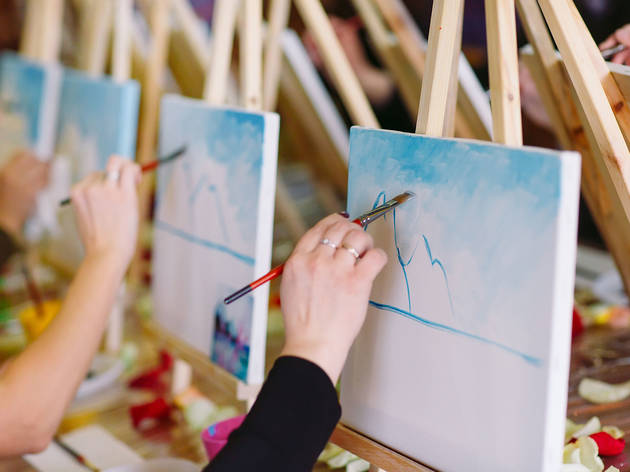 Paint and sip with these BYOB painting classes in NYC
Instead of hitting your usual watering hole, sign up for BYOB painting classes in NYC for a more creative night out
There's only one thing better than the many painting classes and art classes in NYC: BYOB painting classes where you can paint and sip wine or beer simultaneously. Even those who favor logical left-brain thinking will find that nothing gets the creative juices flowing quite like a glass of wine. Whether you need an activity for girls night out or you're looking for new date ideas, BYOB painting classes fit the bill.
RECOMMENDED: Full guide to classes in NYC
BYOB painting classes in NYC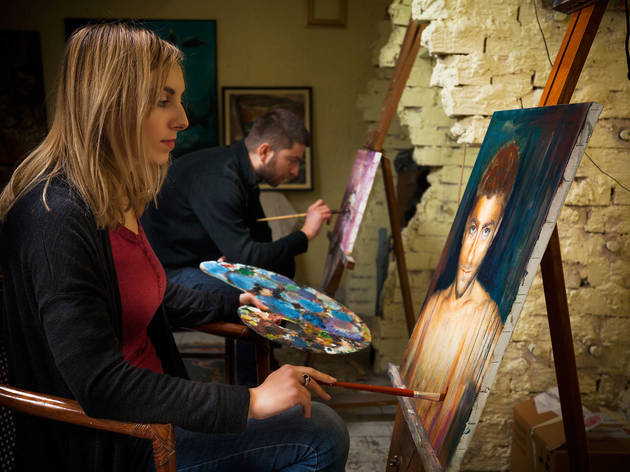 Photograph: Shutterstock
BYOB Painting at the Painting Hangout
Down a few glasses of chardonnay to reduce your inhibitions, then let your paintbrush go wild on the blank canvas. Exercising your creative impulses works surprisingly well as a stress reliever. Want to frame your artwork? The Painting Hangout also offers ready-made frames for an added fee. $32, plus an additional $24 for framing
Total beginners might want to sign up for this class that breaks painting down step by step—or brushstroke by brushstroke, as the case may be. In just two and a half hours, you'll learn how to paint your first masterpiece with a little help from the instructor. Past projects have included tranquil landscapes, colorful still lifes and even interpretations of Vincent van Gogh's Starry Night. $34.43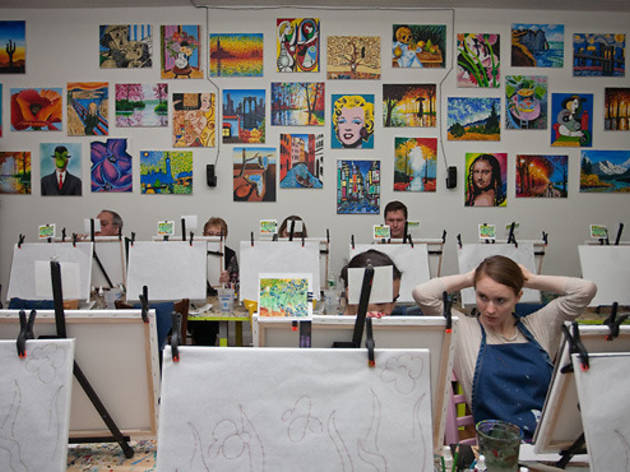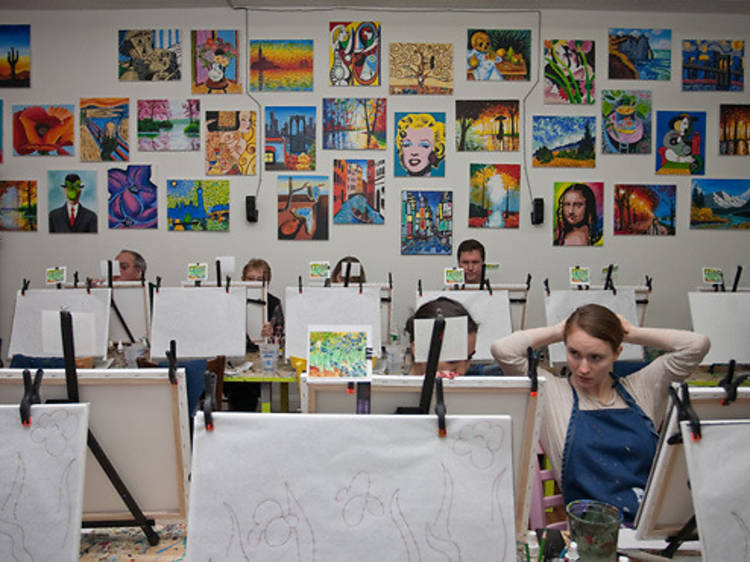 Photograph: Laura Gallant
Paint and Sip Workshop at the Painting Lounge
With studios in Midtown, Chelsea, Harlem and Williamsburg, the Painting Lounge is one of the most convenient options for BYOB painting classes. Crack open a cold beer or bottle of wine as you replicate the night's featured artwork with a little help from a stencil. The price varies depending on the painting and length of class, but most cost between $30 and $50 and last around two hours. $30–$50
Photograph: Courtesy Creatively Wild Art Studio
BYOB Painting: Art Exploration for Adults at Creatively Wild Art Studio
To really get in touch with your creative side, sign up for the six-week survey course for adults at Creatively Wild Art Studio. You'll try your hand at painting, drawing, collage, mixed media, found object art, 3D projects and so much more. The wine or beer you bring to sip on just helps release your inhibitions. $450 for a six-week session
Photograph: Courtesy Paint & Sip Studio NY
BYOB Painting at Paint and Sip Studio NY
This Upper West Side art center hosts BYOB painting classes nearly every day, making it easy to get your paint fix whenever you want. Capture the glittering Manhattan skyline or changing leaves in Central Park on your canvas or replicate well-known works like Georgia O'Keeffe's Two Calla Lilies on Pink or Claude Monet's The Water Lily Pond. $45
Commemorate a beloved dog or cat with a portrait you'll paint yourself in a BYOB class at the Paint Place. After you sign up for a class, just send the studio a photo of your pet and they'll pre-sketch it onto canvas for you. All you have to do is choose your color palette and fill in the rest. Since the studio fee includes the cost of the original portrait of your pet, it's really a bargain! $60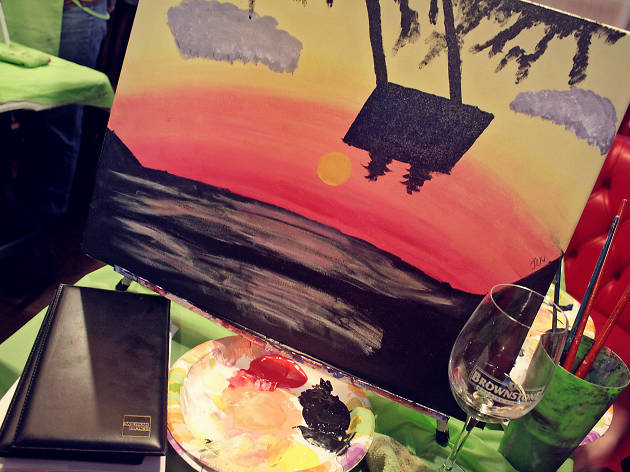 Photograph: Courtesy Creative Commons/Flickr/thelittleone417
Painting Parties at NYC Tipsy Painters
Unlike most other classes on this list, Tipsy Painters is actually a painting party that moves between bars and restaurants in Manhattan. Instead of bringing your own bottle of wine, take advantage of the half-price drink specials while you learn to shade, mix tints and blend paints. Recent venues include Turtle Bay and Boxers Sports Bar. $39
Photograph: Courtesy Creative Commons/Flickr/thelittleone417
The featured artworks at La Pittura tend to lean more toward pop culture than classic art history: It's not uncommon for students to paint Batman, the Eiffel Tower and red-heeled Louboutins in BYOB classes. The studio also periodically mixes things up with sneaker-painting sessions or abstract art classes from time to time. $30–$45
Looking for more classes in NYC?
Try some of the city's most unusual classes, like introductory tarot class taught by an urban shaman, an acrobatic games course at a circus theater or a neon sign workshop at a glassblowing facility