Heads up! We're working hard to be accurate – but these are unusual times, so please always check before heading out.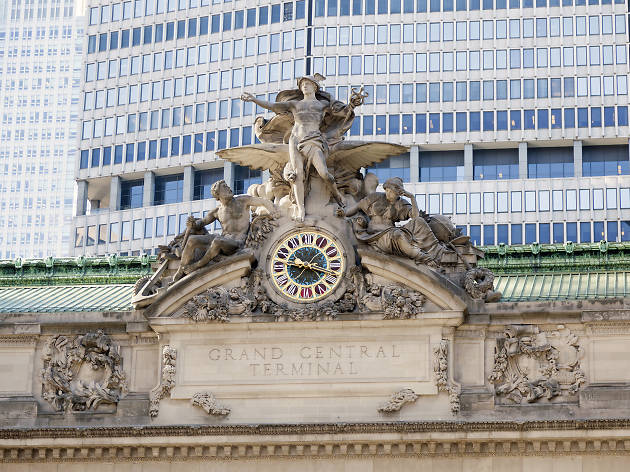 The most gorgeous and iconic clocks in NYC
These clocks in NYC are some of the most beautiful and iconic works of art in the city. And they even tell time!
Put that phone away—these clocks in NYC will accurately give you the time faster than turning to that mini computer in your pocket. (Then, fine, you can still snap a photo to Instagram afterward.) These timekeepers outside some of the most beautiful NYC buildings and New York tourist attractions that we secretly love are true works of art that you can see without paying a dime. Some of them double as outdoor art and some of them may be part of your daily commute, but all of them are some of the most iconic installations in NYC.
RECOMMENDED: Full guide to the best NYC attractions
Most gorgeous and iconic clocks in NYC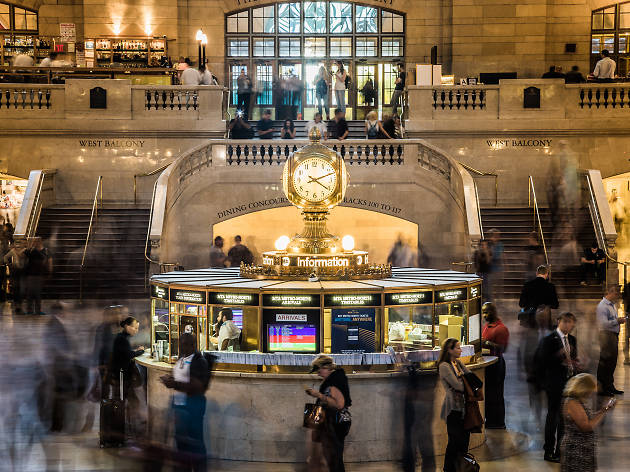 While there's plenty to be admired in the historic beaux arts Grand Central Terminal, this four-sided clock above the information booth is a true showstopper. Created by Connecticut clock-crafting company Seth Thomas, the clock, with its four precious opal faces fixed atop a bronze pole, is estimated to be worth over $10 million. The clock was completed the same year the terminal opened, in 1913, and has since been immortalized in postcards, photo shoots and all kinds of movies.
In 1853, about 15 years after opening his bustling downtown jewelry store, Charles Tiffany decided to spruce up the facade of his Soho storefront with a special commission. Calling on the help of his friend Henry Frederick Metzler, a carver of ship figureheads, Metzler carved a nine-foot Atlas carrying a clock four feet in diameter. The Atlas, who stands upright under his burden, was painted green to look as though he were a weathered bronze statue. Atlas has looked over the constant rotation of shoppers since then, moving with the store as it relocated further and further uptown until reaching its current Fifth Avenue home.
Photograph: Courtesy CC/Flickr/Paola Rosa
Since this whimsical clock was first unveiled with much fanfare in 1965, it has been a staple among visitors to the both the zoo and those just strolling through Central Park. The clock hovers above the arcade between Central Park Zoo's Wildlife Center and the Children's Zoo, and it plays a number from its large rotation of dozens of songs and nursery rhymes every half hour. A band of bronze animals sculpted by Italian artist Andrea Spadini play instruments as they circle around the clock and rotate on their axis: two bronze monkeys banging hammers against a bell, a penguin on a drum, a hippo with a violin, a bear with a tambourine, a concertina-playing elephant, a goat with pipes and a kangaroo on the horn. Song played change depending on the season: Winter tunes include "Hickory Dickory Dock" and "Old King Cole"; spring's selection has "Easter Parade" and "Peter Cottontail"; and during the summer and fall it plays "Frère Jacques" and "Mary Had a little Lamb." December's numbers also include holiday classics "Deck the Halls" and "Jingle Bells."
Photograph: Coutesy CC/Flickr/owenandaki
If you find yourself at 200 Fifth Avenue, check the time on this example of one of the city's last remaining cast iron street clocks. This 19-foot beauty with an ornamental base, Ionic column and a wreath of oak leaves around the clock face is gilded in gold and was erected in 1909. The clock is instantly recognizable as the street clock found on that classic postcard photo of the Flatiron Building. Because it stood next to a building that was known as the Fifth Avenue Building, those words are written on the clock's face in bold lettering. In 1980, the Landmark Preservation Commission designated it as a landmark site and referred to the monument as a "gilded cast iron masterpiece."
For more than 80 years, the Brooklyn Williamsburgh Savings Tower held the title of the tallest building in Brooklyn. Today, that 1929 37-story skyscraper continues to tower over Kings County as an architectural treasure and also boasts one of the tallest four-sided clock towers in the world. At 512 feet tall with clock faces that are 17 feet tall, the clock tower is even taller than London's Big Ben.
Above Grand Central's grand entrance on 42nd Street and framed by sculptures of Roman gods Mercury, Hermes and Minerva (the gods of strength, speed and intellect) is the world's largest example of Tiffany glass. Measuring 13 feet in diameter, this stained glass clock was installed in 1914 and didn't cost the train station a dime, arriving as a gift from the jewelry company. If you look up as you're entering the terminal and find you're running late, don't count on it being a few minutes ahead. This clock—like all clocks in Grand Central—is meticulously set to the second according to the atomic clock in the Naval Observatory in Bethesda, Maryland.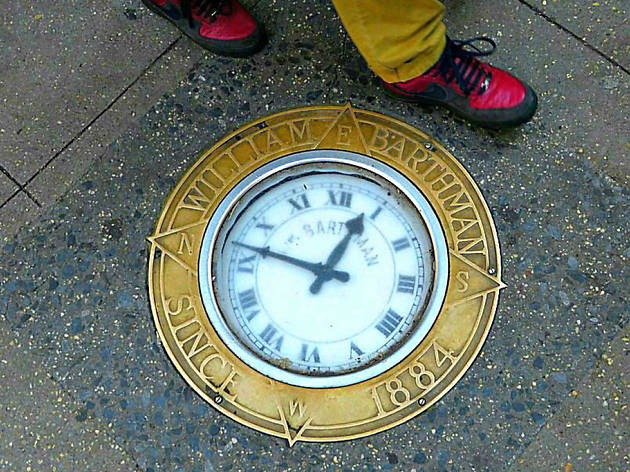 Photograph: Courtesy CC/Flickr/John Wisniewski
7. Bathman's Sidewalk Clock
For over a century, pedestrians walking the streets in downtown Manhattan have been delighted and surprised to find themselves walking over this clock in the concrete sidewalk on the corner of Maiden Lane and Broadway. It was originally placed in the sidewalk as a novel advertisement campaign by William Betham of William Betham Jewelers (naturally) to attract to customers to his store in 1899. Unfortunately, only two people knew how to set the specialty clock and keep it running, so after their deaths, the clock had to be replaced in the mid–20th century. But it's still ticking and tocking away decades later.
Though the bright, LED digital numbers on the side of One Union Square have been confusing tourists and locals alike for years, the numbers are actually a 24-hour clock. The 15 orange digits of "The Passage," the clock portion of Kristin Jones's and Andrew Ginzel's public art installation Metronome, represent, from left to right, the hour, minute, second and tenth-of-a-second of the day, and the tenth of a second, seconds, minutes and hours left in the 24-hour period until midnight. The center digit represents hundredths of a second. (Got that?) The Metronome, which also includes a circular void to the clock's left, looks over the south side of Union Square and was completed in 1999.
Photograph: Courtesy CC/WikiCommons/MusikAnimal
Looking for iconic NYC hotels?
You haven't seen the city that never sleeps until you've rested your head in one of New York City's most iconic hotels