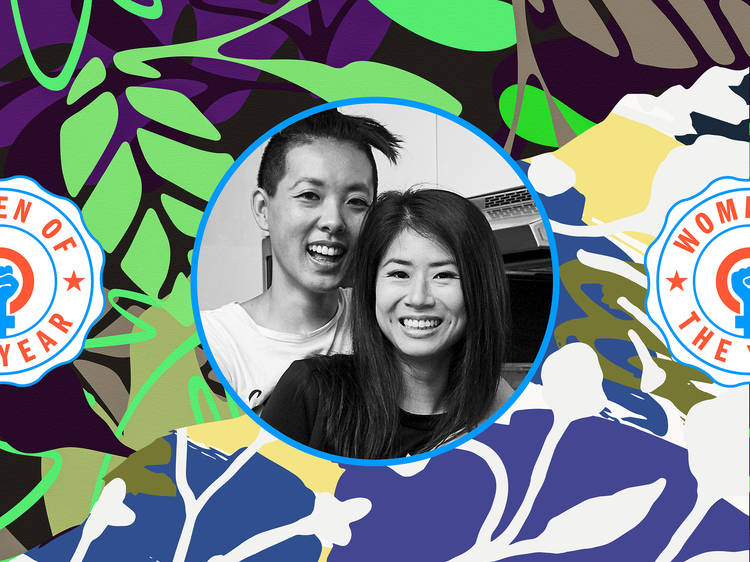 Image credit: Bryan Mayes
Moonlynn Tsai and Yin Chang, Founders of Heart of Dinner
Since the pandemic struck NYC in March 2020, Moonlynn Tsai and Yin Chang have provided 56,000 meals to elderly Asian Americans through their organization Heart of Dinner. What originally began in 2015 as a supper club that benefitted non-profits fighting food insecurity, Heart of Dinner has blossomed into a full-on project serving culturally appropriate meals to Asian American seniors who are facing isolation, hunger and fear all heightened by the pandemic. They've also provided meals under other initiatives to help support the Chinatown community, including #EnoughIsEnough and #LovingChinatown these past several months, with no personal income.
Tsai, a chef and restaurateur, and Chang, an actor, have put their careers on hold to carry this out (with very little rest and downtime), but it's been a labor of love.
"There is good and love and we're countering all the isolation, fear and frustration with encouragement, support and showing up with a smile," Chang said. "We're all in this for humanity. We're showing up for our people — our humans. I hope people can clearly see that if you raise your hand to step up, we're all better for it."
Tsai and Chang have been able to do so much, in part, because they have each other. They have been dating for almost seven years and have faced a lot together—neither of them had come out until they began dating—and they're what we consider a true "power couple."
"During the early years, and during the pandemic, it felt like a pressure cooker, but it's been seamless—we're always on the same page," Chang said. "We've always been by each other's side."—Shaye Weaver
Rapid-fire questions:
What is the one thing that has gotten you through the pandemic?
The community that has rallied together throughout this time, my family, and Moonlynn. No matter the pandemic-related curveballs thrown our way, Moonlynn and I always see the silverlining in each and every circumstance. It's also a huge plus that we find so much joy in each other's love and company, not a day goes by without laughs! She's My Person, and I couldn't imagine going through the pandemic without her.—YC
What's your favorite spot for dinner in NYC?
The beauty of NYC is that dinner can be comprised of hopping from place to place and experiencing so many different flavors and cuisines on one route! We love taking walks around our neighborhood and venturing and visiting our friends who are local restaurant owners. One of our favorite routes is walking from Golden Diner to Partybus Bakeshop to Saigon Social and then picking up some treats at Stick With Me Sweets.—MT

What's a new habit that's become part of your routine during lockdown?
Oh no! I've always preferred a cheese plate and fried chicken over anything sweet for dessert, and this lockdown has turned me into a sweet tooth with a monstrous habit of eating treats right before bed (on our bed), no thanks to our ridiculously talented friend Susanna Yoon, founder and chocolatier at Stick With Me Sweets. She's made me a true convert with the world's best bon bons and sweets!—YC
Is there another women you know in the food and restaurant field who is doing something exciting and innovative right now?
Our friend Yen Ngo (Van Da, Farmer & Sons) recently acquired a complex of buildings in the historic center of Kinderhook in Upstate New York. The history of the building is incredible—it was originally a 19th-century hat factory and knitting mill and left virtually intact. When Yin and I were walking through, we saw pieces of the original fabric laying around and the original light fixtures. Yen, alongside her partner artist Darren Waterson, are turning the complex into a new restaurant, barista, lounge, gardens, and event space. while still paying tribute to the history of the town and homage of the building. So excited to watch it come to life!—MT
Get in on the action: You can help deliver, write notes and more with Heart of Dinner or just donate. Go to heartofdinner.org to learn more.