Heads up! We're working hard to be accurate – but these are unusual times, so please always check before heading out.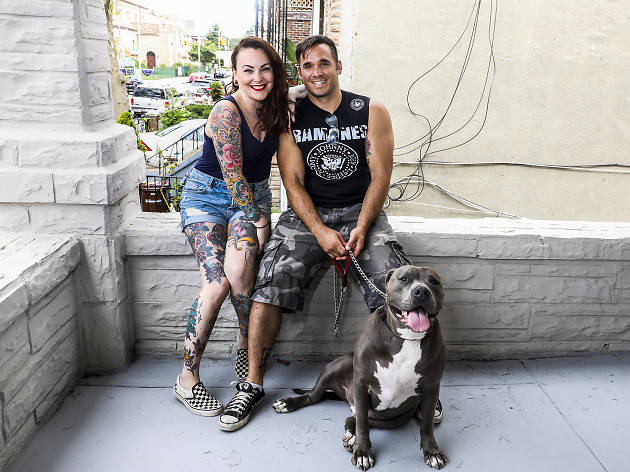 New Yorkers on the adopted pets that changed their lives
Take a peek into the lives of seven New Yorkers and their beloved (and darn cute) adopted dogs, cats and rabbits
New Yorkers on the adopted pets that changed their lives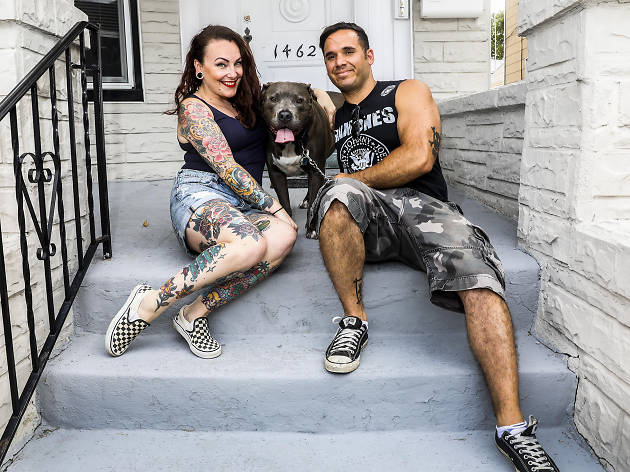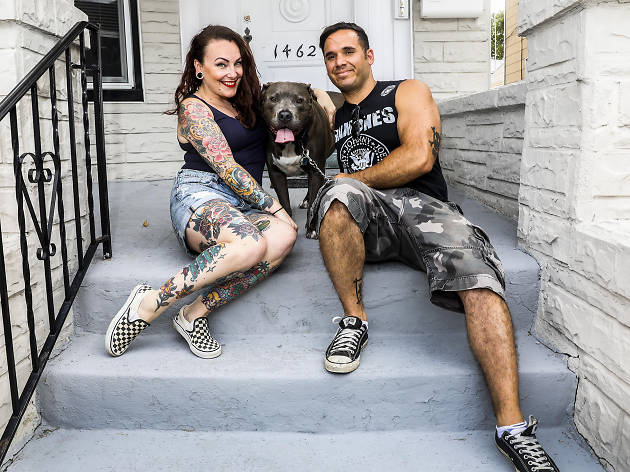 Photograph: Krista Schlueter
Nicole Ludwig, Matt Giordano and Teddy Roosevelt
Ludwig on Teddy's lovability: "I always say that Teddy Roosevelt could be the poster dog for bully breeds. He is such a goofball and a real sweetheart. This is so very typical of these types of dogs, and I wish everyone would start to understand that. A few months ago, my partner was walking him in our neighborhood, and they walked by a homeless man on the street who looked really down. As if he could sense the need for a loving moment, Teddy stopped right in front of the man, looked at him for a bit and then lay down next to him on the concrete. He then rolled over onto his back and just stayed there until the man laughed and smiled. The empathy that he possesses is on another level. His head is just full of rainbows and butterflies."
Adopted from: Animal Care Centers of NYC (various locations; 212-788-4000, nycacc.org)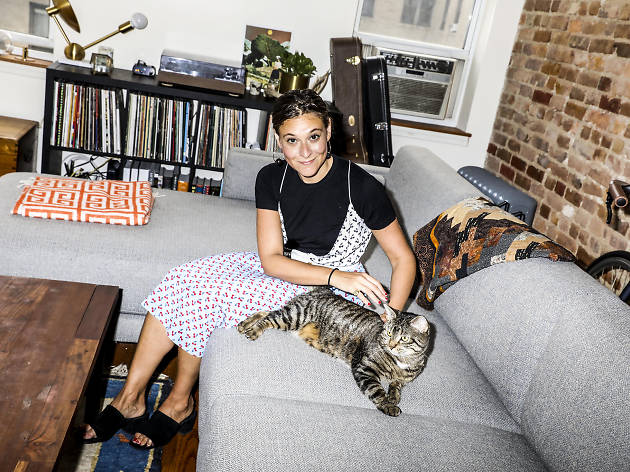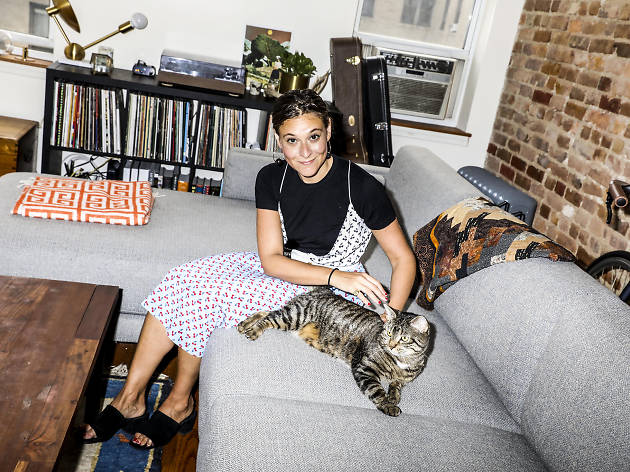 Photograph: Krista Schlueter
On Frog's obsessions: "He loves plastic takeout forks. He plays fetch with them. And Frog also likes to take walks in the hallway of our apartment building. He stands at the door, and we let him out for a supervised stroll. I've thought about getting him a leash to walk with him outside, but I'm just not there yet."
Adopted from: The Animal Project (212-567-5206, nycanimalproject.org)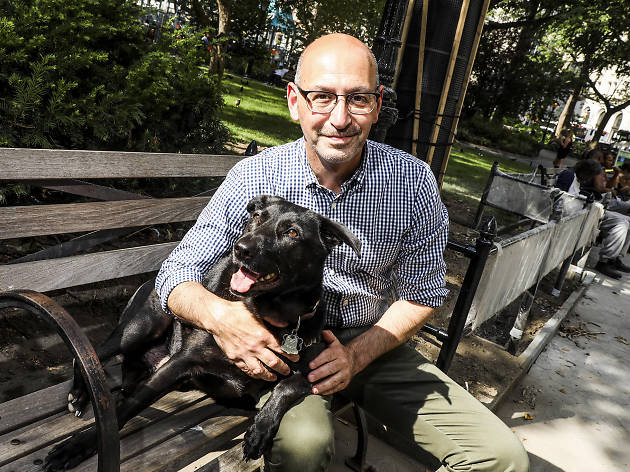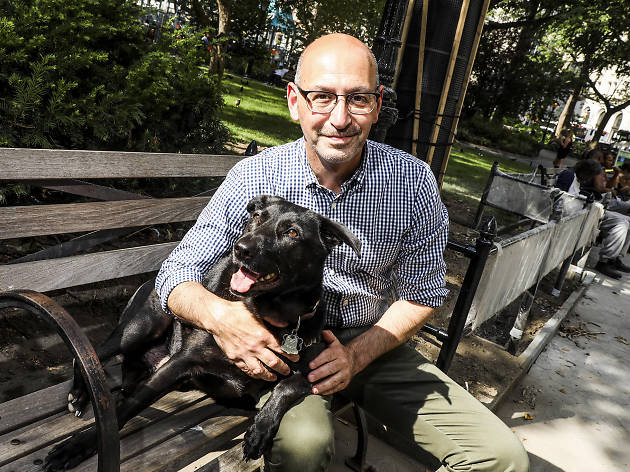 Photograph: Krista Schlueter
On Tyler's namesake: "I went to Broadway Barks, and Tyler was the first dog I saw as I walked in. He was one of two puppies from the litter, and apparently, they were found in a burned-out car in Queens with their mother. At that time, he had some sort of Shakespearean name, but after I adopted him, I renamed him Tyler after Mary Tyler Moore. She co-chaired [the Broadway Barks] event, and I just loved her to death, so I thought it would be a fitting name. Tyler's littermate was adopted that same day by a woman and her daughter, and it turned out they lived a block away from me at the time. So he gets to have playdates with his brother often."
Adopted from: Broadway Barks' annual pet-adoption event occurs each July (broadwaybarks.com)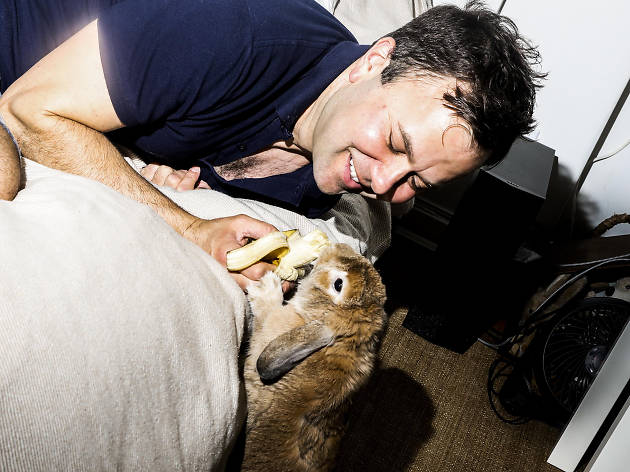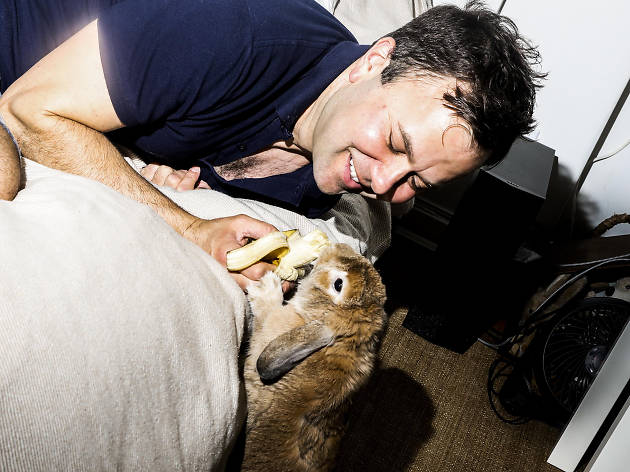 Photograph: Krista Schlueter
He's like a little old man; he has the exact same schedule every day. Bean wakes up at 6am by jumping on the bed, pawing at the sheets, sitting on my pillow or licking my face because he wants breakfast. He takes various short naps in very specific places: In the late morning, it's under the bed; in the afternoon, under the sofa; and at night, under a credenza. He's completely free roaming. It's his apartment, basically."
Adopted from: Animal Care Centers of NYC (various locations; 212-788-4000, nycacc.org)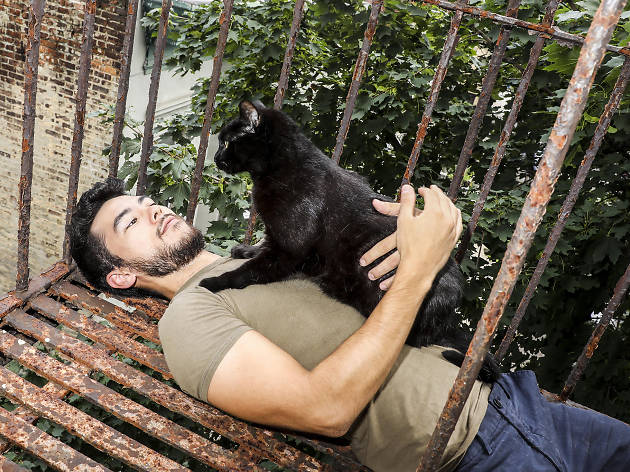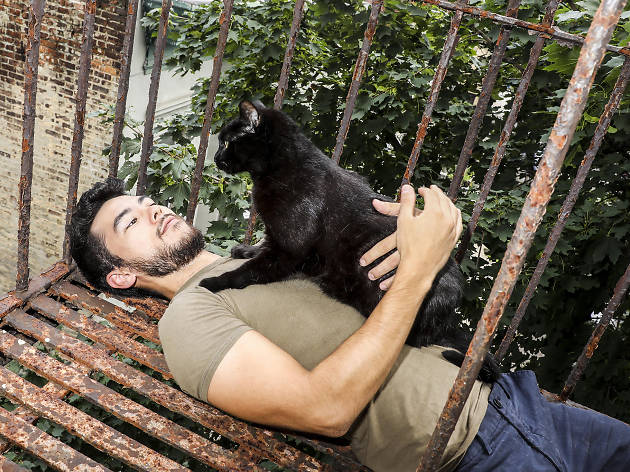 Photograph: Krista Schlueter
Michael Nameishi and Beau
"He knows when I'm hungover and will sit with me and watch me eat delivered food with very little judgment. One time I couldn't find him in the apartment and was worried that he might have gotten outside, but then I found him inside the refrigerator, literally chilling."
Adopted from: A family member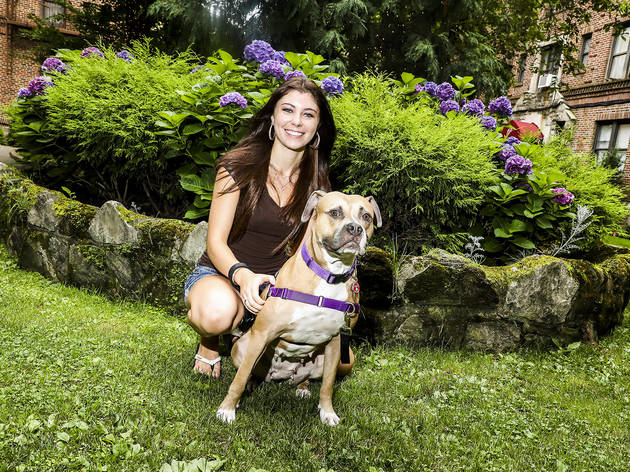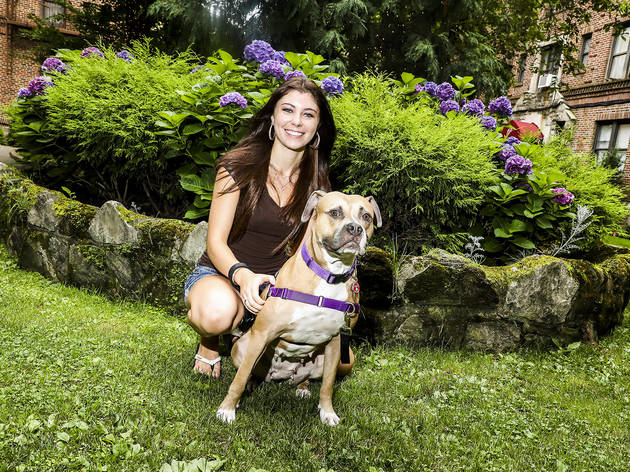 Photograph: Krista Schlueter
"One morning, I woke up and decided to look on ASPCA for any dogs that were adoptable and a good fit for us. Nala's picture was the very first one that popped up, and I immediately knew she was the one for us. The day we brought her home, she seemed to be very excited to be out of the shelter. She adjusted fairly quickly. She made herself comfortable wherever she pleased—including in our bed at night. Bad idea! She is such a bed hog; she sleeps horizontally across the bed." [Laughs]
Adopted from: American Society for the Prevention of Cruelty to Animals (424 E 92nd St; 212-876-7700, aspca.org/nyc)
Looking to go on vacation with your pet?
Four-legged guests are more than welcome at these pet-friendly hotels in NYC with perks like private dog parks and spas