The best dog-friendly restaurants in NYC
Don't leave Fido at home. Dine alongside your four-legged friend at these dog-friendly restaurants in NYC.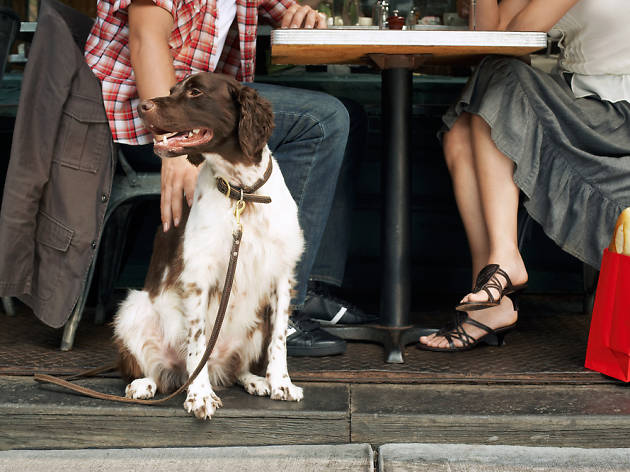 Do you feel guilty whenever you leave your pup at home to go out to dinner with friends? We've all been there. Luckily, there are tons of dog-friendly restaurants throughout NYC whether you want to go out for brunch, grab one of the city's best burgers or enjoy a refreshing beer while petting your furry compadre. Whether you want a sunny, outdoor dining spot or a cozy booth indoors, these Gotham restaurants (and bars) will make Fido feel right at home.
RECOMMENDED: Full guide of the best restaurants in NYC

Best dog-friendly restaurants in NYC
While there are already a handful of cat cafés in Gotham, we have to admit that dogs go well with a good cup of coffee, too. This Upper East Side brunch spot really cares about accommodating its canine clientele—there's a dog water fountain and treat jar outside.
Read more
Yes, it gets crowded. But the view, the terrace and the breeze make it hard to write off the Boat Basin. Plus, they encourage you to bring your pup. Summer in the city (they're typically open from April through October) almost requires a visit or two to this social hub where you can chow down on burgers, sandwiches and salads while taking in spectacular views of the Hudson with your pooch.
Read more
With walls decorated in Victorian-style dog portraits (including a mural of the owners with their little furballs) and a downstairs cocktail lounge called Underdog, this bar is really into mutts. Sadly, you can't actually bring your growler inside, but when the weather permits, the two of you can enjoy the outdoor seating on historic Stone Street. Bites include sandwiches, burgers, hot dogs and apps like deviled eggs and salt & pepper wings.
Read more
New Yorkers go crazy for Shake Shack, and for good reason. Danny Meyer's wildly popular Madison Square Park concession stand is mobbed with lines during the summer; in chilly weather, heat lamps provide all the warmth you need. It's worth waiting in line for, especially when you can bring your pup with you. While you indulge in that ShackBurger and concrete, treat your four-legged friend to dog-friendly menu items like the Pooch-ini and Bag O'Bones.
Read more
This East Village standby allows dogs both inside and outside on their back patio. While the bar does not serve food, you can bring in outside food or order delivery while you bask in the sunshine with your pooch. Beer lovers will appreciate the scope of the 20-deep draft selection including a Coney Island Mermaid Pilsner, cider and chocolate shake porter.
Read more
An Upper West Side neighborhood favorite, on Sundays, Fred's packs a crowd with its brunch featuring the likes of cinnamon-raisin French toast and eggs Benedict. The personality of this restaurant is definitely doggie-driven with photographs of customer's four-legged friends covering the walls. Although your pup isn't allowed inside, Fred's is the perfect place to sit outside with your pooch while you people-watch on Amsterdam Avenue and nosh on delightful mini muffins with strawberry butter.
Read more
Find the best rooftop bars
Have a cocktail high above the city and take in spectacular views at one of the best elevated bars in NYC
Read more