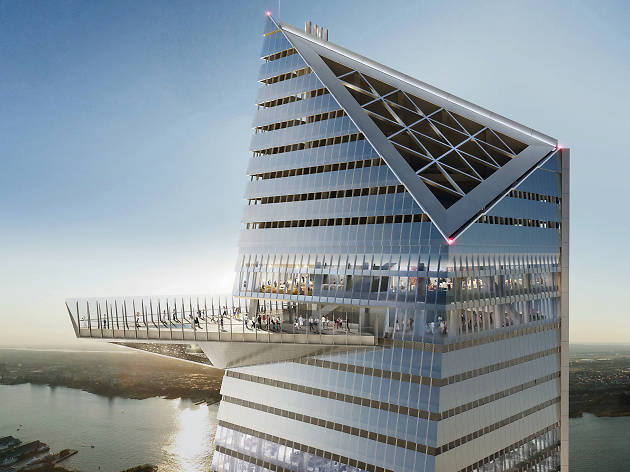 NYC 2020: Discover the hottest openings of the year
Here are the NYC openings you absolutely must check out in 2020, including new restaurants and attractions
Hottest NYC openings in 2020
Photograph: Courtesy Alamo Drafthouse/Zane Roessell
Alamo Drafthouse Lower Manhattan
A second Alamo Drafthouse will introduce NYC audiences to the Austin-based chain's winning formula: delicious queso and chips, impeccable screening conditions and zero tolerance for texters. Adding distinction to the latest venue is a bar-museum combo called the Press Room, where guests can eyeball old movie posters, sip on a sour and leave with one-of-a-kind postcards inked by the theater's own letterpress. Alamo definitely knows its audience, and we want to be part of it.
Financial District (drafthouse.com). Opening TBA.
"I feel like a lot of people think Manhattan is over. They often ask me, 'Where can you even dance there anymore?' " says Billy Jones, head honcho
of the aptly titled The Dance, which started throwing parties and secret, intimate gigs featuring the likes of DIIV, Charli XCX, Twin Peaks and Whitney in 2019. But something else is cooking above the white-hot venue: Set to open in 2020, the Dance's attached two-floor restaurant is a project by Jones, chef Ken Addington of Five Leaves, Leif Huckman, and the team behind Greenpoint's the Hidden Pearl and Williamsburg's Donna. "I want the upstairs to be a release from the chaos downstairs, somewhere people can reset," says Jones, who also co-owns the music venue Baby's All Right. "I want it to be a space where you can continue your night out together over a meal."
Soho. Opening TBA.
Our pick for the next big (and tall) thing to hit town? Edge, a 1,131-feet-high sky deck in Hudson Yards. Not only does it name-drop the most famous member of U2 who's not Bono, but it also boasts a triangular, glass-floor platform where, as if floating in midair, patrons can peer down on their fellow New Yorkers. Best of all, there's oodles of outdoor space—7,500 square feet of it, to be exact.
Hudson Yards. Opens Mar 11.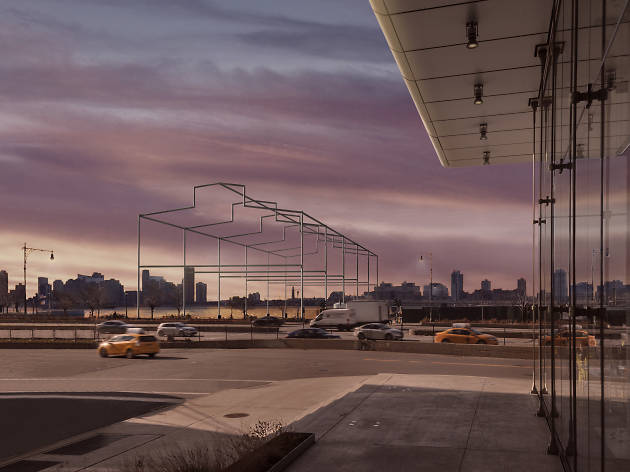 Photograph: Courtesy Whitney Museum of American Art/Guy Nordenson and Associates
Recalling the Wild West Side of 1970s New York City, Day's End is a permanent public art project coming to Pier 52, at the foot of Gansevoort Street. There, artist David Hammons is set to rematerialize as a monumental sculpture the ghostly outline of a warehouse that once stood there. The skeletal piece memorializes the city's gritty waterfront history, specifically its era of deindustrialization, when the abandoned structure, which had once harbored ocean liners, became a popular cruising area for gay men in the years before the AIDS epidemic.
Gansevoort Peninsula at Hudson River Park, Meatpacking District (whitney.org). Opens Sept.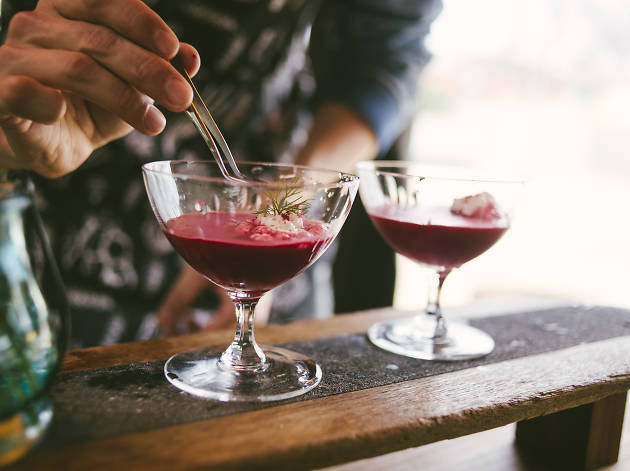 Photograph: Courtesy Double Chicken Please/SungJoon Bruce Koo
New restaurants and bars that will heat up the scene
Double Chicken Please
Faye Chen and Angel's Share alum GN Chan have been roaming the country in a yellow 1977 VW bus, throwing pop-ups that pour reinventions of classic cocktails and singular sips (they have been known to liquify a beet salad). Thankfully, Dry January will be long gone when the pair set up shop on the Lower East Side, serving creative drinks and small bites like their salted-egg-yolk fried-chicken sandwich.
Lower East Side (doublechickenplease.com). Opens Mar.

Silver Apricot
Simone Tong, of the adored Little Tong Noodle Shop, is opening a more upscale concept that honors how the first Chinese-American immigrants cooked out of economic necessity and homesickness. Always challenging our notions of Chinese food, Tong will experiment in her 25-seat joint, giving charcuterie and other favorites an East Asian spin.
West Village. Opens Jan or Feb.

Le Veau d'Or
The famed French restaurant that debuted more than 80 years ago is back with a spiffy update thanks to Lee Hanson and Riad Nasr, the duo behind Frenchette, one of the most critically acclaimed eateries to launch in 2018. Expect the OG's signature dishes, such as frog legs and tripe casserole, as well as hip touches to the decor and cuisine.
Upper East Side. Opens Apr.
Company
Stephen Sondheim and George Furth's pathbreaking 1970 musical about love in the big city has had several revivals, but this one has a twist: The commitment-averse main character is now a woman, played by the mesmerizing Katrina Lenk (The Band's Visit). The cast includes Broadway über-diva Patti LuPone and a beefed-up vocal chorus.
Bernard B. Jacobs Theatre. Starts Mar 2.

The Minutes
Tracy Letts (August: Osage County) is the writer and star of this punchy play about the machinations of a small-town city council. His costars include Armie Hammer, Jessie Mueller and stage vet Austin Pendleton, and the designers of Anna D. Shapiro's acclaimed 2017 Steppenwolf production in Chicago all reprise their duties.
Cort Theatre. Starts Feb 25.

Caroline, or Change
This profoundly soulful, tuneful and transformative musical about a maid in 1963 Louisiana was ahead of its time in 2003, but the world has caught up since then. With a libretto by Tony Kushner (Angels in America) and music by Jeanine Tesori (Fun Home), this is the rare work of musical theater that can truly change the way you see the world.
Studio 54. Starts Mar 13.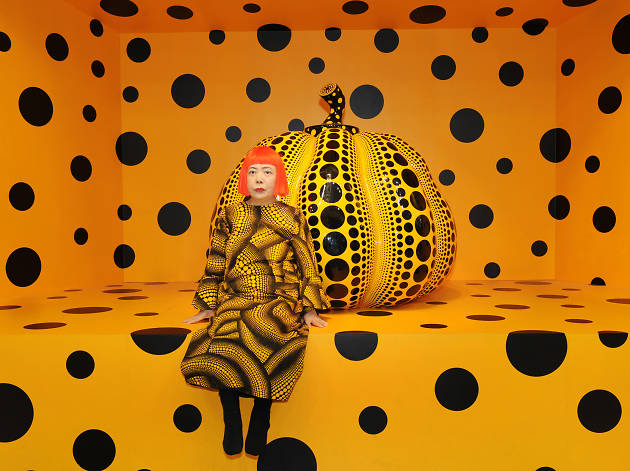 Photograph: Courtesy Ota Fine Arts/Victoria Miro London/David Zwirner New York
This spring, everything is coming up Kusama: The Bronx's New York Botanical Garden is offering visitors a bouquet of shareable moments with its comprehensive indoor-outdoor survey of the artist's work, dubbed "Kusama: Cosmic Nature." Pathways and buildings across the NYBG's 250-acre site will host Kusama's paintings and polka-dotted flower sculptures. Did we mention there will be Infinity Rooms, too? (Let's hope the line is manageable.) Other sights include a monumental new pumpkin sculpture and a participatory greenhouse installation.
New York Botanical Garden, Bronx (nybg.org). May 9–Nov 1.
Okay, so technically Fotografiska opened in mid-December. But how often does New York pick up a permanent addition to the cultural landscape as major as this fresh photography institution? Not often. The museum is an outpost of the Stockholm original, which debuted in 2010. Along with its three stories of exhibition space, Fotografiska comprises an event space and a photography bookstore. Veronika, a restaurant inspired by Eastern Europe's grand, turn-of-the-20th-century cafés, occupies the entire second floor, with a takeout spot for salads and small bites. The inaugural exhibitions, which all run until March, are curated looks at the works of Tawny Chatmon, Helene Schmitz, Adi Nes and Anastasia Taylor-Lind.
Flatiron District. Now open.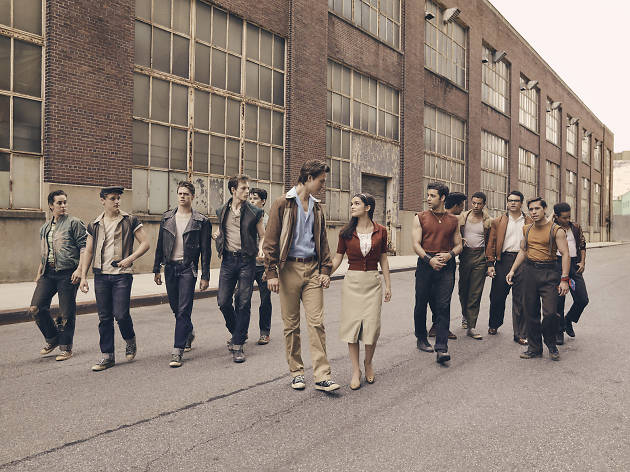 Photograph: Courtesy Twentieth Century Fox/Ramona Rosales
Think it takes guts to join a street gang (even one with dance moves)? That's nothing: Try remaking West Side Story, one of the most beloved movie musicals of all time and a winner of 10 Oscars. Who's the young punk stepping to the classic? None other than Steven Spielberg, bringing along Baby Driver's Ansel Elgort and New Jersey discovery Rachel Zegler as the star-crossed lovers.
Opens Dec 18.
Best selling Time Out Offers