Heads up! We're working hard to be accurate – but these are unusual times, so please always check before heading out.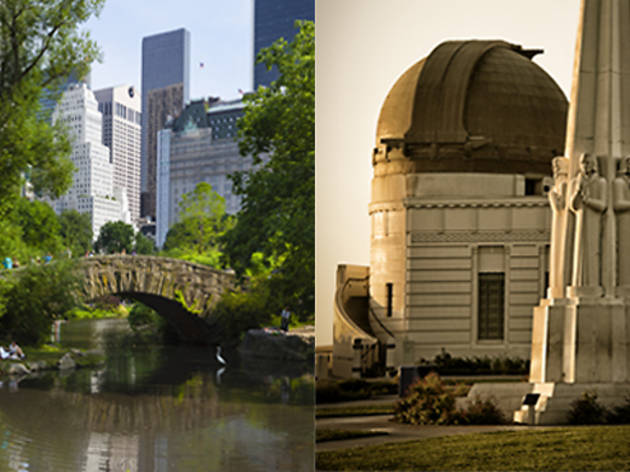 1/36
Photograph: Shutterstock
Neighborhood 1: The park In New York's corner, we have Central Park, former no-go area turned No. 1 tourist attraction, with some of the most beautiful green spaces in the whole city. In L.A.'s corner, we have Los Feliz, a Village-y hub nestled at the foot of Griffith Park's canyons, trails and exercise devotees. We'll start by looking at three New York apartments, then see what L.A. has to offer (besides something that's probably covered in avocado).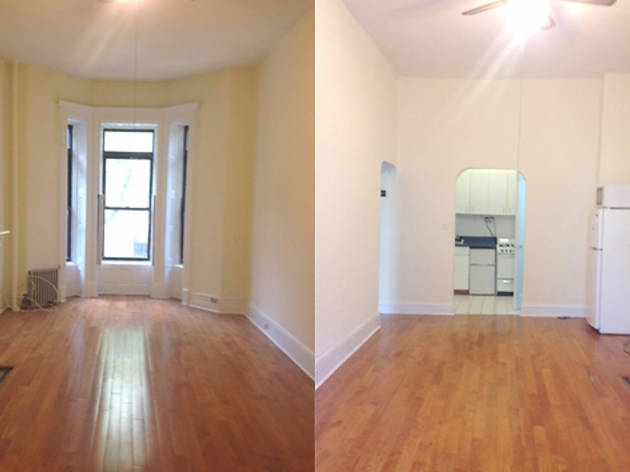 2/36
New York: One-bedroom on the Upper West Side, $2,100/month And we're off to a surprisingly strong start! (For a New York apartment hunt, at least.) This place has a separate bedroom and it's actually right next to the park, a literal stone's throw from the reservoir (so long as you're really good at throwing).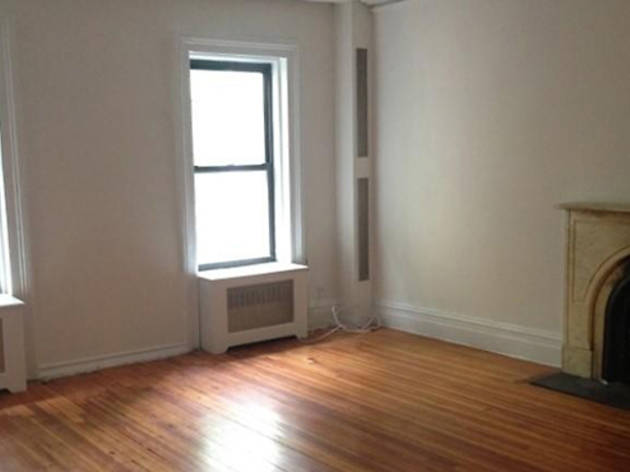 3/36
New York: Studio on the Upper East Side, $2,100/month And then the more realistic side of NYC kicks in. Here, a little over two grand a month gets you just this studio. And while it's technically walking distance to the park, it's not exactly next door. 
4/36
New York: Studio on Central Park South, $2,150/month This one's right on the park, but again, it's a studio, and not a big one. It seems likely that L.A. will win this round on pure space and livability, but come on—it's Central Park! Surely that can't be beaten?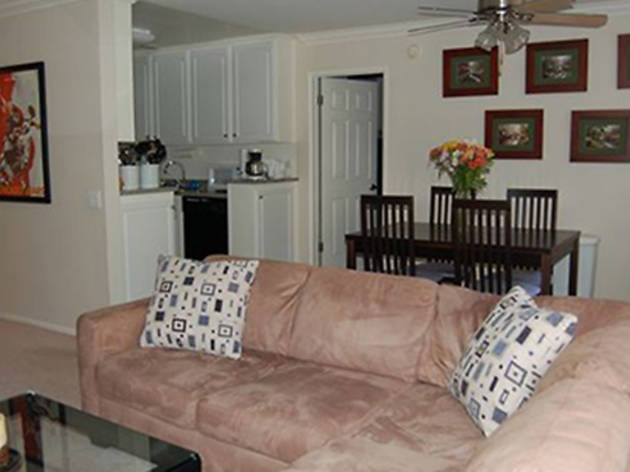 5/36
L.A.: Two-bedroom in Los Feliz, $1,950/month Oh, so that's how it's going to be, L.A.? We trustingly show you our nice studio apartments and you come at us with a two-bedroom monster apartment with, like, carpets and a pool and, and, and furniture and…stuff? For under two grand? Whatever. You know why we like hardwood floors in NYC? There is no such thing as a wipe-clean carpet. Enjoy those red-wine stains, suckers!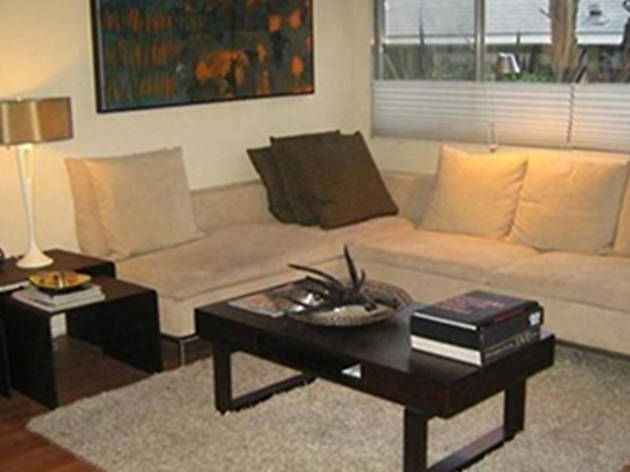 6/36
L.A.: Two-bedroom in Los Feliz, $2,395/month This one creeps into more familiar over-two-thousand territory, but for that, once again, you get two bedrooms, plus two bathrooms, laundry and, according to the listing, it's walking distance to horse stables. Horse stables! Is this a joke?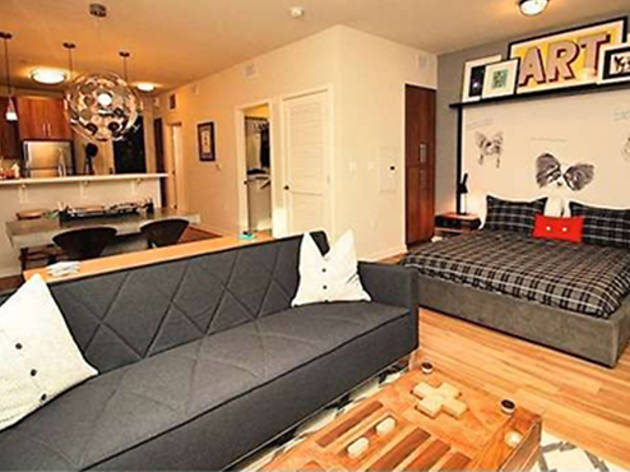 7/36
L.A.: Studio in Los Feliz, $2,076/month A studio! That's more like it. We knew those other ones had to be flukes. Although the building's spa, fireside dining terrace and poolside cabanas do make it sound a little more attractive than a railroad in the Financial District with one window and a snooty doorman. You win this round, L.A.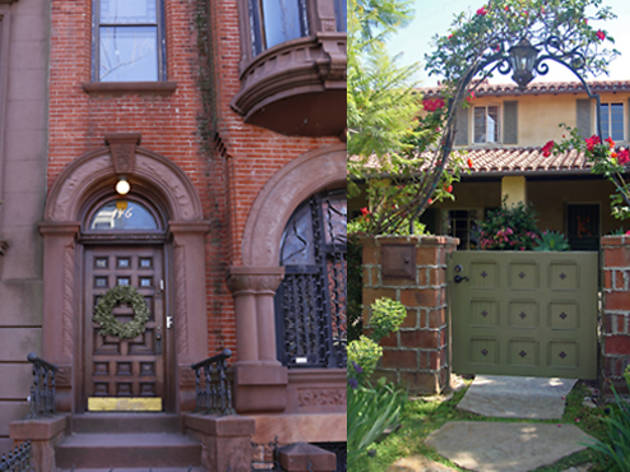 8/36
Photograph: Shutterstock/Courtesy Flickr User Kansas_Sebastian
Neighborhood 2: The kid-friendly area Was there any doubt in your mind that repping NYC would be Stroller City itself, Park Slope? With its schools, tree-lined streets and proximity to Prospect Park, it's dogs-and-kids heaven. L.A.'s equivalent is Brentwood, where Lululemon-addicted moms are frequently bested in the street-style department by their fashion-forward offspring, rocking "I woke up like this" (literally, from their afternoon naps) hair.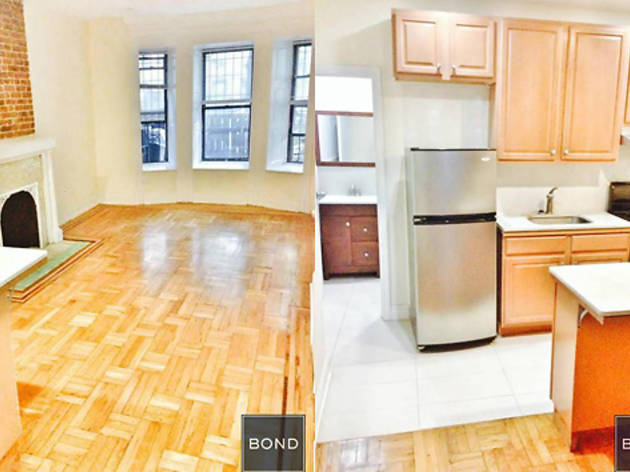 9/36
New York: Studio in Park Slope, Brooklyn; $1,875/month Kicking off our selection of three New York apartments is this studio, which sits on the very attractive and super child-friendly Seventh Avenue. But have you noticed the major drawback for someone with kids? It's a studio. Come on, Brooklyn, you can do better than this.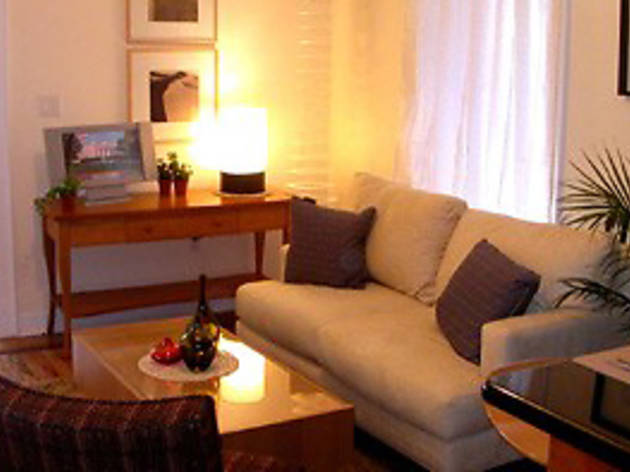 10/36
New York: Two-bedroom in Park Slope, Brooklyn; $2,100/month Well, that's better—a two-bedroom on Seventh Ave (albeit right next to the hospital). It even, miraculously, has a washer and dryer.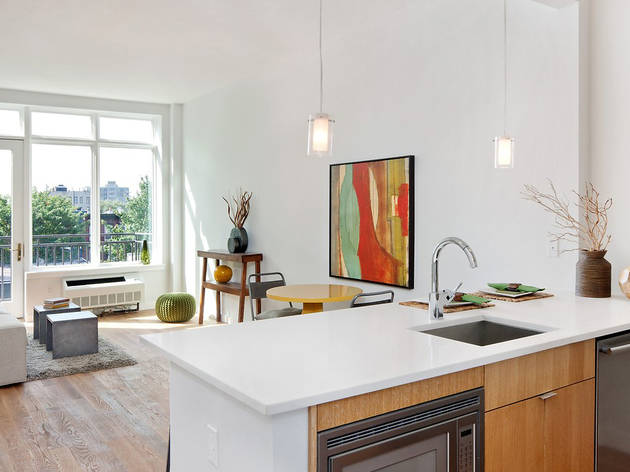 11/36
New York: Studio in Park Slope, Brooklyn; $2,100/month This is a more modern take on a Park Slope studio, complete with laundry in the building. It's a long way from the kid-friendly heart of the Slope, though, and again—it's a fricking studio. For $2,100 a month. Okay, L.A., let's see what you've got.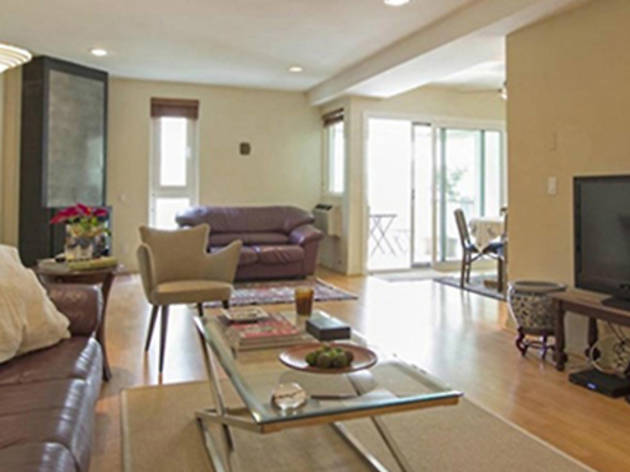 12/36
L.A.: Two-bedroom in Brentwood, $2,850/month This is a pretty nice space, but L.A. get a penalty for straying perilously far from the close-to-$2,000-per-month stipulation. It does look like a nice place for kids, though.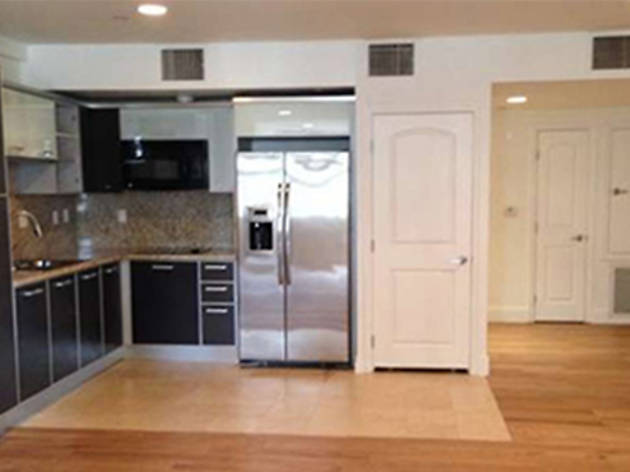 13/36
L.A.: One-bedroom in Brentwood, $2,400/month Another surprisingly lackluster showing here, with a one-bedroom costing more than any of our New York apartment options. On the other hand, of course, it has in-unit laundry and garage parking.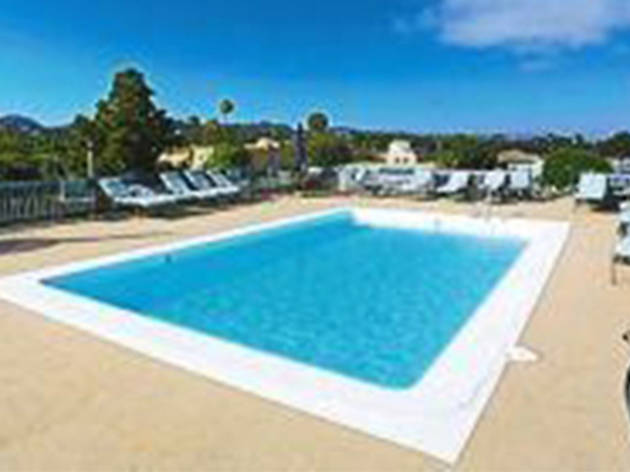 14/36
L.A.: One-bedroom in Brentwood, $1,995/month The listing promises newly remodeled rooms, balconies and an elevator, but the pictures show us very, very little. Guess what? Going by what we've seen here, New York actually looks like a better city if you want to live in a kid-friendly neighborhood. We're going to celebrate the win by spiking up our warm milk.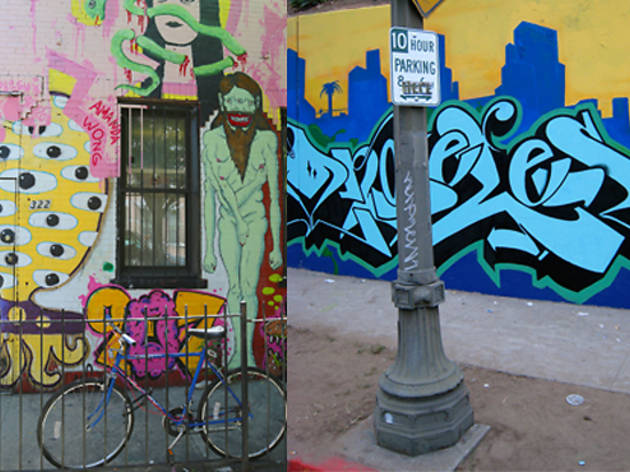 15/36
Photograph: Courtesy Shutterstock/Flickr User Tonx
Neighborhood 3: The hipster haven When it comes to skinny jeans, fixies and unkempt beards, there is still no neighborhood in New York that beats Williamsburg, home of artisanal cheese, craft beer and many a potentially regrettable tattoo. That said, Greenpoint is a close second. Every city needs a hipster zone (for some reason), and L.A. is no exception, with Silver Lake serving as the base of the kombucha-swilling, irony-spewing Eastside Gentrification Army.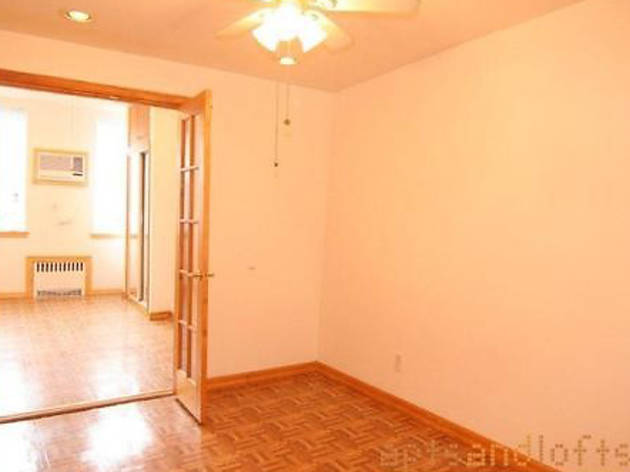 16/36
New York: Two-bedroom in Williamsburg, Brooklyn; $2,250/month Just south of McCarren Park, seven or eight blocks from the Bedford Ave L stop, you can get this two-bedroom with a good-sized kitchen. Angelenos would probably balk at the price of this, but whether you think it deserves to be or not, Williamsburg is one of the most desirable neighborhoods in the country right now. That means a two-bedroom for not much more than the price of a studio in Manhattan seems like a pretty good deal.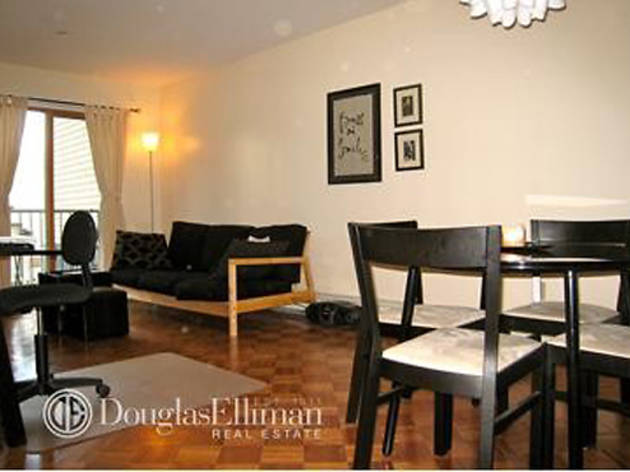 17/36
New York: One-bedroom in Williamsburg, Brooklyn; $2,250/month It is possible to get a one-bedroom with reasonable space, but the bad news is, you're going to be on the outskirts of Williamsburg, which means you'll have to trek to get the most out of the neighborhood. But hey, that's what that skateboard's for, right?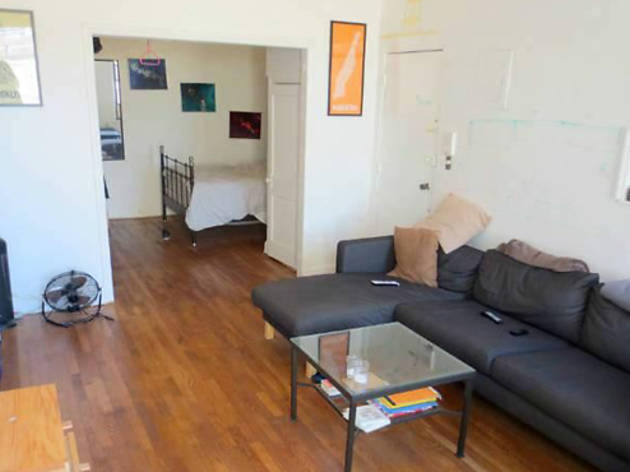 18/36
New York: One-bedroom in Greenpoint, Brooklyn; $1,995/month If you prefer Greenpoint, you can get a one-bedroom on Franklin Street for just under two grand a month. Now, with due sense of foreboding and dread, let's see what the L.A. hipsters get for their (inherited) money…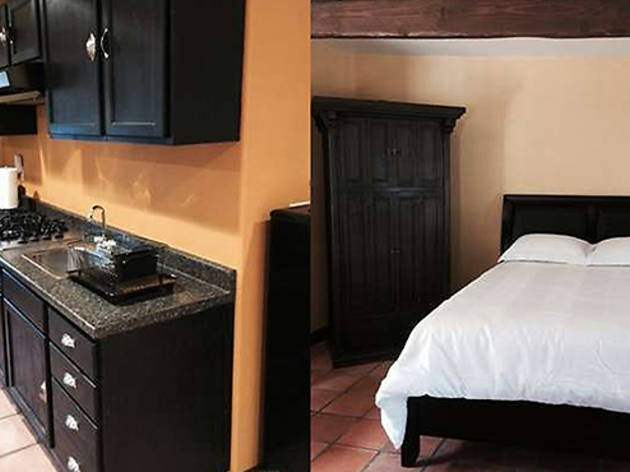 19/36
LA..: Studio in Silver Lake, $2,100/month …not much, apparently. This 500-square-foot studio (with no pets allowed!) is far from the Apple-filled hipster palace we'd envisioned. They do get gas, water, Internet and cable TV included in that price, though.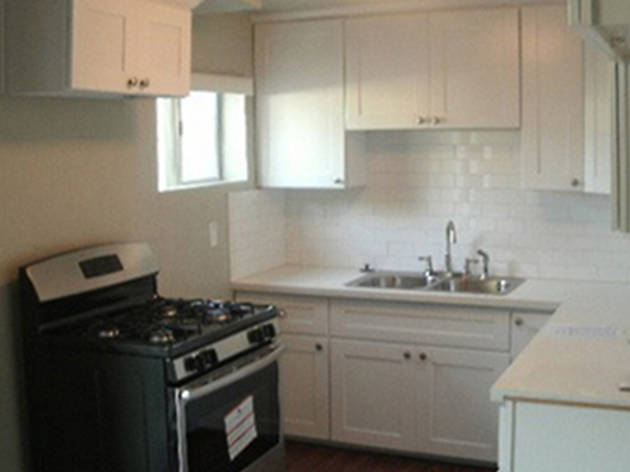 20/36
L.A.: Two-bedroom in Silver Lake, $1,850/month Okay, 900 square feet with two bedrooms for under two grand is probably closer to what we were expecting. Assigned parking, too. But wait, do hipsters even drive cars? Or just ethanol-fueled motorized unicycles?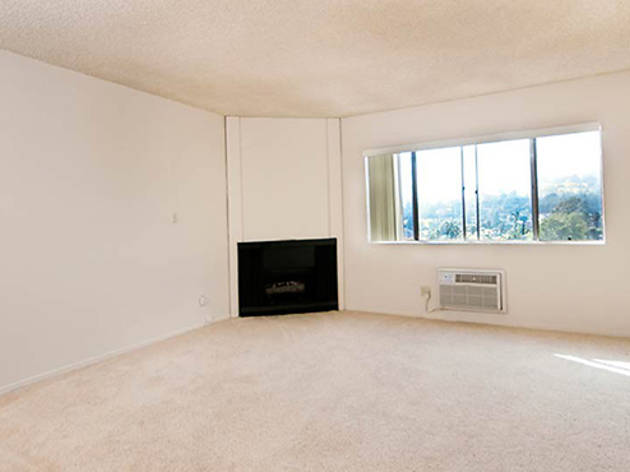 21/36
L.A.: One-bedroom in Silver Lake, $1,875/month The view from this pad definitely looks more attractive than Bedford Avenue, but it's still not a hugely impressive apartment. We're counting this as another victory for NYC. Sure, you get a little more space and better amenities for your money in L.A., but the difference isn't that huge, and frankly, if you're looking for a hipster neighborhood, Williamsburg is not going to be beaten by the likes of these places.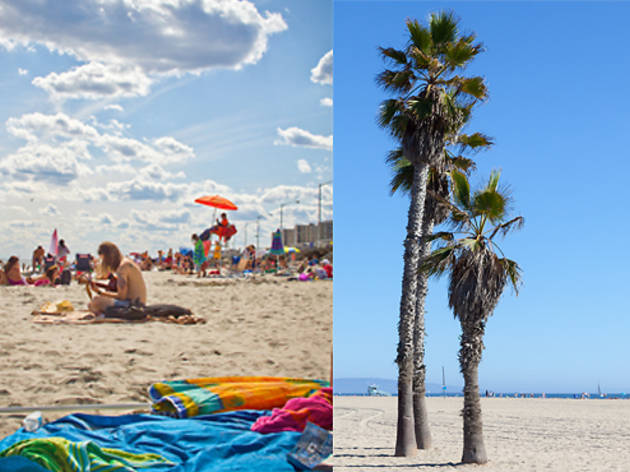 22/36
Photograph: Courtesy Flickr User OscarRohena/Shutterstock
Neighborhood 4: The beach Well, we had to give L.A. a chance at showing off the best of their home turf. That said, we actually have some amazing beaches—you can see our pick of the ten best beaches in New York City right here. L.A.'s got beachside neighborhoods in spades, though. Santa Monica, Marina del Rey, Venice…need we go on? Okay, fine. Malibu, Pacific Palisades, the South Bay… Let's start by seeing what NYC can give us.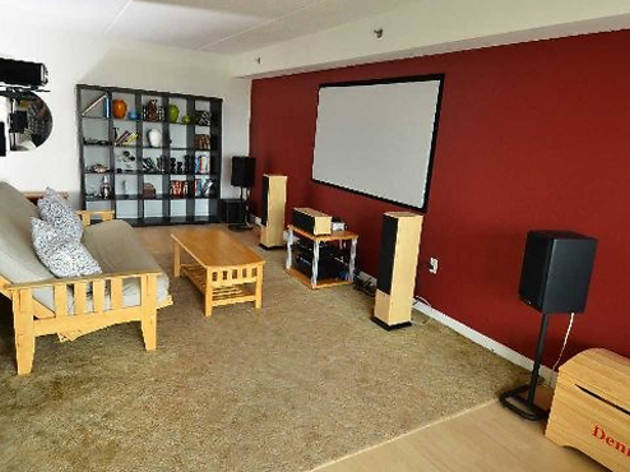 23/36
New York: Two-bedroom in the Rockaways, Queens; $2,100/month If you want to live on the beach but still have access to the city via subway, it's tough to argue with this two-bed in a luxury building, right by the sea and a couple blocks from 116th Street on the A. Bring it on, L.A.! (We're probably going to regret saying that.)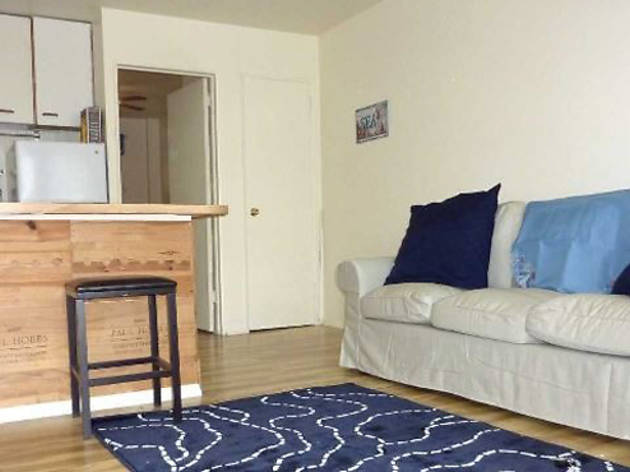 24/36
New York: One-bedroom on Long Beach, L.I.; $1,800/month It's a one-bed, but it's also right on the ocean and it even has a sizeable (for New York) outdoor space. The beach category may be the surprise dark horse victory for New York here…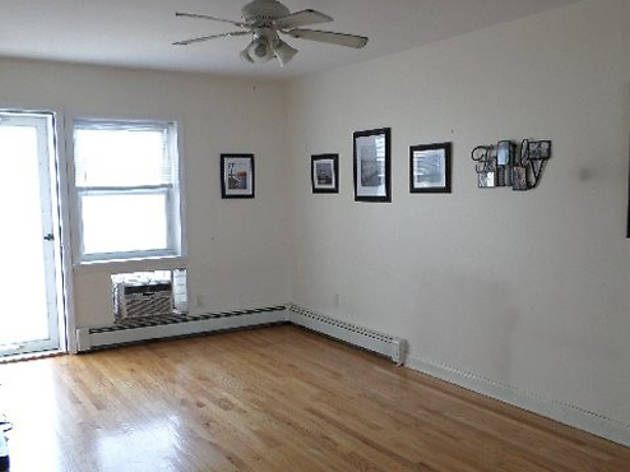 25/36
New York: One-bedroom on Long Beach, L.I.; $1,850/month Another win comes in the form of this good-size one-bedroom with a laundry room. All in all, a pretty good showing for a town not exactly renowned for its beaches. So…come on, L.A. Show us what you got.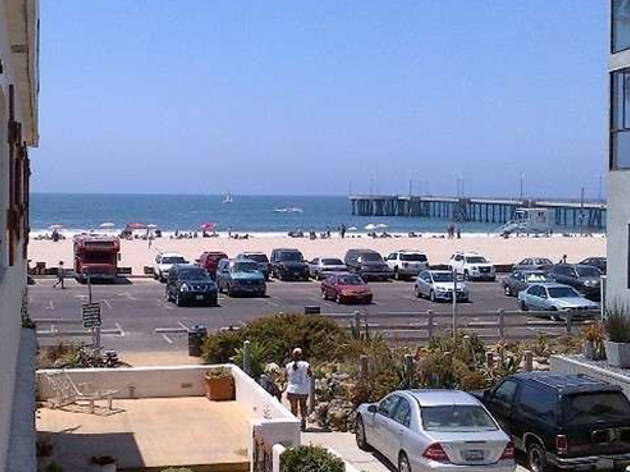 26/36
L.A.: Studio in Venice, $1,600/month Call us naive, but we were expecting to see something straight out of Sunset Beach. This place looks a little grimy, honestly, although it's hard to argue with that view of the ocean (even if there is a parking lot in the way).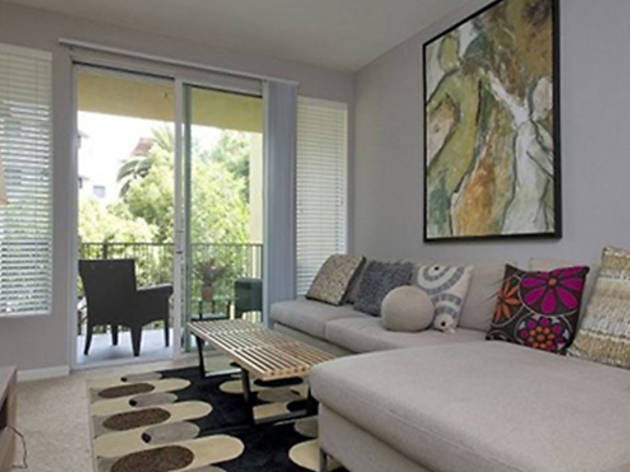 27/36
LA..: Studio in Santa Monica, $2,000/month Another studio—could it be we've found L.A.'s weak spot? Oceanfront living is, apparently, not the cheap option. As with so many of the studios on this list, though, it's clean, modern and has laundry, air-conditioning and a parking space. Which are, y'know, okay things to have, we guess.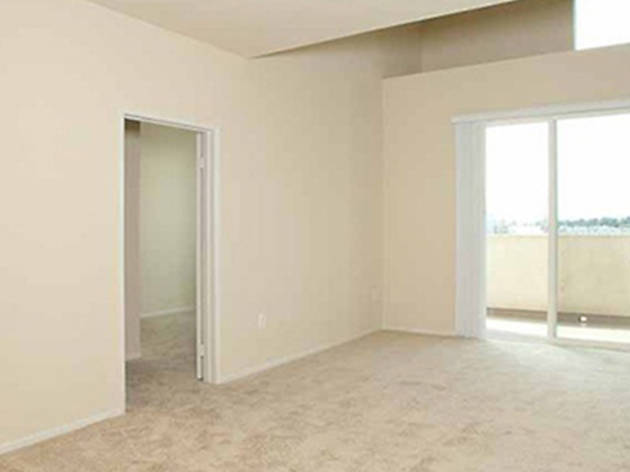 28/36
L.A.: One-bedroom in Playa del Rey, $1,960/month Even though we made fun of all the white carpets in L.A. apartments earlier, just look at that. We want to roll around on it and run barefoot across it like young lovers through a field of daisies. It's only 675 square feet, though. Unbelievable as it might seem, we're going to call this round a draw. That's right: We're saying that you can get just as good an apartment near the beach in NYC as you can in L.A. (The quality of the beaches, of course, is a separate argument.)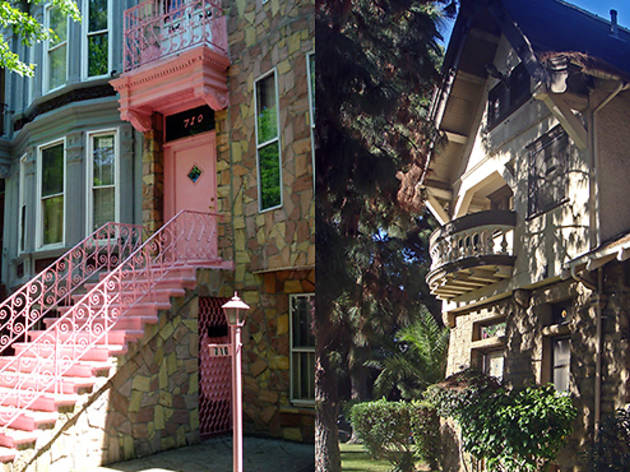 29/36
Neighborhood 5: The next big 'hood Bushwick has already exploded in popularity, but in terms of name-brand recognition, it's not quite up there among other New York nabes like Williamsburg. It's only a matter of time, though. In L.A., the stirrings of popularity (and climbing rents) can be felt in West Adams, just east of downtown in the still-scary-but-getting-less-scary neighborhood near USC.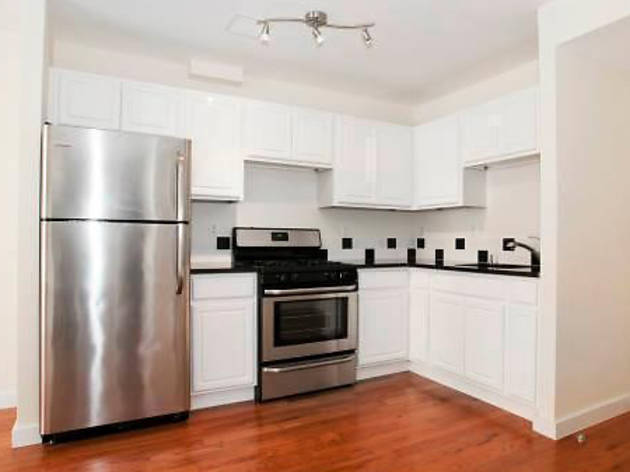 30/36
New York: One-bedroom in Bushwick, Brooklyn; $1,850/month You'll scoff at this, Angeleinos, but the fact this place has central air is a huge bonus. Although common in the majority of luxury apartment buildings that have sprung up in the past decade, most New Yorkers still make do with clunky window-box air-conditioners. Go ahead and laugh, we can't hear you over the noise they make.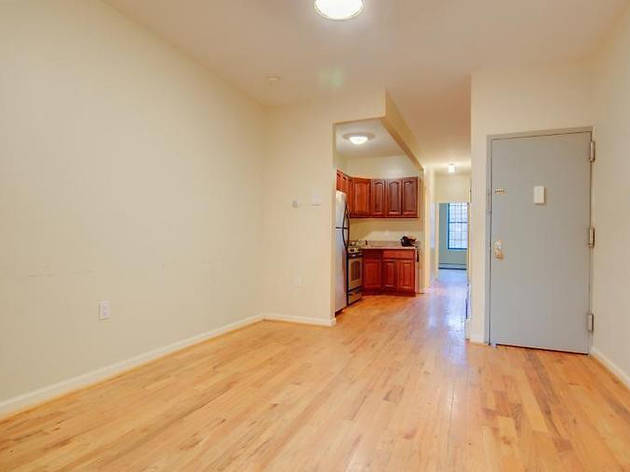 31/36
New York: Two-bedroom in Bushwick, Brooklyn; $1,900/month It says a lot about New York real estate that even the supposedly "up and coming" neighborhood has very little for less than around the two-grand-per-month mark. Still, this has an elevator and on-site laundry, which is more than you can say for most New York apartments.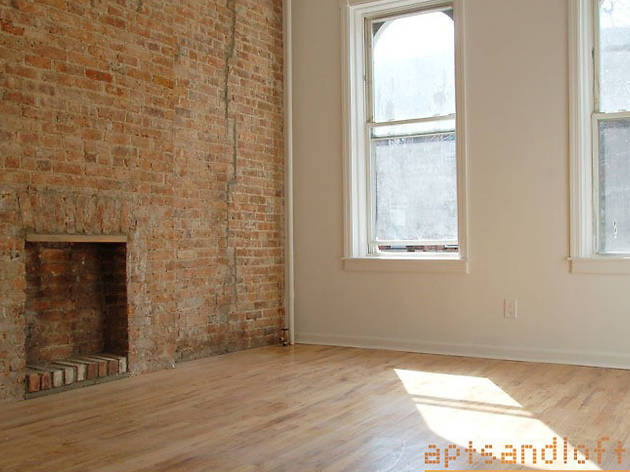 32/36
New York: Two-bedroom in Bushwick, Brooklyn; $2,000/month One block from DeKalb on the L, and look at all that exposed brick! And the hardwood floors! That's one thing you'll never beat us on, L.A.: New York apartments have charm. When they're not crumbling around our ears or full of roaches, that is.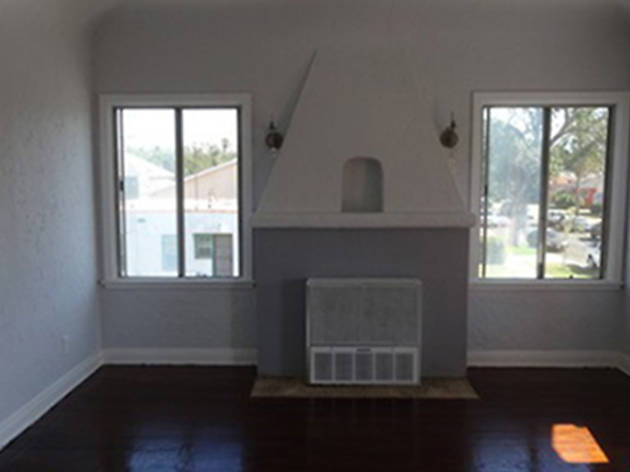 33/36
L.A.: Two-bedroom in West Adams, $1,700/month An 800-square-foot of space with a brand-new kitchen, hardwood floors and carpeted bedrooms. But…it does kind of look like maybe someone died in there. In fairness, this is also true of most New York apartments, too.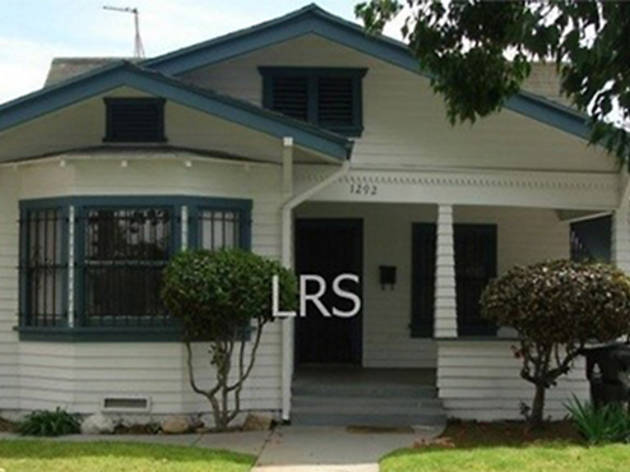 34/36
L.A.: Three-bedroom in West Adams, $1,850/month "This attractive bungalow-style home includes wood flooring," boasts the listing. Do you know what else it has? Bars on the windows and no photos of the interior. Next!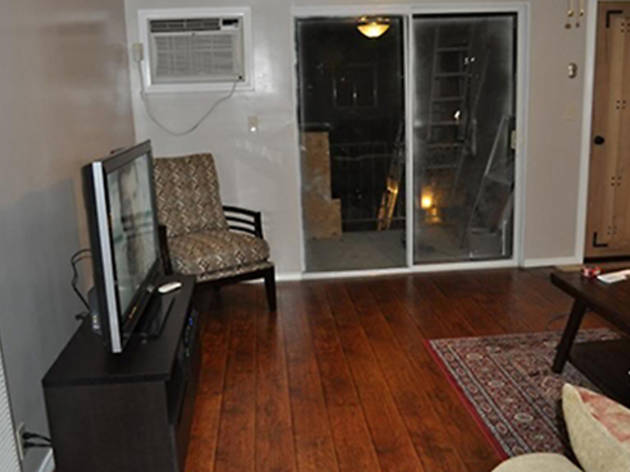 35/36
L.A.: Three-bedroom in West Adams, $1,750/month And so we come to our final apartment, and as you might expect from L.A., it's a relatively spacious, well-lit but unremarkable apartment, where you can totally imagine a '90s Tarantino character smoking a bong while making pithy pop-cultural references to distract you from the holes in plot logic. We're going to hand a narrow victory to New York on this round.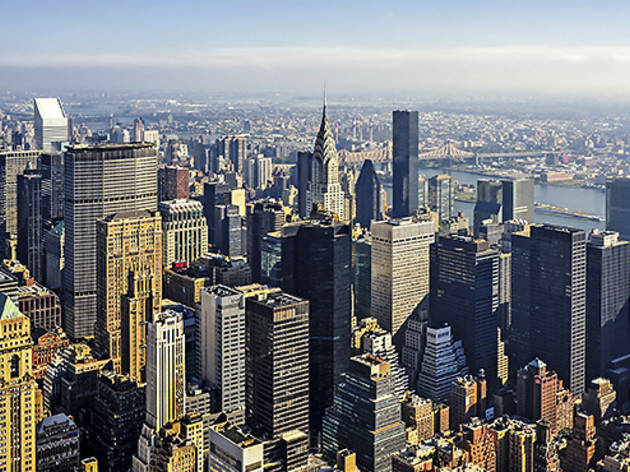 36/36
Photograph: Shutterstock
So there you have it. Not the landslide victory for L.A. that all those brutal years of apartment hunting in NYC probably led you to expect—quite the opposite, in fact. Turns out, New York living is still expensive, stressful, confusing and bizarre, but comparatively speaking, it's all worth it once you finally find a place to call home. This is the greatest city in the world, after all.  
NYC apartments vs. LA apartments: What can you get for $2,000?
NYC apartments are legendarily expensive and small. But would you really be any better off in LA?
with
the help of our weekly look at
the best affordable NYC apartments
). New Yorkers often wonder what their living situation would be like elsewhere, so we've taken a look at a bunch of comparable neighborhoods in New York and LA to see if the West Coast has it any better than us. Below, you'll find 30 apartments—15 in New York, 15 in LA—all for around $2,000 per month. Who's getting the better deal? Surprisingly, it's not as cut and dried as you might think. But if you
do
walk away bummed at what Angelenos get for their money, just remember these
31 reasons New York kicks LA's ass
(don't feel bad,
they wrote their own version
).