The Orchid Show in NYC guide
Usher in springtime at the The Orchid Show—NYC's stunning floral display at the New York Botanical Garden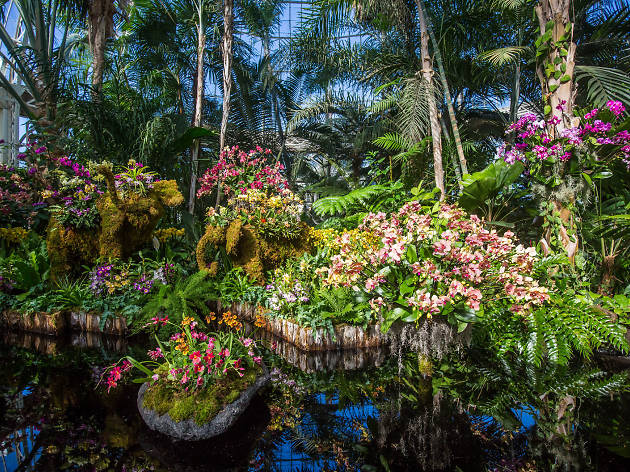 The Orchid Show—NYC's ode to springtime—should not to be confused with the season's other stupendous garden party: the Macy's Flower Show. However, both bloom fests are worth a visit. If you're not familiar, The New York Botanical Garden's Orchid Show exhibits thousands of species of beautiful blossoming orchids, and it's one of the best NYC events in February, which lasts through April. Get over your winter blues by enjoying the lush scents and sights of one of the best New York attractions.
RECOMMENDED: See more of the best things to do in spring
What is the Orchid Show NYC?
Things get super tropical at New York Botanical Garden—just when we need it most. At the 15th annual Orchid Show, you'll feel as if you've been transported to Thailand, this year's theme, after viewing a kaleidoscopic range of vanda orchids. Come prepared to snap an envy-inducing Instagram shot of a traditional Thai pavilion adorned with hundreds of gorgeous plants. And if you think you have a green thumb, you're in luck, you can nab one of your very own. Stay for the cocktails, Thai dance performances and live music on select nights.
When is the Orchid Show NYC?
NYBG's Orchid show runs from Saturday, Feb 18 to Sunday, April 9, 2017.
Where is the Orchid Show NYC?
The Orchid Show takes place at the New York Botanical Garden (2900 Southern Blvd, Bronx) inside the Enid A. Haupt Observatory.
How do I get tickets to the Orchid Show NYC?
Tickets ($20) are available at nyby.org.
Watch a video of The Orchid Show
Get an inside look at the New York Botanical Garden's Orchid Show.

Posted by Time Out New York on Tuesday, February 28, 2017
Archive Orchid Show NYC coverage