NYC events in February 2017
It's not all about Valentine's Day, you guys. Here are the best NYC events in February 2017, from concerts to art shows.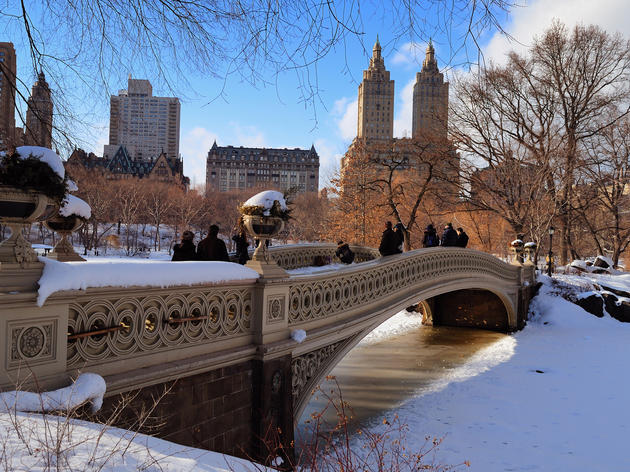 After a monastic January (giving up all your vices and spending nothing since the holidays cleared you out), it's time to cut loose and take advantage of all the NYC events in February. Use our events calendar to guide you to the best things to do in the winter this month: Get a delicious meal during NYC Restaurant Week, re-tox yourself at during New York City Beer Week with some of the best beer crawls and check out romantic things to do during Valentine's Day.
RECOMMENDED: Full NYC events calendar
Featured events in February 2017
Free NYC events in February 2017
Music events in February 2017
Cloud Nothings play the sort of scruffy fuzz-pop you've heard a million times, but thanks to the vocal pathos and songwriting smarts of frontman Dylan Baldi and the wiry muscle of bassist TJ Duke and drummer Jayson Gerycz, this Cleveland crew achieves a rare resonance. The band follows up its debut and a Wavves collaboration album with a wearier, more introspective collection of tunes, Life Without Sound.
Book now
Read more
"Delicate" Steve Marion and his five-piece band play layered tropicalia, jazzy bops, patterned post-rock and sinewy guitar jams. Trippy, uplifting stuff.
Read more
Rashad, part of the same Top Dawg Entertainment crew that includes Kendrick Lamar and Schoolboy Q, makes nuanced R&B-soaked hip-hop on his debut LP, The Sun's Tirade. Like his excellent 2014 mixtape Cilvia Demo, its a heady, hazy collection of emotionally all-in verses.

Photograph: Courtesy CC/Flickr/CZR-E for The Come Up Show
Book now
Read more
Montreal outfit Suuns blends clubby beats with densely layered, post-Radiohead art pop. Here the crew tours behind latest LP, 2016's Hold/Still.
Read more
"If they try to slow me down, I'll tell them all to go to hell," Brian King screams on "The House That Heaven Built," the most blaring single from Japandroids' 2012 album, Celebration Rock. The band's been silent these past few years but no longer. The duo returns with a new album in tow, the spectacularly titled Near To The Wild Heart Of Life, that promises all the same cathartic audience sing-alongs of yore.
Book now
Read more
With Dangerous Woman, her third album, Grande proved herself adept at making a range of pop styles her own, from the reggae-pop of "Side to Side" to hazy trap-influenced "Everyday." Whether she's able to anchor a stadium-sized blow out hinges on your fondness for EDM-soaked singles such as "Break Free" and "Love Me Harder." One thing's for sure: She has the voice for it.
Read more
Leithauser, who's spent his post-graduation years since the Walkmen's 2013 "extreme haitus" releasing solo material, airs a collaborative project with another prestigious indie alumnus: Rostam Batmanglij, who recently departed sparkling indie-pop outfit Vampire Weekend. Their album, I Had A Dream That You Were Mine, is an impassioned collection of rock tunes that mix Leithauser's patented charismatic crooning with Rostam's ear for polished melody.
Book now
Read more
Run the Jewels—the team-up of Definitive Jux hero El-P and quick-witted Atlanta MC Killer Mike—is a little slice of North-South hip-hop heaven, if you ask us. The group plays in support its sure-to-be stellar third record alongside the swirling pscychedelia of L.A. beatmaker the Gaslamp Killer.
Book now
Read more
See more NYC concerts in February
Arts events in February 2017
Looking for more things to do?
Discover the best things to do in NYC with the ultimate insider's guide to restaurants, bars, clubs, museums and more
Read more